The Ooni Fyra is ideal to buy if you like a nice smokey flavor in your pizza. It is powered by wood pellets and can achieve temperatures of up to 950 °F. The small dimensions and light weight make it easy to pack up. And you can take the Ooni Frya 12 with you almost anywhere.
This wood-burning pizza oven is easy to use. Just pour the pellets into a feed tube inside the oven's back to keep the fire running. Temperature management is a little more complicated than with gas ovens. However the Ooni Fyra 12 turned out a Classic Margherita pizza in roughly 90 seconds.


What we like
Very portable and easy to set up.
Gives your pizza a nice woody flavor.
It gets very hot very quick.
And don't like
Temperature regulation is more complex than with propane models.
The peep hole is a bit small.
Specifications
Fuel: Wood pellets
Weight : 22 pounds
Size: 29.1" x 28.5" x 15.4"
Cooking Surface: 13.2"
Recipes: Booklet included
Heating Capacity: Up to 950 °F.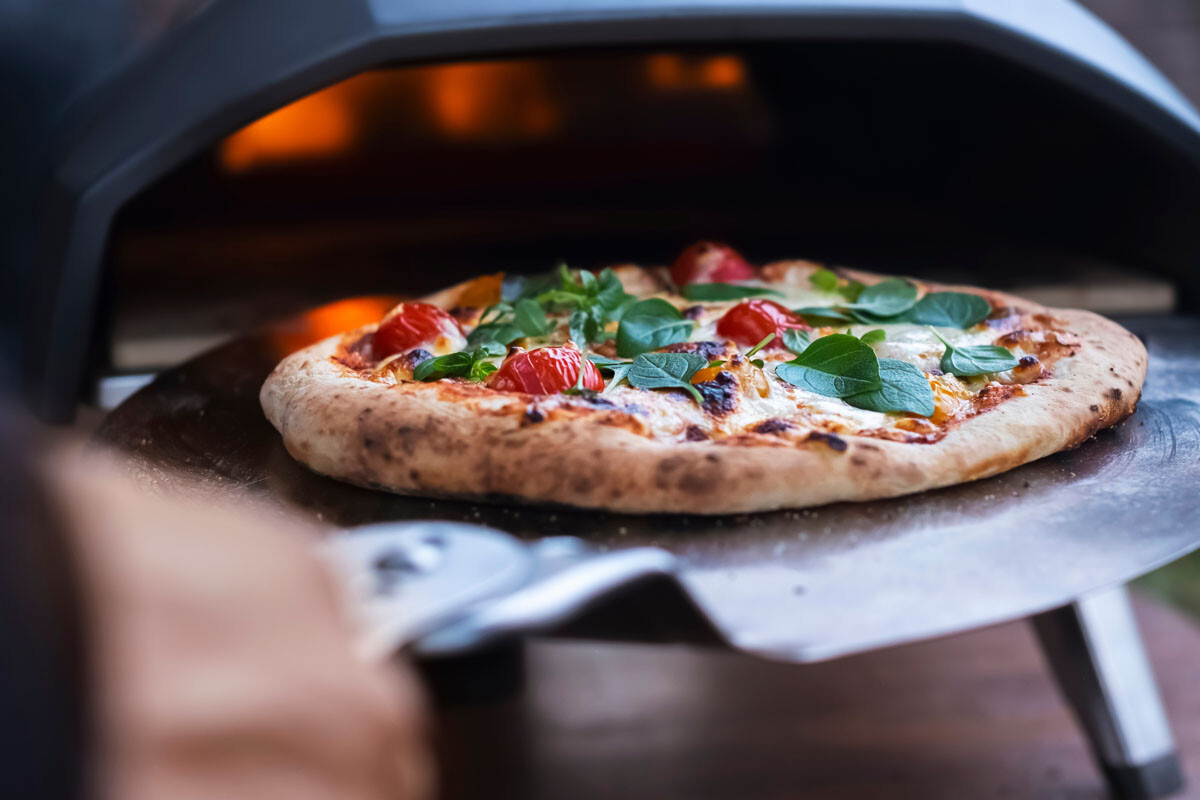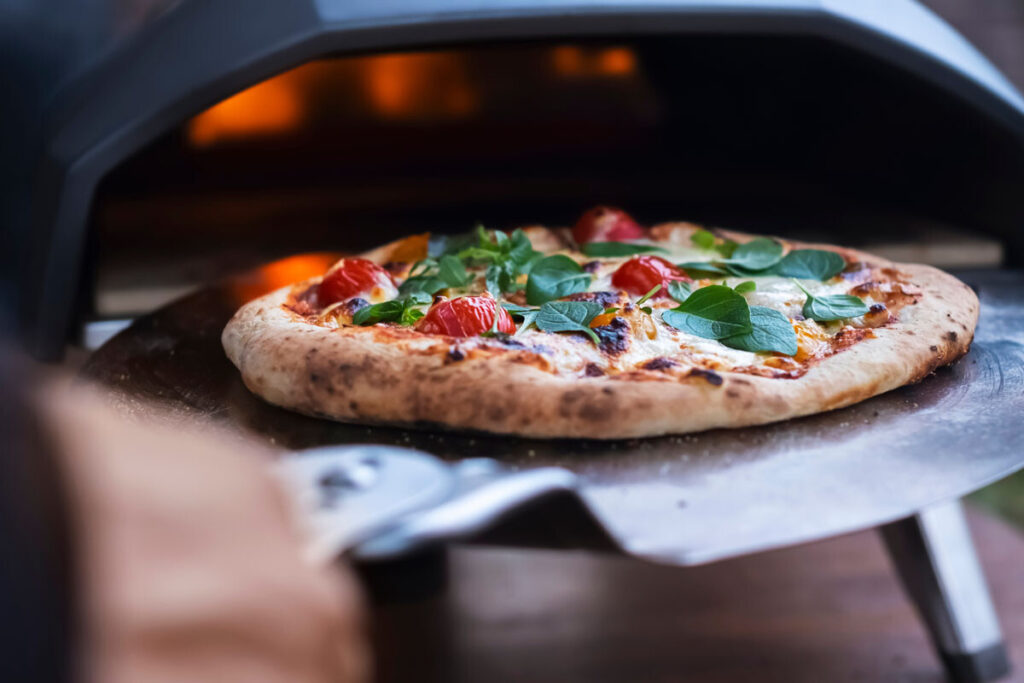 Ooni Frya 12 First Impressions
The pizza oven came in a little box that was easy to transport to the backyard. The package was impressively compact. We couldn't believe an entire pizza oven was in there. When we first opened the Ooni Fyra oven box, we were shocked by how little it appeared. But this has proven to be its primary benefit. It's light and portable, and it fits nicely on top of a foldable table.
The Ooni Fyra 12 is a sleek, compact pizza oven that's simple to assemble. Remove it from the box, unfold the legs, and slide a few items into place. The pizza stone, pellet hopper, chimney, fuel tray, and flame keeper are all included. Because the basic structure of the oven is pre-built, you may be up and going in minutes. It doesn't get any easier than that when it comes to lighting. Fill the fuel tray of pellets. Add a fire-lighter and light her up. Then place it in the back using the chimney lid as a scoop. The pellets will light up pretty quick.
The Fyra 12 gets to hot cooking temperatures in around 15 minutes. Up to 950 °F. Just load the hopper with the pellets after the fire burns smoothly. You can see through the tiny keyhole in the door. When the pellets burn down, more pellets (fuel) is given to the fire. If you're going to be cooking for a long time, you'll need to fill it up every so often. Just keep an eye on it after every pizza.

In-Use & Performance
It's simple to start up the Ooni Fyra 12, but making pizza takes a little more. As it does for any pizza oven. And there will be a slight learning curve if this is your first. A pizza goes in effortlessly, with a slight flip of a floured peel, once the Frya 12 is up to temperature. Look in to see the scorching flames from the pellets on the ovens roof.
Before turning the pizza, replace the easily detachable door and wait 30 seconds. Open the door and give it a quick turn. Remember to close the door quickly as the oven will lose heat. Despite this, the pizza takes around 90 seconds to cook. The pizza oven will return to high temperatures in around 5-10 minutes. This will allow for more than enough time to prepare the next one on the pizza peel. Make sure to check and fill up the hopper if needed.
The pizza turns out beautifully on the Ooni Frya 12. Not to mention melting cheese and a crunchy crust with traces of smokey burnt bits. You get an authentic wood-fired flavor with the fire flames coating the top of the oven. Which you can't obtain with gas, much less an electric oven.
The oven is easy to carry around the yard because it weighs only 22 lbs. And while you can keep it outside in the rain, you would do better with a cover. You can purchase a Ooni Frya 12 carry cover from ooni.com. It includes a bag for the hopper and chimney. With this option you can easily transport it to a friend's house, the beach, or on a camping vacation.

Ooni Frya 12 is easy to start
Fill the fuel tray with the pellets.
Light the fire starter.
Load the hopper with pellets.
Start making delicious pizza.
It preheats quickly as well. If the weather cooperates, the Ooni Fyra 12 takes 15 minutes to attain the appropriate temperature of 950 F. Windy situations will lengthen the time it takes for the pellets to heat up. Although the Ooni Fyra may reach appropriate pizza-making temps, it does not maintain them well without attention. Even in ideal circumstances, the window for cooking a proper Neapolitan pizza is only a few minutes. Then the oven typically needs a few minutes between pies to recover its temperature. Just enough time to stretch and top your next pizza.
It's "affordable"
The Fyra 12 is the most affordable pizza oven made by Ooni with a price-tag of $349. Includes free shipping and a 3 warranty if purchased from the Ooni.com website. It's also available on Amazon and Walmart.
You will also need to purchase fuel as well. Official Ooni hardwood pellets are $24.99 for a 20lb bag. You'll also probably want a 12" pizza peel to get your pie in and out of the oven. The perforated version costs $59.99, and the non-perforated version costs $39.99.

It's easy to store and move
The Ooni Fyra fulfills its portability promise. The legs fold up, and the chimneys fit into the open space. Weighing just 22 lbs, It's small and easy to transport from a terrace to the garage. And then into the car trunk for a camping trip. Don't be too concerned about scratches or dents, the powder-coated outer is scratch-resistant and durable.
I have only two very small concerns about the overall design. Otherwise the Ooni Frya 12 is an amazing oven.
Ooni Frya 12 concerns
The door's peephole is pretty small and hard to see through. But it does allow you to check on a baking pie without leaking heat.
The fuel tray is smaller than expected. Making it challenging to keep a constant flame in windy conditions.
Final Verdict
The Ooni Frya 12 is fantastic. And I thought the wood pellet model, in particular, was attractive. It made restaurant-quality wood-fired pizza at home, and the delicious smoke was detectable. The incredibly high heat also resulted in a nice char, a frothy crust, and a short cook time. Even a decent grill will be unable to reach the insanely high temperatures of an Ooni. Because of its compact size, heating to 900+ °F is a breeze. You'll have to wait an eternity for a grill to get anywhere close to that temperature. It took roughly 15 minutes for the Ooni Frya 12.
This oven is ideal for pizza lovers looking for a smoky flavor in their crust. Something to congregate around during those outdoor gatherings. The compact structure as well as the extreme temperatures make the Ooni Frya 12 one Hot pizza oven. Pick one up today at Ooni.com.
Some of the links in this article are "affiliate links". By using the affiliate links, you are helping support AllForPizza.com, and we genuinely appreciate your support. Please see our privacy policy for more info.