One can easily take a pizza style for granted. It's the perfect solution for a quick meal at home or a potluck at the office. Balance the crust, sauce, cheese, and toppings to create a gourmet pie. We have data from delivery services showing that it is one of the most frequently ordered items.
It's a crowd-pleaser because everyone loves the cheesy, greasy, carb-loaded goodness of a slice. And no matter where you're from or who you are, you probably have a preferred style of preparing a pizza.
You can label it as a fad, or you can simply enjoy it. Regardless, there is now more variety of pizza than ever before. And naturally there are various options within, no matter what style you like.


The American public loves any style of pizza, making it one of the country's most consumed foods. Pizza is a budget-friendly option for any occasion. Whether you're catering a large party or just feeding the family on a Tuesday. According to USDA data, roughly 1 in 8 Americans eat Artisan pizza every day.
During the late nineteenth century, Italian immigrants brought pizza to America. Pizza joints were popular in Italian neighborhoods until 1905. This is when the first New York City pizzeria became licensed. The phenomenon then spread beyond the ethnic enclaves and eventually swept the country. The oldest pizza restaurants in the United States reside in New York. Some date to the early 1900s.
Our top 10 pizza styles
You can find the most sought-after artisan pizza flavors in the world below: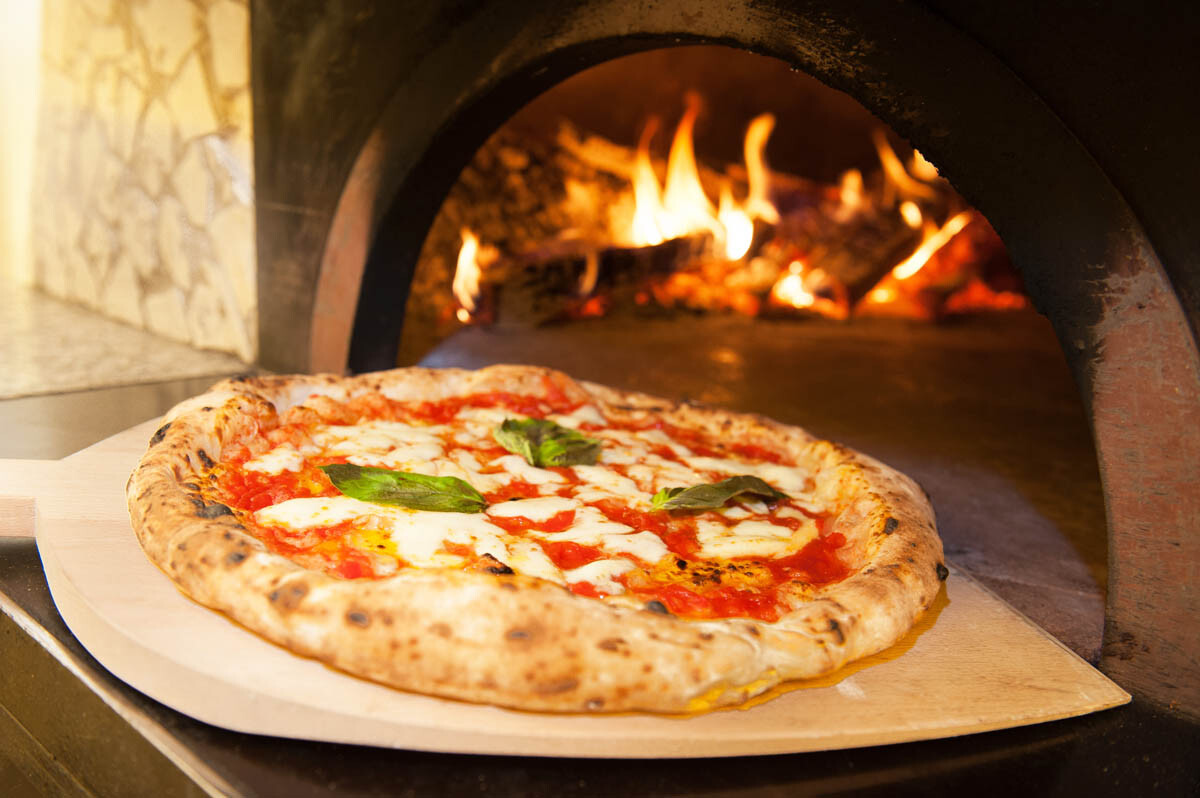 1. Margherita Pizza style
The Margherita pizza is the original and best. Make up this Neopolitan pizza. There's a good reason why this style of pizza has become a household name in Italy. The toppings on a Margherita pizza may be basic. But they can elevate the dish to a level of perfection that few others can match.
To cook this pizza, you can use a grill or a very hot Pizza oven. The key to this pizza's crisp but yielding crust is rolling or stretching the dough to an extremely thin thickness. It allows the sauce and cheese to barely cook while the crust blisters.
When making the sauce, fresh tomatoes from the garden are best. But canned whole San Marzano tomatoes will do in a pinch. Never heat a Margherita pizza sauce. The uncooked sauce adds to traditional flavors and colors. Slices of fresh mozzarella should be thick and should create a patchwork pattern atop the sauce. Mapping out a perfect Margherita style pizza.

2. Chicago-style pepperoni pizza
The Chicago-style deep dish pizza in one of the most infamous pizzas in the country. Its pan pizza cooked in a deep dish pan or skillet. And the crust runs up the sides like a pie. Then place a liberal amount of cheese to cover the base. Add some toppings and sauce and you got a deep dish pizza.
We're willing to bet that pepperoni is still the most popular pizza topping in the United States. The pizza emoji features just this one topping! Reasonable when you think about all the great things about pepperoni. The salty and spicy flavor stands up to waves of melted, gooey cheese. It gets ever-so-slightly crispy in a hot pizza oven, making it irresistible to rip off and eat.
When pepperoni is the only topping, it's best to go all in. Especially on a Chicago-style pizza. To assemble, spread cheese slices on the crust. Then arrange pepperoni slices in a single layer. Follow this up with a liberal amount of sauce. If you're not a fan of excess grease on your pepperoni pizza, use part-skim mozzarella and Parmesan instead. You can find a detailed deep dish pepperoni pizza recipe here.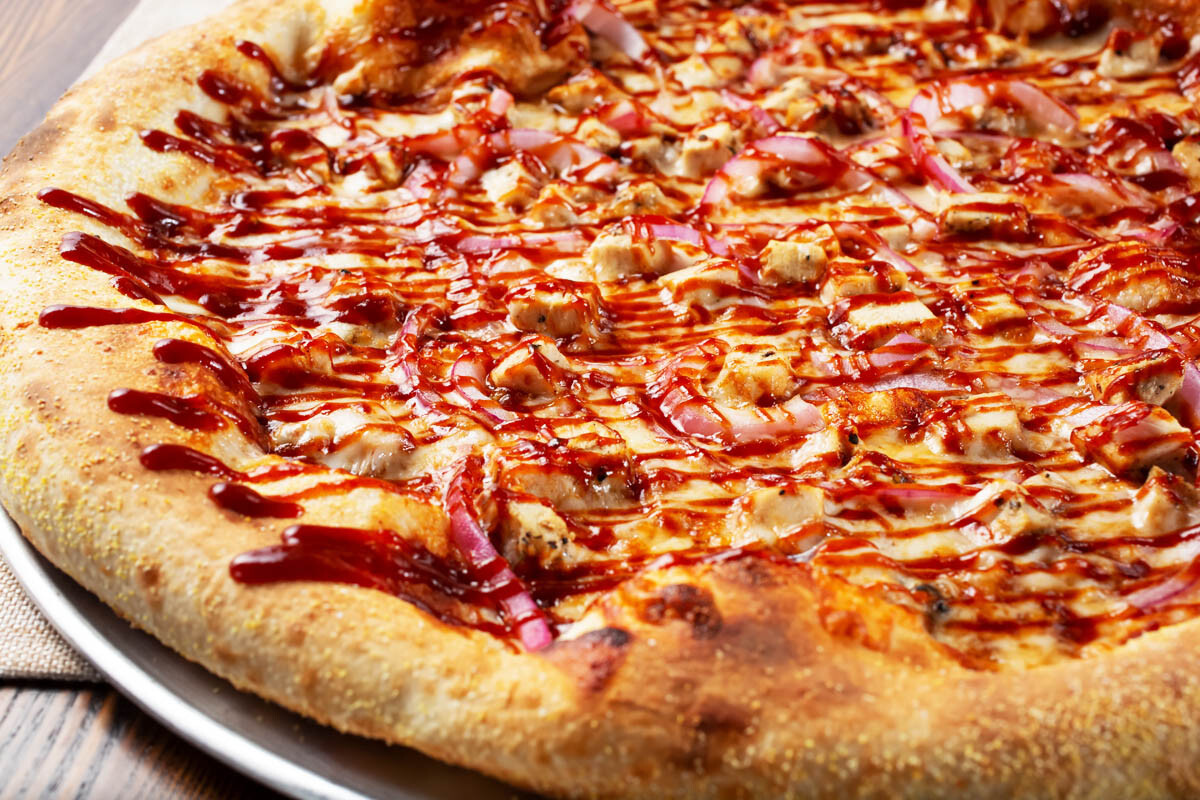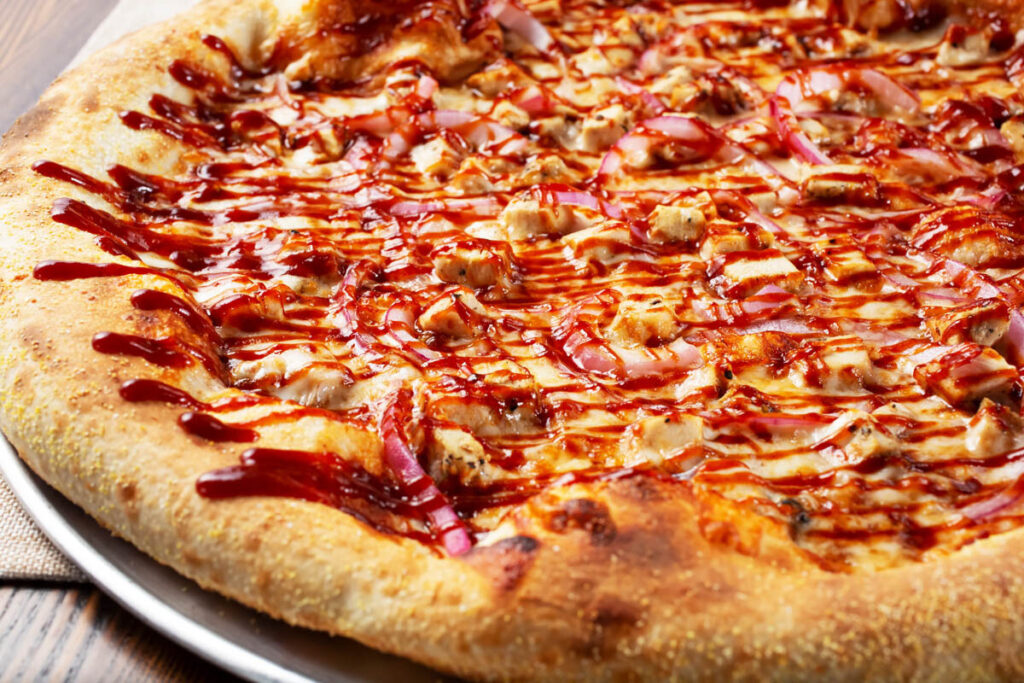 3. BBQ Chicken Pizza
If you like BBQ chicken and pizza, why not make a hybrid of the two? Sports fans and young adults always love this pizza. Chicken and sauce spread across the top of a pie makes it taste savory and sweet.
The original pizza chef at California Pizza Kitchen, Ed LaDou, is credited with inventing BBQ chicken pizza in 1985. His original BBQ sauce, chicken, cilantro, red onion, and fontina cheese pizza is still available. The best way to utilize any remaining chicken, try a BBQ style chicken pizza. It's a fan favorite. It's because It's got a bit of everything, from the sweet BBQ sauce and cheese. To the savory chicken and onions.
No matter what the name may imply, you will not require a barbecue to make BBQ chicken pizza. The sauce is a combination of smoked barbecue sauce and tomato sauce. Cube or shred rotisserie chicken for the topping. And it's all held together with fontina cheese, and part-skim mozzarella. Red onion slices are paper thin, but they add crunch and a nice flavor contrast to the pizza. The detailed BBQ Chicken Pizza recipe is here.


4. Hawaiian style Pizza
Maybe pineapple isn't the first topping you think of when you picture a pizza. However, when you add some ham to this pizza, you get an unexpectedly delicious sweet and salty flavor combination.
Despite mixed reviews, tomato sauce, cheese, ham, and pineapple are a classic combo. Hawaiian pizza was actually created in Canada, despite the name. The sweet and savory combination is what most people love about this pizza.
Some Hawaiian-style pizza recipes use barbecue sauce instead of red sauce. Instead of using fresh pineapple, you can use the canned pineapple rings. Just be sure to drain them. You can chop them into bite-sized pieces like they do at the pizzerias to spread the flavor. Select a deli ham, such as black Forrest or honey-baked ham. Then slice it thinly for topping. To be authentic, track down a Canadian bacon or ham. The subtle sweet and savory flavors they use to cure the meat pairs well with pineapple.
5. Meat-Lover's Pizza
Meat pizzas are delicious and widely ordered. Meat lovers, please pile on the ground beef and sausage. It has pepperoni, sausage, meatballs, and mushrooms, making it a hearty, super-savory masterpiece. When we have a large group to feed, we always order a meat lovers pizza style.
A meat-pizza lover has a lot of toppings, so the crust needs to be fairly sturdy. Cook toppings like meatballs, sausage, and mushrooms to avoid a soggy bottom. Just drain any moisture before topping the pizza.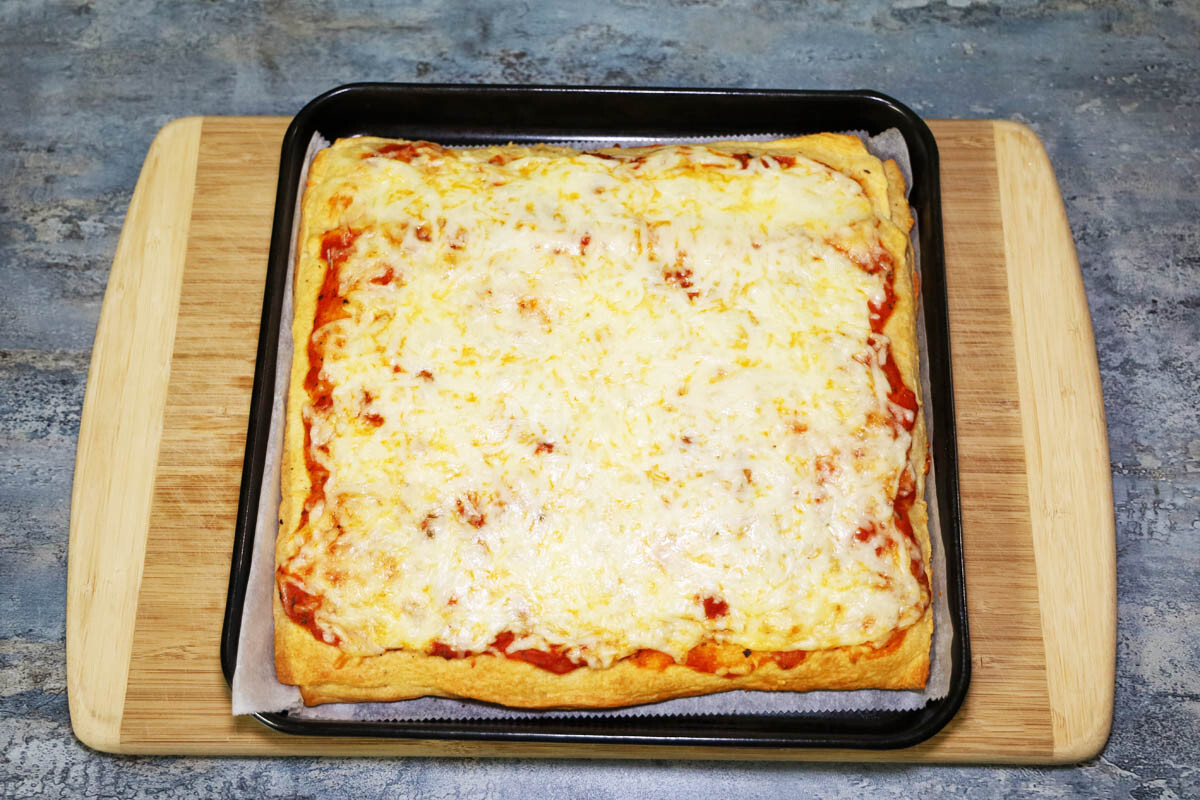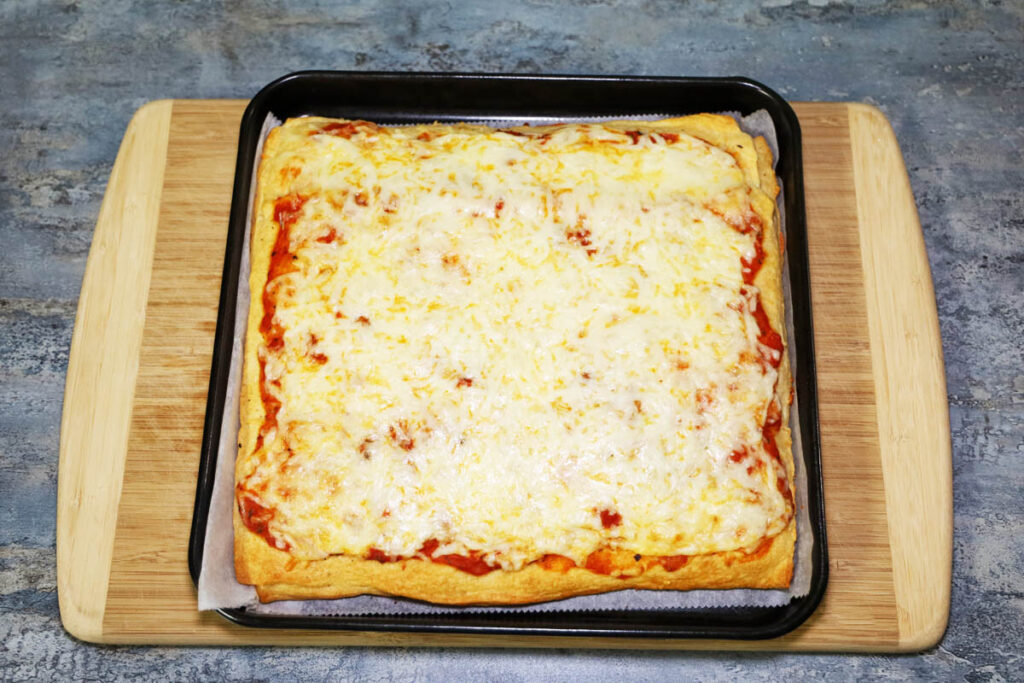 6. "Grandma" Pizza
Sicilian immigrants in the New York City area created a pizza style known as Grandma Pizza. It could also be referred to as Square Pizza. A square pan pizza is a thin crust pizza that they cook and serve in square slices. The sauce covers the cheese, and the crust is both crunchy and chewy. Pizza's thin crust is made from flour, salt, water, and yeast. You the roll it into a rectangle and top with tomato sauce and mozzarella cheese. Purists say pizza should only sell in squares or rectangles.

7. Roman Pinsa Pizza
Thin-crust pizza cooked in a wood-fired Pizza oven is the local favorite. Pizza by the slice is a specialty of Roman pizzerias. Roman Pinsa pizza comes pre-sliced and is served on large rectangular trays. Mushrooms, artichokes, and raw prosciutto are typical toppings. One would typically eat this style of pizza while on the go. Or perhaps as an appetizer or snack at home. Numerous pizzerias in Rome serve unique versions of the city's signature pizza. You can find a detailed recipe for pinsa pizza here.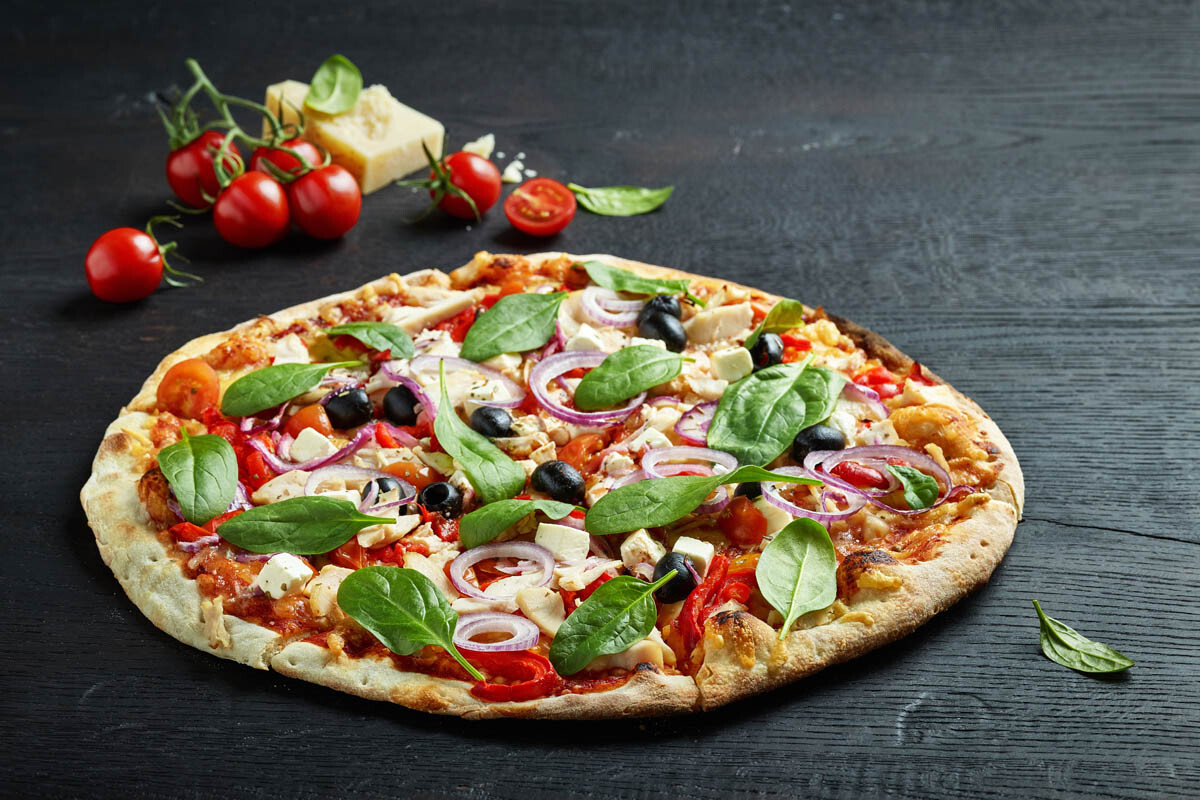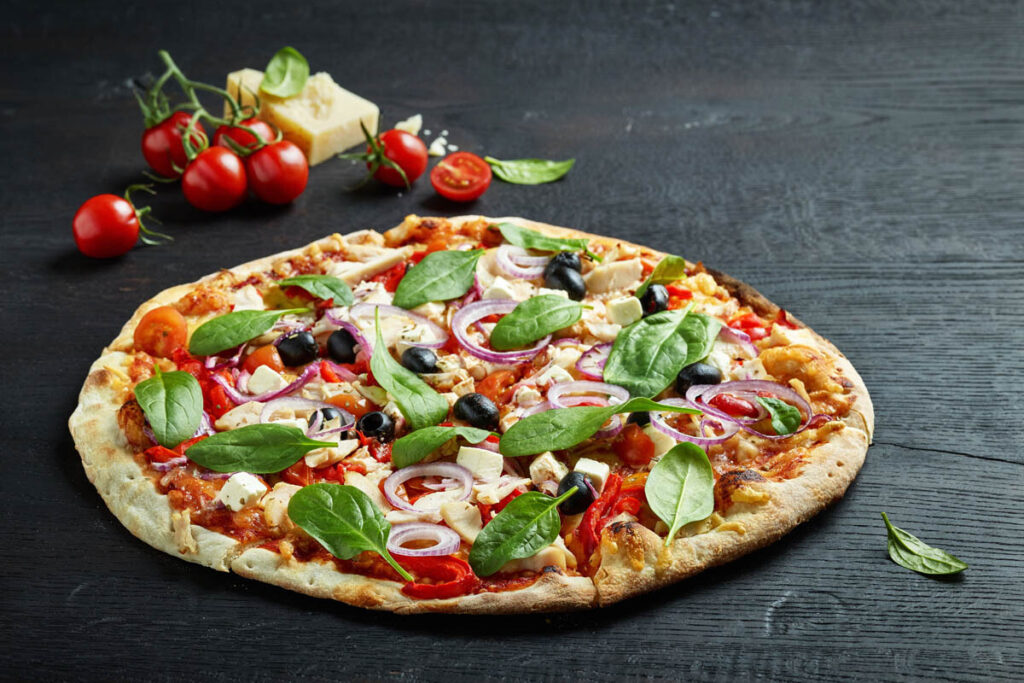 8. Greek style Pizza
Greek pizza is distinguished by a thin, crispy crust with a light char. Tomato paste, mozzarella cheese, and additional toppings top this pizza. Because of its square shape, slicing it into portions is unnecessary. It's a fantastic pizza for feeding a large group due to this. Greek style pizza recipe involves cooking it in a well-oiled pan that produces a traditional crisp crust. And the unique kind of cheese that tops it, melts perfectly on the Pizza.
Greek pizza dough is rolled out thin, cut into rectangles or squares, and baked until both sides are crispy. You can add peppers, olives, onions, tomatoes, and feta cheese. Tomato basil marinara sauce or plain red sauce works for these pizzas. After baking you can top greek pizza with fresh basil and parmesan.

9. New York Style Pizza 
The original New York-style pizza is said to have been created in the early 1900s in New York City. It is a thin crust pizza recipe you make with high-gluten flour. Then bake in a deck Pizza oven. New york style is a hand-tossed pizza. Toppings could include tomato sauce, mozzarella cheese, sausage, pepperoni, and vegetables. The "typical" New York pizza has a classic, thin crisp crust. And if your having a pizza party, this should be your choice. For a New York style Pizza recipe, click here.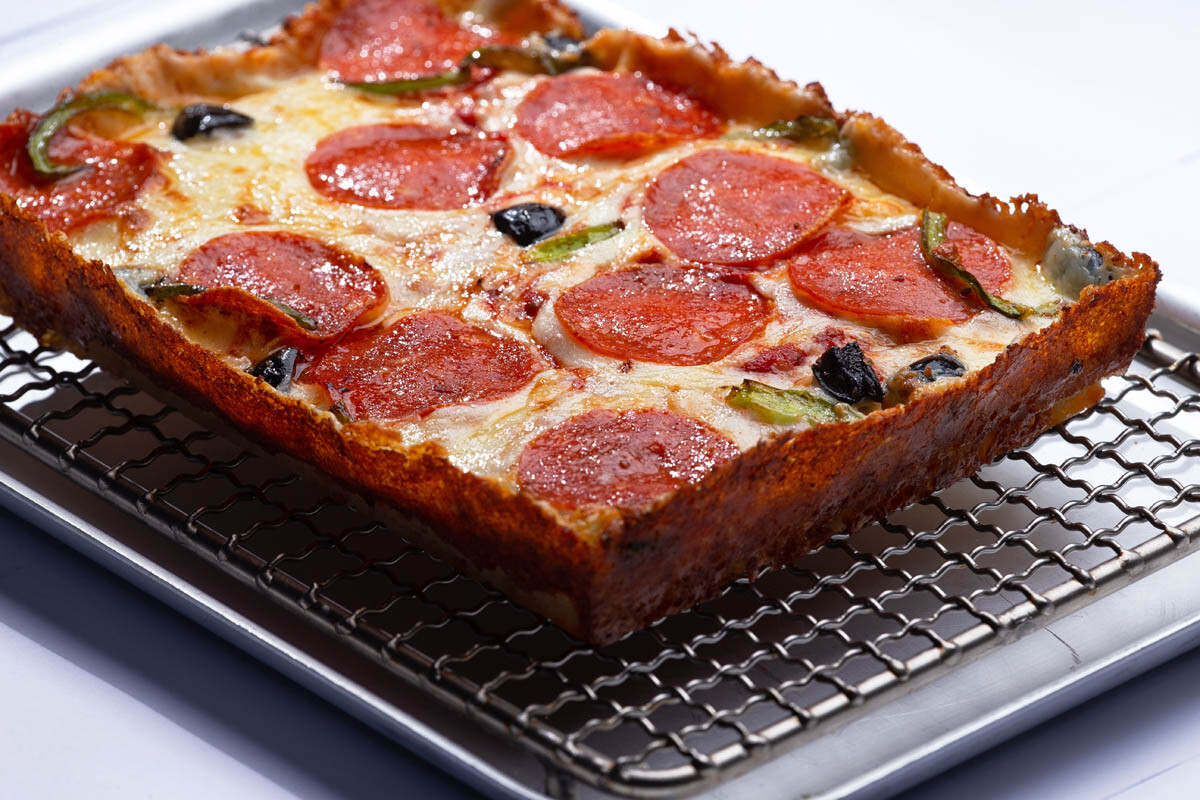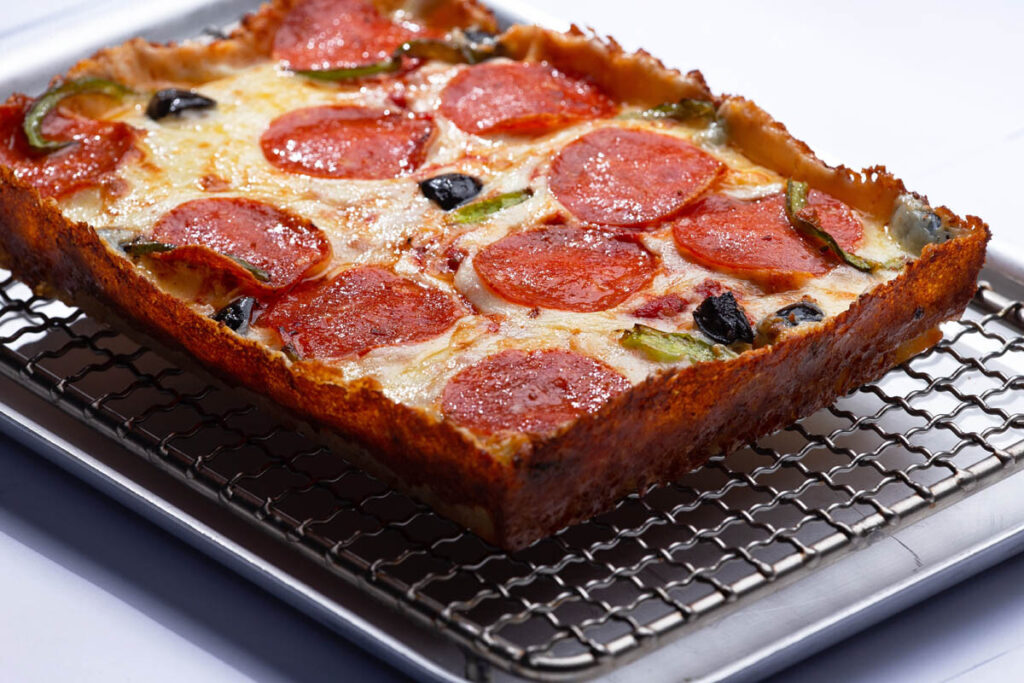 10. Detroit style Pizza
In the 1940s, Detroit-style pizza was baked in a square pan made from auto parts. This being a nod to the city's auto industry history. Detroit pizza crust starts with pepperoni. Then brick cheese spreads to the pan's edges. After that, the pizza is topped with sauce in a manner similar to that of Chicago-style pizza. However, traditionally the sauce would run in 3 stripes longways on top. The thick, extra-crispy crust of this artisan pizza conceals a fluffy, tender interior. Plus when the cheese crisps up on the edges, it creates a party for the palette.
Final Thoughts
So, for a while now, we've had a desire to discuss artisan pizza varieties. After all, it is our all-time favorite dish! We can't recall what age we were when we first tasted pizza and realized how delicious it was.
One of the pizza's greatest strengths is how adaptable it is. One could create their own style of pizza by mixing and matching fillings, crusts, and flour. (Not to mention toppings.) The pizzas of every region have their own unique flavor profiles. So set out to try a few of these, the flavors might just blow your mind.
Some of the links in this article are "affiliate links". By using the affiliate links, you are helping support AllForPizza.com, and we genuinely appreciate your support. Please see our privacy policy for more info.