Are you a pizza enthusiast? So are we! At All for Pizza, we're more than just a website – we're built around the love for pizza and their recipes. We celebrate the delightful dough, the sensational sauce, and the tantalizing toppings that make pizza the world's favorite comfort food. Our mission? To share our passion for pizza with you, our fellow pizza aficionados. Here's what you can expect from your visit to All for Pizza:
Whether you're a fan of New York-style, Neapolitan, or something in between, our hand-tossed recipes ensure you achieve professional-quality results every time.

All For Pizza
Introducing Our Homemade Pizza Recipes: A World of Delicious Possibilities
From classic Margherita to adventurous flavor combinations, we have a vast collection of recipes that cater to all taste buds. Whether you prefer thin crust or thick crust, pan pizza or hand stretched, or gluten-free, we've got you covered. Our step-by-step instructions make it easy for home cooks of all levels to create mouth-watering pizza masterpieces. Explore our remarkable recipes and unleash your inner pizzaiolo:
Uncover Unique Styles of Pizza:
🍕 Hand-Tossed: Master the classic art of pizza making with our hand-tossed pizza recipes. Learn the techniques to stretch dough by hand, creating the perfect balance between a chewy texture and a crispy crust. Whether you're a fan of New York-style, Neapolitan, or something in between, our hand-tossed recipes ensure you achieve professional-quality results every time.
🍕 Pan Pizza: Indulge in the rich flavors of pan pizza with our exceptional recipes. From deep-dish to square pan pizzas, our collection includes an assortment of thick, fluffy crusts and generous layers of toppings. Experience the ultimate comfort food with our delightful pan pizza recipes.
Discover Your Perfect Crust:
🍕 Thin Crust: For those who prefer a crispy, light pizza, our thin crust recipes are a dream come true. Our meticulously crafted dough recipes and baking techniques ensure an irresistibly crunchy texture. From Italian-style thin crust to ultra-crispy Roman-style pizza, our recipes cater to all thin crust enthusiasts.
🍕 Thick Crust: If a hearty, doughy base is more to your liking, our thick crust recipes are a must-try. Savor the satisfying textures of our Sicilian-style pizza or master our fool proof recipe for a traditional American thick crust. No matter your preference, you'll find the perfect foundation for your favorite toppings.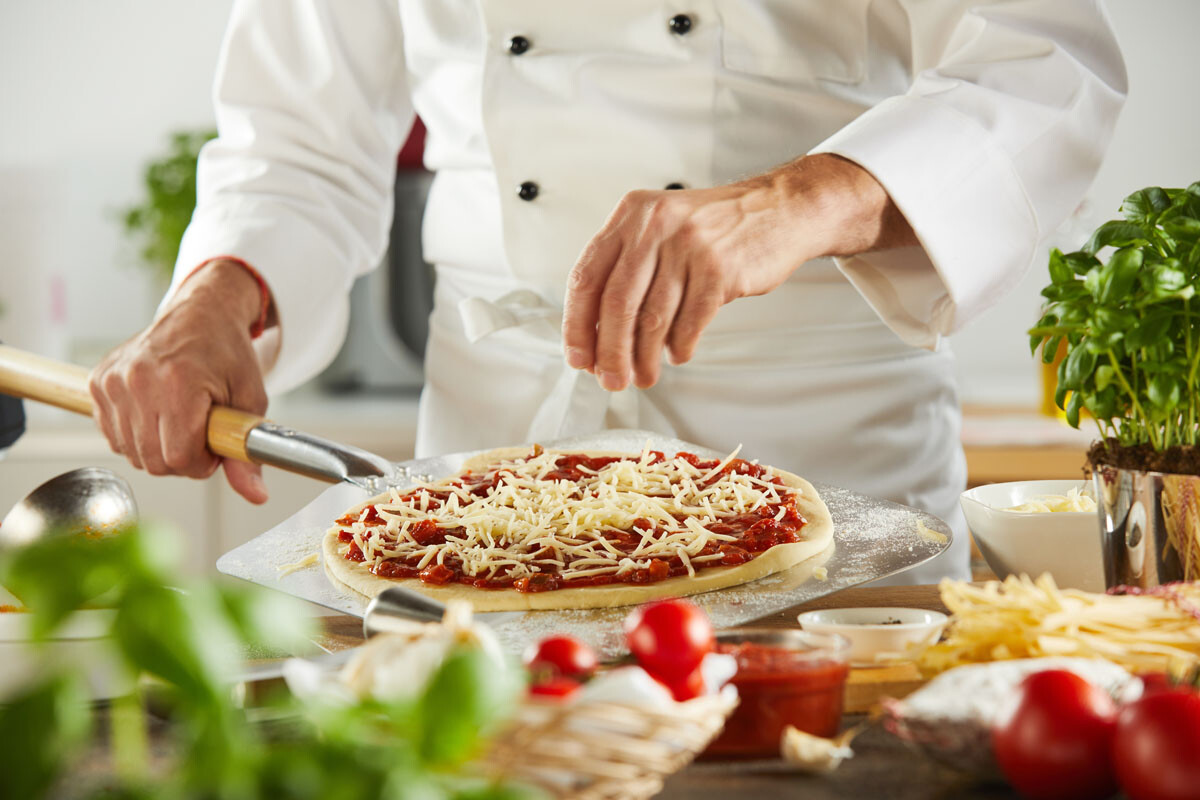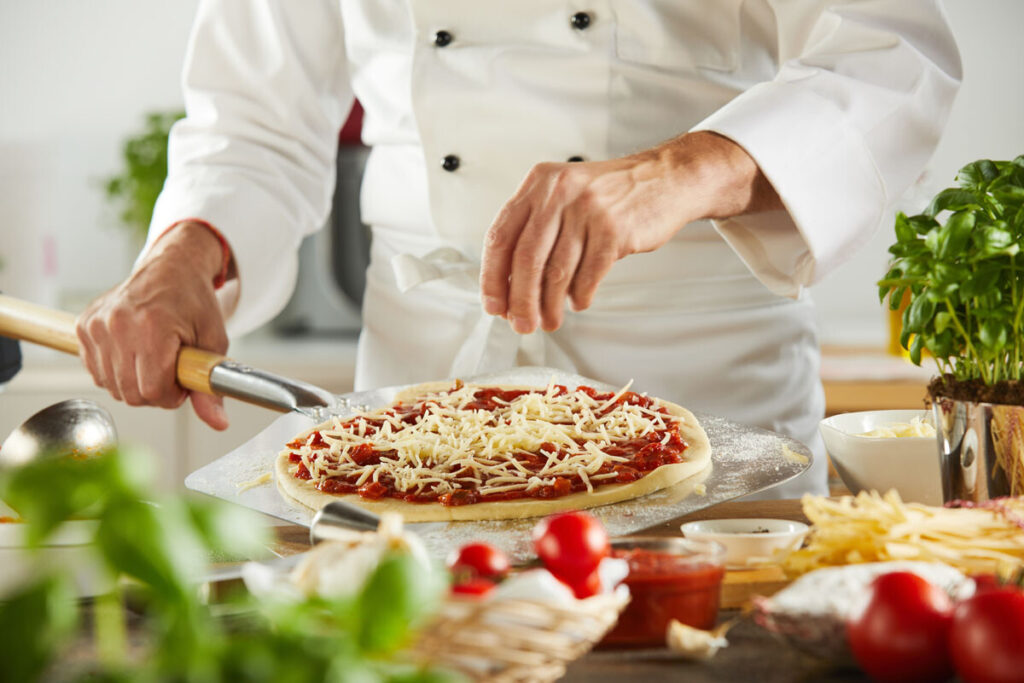 Experience a World of Toppings:
At All for Pizza, our pizza recipes are designed to cater to every preference and inspire your culinary creativity. Browse our extensive collection which includes:
🍕 Deli Style Breakfast Pizza: Revolutionize your mornings with this savoury combination of velvety white cream cheese, silky salmon slices, lemon, capers and chives, all served on crisp brown baked crust with toasty sesame seeds
🍕 Traditional Pizza Marinara: Relish the simplicity and elegance of this classic recipe, featuring a tangy tomato sauce, garlic, oregano, basil, and a drizzle of extra virgin olive oil on a perfectly thin crust.
🍕 Pizza Bianco with Artichoke: Indulge in this gourmet pizza that showcases creamy white sauce, tender artichoke hearts, garlic, mozzarella, and a final zing of pecorino for a truly exquisite dining experience.
🍕 Fugazzeta Recipe: Explore the flavors of Argentina with this unique stuffed pizza, filled with gooey mozzarella and topped sweet onions and parmesan with a sprinkle of oregano.
🍕 Flammkuchen Recipe: Discover German-style pizza with this delightful Flammkuchen, featuring a thin, crispy crust, creamy fromage blanc, cured ham, and a smattering of sweet yellow onions, leeks and chives.
Introducing Our Expert Pizza Tips: Elevate Your Pizza Game
Our pizza tips are designed to help you become a true pizza connoisseur. With our expert guidance, you'll not only create mouth-watering homemade pizzas, but you'll also enhance your overall pizza experience. Our collection of pizza tips covers everything from creating the perfect dough to pairing your pizza with the ideal wine or beer. Discover insider secrets and expert advice to take your pizza-making skills to the next level:
🍕 Crafting the Perfect Dough: Unlock the secret to flawless pizza dough with our expert tips. Learn how to choose the right flour, proof your dough to perfection, and handle it like a pro. With our guidance, you'll be able to create a variety of doughs, from thin and crispy to thick and fluffy.
🍕 Calculating Pizza for a Party: Never worry about running out of pizza or over-ordering again! Our handy guide on calculating the right amount of pizza for your party size ensures everyone leaves satisfied. Learn how to factor in your guests' preferences, dietary restrictions, and appetites for a stress-free pizza party experience.
🍕 Pairing Pizza with Wine and Beer: Elevate your pizza night with the perfect drink pairings. Our expert recommendations on matching pizza flavors with the right wine or beer will enhance your dining experience and impress your guests.
🍕 Top Ten Lists: At All for Pizza, we love sharing our favorite tips and tricks with our fellow pizza enthusiasts. Our Top Ten lists cover a wide range of topics, from the best pizza toppings to the best pizzas in America. These curated selections are perfect for inspiration and expanding your pizza horizons.
🍕 Engaging Stories: The world of pizza is filled with fascinating tales! Join us as we explore the best way to reheat pizza, share perfect pizza secrets, and other inspiring stories of pizza-makers from around the globe.
Introducing Our Comprehensive Pizza Tool Reviews: Equip Your Kitchen for Pizza Perfection
At All for Pizza, we understand the importance of having the right tools to create your ideal pizza. Equipping your kitchen with high-quality pizza-making tools not only enhances the pizza-making process but also ensures consistent and delicious results. Our in-depth reviews will guide you in selecting the best ovens, pizza stones, pizza peels, and other equipment. We put each product to the test so you can make informed decisions for your kitchen. Some of the essential pizza tools we review include:
🍕 Pizza Ovens: Create restaurant-quality pizzas at home with our expert advice on selecting the ideal pizza oven, whether it's a countertop model, an outdoor wood-fired oven, or a high-tech smart oven.
🍕 Pizza Stones: Learn how to choose the perfect pizza stone for your oven or grill, ensuring evenly cooked and crispy crusts every time.
🍕 Pizza Peels: Discover the benefits of using a pizza peel for transferring your pizza to and from the oven, and find the ideal peel material and size for your needs.
🍕 Pizza Cutters: Slice your pizza like a pro with our recommendations for the best pizza cutters, from traditional wheel cutters to rocking blades.
🍕 Dough Mixers and Rollers: Simplify your dough-making process with our reviews of the top dough mixers and rollers, designed to help you achieve the perfect consistency and thickness.
Our in-depth pizza tool reviews ensure you have all the information you need to make informed decisions and elevate your pizza-making experience. Equip your kitchen with the best tools and embark on your journey towards pizza perfection!
And finally:
🍕 A Supportive Community: At All for Pizza, we believe in the power of connection.
Join our Pizza Party Monthly Newsletter and let's make the world a more delicious place, one slice at a time! 🍕
Latest Pizza Posts