The Classic Margherita Pizza celebrates the purest flavors of Italy! Created in Naples in 1889, it was officially named after Queen Margherita of Savoy. In order to keep tradition, the colors of the pizza represent the Italian flag. Including, fresh "green" basil leaves. Followed by the salty "white" Mozzarella cheese. Then finally the vibrant "red" sauce.
Despite what you may have heard, the Classic Margherita Pizza is very easy to make. Begin by easily proofing a homemade pizza dough. Then add in some fresh Italian ingredients. Finally, cook the pizza in a blazing hot wood-burning pizza oven!


Ingredients in Pizza Margherita
The Classic Margherita pizza requires only a few basic ingredients. Plus, all of these ingredients are found at most major grocery stores. You can even order "00" flour and gourmet olive oil online.
Flour
tomatoes
garlic
salt
mozzarella
basil
olive oil
A premium quality pizza flour-like Molino Caputo is essential. Without a doubt, their "00" flour will help achieve a crispy and yummy pizza crust. Not only does it stretch well, this flour can also withstand long hours of proofing. On the other hand, you may buy a good-quality, pre-made pizza dough. Thus allowing more time to focus on pizza assembly and toppings.
San Marzano tomatoes are a key ingredient in Italian cuisine. Moreover, their sharp, rich flavors hold up beautifully in pizza sauce. Just add in a little garlic and salt for an amazing pizza sauce.
The soft Mozzarella adds a subtle sour flavor. While cooking, the cheese will brown on top, creating that picture perfect pizza.
Italian basil is a must. The herb incorporates a sweet freshness to the Margherita pizza. Just add the basil afterwards to avoid a burnt taste.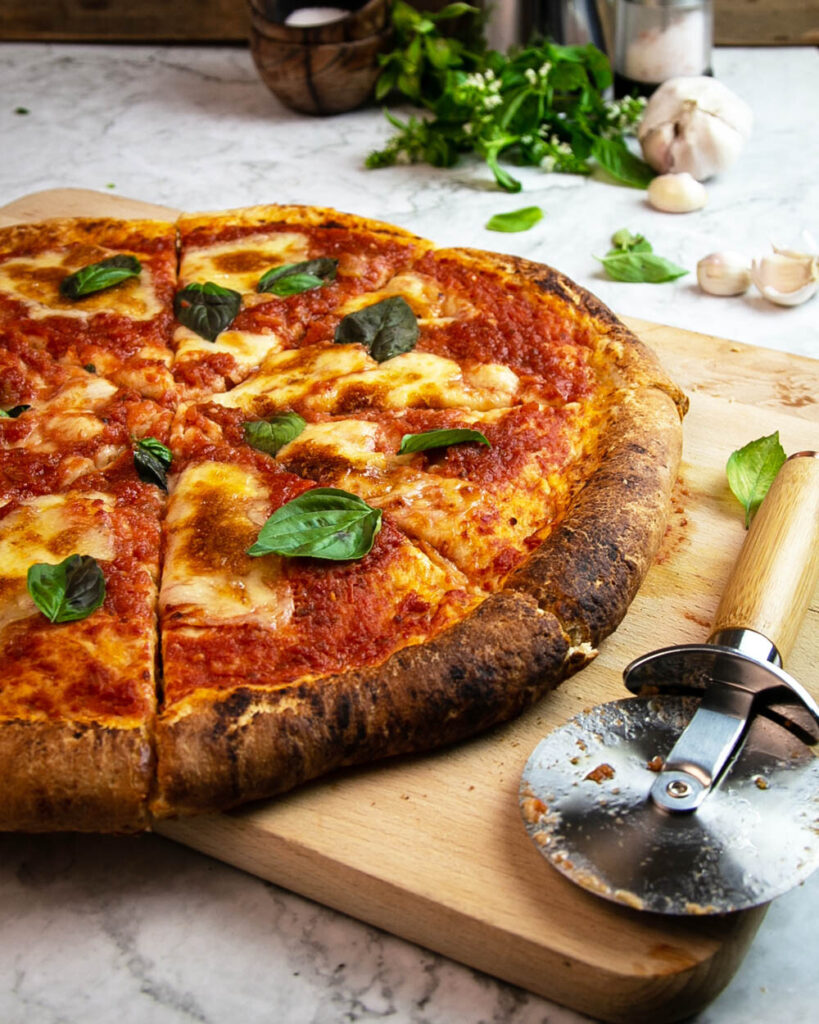 Substitutions for Pizza Margherita
A few fresh San Marzano tomatoes will do wonders to this pizza. Start off by charring the tomatoes under the broiler. Then remove the skin and crush them in the blender. Finally, add in some oregano, red pepper flakes and olive oil. This will give you a more smokey, herb flavored sauce.
Provolone and Fior di latte are good substitutes for Mozzarella cheese. They both add richness and saltiness. Not to mention, you can use all three for a super cheesy pizza.
Cant find "00" flour? As an alternative, you can use all-purpose flour. While the crust may not get as crispy, the pizza will still be amazing. Also, try and keep some good unbleached flour on hand. Your taste buds will thank me.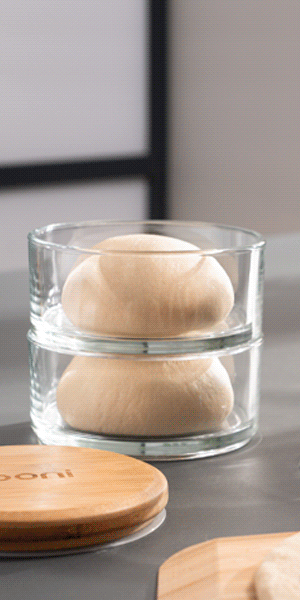 Store and Reheat
Once the pizza has cooled completely, place it in an airtight container and store it in the refrigerator. This will keep it fresh for up to 5 days. Furthermore, if stacking slices, ensure to put a parchment paper between each slice.
In order to reheat, preheat your oven or air fryer to 350° F. Then Place the pizza slices in a single layer directly on the rack. Cook for 5-7 mins.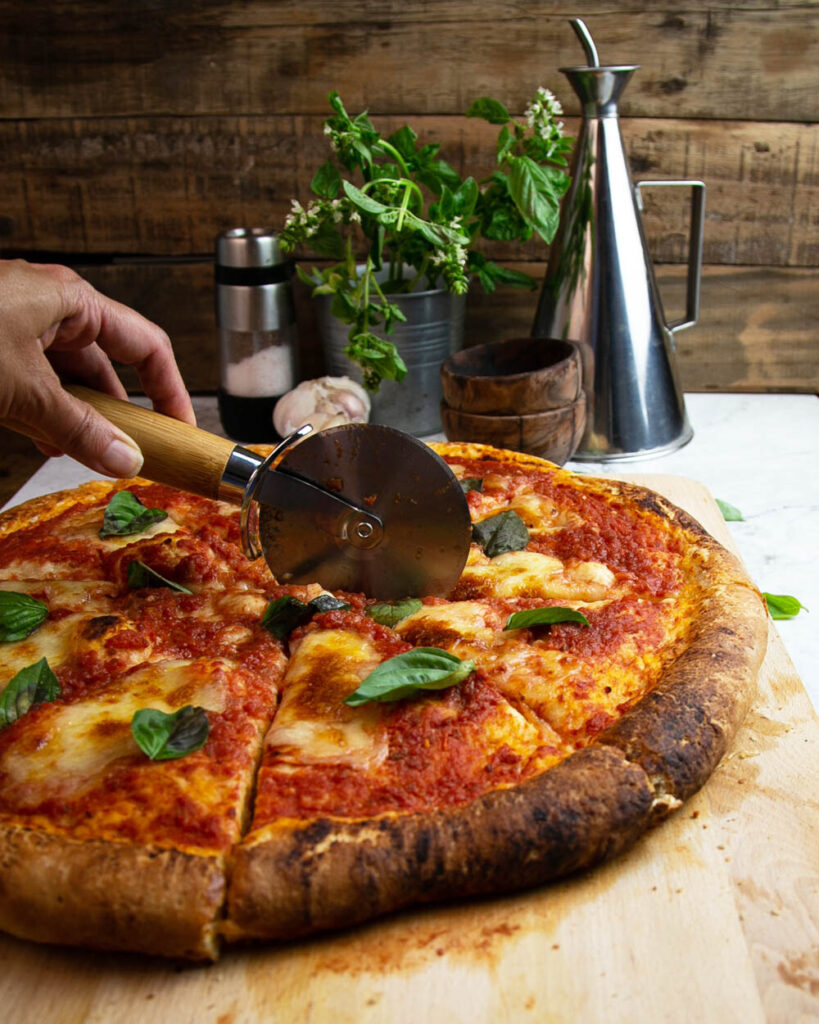 Classic Margherita FAQ
Which wine goes best with Classic Margherita Pizza?

Pinot Grigio. Pinot Grigio is a light, crisp white wine with a hint of pear and citrus that complements the light tomato sauce on traditional Margherita Pizza. The fruitiness of this wine also helps cut through the richness of pizza cheese and crust. Read our wine and beer pairings.
Can I use all-purpose flour for pizza dough?

Yes. All-purpose flour may be used if that's what you have. Be sure to stock your pantry with non-bleached flour. It just tastes better and is much more natural. You'll thank me in the end.
What tomatoes are best for pizza sauce?

Absolutely San Marzano tomatoes. However, feel free to use your favorite or whatever is on hand. I have used Roma tomatoes; they taste delicious with mozzarella cheese and basil.
What temperature should I set my pizza oven to?

Set it as high as it goes. Most portable pizza ovens can be set up to 950 degrees or more. And we want a crispy crust here. So, get yourself a temperature gun for accurate readings. Just shoot it right at the pizza stone.
Some of the links in this article are "affiliate links". By using the affiliate links, you are helping support AllForPizza.com, and we genuinely appreciate your support. Please see our privacy policy for more info.