Cuban style pizza is delicious, comforting, and exclusive. The golden, crisp baked crust offers a pie-like feel. It's smeared with gorgeous red tomato sauce packed with spice and herb flavorings. This sweet sauce compliments the savory toppings on a bed of salty gouda cheese. The yummy ham and shredded pork's meatiness is well-balanced with the tangy pickled olives and crunchy bits of onion & bell pepper.
Touching on the pizza's origin covers two different stories. Some say a chef created the pizza Cubana in Havana, and spread it across Miami through his pizzeria. While many others believe it was Rey Pizza chain's founder who invented the pizza.


Traditionally, Cuban style pizza is baked in a pan rather than on the pizza stone. Therefore, the crust is slightly thicker than a regular pizza. Yet, it is thinner than Chicago style deep dish, Sicilian, or Detroit-style pizza. When relishing this pizza in Cuba, you ask for 'picada' and receive sliced pizza. While in Miami, folks typically fold and gorge on it to their heart's content.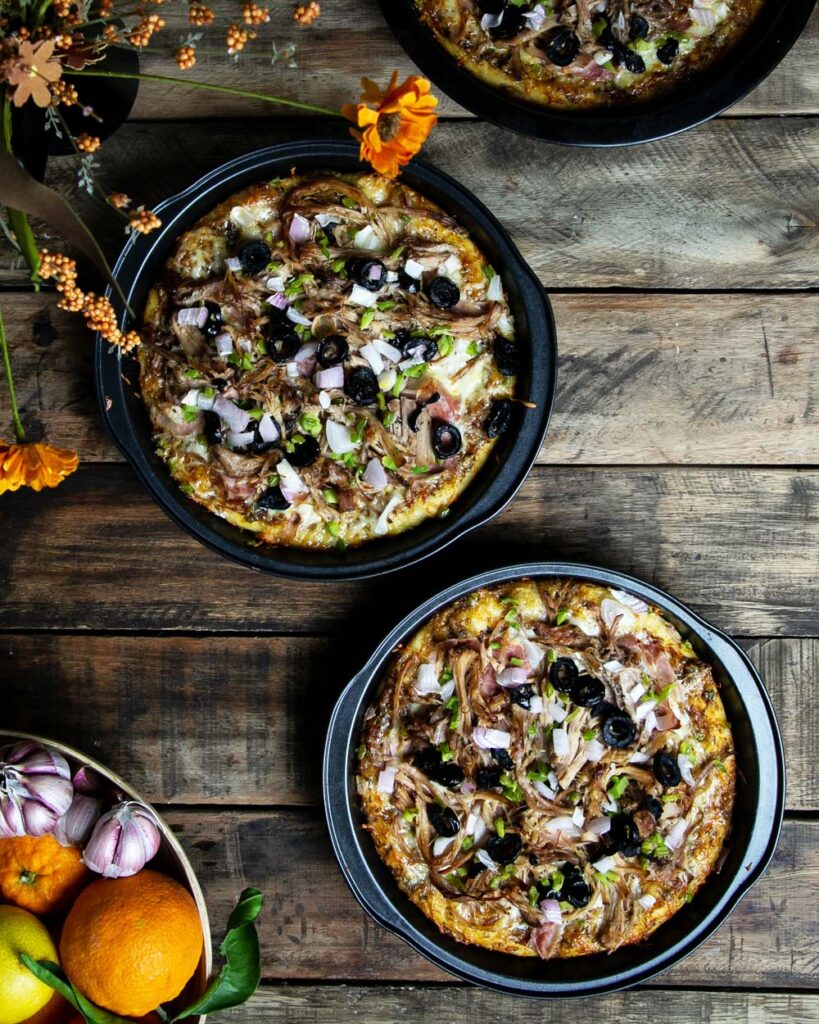 Ingredients
The ingredients that go into making Cuban style pizza are listed below. You can purchase them from supermarkets or online sites.
All-purpose flour
Brown sugar
Cherry tomatoes
Gouda cheese
Ham
Mojo pork
Pickled olives
Onion
All-purpose flour is a great choice for the Cuban style pizza dough. Also called plain flour, it is a medium-strength wheat flour containing gluten. Thus, those on zero gluten diet can opt for 100% gluten-free flour.
Brown sugar adds a hint of caramel-like sweetness to the dough. As this pizza has a slightly sweet crust, you can also sweeten the dough with honey or white sugar.
Cherry tomatoes bring a juicy fresh sweet taste to the sauce. This core ingredient simmers along with garlic, shallot, spices, and herbs to create a bright flavorful red sauce.
Gouda is a smooth and creamy cheese made from cow's milk. Its thick and springy texture works befittingly as a pizza topping.
Ham slices and shredded pork offer a rich smoky taste and meaty texture. The home-made mojo pork adds layers of flavors and richness to the Cuban style pizza.
Pickled olives have a soft fleshy bite and salty flavor. Pickled fruit/veggie toppings are added to complement the cheese and meat flavors.
Onions add a nice crunch. Any type of onion, such as red, white, or yellow, would work here. You can also try caramelized onions.


Substitutions
For weeknights, opt to buy pre-made pizza dough. You may use pre-cooked crust to make it more convenient and cut cooking time.
The homemade sauce can be replaced with citrusy Cuban mojo sauce or Italian vita nuova pasta sauce. If using your favorite tomato sauce, ensure to sweeten it slightly to suit the Cubana style.
For a Cuban sandwich flavor experience, substitute the red sauce with a layer of softened butter followed by some mustard sauce. The pickled olives can be swapped with dill pickles.
Besides gouda cheese, you can use swiss cheese, cheddar, or mozzarella.
Cuban style pizza Notes
Canned tomato puree or a combination of tomato paste & water can be used instead of fresh cherry tomatoes. This also reduces the cooking time by several minutes.
Add 2-3 roasted skinny red peppers along with the cherry tomatoes to infuse a delectable spicy flavor into your homemade pizza sauce.
The raw crust might seem thick when flattening the dough in the pan. That is precisely what you should want, as pizza Cubana has a thicker crust.
To enjoy the Cuban pizza "Miami style", use mozzarella cheese along with gouda. Stick to meaty toppings and minimal/no veggies. Also, make them slightly smaller in size. It helps fold easily and eat it like a Cuban sandwich.
Store and Reheat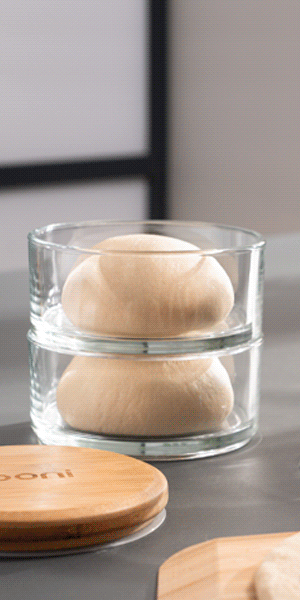 Wrap the proofed dough in cling film, transfer it to a freezer-safe container, and freeze to last several months. When ready to use, thaw the dough in the refrigerator. Then leave it on the countertop until it comes to room temperature and is ready to be assembled.
Store leftover cuban style pizza slices in a container lined with paper towels. Also, put a paper towel between each slice of pizza to absorb the excess moisture. Lock the lid and keep the container in the fridge for 2-3 days.
To reheat, place 1-2 leftover pizza slices on a dry skillet over medium heat. Cover loosely with an aluminum sheet for 4-5 minutes.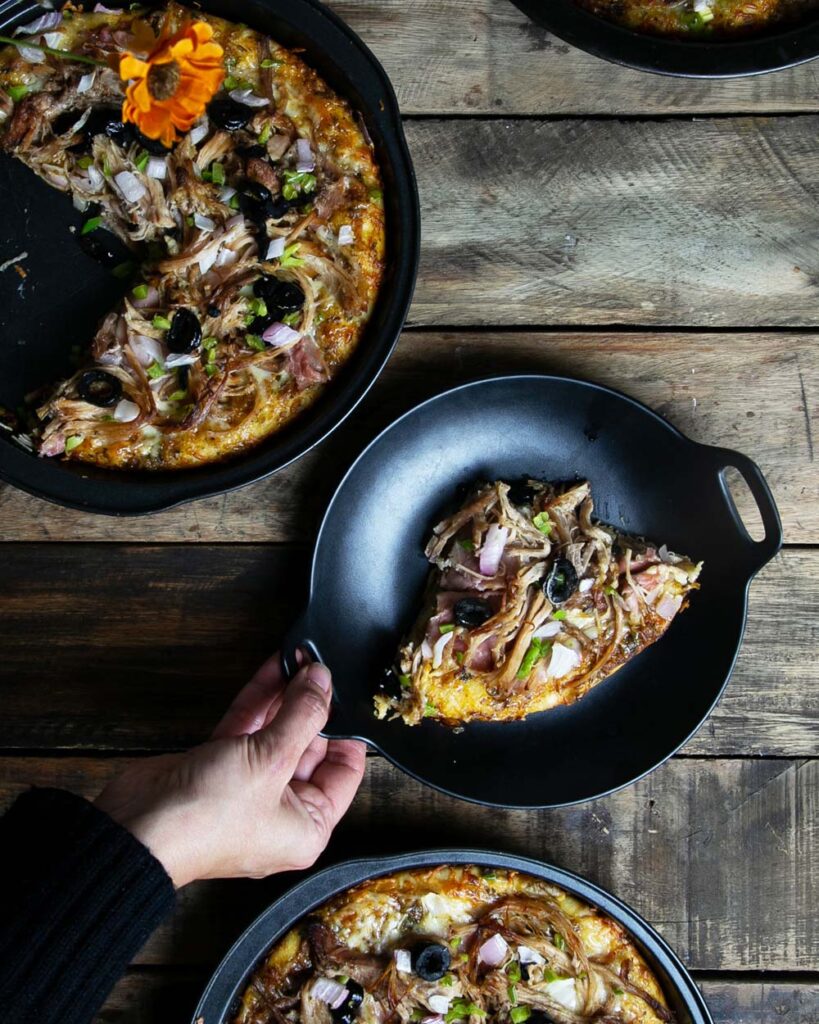 How to make Cuban style pizza
Make the dough – Bloom the yeast in a bowl of lukewarm water mixed with sugar. Transfer it to the stand mixer bowl. Add the sifted flour-salt mixture and oil gradually while running the mixer on low speed till it forms a soft dough. Cover the dough and proof for 2 hours.
Prepare the sauce – Sauté the onion, garlic, and basil leaves in olive oil. Stir in the seasonings, followed by the cherry tomatoes. Mix the brown sugar, cover the saucepan, and simmer for 20 minutes. Finally, add the fresh herb, let it cool, and blend into a smooth puree.
Assemble your pizza – Divide the dough into threeportions and place each in a baking pan. Press with fingertips to form the raw crust. Spoon the tomato sauce, layer with shredded cheese, and add the toppings. Bake for 10-15 minutes in a preheated oven at 425° F.

Cuban style pizza FAQ
What other toppings can be used?
Will beer dough work for this pizza?

Yes. The recipe for the beer pizza dough is simple, substitute the water with an equal amount of beer. The dough rises well and results in a superb chewy texture. Beer infuses its distinct flavor and gives the crust a fun taste twist.
Which wine goes best with Cuban pizza?

Pinot Noir. The spicy undertone of the red wine pairs superbly well with the crunchy crust. Its smooth cherry flavor complements the cheese, ham, & pickle.
Some of the links in this article are "affiliate links". By using the affiliate links, you are helping support AllForPizza.com, and we genuinely appreciate your support. Please see our privacy policy for more info.