This Ooni Bamboo Pizza Peel is an essential tool if you love pizza. This one is among the greatest pizza peels for making pizza available out there. Expanding out the dough, spreading toppings, and putting your pizza in the oven are all easily accomplished. With the help of the premium, incredibly smooth bamboo pizza paddle. You can bake pizzas of restaurant quality at home using this peel. Fast, simple, and enjoyable.
When launching a pizza into the oven, the pizza peel's extraordinarily smooth surface helps prevent the dough from sticking. Plus it's quite adaptable. It is, therefore, the ideal tool for every aspiring chef. Especially those who enjoy pizza. There are more options for the Ooni bamboo pizza peel. More than just the many different types of pizzas. Use it to move bread and in and out of the oven. Or slide a cupcake pan on and off of it. You can even use it as a serving block or cheese board. It is a pretty helpful tool around the kitchen.
This Ooni bamboo pizza peel review is a detailed experience with the bamboo peel. It has all the details you might be looking for before purchasing this peel. So let's dive in…

Pros
The bamboo paddle makes stretching dough a smooth and straightforward process.
For pizza perfectionists, it is available in three perfect sizes and shapes.
You can quickly move your pizza from your counter to the oven with the help of the peel.
It is simple to deal with the dough because of the super smooth surface, which keeps it from sticking.
The Ooni bamboo pizza peel is an ideal tool for more than just pizza.
It is also simple to store and clean.
Cons
It won't be as durable as aluminum.
With extreme heat, edges can get darker.
Dimensions
12″ Bamboo Pizza Peel

12" W x 26" L x 1.4" H
1.2 lbs

14″ Bamboo Pizza Peel

14" W x 27.6" L x 1.4" H
1.5 lbs

16″ Bamboo Pizza Peel

15.7" W x 30" L x 1.1″ H
1.8 lbs

First Impressions
I ordered the bamboo pizza peel because I had heard about their non-sticky nature. So I decided to give it a try. The Ooni is a great name when it comes to pizza peels. Both, their wood and aluminum peels. The pizza peel was delivered within three days and was nicely packed. And it was exactly as it's shown on the site, big plus. It is a little heavier than I expected, but it performs perfectly as a pizza peel. Plus as a serving board to serve the pizza on. The sturdy, moisture-resistant, Ooni Bamboo Peel is perfect for a dining table. The bamboo peel is visually pleasing. Making it ideal for the pizza maker who enjoys entertaining.
I used the moisture-resistant bamboo peel. This is developed to help prevent the pizza dough from sticking while launching the pizza. I purchased this peel to go with my Ooni koda 12 pizza oven. Its is very durable, easy to load the range with pizza, and simple to clean. It's wonderful for expanding and launching. Although I'd recommend the Ooni perforated pizza peel for retrieving. Its thinner and slides under the pizza easier. Plus the perforations help grip the crust. Read our on the perforated pizza peel.

Ooni Bamboo Pizza Peel Design
This Ooni pizza peel is an adorable and distinctive item. It is constructed from very high-quality materials. You'll be able to quickly and perfectly put your pizzas in and take them out of the oven. The design is excellent for people with small kitchens because it uses little space on the counter. This peel is a multifunctional kitchen tool because you can also use it as a serving tray or chopping board. The Ooni Bamboo Pizza Peel is suitable for pizzas up to 12, 14, and 16 inches across! Plus it works with all Ooni outdoor pizza ovens.
Although bamboo may not be a traditional material for making peels, it is incredibly durable. Plus it requires low maintenance. Bamboo is a low-density wood, which makes this a lightweight and easy to carry peel. It is also scratch-resistant since it is tougher than most forms of wood.
Dough sticking to the surface of wooden peels is less of an issue, when it's formed of "raw" wood. The wood's textured surface allows air to circulate, preventing the dough from sticking. Making it easy to transfer to the pizza stone. Order one right away and relish preparing delicious pizza at home!


Ooni Bamboo pizza peel surface
A wooden pizza peel is ideal for transferring pizza into the oven. The main reason is that freshly made pizza dough adheres less to a wooden peel. The premium, incredibly smooth Bamboo paddle is the professional equipment of choice for making pizza. As most pizza parlors and restaurants prefer a wooden pizza peel.
The pizza slides on and off its slick surface very quick. If you've ever had pizza that stuck to the peel you know how frustrating it can be. Nothing is worse than having a pizza night ruined by dough sticking to the peel. You won't experience it again if you use a premium bamboo peel.
Using the Ooni Bamboo pizza peel
With this peel, you can quickly and effortlessly move your pizzas from the counter to the pizza oven. Assuring that they cook uniformly and turn out flawlessly each time. This peel is also relatively lightweight and portable. Making it great for a cook on the go.
The Ooni bamboo pizza peel is likewise ideal for effortlessly launching your preferred pizza. Before placing and preparing your pizza on the bamboo paddle, be sure to flour the surface lightly. It will make it easier to move your pizza from the peel to the pizza stone. Plus this will also further prevent sticking.
A crispier crust can be achieved from the light flour dusting on the peel surface. This will absorb any extra moisture from the dough. Use this tip the next time you make pizza at home. You'll see successful results!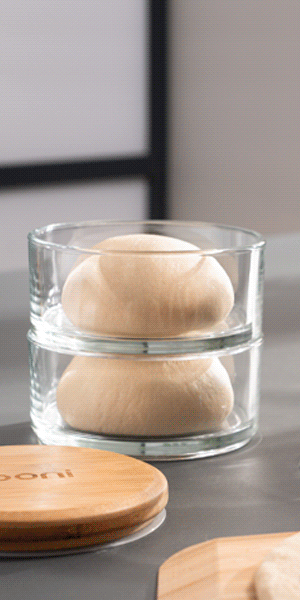 Ooni bamboo pizza peel FAQ
Can I place a wooden peel in an Ooni Oven?

Yes, a wooden pizza peel is compatible with an Ooni oven. Its compatible with just about every portable pizza oven. Nevertheless, there are a few considerations while using a wooden pizza peel.

Before using the pizza peel, check to see that it is dry and clean. The dough may stick if the pizza peel is moist. Second, make sure you flour-dust the pizza peel before placing the dough. It will lessen the chance of adhering.
Is the bamboo peel portable?

Yes, it is lightweight and portable. You can easily handle the peel without stressing your hands or arms. This peel can easily be packed up and taken to a pizza party. Impress your friends and family with the Ooni bamboo pizza peel.
Yes, this can work as a pizza peel, and a chopping board. It has plenty of give for your sharp knives. Just make sure to wash and dry the pizza peel before you toss your dough on it. You can also serve food on this peel. Place a nice soft brie in the center. Then throw some crackers all around it.

Conclusion
The peel fits-most ovens to provide uniform cooking. Plus prevents burning at either end. Whether you prefer a thin crust or thick pie, there are no more burnt toppings. Just have nothing but the exquisite pizza flavor on your tongue.
This professional-grade bamboo design provides longevity. Even after many hours spent working away in and out of the oven. It is kind to your eyes and hands. Your hands being a big concern when it comes to dealing with hot pizza. It is also a perfect tool to get crispy crust all around. Just easily rotate the pizza with this peel. Landing a pizza into the oven has never been this easy before.
Some of the links in this article are "affiliate links". By using the affiliate links, you are helping support AllForPizza.com, and we genuinely appreciate your support. Please see our privacy policy for more info.