Devour a slice of the ancient Roman "pinsa" pizza right at home! The light, crisp crust is the highlight of this oblong-shaped pizza. It's topped with a zingy and herbaceous tomato sauce. Then some melting mozzarella cheese. Finally a thick, classic bolognese sauce. All making this pinsa a gourmet treat!
The tale of pizza in Rome began in the 18th century with the "pizzette." These roughly prepared pizzas were affordable and hearty lunch options for the lower class. Veggies, cheese, and olive oil were the standard toppings. Traditionally, the famous "tomato" was not used in Roman pizza. Now, in the 21st century, several variations of Roman-style pizza can be found. Many including tomatoes.


Ingredients
Roman pinsa pizza packs a ton of flavor. The secret to its satisfying taste and texture lies within the ingredients.
Flour
Tomato
Dried herbs
Ground beef
Red wine
Onion
Garlic
Chili powder
Salt and pepper
Pinsa's unique taste comes from flour and long hours of proofing. It is prepared with 4 different flours. Wheat, rice, soy, and spelt. The rice flour gives it a crunchy texture. While the others add a touch of earthy nuttiness to the pizza dough.
In this recipe you'll find whole peeled San Marzano tomatoes, tomato puree, and tomato paste. San Marzano's sweet flavor and mellow acidity elevate the pizza sauce exceptionally. While the tomato puree and paste give the bolognese a thick tanginess.
Ground beef adds a lovely meatiness to the bolognese. The trick is to simmer the sauce for 2-3 hours. Ground meat is usually made from tougher cuts and requires time to soften. Additionally, the simmering allows the meat to absorb the flavors from the sauce. These include onion, garlic, dried herbs, and tomato.
A staple ingredient in bolognese is red wine. Use half a cup of red wine with the meat sauce. This infuses a robust flavor. It also assists in balancing the acidity of tomatoes. If you prefer a fruity taste, add white wine instead.
The palate-pleasing heat in the thick bolognese comes from chili powder and pepper. This will not add too much heat to the pizza. Just enough to taste it.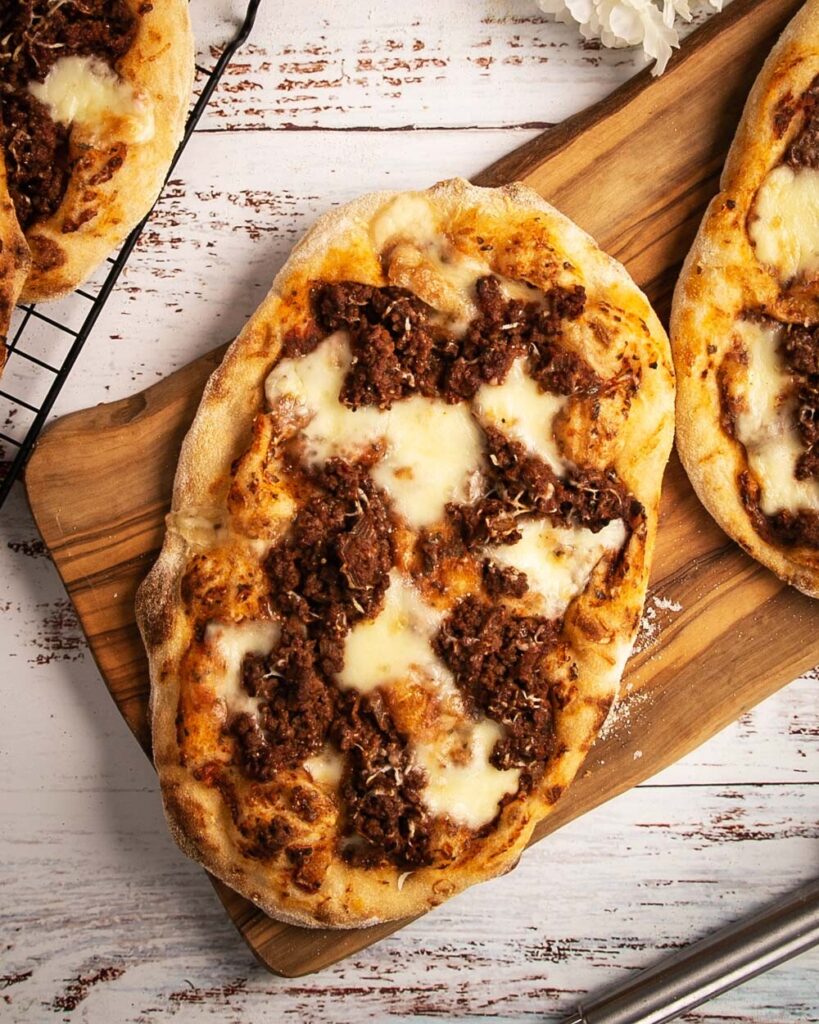 Notes for Roman pinsa pizza
Prepare the pinsa dough 2 days prior to making the pizza. The dough needs a longer proofing time to get the authentic rubbery texture. Additionally, chefs say you can proof the pinsa dough for up to 120 hours!
Mix a teaspoon of balsamic glaze into the pizza sauce to add a rich and complex sweetness. Balsamic glaze is a thick sauce-like reduction achieved by cooking down balsamic vinegar.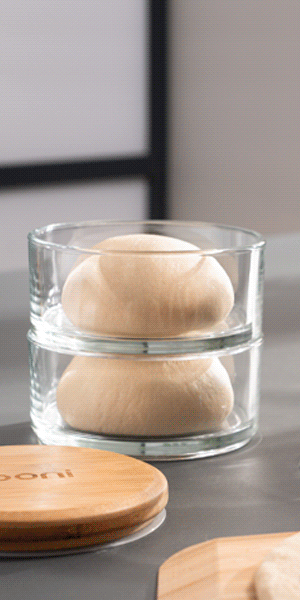 Substitutions for Roman Pizza
Swap the wine in the meat Bolognese with an equal portion of beef stock. The stock has a strong beefy taste. This is from slow cooking the bones, meat, and fat. It adds a depth of flavor to a bolognese.
You may opt for pre-cooked Roman pinsa. These Pinsa's are partially cooked crusts. Just assemble and cook for 5-7 minutes at your oven's maximum temperature. On the other hand, you can also buy pre-made pizza dough and use it in place of the pinsa.
Topping Ideas
This recipe makes 5 Roman pinsa crusts. Top each differently for a flavorsome feast!
Vegetarian and fruit pizzas:
Classic Margherita pizza. Includes a pizza sauce, mozzarella and fresh basil.
Cottage cheese pizza, aka Paneer pizza. Includes a marinara sauce base. Topped with mozzarella, Indian spiced cottage cheese and veggies. This is one of our favorites!
Ricotta fruit and nut pizza. Includes a ricotta cream base. Then topped with fresh fruit, mixed nuts, and honey.
Gorgonzola and walnut pizza. Topped with shredded mozzarella, gorgonzola cheese, grapes and more.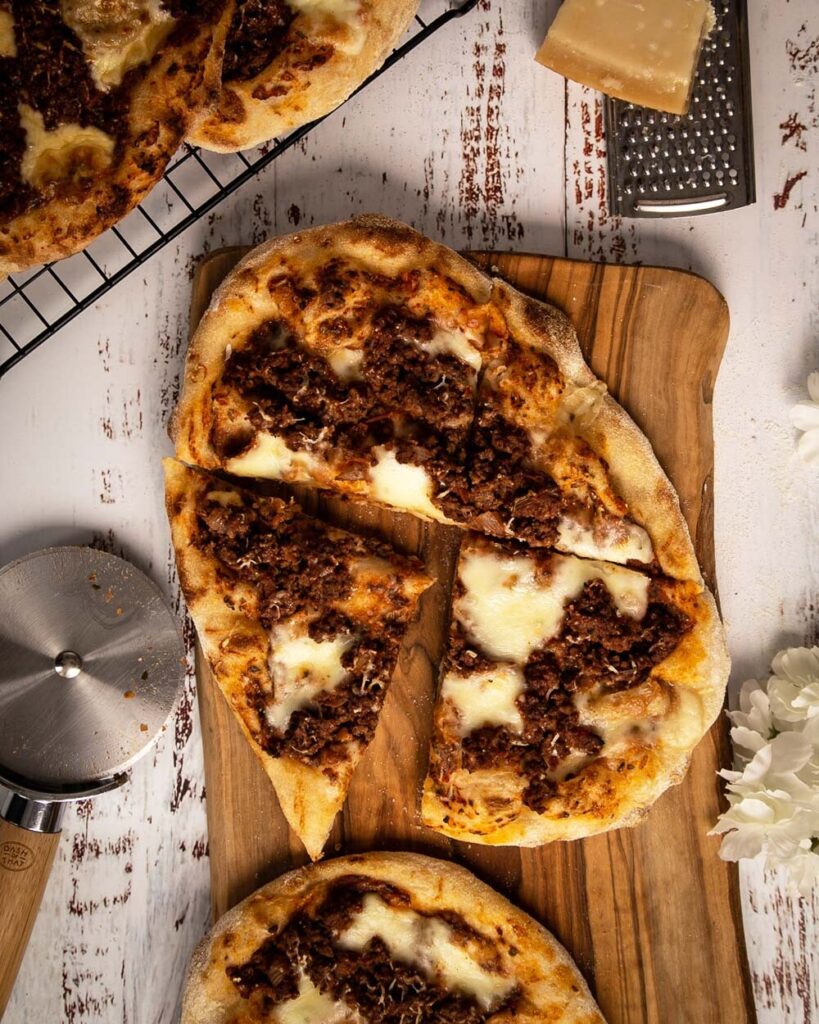 Seafood and meat pizzas:
Anchovy and caper pizza. Includes a pizza sauce base. Then topped with mozzarella, anchovies, capers and veggies.
Salmon and cream cheese pizza. Includes a cream cheese base. Then topped with mozzarella, baby spinach, grape tomatoes, smoked salmon, and more.
Salami and Brussel sprout pizza. Includes a tomato sauce base. Then topped with buffalo mozzarella, Brussel sprouts, salami, arugula and more.
Pesto Pancetta pizza. Includes a pesto sauce base. Then topped with mozzarella, pancetta, and sliced tomatoes.
How to make Roman pinsa pizza
Make the dough – Sieve the flours into the bowl of a stand mixer. In a separate bowl, combine the yeast with a little warm water. Add the yeast liquid to the stand mixer plus most of the water. Knead for 6 minutes then add the salt and olive oil while mixing an additional 3 minutes. The pizza dough should be soft. If not add more water. Set aside for 30 minutes while folding the dough every 10 minutes. Transfer to a bowl with a lid and proof for 48 hours in the refrigerator, turning once halfway through. Remove from fridge a couple hours before using. Cut the dough into 5 equal parts and shape into dough balls. Cover and set aside for 1 hour.
Prepare the Bolognese – Heat the oil in a skillet. Add the onions and carrots. cook a couple minutes before adding garlic and seasonings. Once the garlic has created its nutty aroma, pour in the ground beef. Break up and cook for 10-15 minutes. Pour in the wine to deglaze the pan and scrape any bits. Cook for 3-4 minutes for the alcohol to evaporate. Add in tomato puree and mix well. Followed by the tomato paste, and bay leaf. Bring to a boil then simmer on low for 2 hours. Remove from heat and let cool.
Assemble the pizza – Begin by blending the tomatoes into a puree to make a pizza sauce. Add the salt and other seasonings. Pulse a few times to combine. Stretch out your dough balls into flat ovals. Place onto the baking sheet. Spread spoonful's of sauce, cheese and Bolognese. Sprinkle on some parmesan and bake for about 10 mins at 475 degrees F. Remove and repeat with the remaining pizzas.

Roman pinsa pizza FAQ
What is Roman Pinsa Pizza?

It is a light oval-shaped pizza crust. Then topped with herb-seasoned tomato sauce, mozzarella, meat bolognese, and parmesan. The outstanding element is the base "pinsa," which is entirely different from a standard pizza crust. Various toppings can be added as per preference.
How is pinsa different from a standard pizza crust?

Compared to a New york style pizza crust, pinsa is more airy and light. Plus it is easy to digest. The dough has a distinct taste as it is prepared using wheat, soy, rice, & spelt flour. The incredible texture comes from using 'lievito madre', a firm sourdough starter. Then proofing it for 2-4 days. And cooking the pizza at a lower temperature.
Are there other types of Roman Pizza?

Yes. Pizza Al Taglio and Romano Tonda are two chief pizza variarians relished in Rome. Pizza Al Taglio has a foccaccia type fluffy crust. It is prepared in a large rectangular cast iron pan, cut into squares, & sold by the piece. Tomatoes, basil, olives, mortadella, and fresh burrata cheese are common toppings. Romano Tonda is round and has an even crispier crust. Plus the toppings spread to the edges.
Some of the links in this article are "affiliate links". By using the affiliate links, you are helping support AllForPizza.com, and we genuinely appreciate your support. Please see our privacy policy for more info.