The cottage cheese pizza is a tempting snack! It's a perfect vegetarian alternative to tandoori chicken pizza. With cottage cheese cubes replacing the chicken pieces. Marinated in a spiced yogurt mixture, the cottage cheese gets a creamy coating. And not to mention a savory taste.
The dense marinara sauce layer brightens the palate. It adds a chunky and tomatoey zing. Moreover the colorful toppings allure the senses. Red & green sweet peppers, black olives, and mushrooms. All sitting on a bed of melted mozzarella. You can also top the cottage cheese pizza with corn kernels and sliced onions!


History of cottage cheese
It's said that preparing cheese by curdling it with yogurt or berries originates from the Indus Valley Civilization. This is the earliest known Indian culture. The Indian term for cottage cheese is "paneer." It is derived from the Persian/Turkish word "peynir." This translates to "cheese."
Curdling milk using acidic ingredients was developed later. It is a Portuguese process that originated in the 17th century. This is the process that we use today.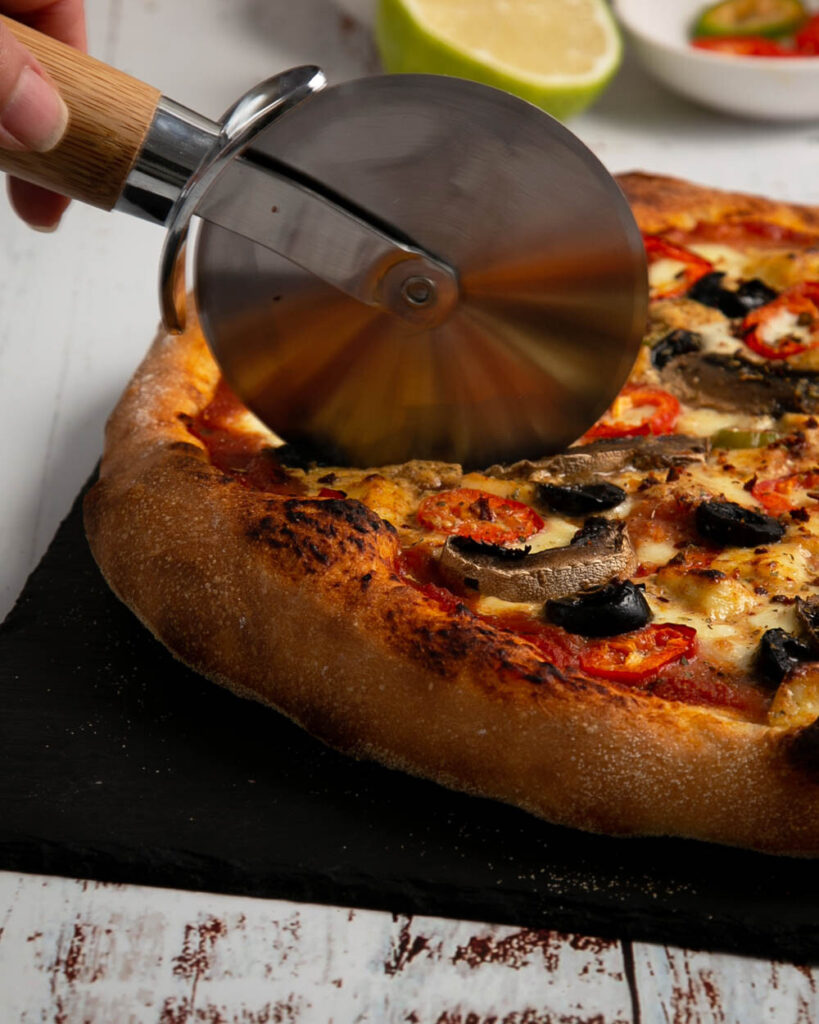 Ingredients
Cottage cheese pizza is prepared with a host of ingredients. Let's take a look at them in detail.
Flour
Cottage cheese
Green yogurt
Spices
Garam masala powder
Dried fenugreek leaves
Sweet mini peppers
Olives
Mushrooms
Caputo flour is also known as Italian pizza flour. This finely milled flour is prepared from a unique mix of soft white wheat. They hold long fermentation well and produce easily workable doughs. The crust turns out crisp with airy holes inside. This offers a yummy chewy texture.
Cottage cheese has a soft milky mild taste. It requires gentle handling as it crumbles easily. The creamy yogurt and spice marination helps the subtle cheese absorb flavors. During the baking process, it gets a slightly charred exterior. While retaining a moist softness on the inside.
The spice powers add a flavorful aromantic warmth. 'Garam masala' literally translates to 'hot spice.' It combines various spices. This includes black peppercorns, cumin seeds, cinnamon sticks, star anise, mace, cardamom, nutmeg, & cloves. They dry roast them on a hot iron skillet. Then allowed to cool before grinding into powder.
The sweet pepper, olives, & mushroom toppings offer great texture. Plus a ton of flavor in every bite. The peppers add fruity and sweet element. The black olives fill the mouth with a delicate fleshy tang. Plus, the mushrooms infuse an earthy tone.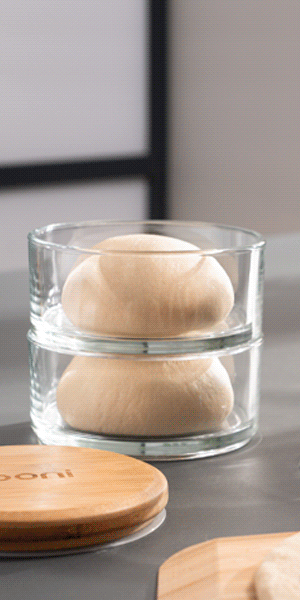 Cottage Cheese Pizza Notes
At times we end up adding too much flour. And the dough turns firmer than usual. A quick fix would be adding a few teaspoons of water or milk. Then, pulse the food processor a few times. Just until you achieve the proper soft, sticky pizza dough consistency.
Besides using store-bought marinara sauce, you can easily prepare a pizza sauce at home. In a food processor, pulse 1/2 can of peeled tomatoes. Add in 1/4 of an onion and 1 garlic clove. Pulse until finely chopped. Then toss in 1/4 teaspoon each of oregano, basil, and salt. Plus a pinch of black pepper. Pulse to combine. For a vibrant and tart sauce, use it as is. To add more depth to the flavors, you could simmer the sauce for 5-10 minutes.
Substitutions 
You may substitute cottage cheese with semi-firm cheese varieties. Mexican queso Blanco, halloumi cheese, and panela cheese are good options.
Other than homemade pizza dough, you can opt to buy premium quality pre-made pizza dough. Furthermore, the cottage cheese pizza also tastes delicious with a naan crust. Check out our butter chicken pizza recipe. This will help you prepare the naan dough from scratch.
Many prefer a slightly sweeter crust but are wary of adding extra sugar to the dough. Chuck the sugar entirely! Substitute it with half a tablespoon of honey. This adds a natural sweet flavor to the pizza dough. You can also make this pizza on a cauliflower crust.
If you're following a vegan diet, just switch up 3 ingredients! In place of cottage cheese use water-drained firm tofu cubes. Then replace the yogurt with cashew curd. And find a good vegan mozzarella cheese.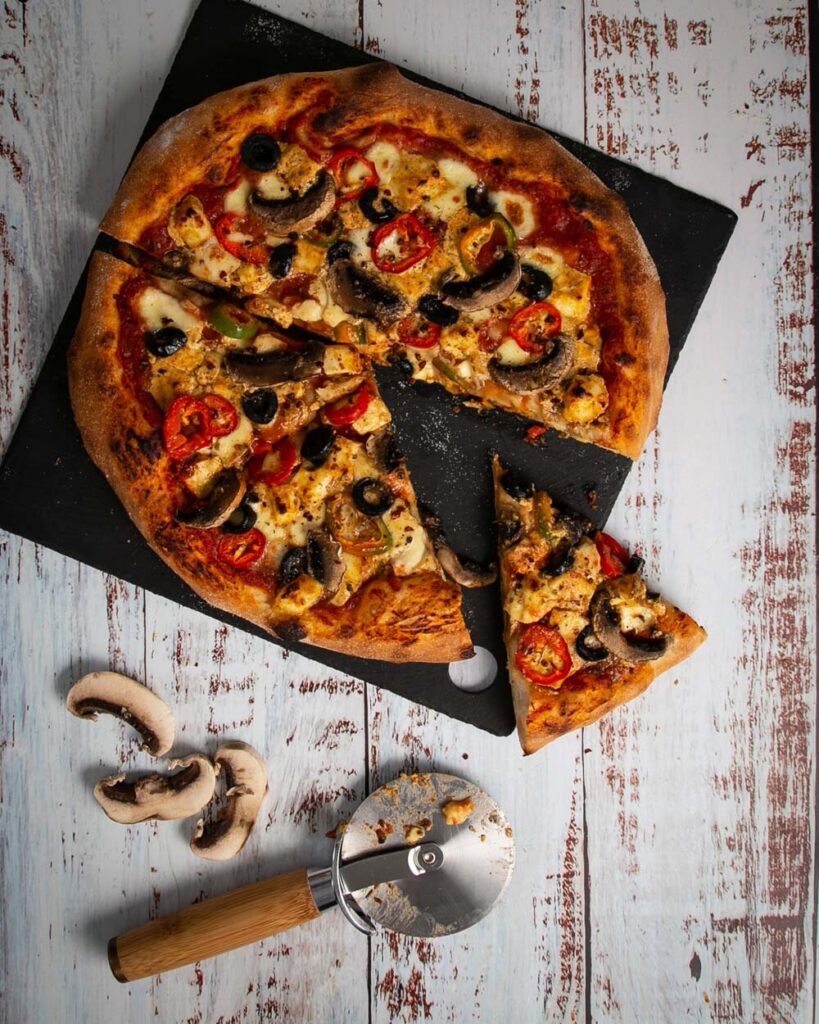 How to make Paneer pizza
Prep the dough – Start by adding the water, yeast, and 1 cup of flour to a food processor. Pulse a few times. Add in your oil salt and 1 1/2 cups of flour. Mix for 15-20 seconds. Add more flour if necessary. Once a sticky dough ball forms, knead the dough in the processor for 3-5 minutes. Remove and fold gently into a ball. Set in a greased bowl and proof for 40-45 minutes, covered.
Marinate the toppings – Combine the yogurt, oil, lemon juice and spices in a bowl. Whisk well. Next, cut the cottage cheese into cubes. Gently mix in with your marinade and coat well. Be very gentle.
Assemble your pizza – Punch and remove the pizza dough to a board. Stretch the dough to form two 10-12" crusts. Place the dough on a parchment lined pizza peel. Make sure to dust some cornmeal on the paper to create easy movement. Then spread some marinara sauce followed by some shredded cheese. Top the pizza with your marinated cottage cheese, aka Paneer. Spread out the veggies between the cottage cheese. Bake on a pizza stone in an oven preheated to 500 degrees F. Remove from the oven when the crust is golden brown.

Cottage Cheese pizza FAQ
When to use the Caputo Blue flour?

The "Caputo Blue" is best suited for instant yeast pizza dough. Ones that require about 10-12 hours of fermentation. Additionally, used for the Margherita pizza cooked at 900° Fahrenheit.
The "Caputo Red" is excellent for sourdough style pizza. These would require around 1-4 days of fermentation. For instance, it is perfect for Roman Pinsa pizza with a thinner crust. Which cooks great at 720° F.
What is cottage cheese?

Cottage cheese is also known as paneer in South Asian cuisine. It is an unsalted cheese variety. They prepare paneer by curdling milk using acidic agents. Such as lemon juice, white vinegar, or yogurt. The soft cheese is then strained and stored overnight, or longer. Just until it becomes semi-firm and holds shape. It is extensively used in Indian vegetarian recipes.
Some of the links in this article are "affiliate links". By using the affiliate links, you are helping support AllForPizza.com, and we genuinely appreciate your support. Please see our privacy policy for more info.