St. Louis-style pizza is the gourmet wonder of America's Midwestern city in Missouri, and neighboring areas. It stands out for its super thin cracker-like crust, ooey-gooey Provel cheese, and tavern cuts.
The sharp smokiness of the cheese is well balanced with the tangy sweet herb-seasoned tomato sauce layer and the subtle corn syrup sweetness in the dough. Pepperoni slices and crumbled Italian sausage topping offer a delightful meaty bite!


The credit for this renowned thin crust goes to Amadeo Fiore. He created it in his restaurant in 1945. Several years later, in 1953, Luca Meglio, an Italian immigrant, introduced Provel cheese in his pizzeria. Ultimately, in 1964, a chef created the St. Louis style pizza that we know today, in a pizzeria run by Ed and Margie Imo.
Crave to explore more thin-crust pizzas like the St- Louis style? Dig into Romana Tonda pizza or Mexican pizza. Each of these pizzas has a unique preparation of the crust that adds to their incredible flavor.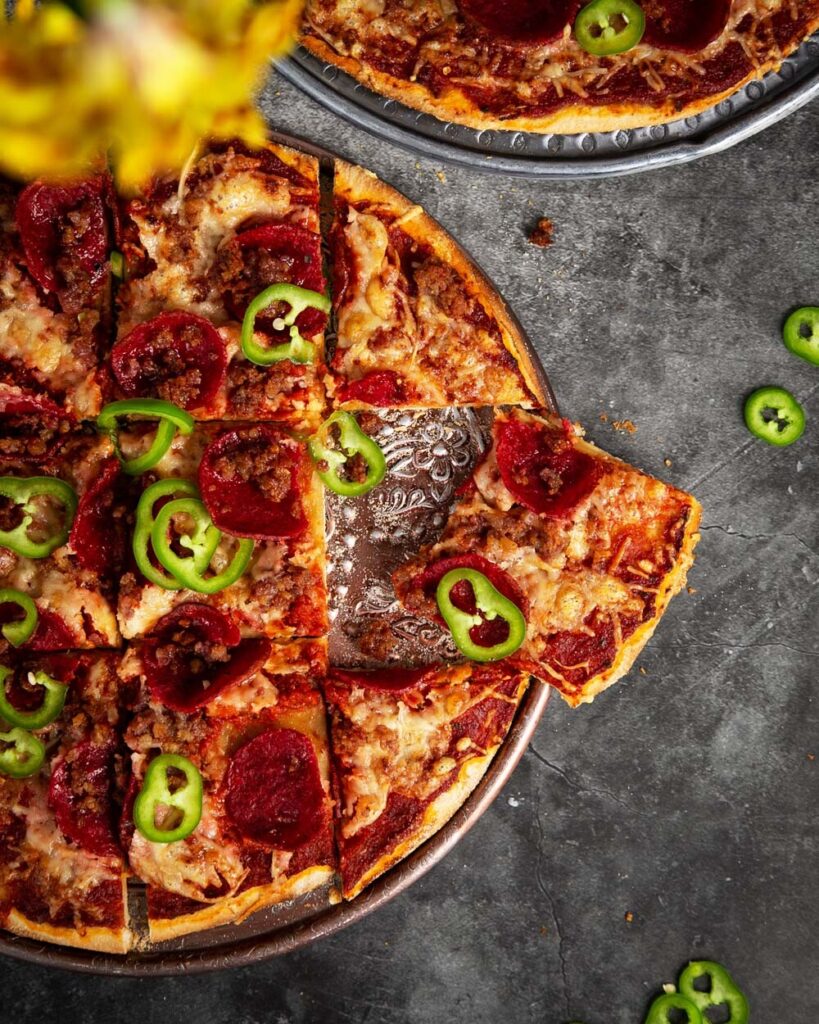 Ingredients
The ingredients that go into making the St. Louis-style pizza are not extraordinary! You will easily find them at your nearby store.
All-purpose flour
Baking powder
Dark corn syrup
Olive oil
Whole peeled tomatoes
Tomato paste
Dried basil
Thyme
Provel Cheese
Pepperoni
Italian sausage
All-purpose flour works brilliantly to achieve the unleavened firm dough texture necessary for this particular pizza. While baking powder is the classic leaving agent used in St. Louis-style pizza. Yeast is not used in the dough as it results in a fluffy bread-like consistency. In this case, we are looking for a thin crisp crust achieved by using baking powder.
Pro tip: Canned tomatoes cook in the can itself during the sterilization process. Therefore, check the expiration date and buy the ones with the furthest date.
The meaty concentrated sour tomato paste helps thicken the sauce. Plus the basil and thyme infuse an aromatic minty herb flavor.
Dark corn syrup is a sweetener. It incorporates a smoky sweet flavor into the crust. Furthermore, as syrups are liquids, they combine into the dough more easily than granulated/powdered sugar.
Provel is a type of processed cheese that looks like thick noodles. Three different cheese varieties, namely cheddar, Swiss, and provolone, are chopped up, mixed using sodium citrate, & extruded into a noodle-like shape.
Pepperoni is a popular pizza topping. It's basically ground beef & pork that are dried, cured, and mixed with spices. They are shaped into sausages to undergo the fermentation, smoking, and drying process, which takes about a week. Finally, they are sliced and packed.
Italian sausage is another common topping. Use both the hot and mild variety sausages for a yummy flavor profile. The Jalapeños offer both heat and flavor. It compliments the meats very well.
Substitutions
You may substitute the corn syrup with raw honey in the dough. This will help you achieve the familiar sweetness in the crust.
Besides making the dough from scratch, you can buy pre-made pizza dough suitable for thin-crust pizza.
If making the sauce seems a hassle, you can opt for the basic canned Don Pepino pizza sauce. Dei Fratelli pizza sauce is an excellent choice too.
Other than chili flakes, you may serve the pizza sprinkled with an Italian dried herb blend. Or opt for your favorite pizza seasonings.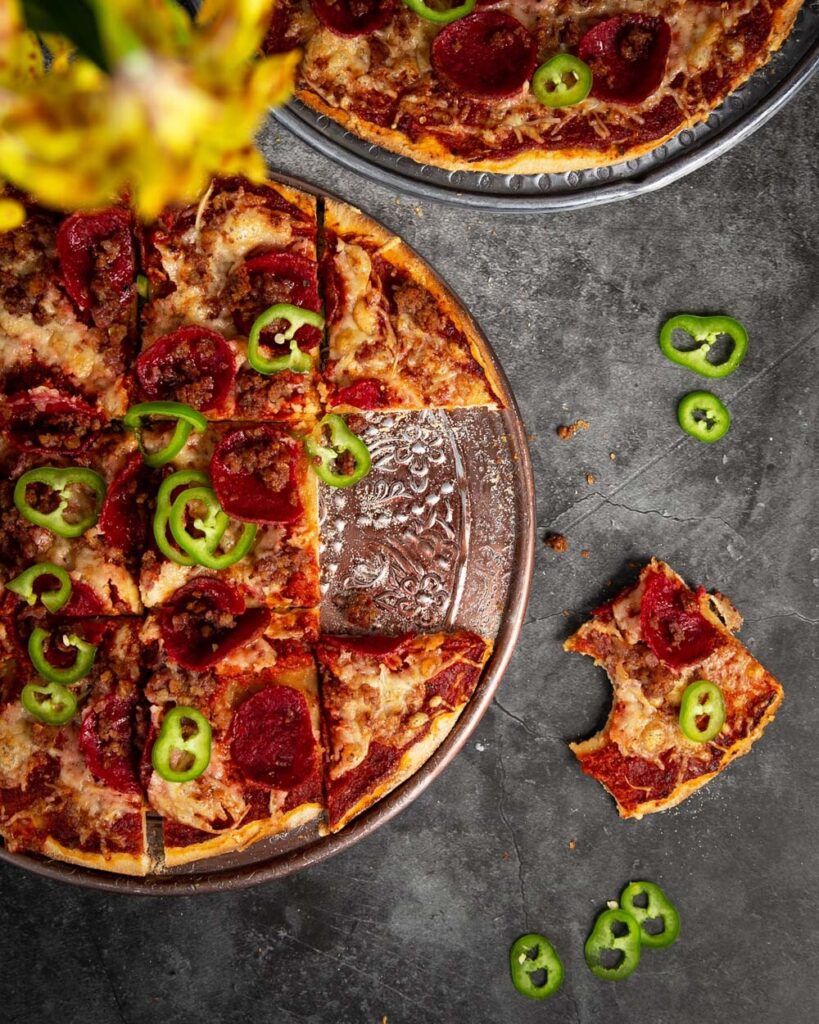 St Louis pizza Notes
The surface should be well-dusted with flour. Alternatively, you may place the dough ball sandwiched between 2 parchment papers and then roll. While rolling, you must also keep rotating at regular intervals. Moreover, roll out the edges too, as the St- Louis style pizza does not have a rim or "cornicione."
Restrain from topping too much Provel cheese on the pizza. It will be a disaster in the oven as the melted cheese will run onto the pizza stone. And might even drip on the oven floor.
When assembling the pizza on the pizza peel, be careful not to get any pizza sauce or cheese at the bottom of the crust or on the peel. It will make it difficult to transfer the pizza from the peel to the stone.
To maintain the cracker-like crispy texture of the crust, place it on the wire rack. This will allow the pizza to cool slightly before cutting it into square pieces. Skipping this step, and removing the pizza onto a cutting board or sheet tray, will cause the steam to soften the crust.
If using a wood-fired pizza oven. The pizza will take 90 seconds-120 seconds at 750-800° F.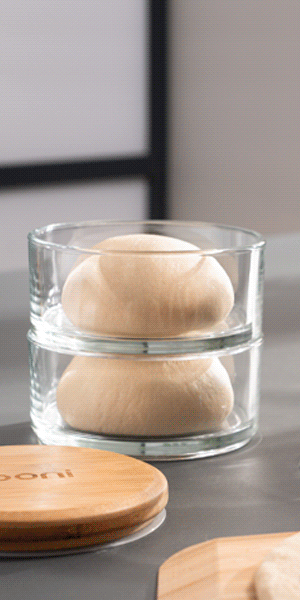 Topping Ideas
St. Louis style pizza has an ultra-thin crust so stick to keeping the toppings light. Excessive toppings can lead to a soggy crust.
Top with pan-seared ground pork plus some spices/seasonings and black olive slices.
San Marzano tomato sauce, provel, soppressata (Italian dry salami), sausage, and chili flakes.
Sliced green bell pepper, onions, and mushrooms.
Store and Reheat
The dense & resilient pizza dough can be stored for 3 days or more! As goes for the pizza, wrap each piece in aluminum foil, transfer to an air-tight container, and store in the fridge to last 3-4 days.
When ready to eat, preheat your oven to 375° F. Then unwrap the pizza pieces, place them in a lined baking tray, and reheat for a few minutes. Watch closely while reheating to avoid burning the thin crust.
St. Louis style Pizza FAQ
How is Provel Cheese different from Mozarella?

Provel, a 3 cheese combination, was created at Hoffman Dairy Company with the sole intention of melting deliciously on pizza. While mozzarella melt into a stretchy stringy texture, Provel's low melting point & fattiness make it an ooey-gooey perfection. Provel also has a bold flavor as compared to the mild milky mozzarella. Furthermore, the creamy texture of the provel remains yummy even when the pizza is cold or consumed after 24 hours.
How to get the dough right?

The simple trick is to use baking powder instead of yeast. Start with 6 tablespoons of water for 2 cups of flour. During the cold winter season, the flour tends to be dry and might need an additional 1-2 tablespoons of water. Knead into a firm dough that doesn't feel sticky. No need to proof the dough.
How to know the pizza is baked perfectly?

The crust's underside will brown and feel crisp. The melted cheese will have a slight golden hue. A limp crust is a sign that your pizza is underbaked, while a brittle, dark brown crust with burnt flavor means the crust is overbaked.
Some of the links in this article are "affiliate links". By using the affiliate links, you are helping support AllForPizza.com, and we genuinely appreciate your support. Please see our privacy policy for more info.