Relish Italy's pristine pesto Genovese pizza with ragu alla bolognese, fior di latte, and semi-dried cherry tomatoes. The pizza oven baked sourdough crust with blotch charring completes the wholesome gourmet experience!
The origin of Pesto Genovese traces back to 19th century Genoa, Liguria. The earliest collection of the dish is recorded in Giovanni Battista Ratto's book "Genovese Cuisine." Ragu alla Bolognese was mentioned first in Pellegrino Artusi's recipe book, published in 1891. Both pesto Genovese and ragu alla bolognese are authentically served with tagliatelle pasta.


This pesto Genovese pizza has a fluffy crisp crust topped with creamy cheese, flavorful meaty Bolognese, nutty herbaceous pesto sauce, chewy semi-dried tomatoes, fresh basil leaves, and extra virgin olive oil drizzle. The Roman pinsa is another pizza with meat sauce topping. Furthermore, Thai style satay pizza with peanut sauce, Ramen crust pizza with spicy gochujang-tomato sauce, Jamaican jerk chicken pizza with Alfredo sauce, and Burrata pizza with nduja sauce are some pizza with exclusive sauce pairings!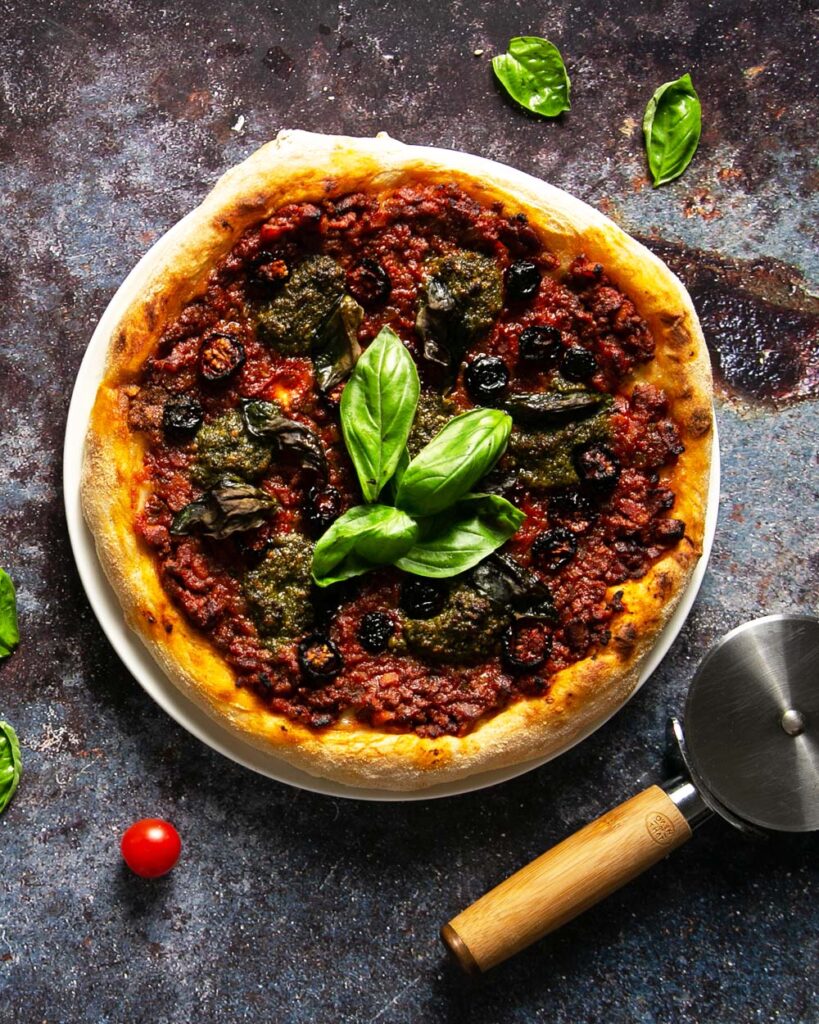 Ingredients
Check out the ingredients required to make this pizza at home. You can buy the items at your nearby grocery stores or order online.
Flour
Sourdough starter
Meat
Veggies
Red wine
Tomato puree
Basil pesto
Fior di latte
Semi-dried cherry tomatoes
Extra virgin olive oil
Bread flour is an excellent choice for making a sourdough pizza crust. Sourdough starter is fermented flour and water mixture. The highlight of a sourdough crust is its distinct sour flavor and airy crisp texture. Artisan bakeries and natural food stores usually have ready-to-use sourdough starters.
You can make the bolognese with only ground beef, pancetta which browns into a delicious meaty texture. This recipe also uses pancetta which adds a deep pork flavor.
The natural sweetness of onions and carrots, along with the subtle spicy tone of celery, helps balance the sauce's tomatoey acidity and meaty flavors. Buy the freshest veggies to achieve the utmost taste.
Adding dry red wine to the meat sauce helps extract the flavors of the ingredients beautifully. Sangioveseand Barbera are two fabulous Italian red wines to use in this meat sauce. You can also use dry white wine. Avoid using frizzante or sweet wines in the bolognese.
Tomato puree gives the meat sauce a bold rich color and infuses a sweet and citrusy taste.
The Genoa-style basil pesto uses Genovese basil and has exactly 7 ingredients. If unavailable, purchase the freshest basil leaves from a farmer's market. Traditionally the sauce is made in a mortar and pestle.
Fior di latte is a fresh semi-soft cow's milk cheese. It has a mild tangy flavor, a springy texture, and excellent melting properties.
Semi-dried cherry tomatoes offer a tart taste and chewy texture.
Substitutions
Besides bread flour, any strong white flour having above 11g of protein will work. Also, you can buy pre-made pizza dough or readymade sourdough pizza base.
You may use unsalted chicken/meat broth instead of vegetable broth.
Fio di latte can be substituted with fresh mozzarella or burrata cheese.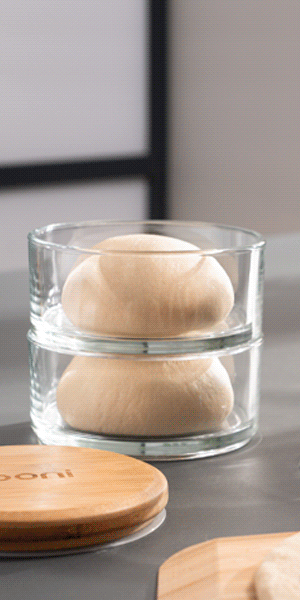 Pesto Genovese pizza Notes
Low-hydration dough must be mixed gently, so keep the stand mixer speed to medium or low. After 3 hours of room temperature proofing, you may store the dough in the fridge for up to a week.
To make the vegetable broth at home, boil a small peeled and quartered onion, a diced carrot, and celery sticks (along with leaves) in a pot of water. Once the water starts bubbling, reduce the heat and let it simmer. Strain the veggies and store the broth in a bottle.
Store and Reheat
Don't wish to end up with dry and stale pizza slices? Pack each piece with plastic wrap and store in a ziplock bag or well-sealed container. Keep it in the fridge to last up to 3 days, or store in the freezer for up to 3 months.
To reheat the pizza in an oven, remove the plastic wrap. Then place the leftover slices on a rimmed baking sheet, and cover tightly with aluminum foil. Place it on the lowest rack of a cold oven. Set the oven to 275° F and bake for 25-30 minutes.
How to make pesto Genovese pizza?
Make the dough – Form the dough by mixing the water, sourdough starter, salt, and flour in a stand mixer. Rest for 30 minutes, divide into two balls, and store in oil-greased containers. Proof for 3 hours at room temperature and then keep in the fridge for a day to complete proofing.
Make the ragu alla bolognese – Cook the minced pancetta in hot oil. Add the veggies and cook for 3-5 minutes. Add the ground beef and cook till browned. Mix the red wine, tomato puree, and vegetable broth. Simmer for 2 hours. Season with salt and pepper before removing into a bowl.
Assemble the pizza – Stretch the proofed dough. Transfer to a cornflour-dusted pizza peel. Spread the fior di latte, top with ragu alla bolognese, pesto sauce, semi-dried tomatoes, and fresh basil leaves. Bake in the preheated pizza oven for 60-90 seconds.

Pesto Genovese Pizza FAQ
How to prepare the basil pesto Genovese-style?

Process 2 garlic cloves, 15g pine nuts, and 50g fresh basil leaves in a food processor for 30 seconds till finely chopped. Add ¾ cup freshly grated parmesan and 2 tablespoons pecorino cheese, and run for 15 seconds. Gradually add ½ cup extra virgin olive oil while the food processor is running. Process for 30 seconds till the pesto has a smooth creamy texture. Remove into a bowl and mix a pinch of salt.
Which wine goes best with pesto Genovese pizza?

"Pinot Grigio" is an Italian wine. Its crisp acidity complements the delicate herbal notes of pesto sauce. Additionally, as the pizza has a meaty bolognese topping, red wines such as "Lambrusco," "Pinot Noir," "Barolo," and "Chianti Classic" pair well too.
Are milk, spices, and herbs added to the classic ragu alla bolognese?

Milk is often added to the classic ragu alla bolognese. It cuts the tomato acidity and is used during the simmering process. However, herbs or spices (such as rosemary, oregano, thyme, bay leaves, garlic, or parsley) are not used in the original recipe. However, some ancient recipes do use a pinch of cinnamon or nutmeg.
Some of the links in this article are "affiliate links". By using the affiliate links, you are helping support AllForPizza.com, and we genuinely appreciate your support. Please see our privacy policy for more info.