Savor this clean and satisfying thin-crust garlic parmesan shrimp pizza! The parsley-olive oil with the delicate shrimp topping is a symphony of flavors. The appealing melted mozzarella and parmesan complete the happy pizza experience.
Minimalistic topping on a crisp and crunchy thin crust is the recipe for a fun snack. It's a no-sauce pizza. Yet, you may add your choice of sauce if desired.


Besides garlic parmesan shrimp pizza, there is a wide variety of fusion pizza recipes with seafood toppings. You might enjoy BBQ shrimp, shrimp fra diavolo, and Shrimp P' boy pizza. If you prefer thin-crust pizza, then Armenian pizza and Romano Tonda are two must-haves!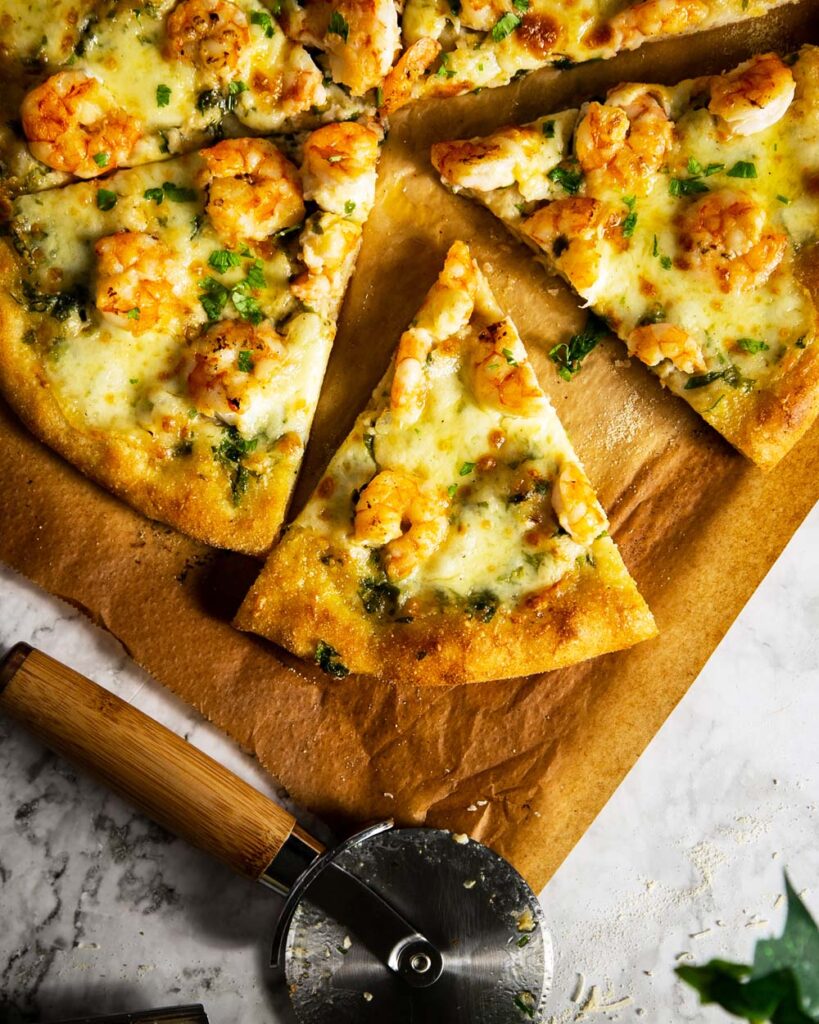 Ingredients
For the best thin-crust pizza, make the dough at home. This recipe calls for minimal ingredients that you will find at your nearby grocery stores or order online.
Flour
Sugar
Extra virgin olive oil
Semolina
Shrimps
Parsley
Garlic
Cheese
The low-gluten and fine ground Caputo 00 flour is the right choice for thin-crust pizza. It has less elasticity and creates the right kind of crispy texture. Italian specialty stores always have it. Sugar aids in activating the yeast and softens the dough.
Get a bottle of premium quality extra virgin olive oil to pack in incredible flavor. It also helps combine the ingredients and achieve the perfect texture.
Semolina dusting adds a crunchy texture to the crust. Several pizzerias use cornmeal, so that's another choice.
When buying the shrimps, choose deveined and shelled medium-sized shrimps (40-50 count). Both fresh and frozen varieties taste superb. Of course, frozen ones need to be thawed before cooking. Wild-caught shrimps taste better, while farm-raised ones are cheaper.
The refreshing parsley adds a subtle bitter herbaceous taste that compliments the shrimp.
This recipe uses crushed garlic for a mellow earthy taste. If you prefer a strong nutty garlicky flavor, then skip the garlic paste. Instead, sauté 4-8 garlic clove slices in hot olive oil until golden. Add the fried garlic slices in a single layer after brushing the raw pizza crust with the herb oil.
Parmesan adds a nutty saltiness while the mozzarella cubes melt into an ooey gooey melted deliciousness.


Substitutions
You may use bread flour or all-purpose flour, but they will create a slightly puffier crust. Whole wheat flour creates a totally different texture. The homemade dough can be swapped for good quality store-made pizza dough. Flatbread crust, naan, and Lebanese bread also make a yummy base.
Butter pairs excellently with shrimp. Therefore, instead of using 2 tablespoons of extra virgin olive oil for the herb oil, combine a tablespoon of butter with a tablespoon of olive oil.
Shrimps can be substituted for prawns which are slightly bigger, sweeter, and meatier., Grilled king oyster mushrooms are a vegetarian alternative. Avoid using salad shrimps as they will get overcooked and become tough.
To infuse a different cheesy goodness, use gruyere or feta cheese in place of mozzarella.
Garlic shrimp pizza Notes
Adding raw shrimp as a topping will cook the shrimp during baking. Yet, it is best to pre-cook the shrimps slightly as raw shrimps tend to release a lot of water and might make the pizza soggy. For the same reason, patting dry the shrimps (using paper towels) before marination is an important step.
For an extra creamy texture. Add a thin layer of ricotta cream cheese after brushing the herb oil.
Sprinkling some lemon zest elevates the overall taste. To add some heat, you may serve the pizza garnished with black pepper or red chili flakes.
Use a propane gas pizza oven to get your shrimp pizza baked within 60-90 seconds. Preheat the oven (with pizza stone inside) to 840° F. Cook the pizza for 90 seconds while rotating every 10-15 seconds until perfectly baked.
You can use the extra dough ball to make jerk-seasoned shrimp pizza, Cuban pizza, or Hawaiian pizza.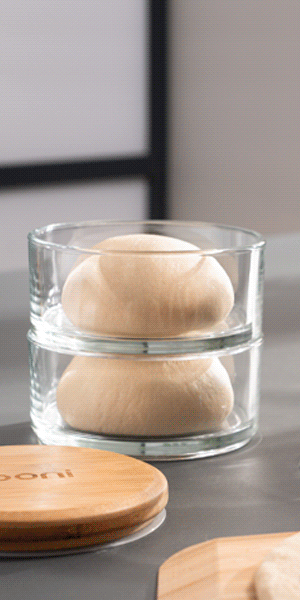 Store and Reheat
Do not leave the leftover pizza slices at room temperature for more than 2 hours. Wrap each slice with cling film, place in a sealed container, and store in the refrigerator. It is best consumed within 24 hours.
To reheat, place a cast-iron pan on the stove on medium till it's nice and hot. Place 1 or 2 cold pizza slices, cover, and reduce heat to medium-low. Give it 2 minutes, and your pizza is ready to be enjoyed.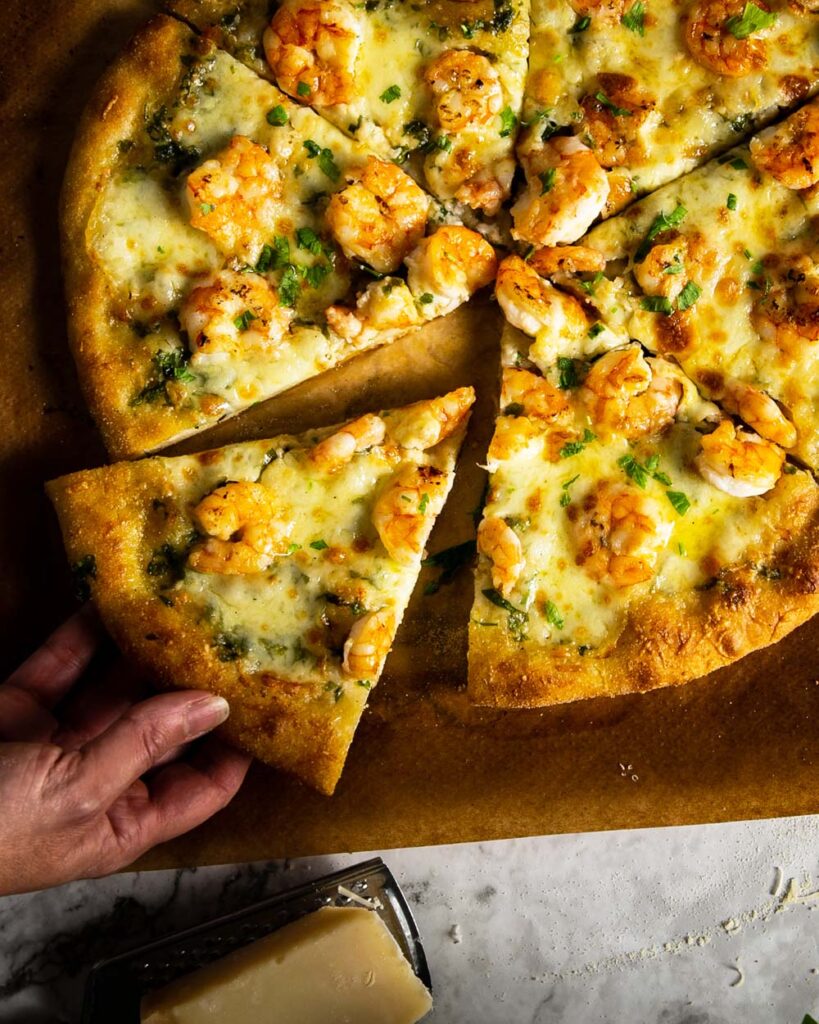 How to make garlic parmesan shrimp pizza?
Make the dough – Bloom the yeast in the KitchenAid bowl by mixing it with warm water and sugar. Add the rest of the dough ingredients and run it on low speed to form a soft dough. Coat the dough ball with oil, place it in an oil-greased bowl, and let it proof for an hour. Divide the dough into two parts and store one portion in the fridge for later.
Prep the shrimp – Mix the shrimps with salt and garlic. Marinate for a few minutes. Heat the oil in a skillet and cook the shrimp for about a minute. Remove into a bowl.
Assemble the pizza – Roll out the dough ball into a 12-inch thin circle and transfer to a semolina-dusted pizza peel. Brush with olive oil and parsley mixture. Top with parmesan, prepped shrimps, and mozzarella cubes. Bake for 5-8 minutes at 500° F.

Garlic Parmesan shrimp pizza FAQ
Which wine goes best with garlic parmesan shrimp pizza?

The medium-dry red wine "Pinot Noir," with its fruity flavors, pairs well with this shrimp pizza. As for white wines, the light citrusy "Pinot Grigio" and Italian herbal chalky "Greco di Tufo" are good choices.
What sauce goes well with this pizza?
What other toppings pair well with shrimp?

You can add crab and scallops along with shrimps for a fun seafood pizza. Also, fresh herbs like basil and leafy greens make good toppings. For veggies, cherry tomatoes and thinly sliced onion may be added.
Some of the links in this article are "affiliate links". By using the affiliate links, you are helping support AllForPizza.com, and we genuinely appreciate your support. Please see our privacy policy for more info.