Activate your appetite to devour this mouth-watering Birria pizza served with fragrant rich consommé.
Inspired by the beloved Mexican Birria tacos, this pizza is topped with incredibly flavorsome slow-cooked shredded beef. Each layer of this recipe is created staying true to the Mexican flavors and textures. The crisp masa flour crust offers a rustic nutty sweet taste while the Oaxaca cheese melts into creamy stringy perfection. Fresh onion and cilantro topping balances the rich meaty explosion.


When relishing a slice of birria pizza, you need to dip it in the consommé. This savory meat broth/sauce is flavored with spices, herbs, veggies, and dried chilies.
You will also enjoy the quesadilla-inspired Mexican pizza. For a diverse meat pizza experience, check out the Armenian pizza, Pesto Genovese pizza with ragu alla bolognese, Jamaican Jerk chicken pizza, and Cuban pizza!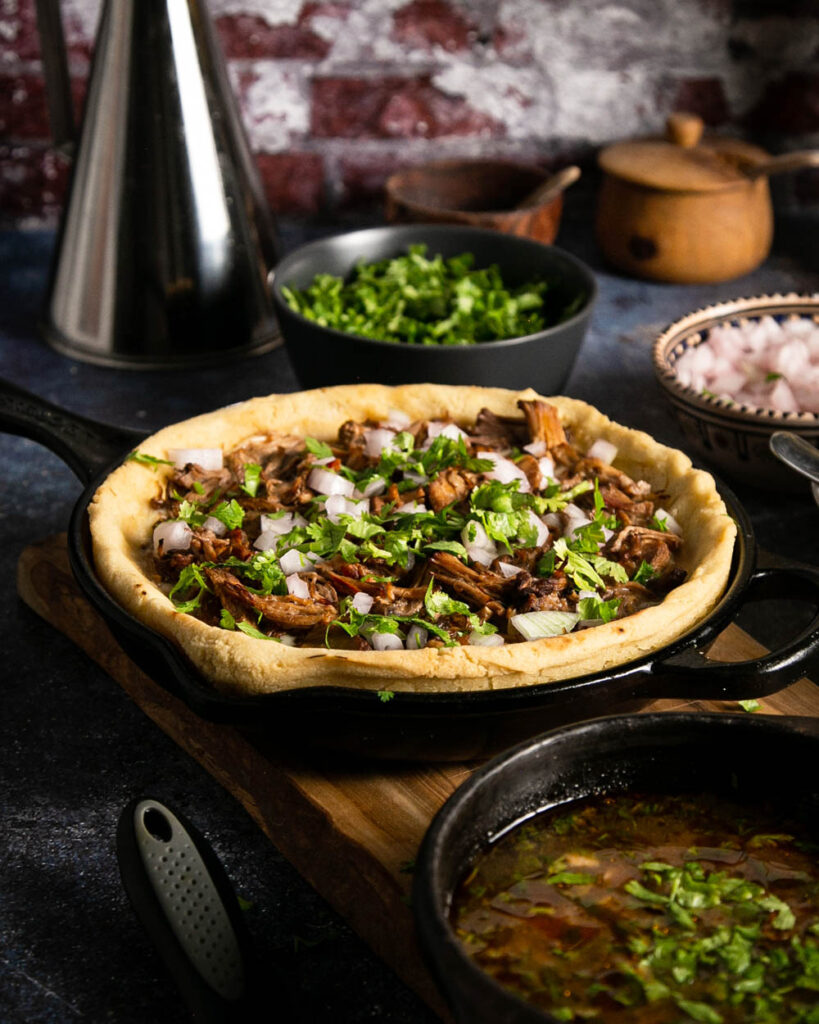 Ingredients
You'll have to visit the Mexican stores and grocery sections to grab most of the ingredients necessary for this pizza. Of course, you can always browse the items online and order conveniently.
Masa flour
Meat
Chilies
Spices
Mexican oregano
Oaxaca cheese
Onion
Cilantro
Masa flour is made from corn kernels or maize. The flour's processing makes it different from corn flour.
This recipe uses boneless beef chuck roast and bone-in beef short ribs. You can also use other meaty and fatty cuts.
Three different dried chilies added are to the Birria. Guajillo infuses a spicy sweetness, ancho chilies add a dark chocolaty taste, and Morita offers a spicy smokiness.
Several spices are toasted and powdered to give the Birria stew a well-balanced aromatic warmth and flavorful richness.
Mexican oregano has earthy, citrusy notes. Its taste and fragrance differ from the Italian and Mediterranean oregano.
Oaxaca is a white semi-hard Mexican cheese. It melts into a soft creaminess with a stringy and stretchy texture during the baking process.
Red onion topping adds a refreshing sharp crunch. When added to the consomme, it offers a texturally pleasing bite.
Cilantro's freshness helps cut the overall meaty richness of the pizza.
Substitutions
You may substitute the masa flour with cornflour bread flour or all-purpose flour, but it will change the taste and texture of the crust. You can also buy pre-made pizza dough, gluten-free pizza base, or whole wheat Neapolitan pizza base.
Traditionally, Birria is made with goat meat. You can also use lamb, pork, or chicken instead of beef.
The tomato paste can be swapped with fresh Roma tomatoes.
Oaxaca tastes like young Monterey Jack and texturally resembles mozzarella. Therefore, you may substitute it with a combination of fresh monetary jack and mozzarella.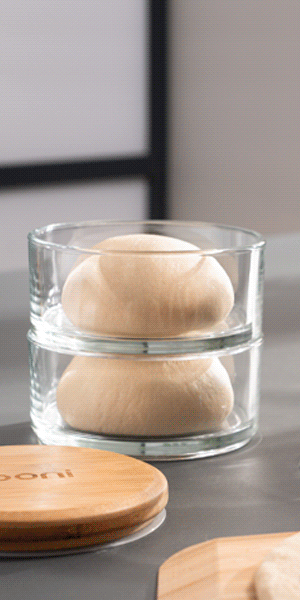 Birria pizza Notes
If your consommé turns out too thin, it might make the pizza soggy. Therefore, after removing the meat, thicken it on medium-low heat into a sauce-like consistency.
It is essential to season the meat with salt. It helps achieve the brown crust while searing and locks in flavor. After the salt seasoning, you may keep the meat in the fridge for 4-5 hours until ready to cook.
Store and Reheat
Wrap the leftover Birria pizza slices with foil sheets, place them in an airtight container, and store in the fridge to last up to 3-4 days.
To reheat, set the oven to 350° F for preheating. Remove the foil sheet and place the cold pizza slices in the middle rack of the preheated oven. Bake for 5-8 minutes.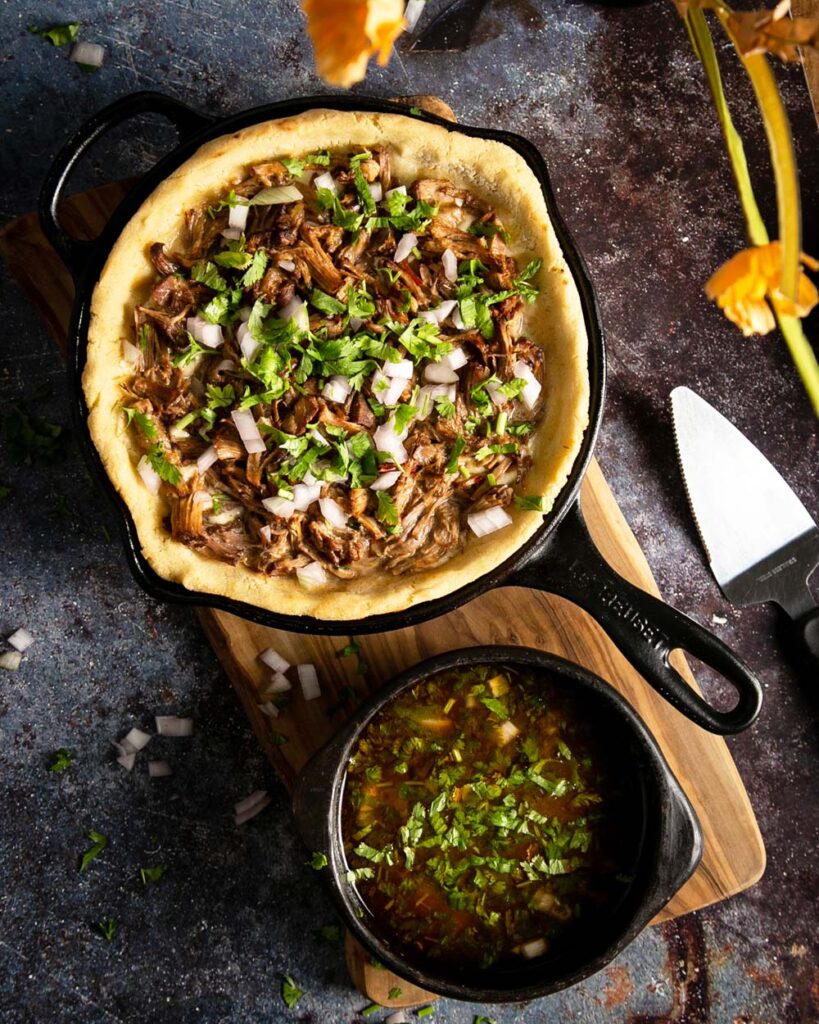 How to make birria pizza?
Make the dough – Combine the water and salt. Mix the masa flour, oil, and half of the salt-water in the stand mixer. Continue mixing and adding the remaining salt water to form a soft dough. Divide into 2 balls and keep in separate bowls covered with a towel.
Make the birria – Sear the salt-seasoned meat in hot oil and remove into a dish. In the same pot, add more oil, sauté the onions, cook the tomato paste, and garlic. Mix the spice blend, add the beef stock, and stir the chili paste. Simmer for 2½ hours. Take out the cooked meat, discard the bones, and shred it.
Assemble the pizza – Press a dough ball in an oil-greased cast iron pan. Bake for 15 minutes on the lower rack of a preheated oven. Top with cheese, shredded beef, and some meat sauce. Bake again for 15-20 minutes at 425° F. Serve topped with chopped onions and cilantro alongside consommé.

Birria Pizza FAQ
Which wine goes best with birria pizza?

Two vibrant acidic red wines, "Corbieres" and "Ribera del Duero," complement the flavors of this pizza beautifully. The aromatic white wine "German riesling" is another superb option.
What other toppings can be added to the pizza?

Along with onions and cilantro, you can serve the pizza topped with radish slices, fresh/pickled jalapenos, and freshly squeezed lemon juice. A fresh pico de gallo topping will also work deliciously.
How to spice up or tone down the pizza flavors easily?

To spice up the pizza, drizzle your favorite hot sauce on top. For a yummy Mexican hot sauce, try Chile de Arbol salsa or Cholula hot sauce. To tone down the heat, squeeze lime juice or drizzle sour cream on top.
Some of the links in this article are "affiliate links". By using the affiliate links, you are helping support AllForPizza.com, and we genuinely appreciate your support. Please see our privacy policy for more info.