Calzone is a half-moon shaped folded pizza served with delectable marinara sauce atop or on the side. This recipe uses three types of flour to give the crust a soft chewy crisp bite. A light brush of olive oil and parmesan makes the baked crust super yummy. For the filling, luscious ricotta and mozzarella are an authentic choice. The warm gooey cheese is well balanced with the savory meatiness of prosciutto and soppressata.
These folded pizzas originated in the early 18th century in Naples, Italy. They were sold in street stalls for people to grab and eat on the go. Hence, the term 'calzone' literally translates to "trousers" or "pant legs."


These Italian-style pizzas are smaller in size and are mostly a one-person meal. Their American counterparts are larger and can serve 2 or more people. People often confuse calzone with Philadelphia stromboli, which are delectable but different. There are several stuffed pizzas treats to enjoy. Gorge on the Hungarian langos, pizza fritta, and panzerotti that are fried and delicious.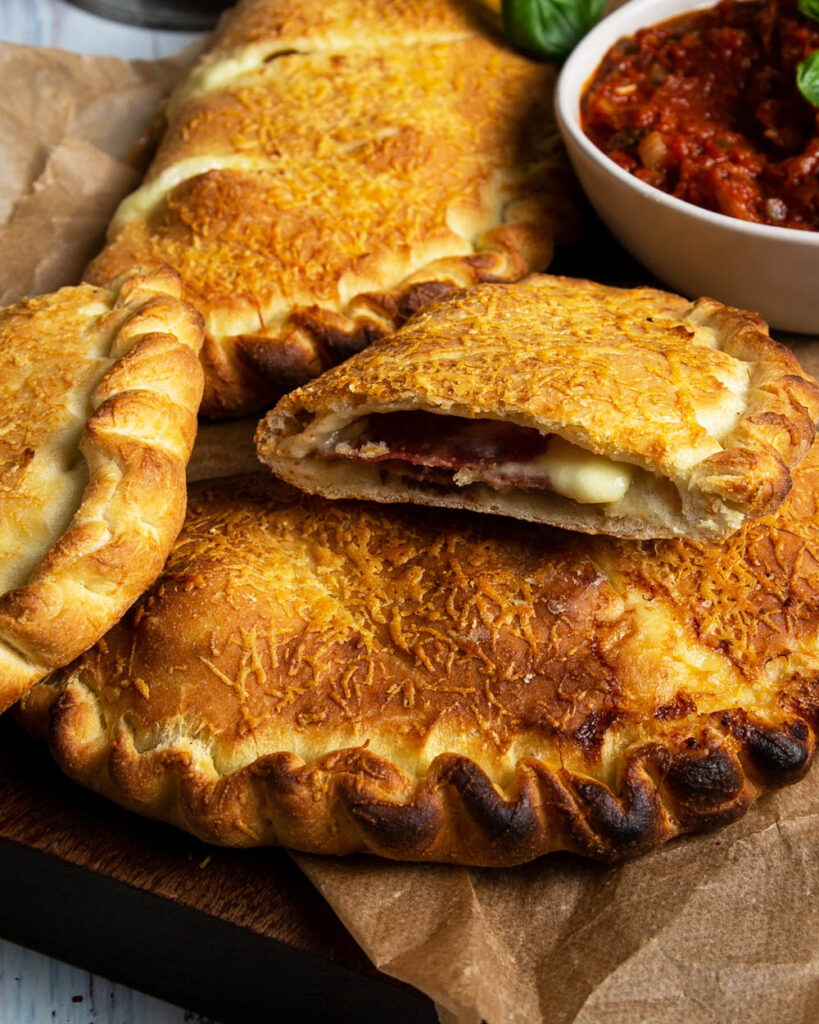 Ingredients
You'll need the following ingredients to achieve the authentic taste and texture of the famous calzone. Do visit the Italian section of the supermarket to get the items.
Flour
Yeast
Tomatoes
Thyme
Basil
Prosciutto
Soppressata
Ricotta
Mozzarella
This recipe uses multiple types of flour. 'Farina type 0' is a less refined soft wheat flour with high gluten that gives the dough a wonderful elasticity. The nutrient-rich 'farina tipo 1' allows better dough hydration and infuses a rich flavor. Semolina offers a chewy texture and crunchy crust. Also, brewer's yeast gives the dough a distinct taste.
San Marzano tomatoes are fleshy, sweet, and intensely flavorful fruits. Their fewer seeds and low water content make them a perfect choice for marinara sauce.
Thyme adds a delicate floral note to the sauce. Avoid using too much; its bitterness can overpower the tangy sweet flavors. Basil's delicate freshness and aroma balance the sweet & savory taste of the sauce pleasingly.
Prosciutto cotto is cooked ham. Premium-quality pork legs are slow-cooked to result in moist, tender slices. They have a subtle flavor and gorgeous pink color. Some varieties come with spices, herbs, and truffle flavors.
Sopressata is an Italian salami. They are prepared using pork meat that has salt seasoning, the warmth of black pepper, the spiciness of dried chili peppers, and the depth of red wine.
The Italian sheep's milk ricotta cheese is creamy and offers a rich taste. Plus, this calzone is filled with fresh mozzarella slices resulting in a melted cheesy bite.
Substitutions
Instead of using 3 different flours, you may use 3 cups of all-purpose flour. You can also buy pre-made pizza dough. Brewer's yeast may be substituted with baker's, nutritional, or active dry yeast. For active dry yeast, use 2¼ teaspoon.
If you find fresh ripe Roma, cherry, or plum tomatoes in your local market, switch them for canned tomatoes. Blanch the fresh tomatoes to get rid of the skin.
Besides the classic mozzarella and ricotta cheese combination, you can also try cheddar cheese and parmesan or pecorino cheese.
Calzone Notes
Making tiny cuts on top of the uncooked calzone is essential if using high-moisture fillings like tomatoes, sauce, or fresh mozzarella. The cuts allow steam to escape while baking. If using low-moisture fillings, then you can bake without the cuts.
After 10 minutes of baking time, the pizza might look beautifully baked. Resist the temptation to remove it from the oven and complete five more minutes of baking to get that perfectly crisp crust.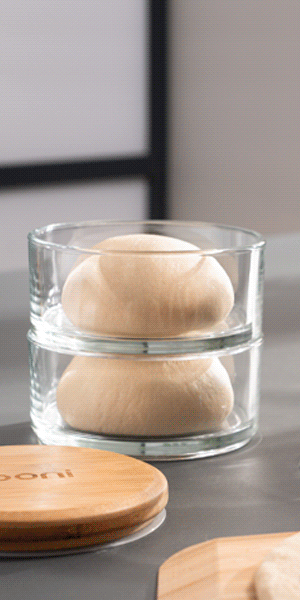 Store and reheat
Store the cooked calzones in an airtight container. They will last for 3 days when kept in the refrigerator and for 3 months in the freezer.
For best results, reheat them in a pan on the stovetop. Heat the skillet on a medium-low flame, place the pizza, and cook for 2 minutes per side. If it feels dry, splash a teaspoon of water, cover the skillet, and cook for 1-2 minutes on low heat till the water evaporates.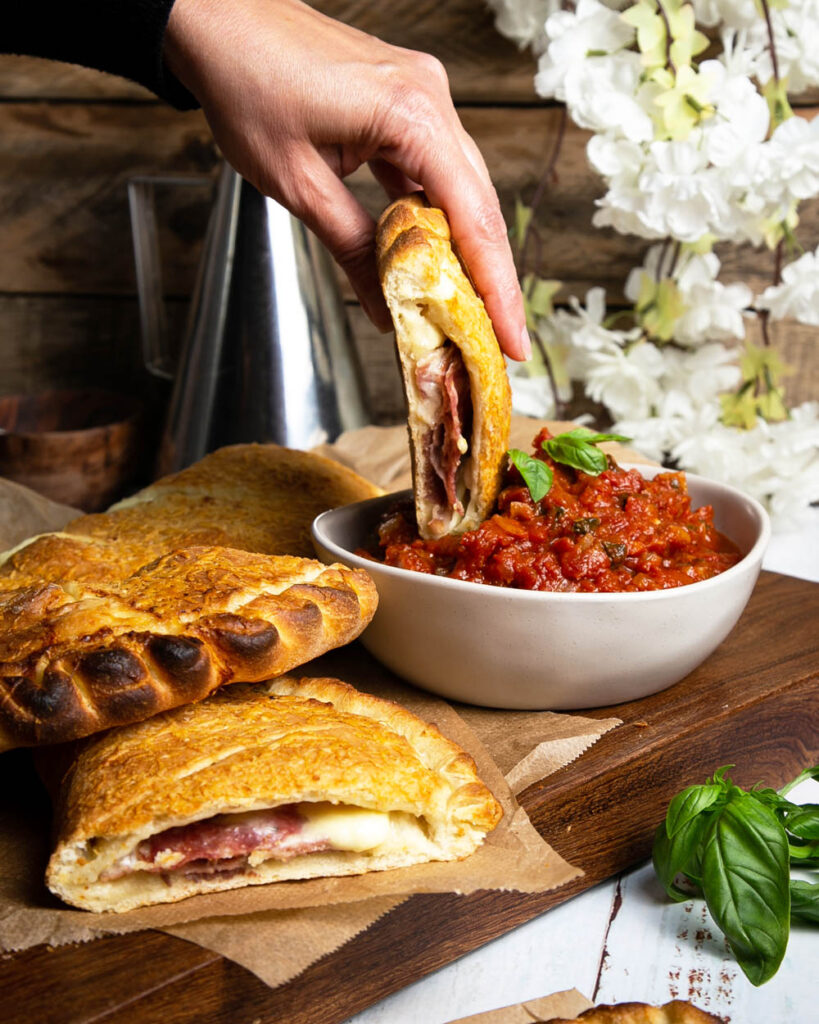 How to make calzone?
Make the dough – Combine the flour, baker's yeast, and salt in the stand mixer bowl. Run the mixer by adding the water and oil in parts and knead till it forms a soft dough. Coat the dough ball with oil, cover, and double rise it.
Make the sauce – Sauté the onions in hot oil. Stir in the garlic, followed by the tomatoes. After a few minutes of cooking, mix the fresh herbs and seasonings. Once it starts boiling, reduce the heat, & simmer until it thickens.
Assemble the pizza – Roll out a dough ball. Fill it with prosciutto slices, ricotta cheese, black pepper, soppressata slices, and fresh mozzarella. Fold it and seal the edges neatly. Apply olive oil on top, sprinkle parmesan, and make 2-3 tiny cuts. Bake in the preheated oven for 15 mins at 500° F.

Calzone FAQ
Can these pizzas be fried instead of baked?

Yes. Fried calzones are popular in Southern Italy. Frying gives the crust a crisp and fluffy texture. The olive oil must be 350° F, and it takes about 5-6 minutes to cook the pizza. Remove them to a dish lined with paper towels to drain the excess oil.
What other fillings taste yummy?

Traditionally, calzones were stuffed with tomatoes, anchovies, ricotta, and mozzarella. You can use different cured meat like honey ham, smoked ham, salsiccia (an Italian pork sausage), or pepperoni. Also, boiled eggs, sauteed mushrooms, caramelized onions, tomatoes, chicory hearts, artichokes, and olives make an excellent filling.
Which wine goes best with calzone?

The clean oaky white wine "Chardonnay" pairs well with this pizza having ham slices and cheese filling. The trick is simple, sweet wine pairs with pizzas with spicy stuffing. For those with mild stuffing, dry wines are best.
Some of the links in this article are "affiliate links". By using the affiliate links, you are helping support AllForPizza.com, and we genuinely appreciate your support. Please see our privacy policy for more info.