Surprise your palate with this exquisite black caviar pizza. The airy thin crust layered with the crisp baked tender potatoes is a double textural delight. Breaking through the crunchiness comes the sweetness of caramelized onions and the velvety smooth acidity of Crème fraîche. The glossy caviar pearls offer an oceanic flavor burst with a hint of nuttiness. Chives denote their wonderful freshness.
Caviar pizza originated in the 1960s in a pizzeria in Sweden. The potato topping is quite popular both in Italy and Rome. This pizza inclines more towards the Roman style, where the best potatoes are used along with herbs and premium extra virgin olive oil. Interestingly, Italian pizza con patate began as an inexpensive food. This recipe deliciously brings together the humble potato with the high-end caviar to create an extravagant meal.


Caviar pizza may seem like a contrast of flavors, but it works stunningly. The rich, salty, and buttery caviar adds a new textural dimension and complements the starchy savory pizza. Are you brainstorming more caviar-topped pizzas? Try the famous deli-style breakfast pizza topped with smoked salmon, cream cheese, and salmon roe!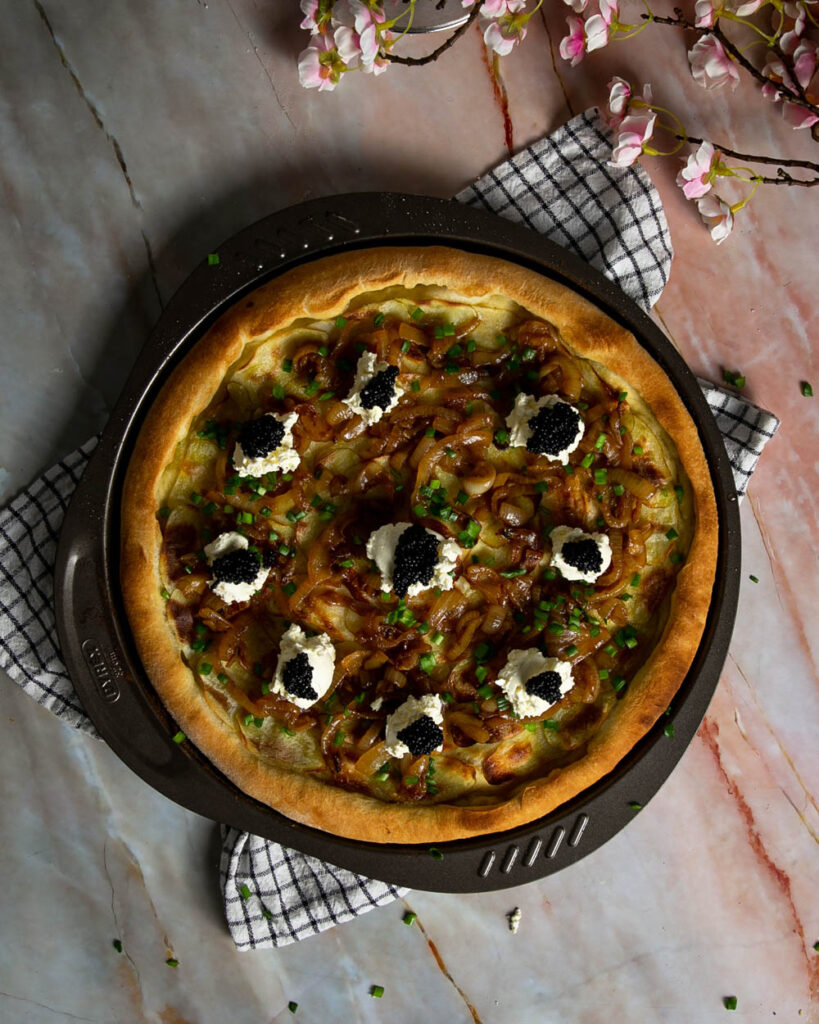 Ingredients
A handful of ingredients are needed for the black caviar pizza. Each item should be selected precisely to balance the overall taste and texture of the dish.
Bread flour
Potatoes
Onions
Chives
Crème fraîche
Caviar
Bread flour's high gluten and protein content makes it suitable for making pizza dough at home. It helps get a crispy crust with a chewy texture. The crust is much lighter than the ones made with all-purpose flour.
This recipe uses the classic small yellow fingerling potatoes. These are oblong-shaped heirloom potatoes having thin yellow skin and yellow flesh. They are perfect for baking and yield crisp golden edges with a sweet earthy taste.
Yellow onions caramelize beautifully, offering a sweet and savory taste. Sweet onion varieties like Vidalia tend to get sweeter when caramelized. You can also use white or red onions.
Chives offer a fresh subtle onion-like flavor. They are thinner and more delicate as compared to scallions. You may alternate the chives herb for fresh rosemary to enhance the overall flavor profile.
Crème fraîche is a French fermented heavy cream. Its smooth silky texture and mild acidity pair well with the rest of the toppings.
This pizza uses osetra caviar as a topping. Along with black color, it comes in shades of amber, light grey, golden brown, and dark brown. Collected from the ossetra sturgeon, this is an expensive and prized caviar variety.
Substitutions
If you find Tipo 00 flour, use that in place of bread flour. You can also buy pre-made pizza dough. The readymade Neapolitan pizza base or sourdough pizza base can be purchased to save time and effort.
You can substitute the yellow fingerling with other fingerling varieties such as orange/red French fingerling, Russian banana, or the Peruvian purple potato.
Sour cream is a befitting replacement for creme fraiche. Besides that, light white sauces like Alfredo can be used to complement the black caviar pizza.
The black-colored hackleback caviar obtained from the wild American sturgeon is a suitable and affordable substitute for the osetra caviar. The shiny orange salmon roe is another inexpensive option.
Black caviar pizza notes
The black caviar pizza should have a thin crust made with olive oil. Greasy or buttery thick crusts like the Detroit-style pizza or deep-dish pepperoni pizza do not work for the delicate caviar topping.
Avoid all kinds of thick sauces like chunky marinara, heavy tomato sauce, meaty Bolognese, or anchovy-flavored puttanesca. If you prefer tomatoes in your pizza, use fresh tomato slices.
Soaking the potatoes in salt water prevents discoloration and helps them crisp better. Additionally, when layering the potatoes, do it in a gap-free overlapping manner so that the crust is not exposed. Otherwise, the crust might burn while getting the potatoes crisp and browned.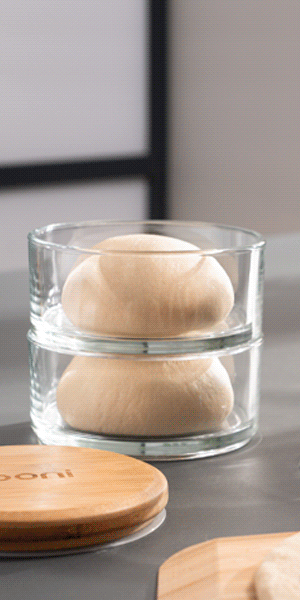 Store and reheat
It is best to store the baked potato pizza without the toppings. Wrap the leftover pizza slices in cling film, transfer them to an airtight container, and keep in the refrigerator to last up to 3 days. The caramelized onions can be stored in the fridge for up to 4 days.
To reheat the stored pizza slices, preheat the oven to 400° F. Bake the cold pizza slices for 4 minutes. After removing from the oven, top with the caramelized onions, creme fraiche, freshly chopped chives, and osetra caviar. Enjoy!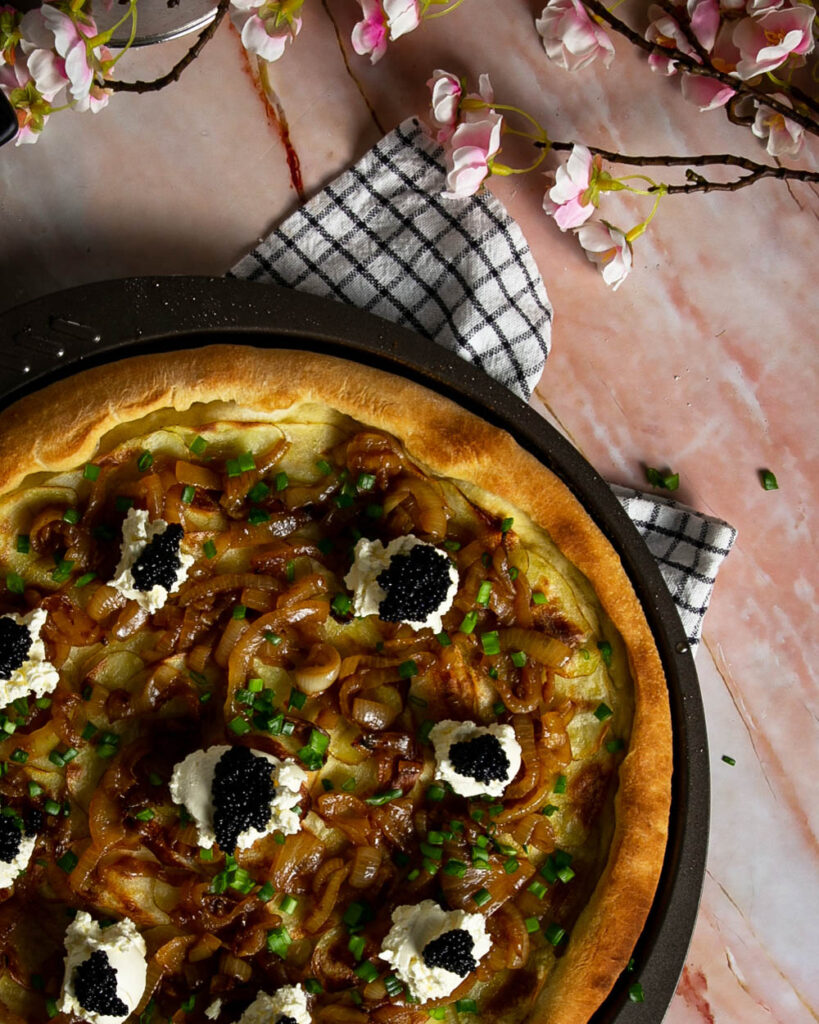 How to make black caviar pizza
Make the dough – Mix the dry ingredients in the stand mixer bowl. Then, with the dough hook attached, run the mixer while adding warm water and oil till it forms a soft dough. Coat the dough ball with oil and let it proof for 2 hours.
Prepare the potatoes – Soak the thin potato slices in warm salt water for about an hour. Drain and pat dry just before topping them on the uncooked pizza crust.
Prepare the onions – Heat the oil. Fry the onion slices with salt seasoning over medium-high heat while stirring frequently till they caramelize.
Assemble the pizza – Stretch the proofed dough ball and place it on an oil-greased baking pan. Layer the soaked & dried potato slices. Drizzle olive oil on top and bake in the preheated oven. Let the baked pizza cool on a wired rack before adding the toppings.

Black caviar pizza FAQ
What type of potatoes works best?

Heirloom fingerling potatoes work best. The idea is to choose waxy and firm potatoes having thin skin. Their fine slices hold shape and crisp nicely when baked. Avoid using starchy potatoes as they end up getting mushy when cooked.
How much caviar to use on pizza?

Caviar should be used in limited quantities so that it does not overpower the pizza flavors. Just a teaspoon of caviar would do for a small pizza serving one person. A few tablespoons of caviar can be topped on large-sized pizzas.
What is the best time to top the caviar on the pizza?

To maintain the delicate flavor & texture of the caviar, it is always added after cooling down the pizza. Typically served at 35° F, it is best to add them right before taking your first bite.
Which wine goes best with black caviar pizza?

The classic sparkling white wine "Champagne" is an excellent choice. "Chardonnay" and other chilled white wine with light fruity notes pair well with caviar pizza.
Some of the links in this article are "affiliate links". By using the affiliate links, you are helping support AllForPizza.com, and we genuinely appreciate your support. Please see our privacy policy for more info.