Thai-style satay pizza with peanut sauce is a fusion of Italian and Thai cuisine. The melted mozzarella layer on a fluffy, chewy, crisp baked crust are traditional pizza elements. Southeast Asian delight comes in with the deliciously grilled pork satay topping. The marination process tenderizes the meat by infusing aromatic spices, a delicate sweetness, and vinegar acidity.
Satay's classic peanut sauce pairing replaces the renowned tomato sauce of Neapolitan pizza. It has a velvety mouth feel with the spiciness of red curry paste, fresh lime zing, the saltiness of fish sauce, peanut's nuttiness, richness of coconut milk, and palm sugar sweetness. The Thai salad topping rounds off the four layers of crisp, cheesy, buttery, and meaty bite. It offers the right amount of crunch and freshness to satisfy the palate!


Ingredients
Thai Satay-style pizza requires a host of ingredients that can be available in the Asian food section. If unavailable, you can order them online.
Pork loin
Coconut milk
Galangal
Spices
Palm sugar
Peanut sauce
Mozzarella
Carrot
Onion
Roasted peanuts
Lime juice
The pizza dough is made using bread flour for a fluffy and chewy texture. This flour is also used in New York pizza. Pork loin is a soft & juicy cut of meat that absorbs and holds that marinade well while grilling.
Full-fat Coconut milk has a thick creamy richness. When used in the satay marinade, it helps keep the meat moist, while its natural sweetness aids in balancing the spiciness of red curry paste in the peanut sauce.
Galangal is Thai ginger that infuses a spicy, sharp flavor. Ground coriander, cumin, turmeric, cinnamon, and black pepper elevate the satay marinade by incorporating an excellently fragrant warm flavor.
Palm sugar is an authentic sweetening agent used in Thai cuisines. The homemade peanut sauce incorporates a spicy, nutty, buttery, sweet, umami, and salty flavor.
Mozzarella is a popular choice for pizza. You may use pepper jack, provolone, cheddar, Swiss, or any other cheese.
Carrot has a natural sweetness. Slice them thinly to avoid getting a chunky bite. The recipe includes two types of onions. The red onions add a sharp crunch, while the green ones add an herbaceous freshness.
Stick to using unsalted roasted peanuts to balance the overall saltiness. Fresh lime juice infuses a beautiful tanginess.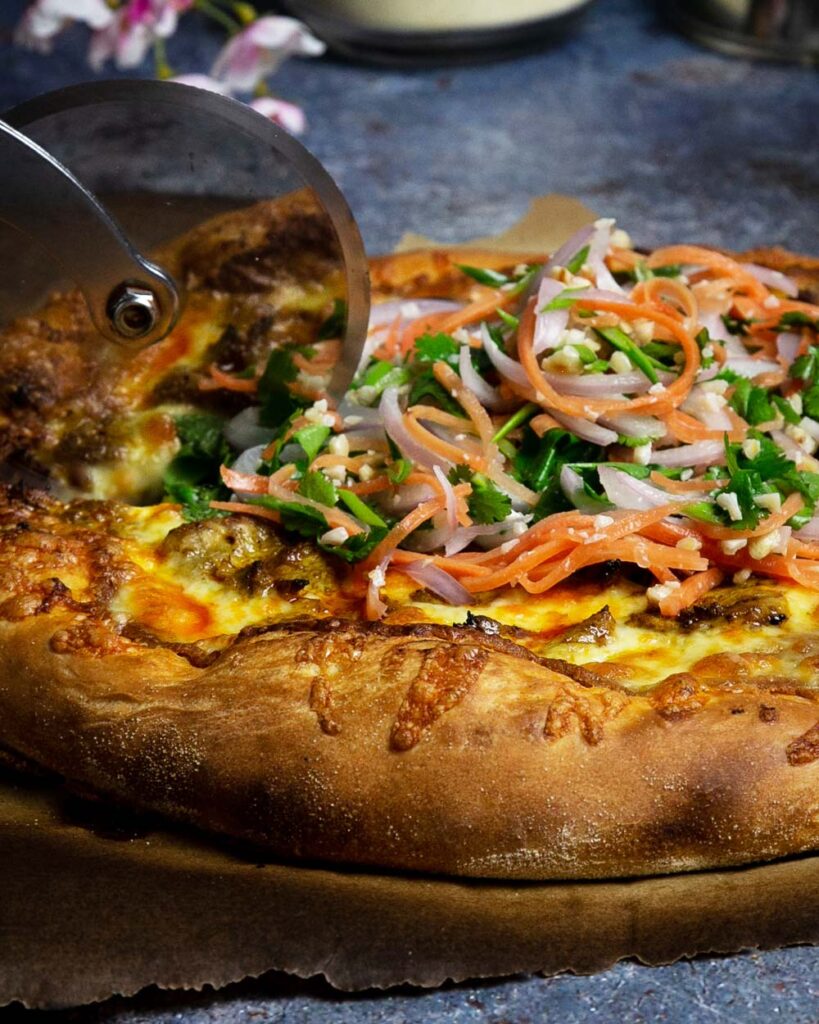 Substitutions
Instead of homemade pizza dough, you can buy the 1lb pre-made pizza dough or ready-made pizza base from the grocery store. The raw crust can be substituted with pita or naan bread.
Two good alternatives for pork are cooked chicken and leftover beef. When using raw chicken, cut the boneless & skinless chicken breast into cubes. For the raw beef, cut against the grain into thin slices.
Besides preparing the peanut sauce at home, you can use store-bought bottled peanut sauce. Also, you give this pizza a try on a ramen pizza crust.
Satay pizza Notes
You can prepare the different elements ahead of time for convenience. Make the peanut sauce and pizza dough 2-3 days prior and store it in the fridge. The meat can be marinated overnight.
Use whole spices and fresh turmeric to infuse maximum flavor and aroma into the meat. Dry toast the spices on low heat for 30-60 seconds and then pound them in a stone mortar pestle along with the fresh ingredients.
Those who like extra spicy may garnish the pizza with thinly sliced Thai red chili or use red chili flakes.
For additional flavor, you can layer the crust with hoisin sauce.
The peanut sauce can be made in bulk and stored. Serve it as a dip with your fries or spring rolls. Drizzle it on baked veggies. You can also coat it with stir-fried noodles or tofu.
Store and Reheat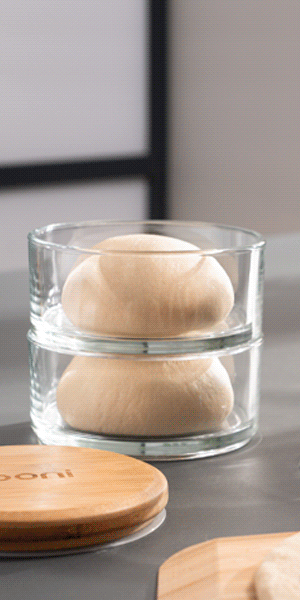 Store the leftover pizza slices in an air-tight container lined with paper towels. Keep in the refrigerator to last up to 3 days. It is best to remove the fresh Thai salad toppings before storing them.
To reheat, first preheat the air fryer to 350° F. Place 1 to 2 pizza slices in the basket, ensuring the pieces are not touching. Air fry for 3-4 minutes.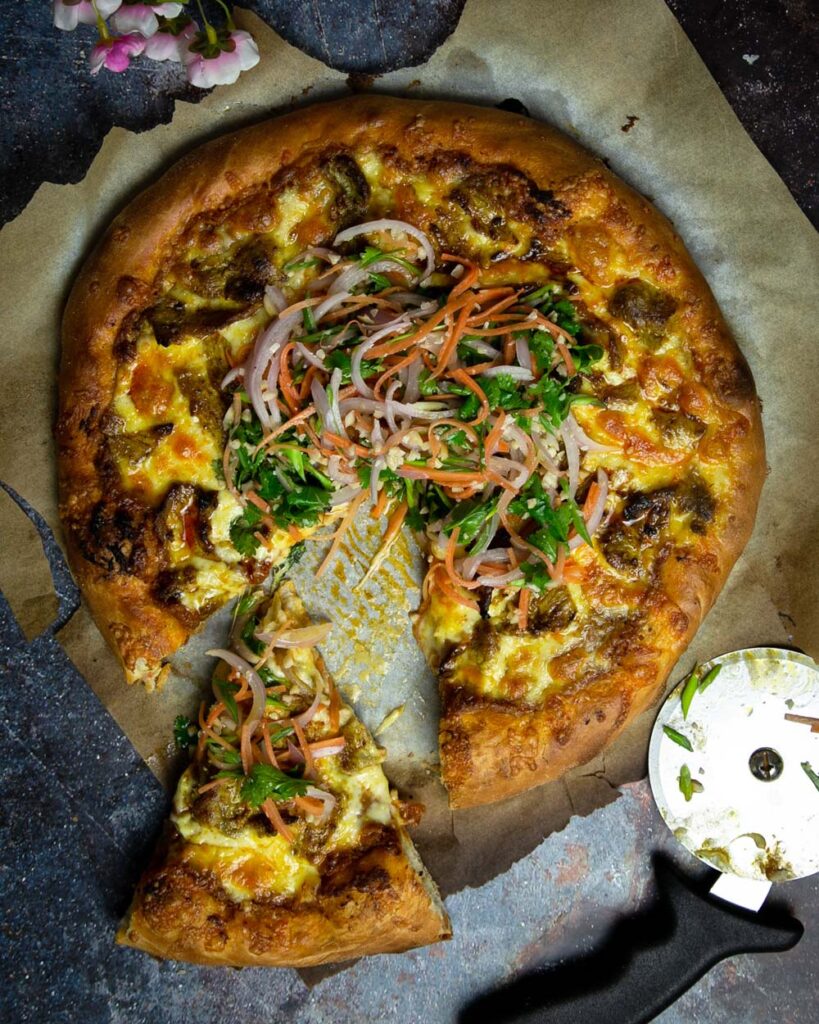 How to make Satay pizza
Make the dough – Transfer all the dough ingredients into a food processor. Run the machine for a few minutes till it combines into a soft dough. Place it in an oil-greased bowl, cover, and set aside proof.
Prepare the satay – Except for the pork, mix all the satay meat ingredients in a bowl. Slice the pork thinly and marinate it in the spice mixture. Then, skewer the meat and grill for a couple of minutes on medium heat. Once cooled, remove from skewers, and shred it.
Prepare the sauce – Sautéthe curry paste in hot peanut oil over medium heat. Stir in the remaining ingredients. Simmer on low heat for 3-5 mins till the sauce thickens.
Assemble your pizza – Transfer therolled-out dough to the peel. Layer with peanut sauce, shredded mozzarella, and grilled pork topping. Bake in the preheated oven for 12-14 minutes at 500° F. Serve the pizza topped with freshly tossed Thai salad.

Satay pizza FAQ
Can Thai peanut sauce be made using other ingredients?

Yes. Several variations of Thai peanut sauce are made using soy sauce, coconut cream, sesame seeds, or sesame oil. Some recipes use rice vinegar or tamarind juice instead of lime juice to infuse acidity. You can use massaman or Penang paste instead of red curry paste.
How to balance the spiciness of the pizza?

There is a delicious trick to mellow down the spice level of Thai satay-style pizza. Garnish it with a drizzle of white coconut cream sauce. Mix coconut cream with yogurt, lime juice, and freshly chopped cilantro to prepare the sauce.
Which wine goes best with Thai Satay-style pizza?

The French white wine "Chenin Blanc" complements Thai cuisine. It has a sweet flavor with medium-high acidity. The "Burgundy Chardonnay" and "Californian Pinot Noir" are good choices too.
Some of the links in this article are "affiliate links". By using the affiliate links, you are helping support AllForPizza.com, and we genuinely appreciate your support. Please see our privacy policy for more info.