This Jamaican Jerk chicken pizza with Alfredo sauce is a fusion indulgence. Its crisp golden baked dough has a subtle honey sweetness along with oregano herb and garlic flavors. The umami flavors of the moist jerk chicken topping amaze the taste buds. Each bite has a thin creamy white sauce layer, elevating the overall mouthfeel exceptionally. Additionally, there's the melted mozzarella layer offering a satisfying cheezy pull.
The origin story behind jerk seasoning narrates how the Maroons teaming up with the indigenous tribestaught them meat preservation using spices and herbs. Gradually, the hunt animals like boars were replaced by pork and chicken. Also, the underground cooking method developed to grilling the marinated meat using pimento wood.


The sole topping of the shredded meat makes this Jamaican jerk chicken pizza utterly fulfilling. If you have a soft spot for chicken pizzas, you are in for a treat. From the classic American BBQ chicken pizza, Indian naan crust butter chicken, and tandoori chicken pizza to the African peri peri chicken pizza and Filipino-style adobo chicken pizza, you cannot miss any of it!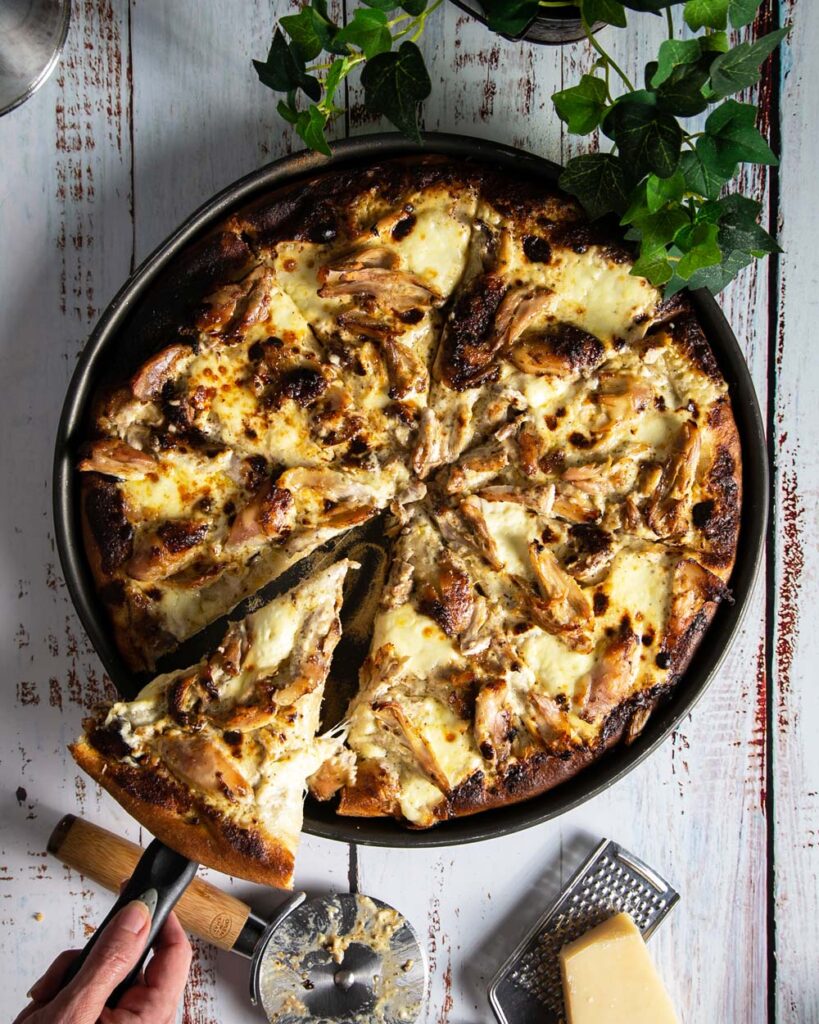 Ingredients
Given below is a brief of the ingredients necessary for this Jamaican jerk chicken pizza. You can purchase the items at your nearby store or order online.
00 flour
Instant yeast
Honey
Garlic
Chicken drumsticks
Scotch bonnet pepper
Jerk seasoning
Heavy cream
Cheese
The Italian 00 flour is a fine powder that creates a light, crispy, and yummy crust. The dough is easy to knead, has excellent elasticity, and rolling/spreading it doesn't cause any tears.
Instant yeast has a longer shelf life than active dry yeast. Therefore, you can purchase them in bulk instead of single-use sachets.
This recipe uses raw honey to sweeten the dough. It has all the natural sweetness for not undergoing pasteurization and is also healthier than regular honey.
Garlic is used to flavor all 3 components of pizza (the dough, sauce, and toppings). Therefore, use fresh or good-quality garlic powders.
For the topping, organic bone-in chicken drumsticks are used. They pack more flavor and retain a moist texture. When marinated overnight, the chicken tastes phenomenal.
Scotch bonnets are vibrant colored fiery hot peppers with a mild fruity undertone. If you cannot handle too much heat, skip it.
Jerk seasoning is a powdered blend of herbs, spices, and pepper. It has a warm aromatic spicy, sweet, and pungent flavor that works as an excellent spice rub for chicken and pork.
Heavy cream is thick milk fat that rises to the surface of the milk while boiling/simmering it. It gives the Alfredo sauce a rich, velvety texture.
This pizza recipe uses two types of cheese. Firstly, parmesan is added to the Alfredo sauce giving it a salty cheesiness. Fresh mozzarella is used as a cheese topping for a melted cheesy layer.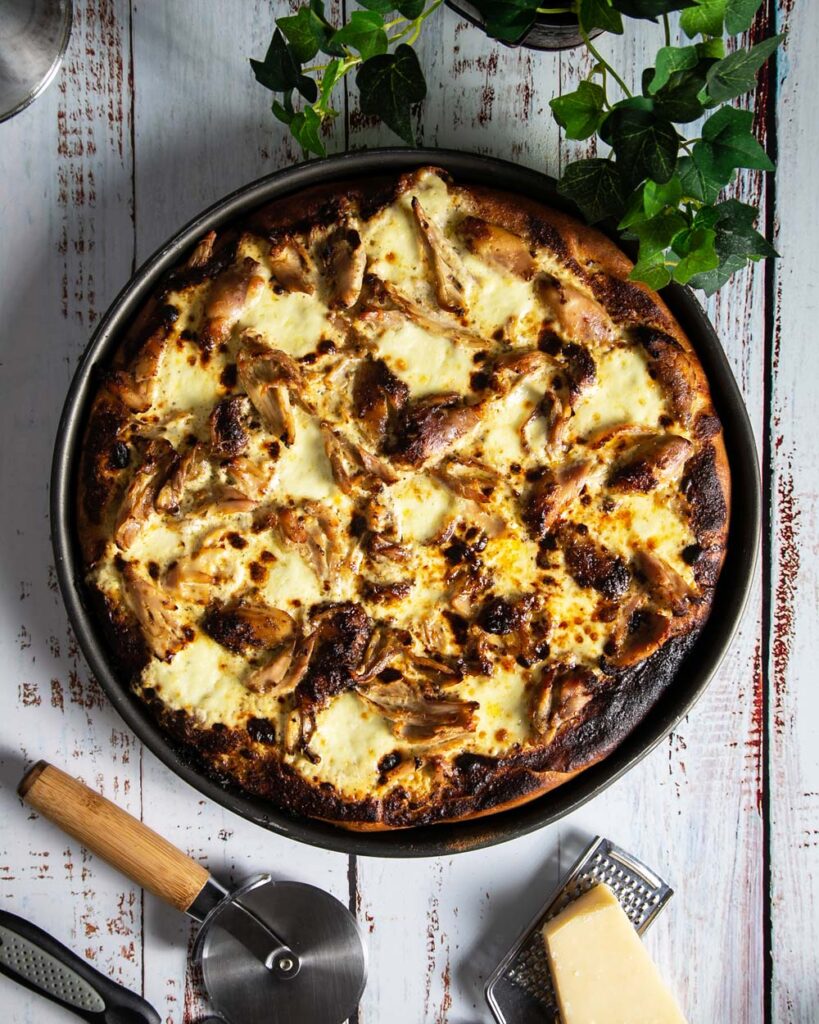 Substitutions
All-purpose flour, wheat flour, or gluten-free flour can be used in place of 00 flour. You may buy premade pizza dough or naan dough to save time and effort. Cauliflower crust is another yummy option.
You may substitute the chicken drumsticks with two boneless chicken breasts weighing 5-6 ounces each or use 12 ounces of pork.
Heavy cream can be replaced with half & half, coconut cream, or cream cheese.
Instead of alfredo sauce, this pizza tastes delicious with BBQ sauce. You can also swap it for an easy white sauce made by mixing plain Greek yogurt, heavy cream, and black pepper.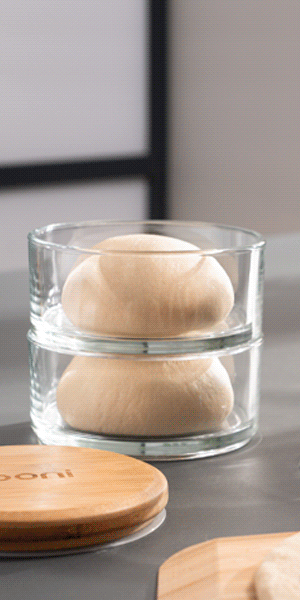 Jamaican jerk pizza Notes
For additional toppings, you can opt for the colorful grilled red, yellow, and green bell peppers. Other options include sliced red onions, roasted cherry tomatoes, spring onions, and kale.
Cooking the chicken on a charcoal grill instead of the oven adds a smoky flavor. Fire up the charcoal ad let the grill grates heat to medium. Place the marinated chicken drumsticks and grill for 40-50 minutes covered. Flip at 10 minutes intervals and baste the chicken every time with the leftover marinade.
Store and Reheat
You may prepare the dough, alfredo sauce, and jerk chicken and store them separately in the fridge a day or two prior to making the pizza.
The Alfredo sauce should not be left at room temperature for more than 2 hours. Therefore, once it cools (at room temperature), transfer it to an airtight jar, and store in the fridge to last 3 days.
To store leftover pizza slices, stack them in an airtight container while placing a paper towel between each piece. Consume them within 3 days!
If you don't enjoy cold pizza slices, reheat them in the oven, air fryer, on a stovetop, or griddle. For the oven method, place the pizza directly on the rack of a preheated oven and cook for 5-7 minutes at 350° F.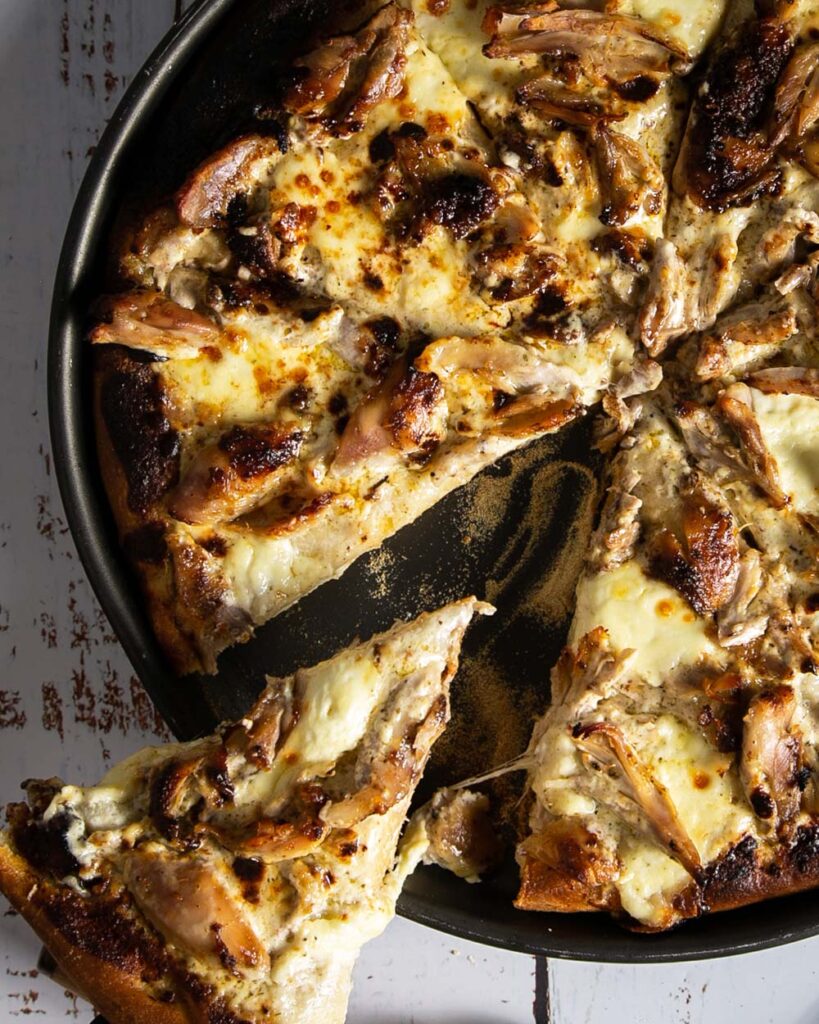 How to make Jamaican jerk chicken pizza?
Make the dough – Mix the yeast, water, and honey. Once it turns foamy, add the remaining dough ingredients and run the stand mixer on low speed. Then, mix on medium-high speed for 5 minutes. Remove into an oil-greased bowl to proof for 2 hours.
Prepare the jerk chicken – Blend scotch bonnet pepper, garlic, thyme, and sugar. Mix it with the remaining jerk chicken ingredients. Coat the scored drumsticks with the mixture, marinade for 2 hours, and bake in the preheated oven for 40 minutes. Cool the cooked drumsticks, remove the bone, and shred the meat.
Make the sauce – Mix the cream and butter on low heat for 2 minutes. Mix the seasonings for a minute and combine the parmesan until melted.
Assemble the pizza – Roll out the proofed dough and place it in an oil-greased pizza pan. Spread the Alfredo sauce, followed by the mozzarella and jerk chicken topping. Bake in the preheated oven for 15-20 mins at 475° F.

Jamaican Jerk Chicken Pizza FAQ
How to spice up or tone down the heat of the pizza?

If you like it spicy, serve the pizza drizzled with hot jerk sauce. On the other hand, juicy fruit topping helps tone down the spicy level. Grilled pineapple pieces and ripe mango salsa are popular choices.
Can we make the Jerk seasoning at home?

Yes. Mix 1 tablespoon of onion powder with 2 teaspoons cayenne pepper, 2 teaspoons black pepper, and 1 teaspoon each of allspice, smoked paprika, ground cinnamon, cumin powder, ginger powder, and ground nutmeg.
Which wine goes best with Jamaican jerk chicken pizza?

"Gewürztraminer" is a light white wine that pairs beautifully with this pizza. "Jackson-Triggs Grand Reserve Pinot Grigio" is a sweet and crisp white wine whose acidity compliments the spicy flavors of jerk chicken incredibly well.
More Pizza Recipes
Some of the links in this article are "affiliate links". By using the affiliate links, you are helping support AllForPizza.com, and we genuinely appreciate your support. Please see our privacy policy for more info.