Pesto has become a classic sauce that livens up any dish it hits. Pesto, the classic raw green sauce, is a staple in Italian cuisine. A mix of garlic, olive oil, pine nuts, cheese, and aromatic basil come together gloriously. The sauce is a delicious addition to pasta, chicken, vegetables and not to mention as a spread on toast!
Traditionally, pesto is prepared in a mortar and pestle, crushing each ingredient to bring out all the essences. Hence the origin of its name. The word pesto, or pesta, comes from the Italian verb "pestare", meaning to pound or to crush. So, it is important to note that the word Pesto describes the type of sauce through its process. It does not only refer to this worldly known green sauce, specifically named Pesto Genovese. The modern version of this pesto sauce was first introduced in the 16th century by Giovanni Battista Ratto, in Genoa, Italy.


There are several types of pesto with fun swapping of fresh ingredients. Pesto Rosso adds sun dried tomatoes; Pesto Calabrese has roasted red bell peppers; and a very bright version, the Pesto Agli Agrumi adds orange or lemons along with capers and almonds. Each pesto named after the region of its first appearance or the special ingredient that makes it unique.
Chicken pesto pizza brings to your table the classic taste of fresh bright basil and parmesan cheese. Mixed with a creamy pesto sauce and herbed chicken. All the ingredients meld into a beautiful mix of sweet and tangy. This pizza can be enjoyed for informal family dinner as well as for a special occasion, paired with a good tangy salad and good wine.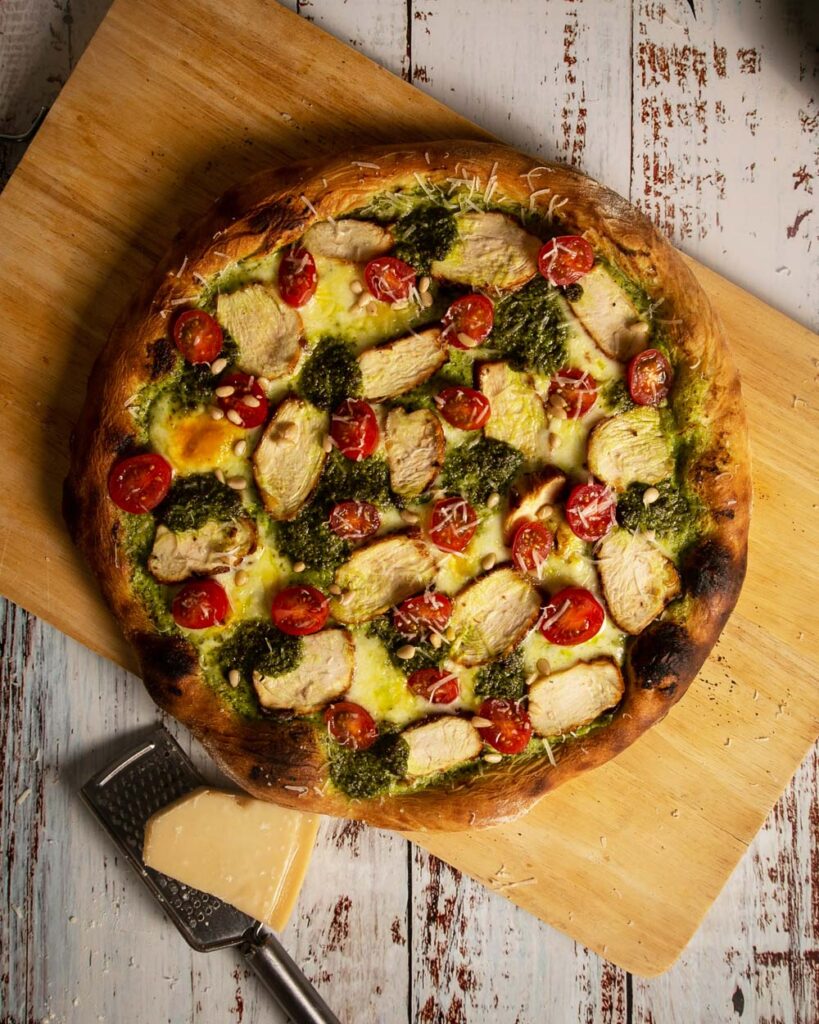 Ingredients
Here is a list of some important ingredients in chicken pesto pizza. Most can be found at you local grocery or online.
Tippo "00" flour
Chicken breasts
Yogurt
Basil
Pine nuts
Garlic
Parmesan
Mozzarella
Cherry tomatoes
Tipo "00" flour is commonly used in Italian pizza. It's a high protein flour that allows for a light and crispy pizza crust. Pizza Bianca, romana tonda and pizza marinara all use Tipo "00" flour.
The yogurt marinated chicken gives our pesto pizza some well needed protein. The marinade includes lemon and dried basil.
Pine nuts and fresh garlic are crucial to a well balanced pesto. Throw in some basil and Parmesan to complete your flavor profile.
Topping the pizza with mozzarella cheese brings it all together. Don't forget to add the cherry tomatoes and a handful of pine nuts after cooking.
Tips and substitutions
Although there is a certain satisfaction in using all fresh ingredients while preparing your own pesto sauce, it is absolutely fine to use your favorite store-bought pesto sauce. Look out for the greenest one on the shelves, this assures that the basil was super fresh at the time of production.
Pine nuts give a special sweetness to the sauce, but it is also fun to swap them with other nuts. Some good choices are walnuts, pecans, or almonds because of their sweetness. A fun substitution is pistachio, for added earthiness.
Parmigiano Reggiano is the favored cheese for Pesto Genovese. Pecorino cheese works well too. It adds a perfect zing to the mix! You can also do half parmesan and half pecorino to get the best of both worlds. Manchego can be a nice hard cheese to use and add saltiness to this sauce.
For a veggie option, swap the chicken with your favorite vegetables. Fresh mushrooms, zucchini, onions – to name a few.
The dough works the best with high protein flour, like Tipo 00. If using all-purpose flour, there are a couple of tips to compensate. You can add 1 Tablespoon of Vital Wheat Gluten flour. Alternatively add 1 more hour to the proofing time to allow more time for the gluten to develop in the dough.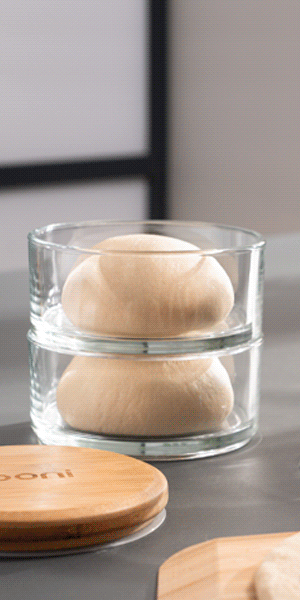 Store and reheat
To store individual slices, wrap each slice up in aluminum foil. Then place them into a ziplock bag. Refrigerate the chicken pesto pizza for up to 4 days. Freeze for up to 30 days.
To reheat the chicken pesto pizza, place the slices into an air fryer. Cook each slice for 3-5 minutes. If frozen, remove 2 hours before cooking the pizza for best results. However if you're in a crunch, you can microwave the slices for a min or 2 to defrost them. Then place them in the air fryer to get the crispy pizza crust.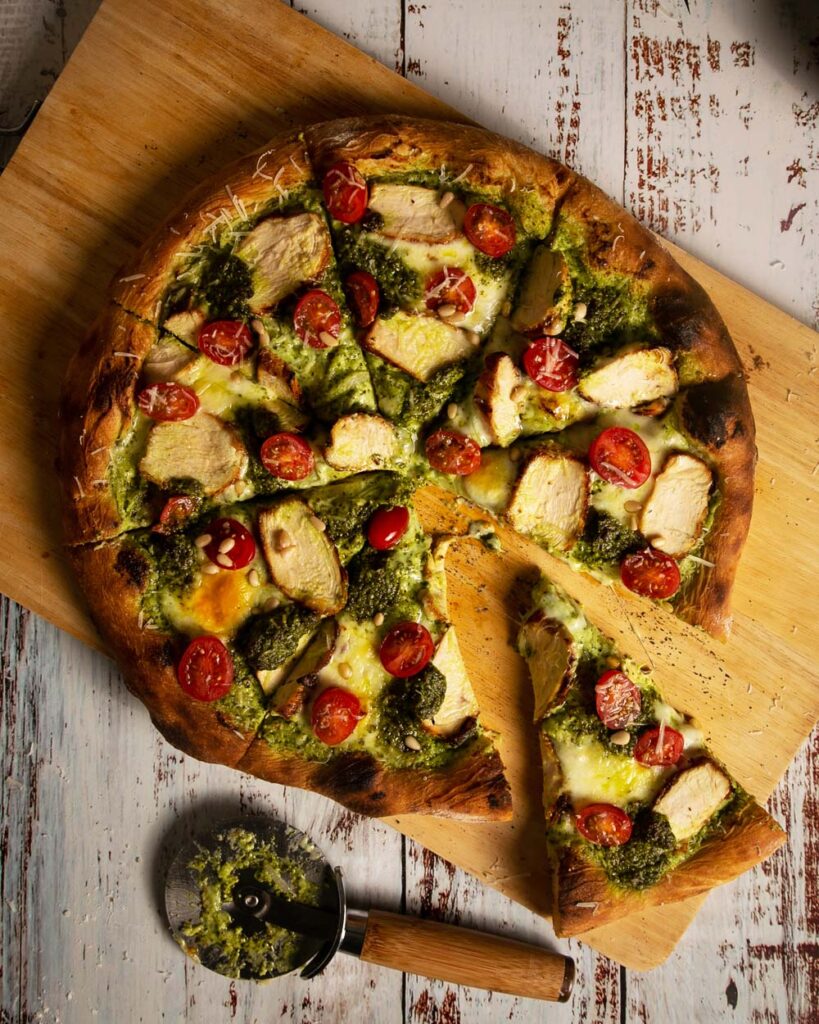 How to make chicken pesto pizza
Prepare the dough – Toss all your ingredients into a stand mixer bowl. Attach the dough hook and mix. Let knead for a few minutes. Once a dough comes together, remove it into a greased bowl. Cover and let the chicken pesto pizza dough proof.
Sauté the chicken – Marinate the chicken breasts in the yogurt along with lemon, salt and pepper. Then cook the chicken on a skillet, browning both sides. Reduce heat and add a little water to the skillet. Cover and simmer until the temp reaches 165 degrees F. Flipping halfway through.
Make a pesto – In a food processor, add in the basil, pine nuts, garlic, lemon and olive oil. Mix for a few seconds before adding in the shredded Parmesan. Mix again until a paste forms.
Cook your pesto cream sauce – Sauté the onions in the skillet with butter. Once cooked, add in the flour and mix well. Cook for a min or two. Slowly pour in the cream and whisk well. Add some pesto and cook until a sauce comes together.
Assemble your pizza – Form a crust with your dough. Layer on some pesto cream sauce. Distribute the mozzarella and chicken evenly. Drizzle on the remaking pesto and bake. Once cooked, top with pine nuts and tomatoes.

Chicken pesto pizza FAQ
Is pesto healthy?

For the most part, pesto is a pretty healthy dish. It's made with fresh and healthy ingredients, especially when made at home. But please enjoy this treat in moderation, pesto does contain a lot of calories and is high in fat.
What does pesto taste like on pizza?

Imagine dipping a freshly baked slice of bread into a bowl of pesto. Now add a layer of cheese and chicken into the mix. Pesto on pizza is amazing.
What drink pairs well with pesto?

If you like wine with your meals, have a glass of Sauvignon Blanc. The grapes are not overly ripe and match well with the herbaceous basil. However, a nice sour margherita with some lime is also a tasty way to go. Tequila has a bit of an herby flavor and we like it with the chicken pesto.
Some of the links in this article are "affiliate links". By using the affiliate links, you are helping support AllForPizza.com, and we genuinely appreciate your support. Please see our privacy policy for more info.