Devouring a slice of cheeseburger pizza is like enjoying the best of two worlds. A crispy-chewy crust replaces the burger buns. The chunks of browned beef with a kick of seasoning give the taste buds the well-known meat patty vibe. There's the classic warm melted mozzarella and cheddar cheese layering. On top of that, mayo, mustard, and ketchup offer a tangy sharp lip-smacking creaminess with pickled cucumber crunch.


Speaking of origin, the cheeseburger originated in 1924 when Lionel Sternberger, a 16-year-old teenager, stuffed an American cheese slice on a hamburger. The bacon cheeseburger came into existence in 1963 on popular customer demand in a restaurant by Dale Mulder. Presently, various pizzerias and fast-food joints sell bacon cheeseburger pizza to satisfy foodies across the globe.
Have you tried other popular dishes in pizza style? There's the 'Philly Cheesesteak Pizza' as well as the 'Butter Chicken Pizza.' Like the cheeseburger pizza, each showcases a unique crust, a different sauce, and toppings. Savor the pizza at home while customizing it to you or your loved ones liking for a deliciously filling experience.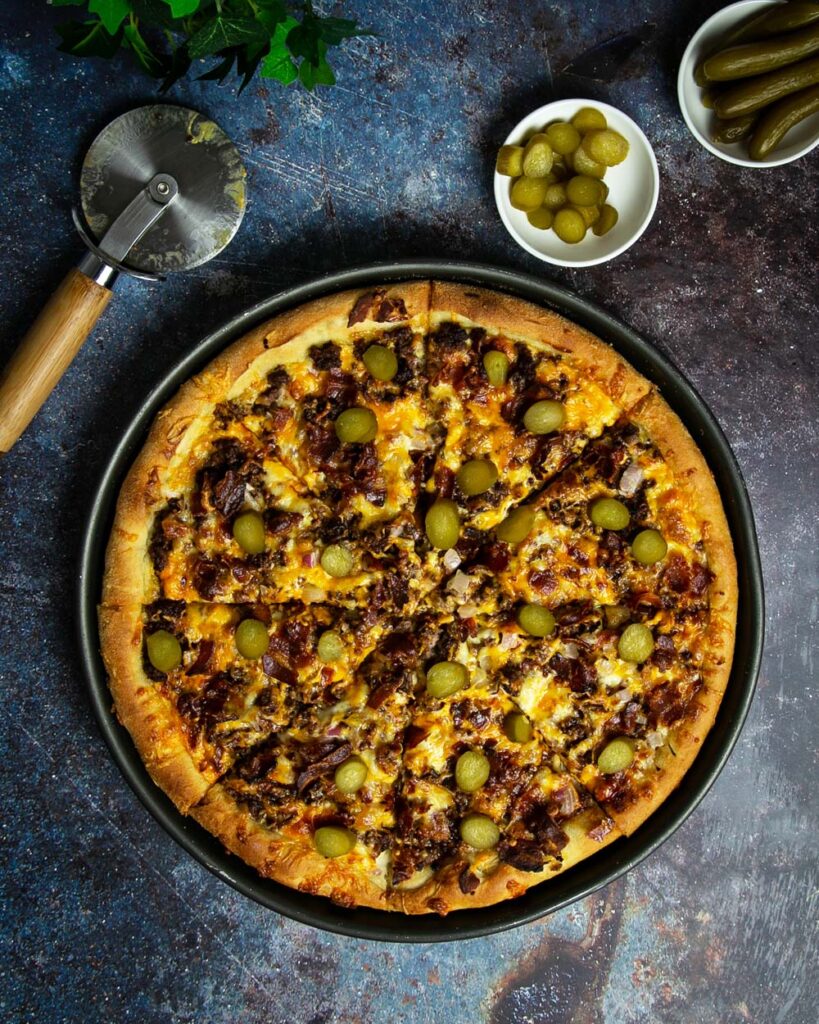 Ingredients
Check out the ingredients that go into making a cheeseburger pizza. You can purchase these ingredients easily at your nearby store or online portal.
Bread flour
Ground beef
Cheese
Bacon
Mayo
Mustard sauce
Pickled cucumber
The protein-packed bread flour yields a crisp and chewy crust. The flavor & texture give you the soft bready burger bun feel. You can also use all-purpose flour, but it will be slightly less chewy in texture.
When browned in the pan, ground beef makes a delectable meaty topping. For a similar texture, you can also use ground turkey/chicken. Bacon adds a crisp texture and delicious greasy flavor.
The two types of cheese- mozzarella and cheddar, melt into a gooey, salty, milky yumminess. You may use fresh sliced & shredded mozzarella but always stick to shredded cheddar to achieve the authentic taste.
Mayo offers the creamy goodness that every cheeseburger fan will relate to. The zingy, pungent, and slightly spicy yellow mustard sauce is a key flavoring agent in this cheeseburger pizza. Try different mustard sauces as per your palate preference.
Slices of pickled cucumber add a fresh tangy flavor. It also helps cut through the meat's fattiness.

Substitutions
In place of using homemade dough, you may use store-bought pizza dough or prebaked thin pizza crust. A 16oz dough ball is enough for a medium-sized pizza.
Swap the yellow mustard for brown mustard to add a spicier taste. Pick Dijon mustard for a tangier flavor and honey mustard for a sharp sweetness.
Instead of ketchup, you can use canned pizza sauce, tomato paste, marinara sauce, or BBQ sauce. If you prefer homemade tomato sauce, blend some Italian canned tomatoes with salt, pepper, garlic, and fresh basil leaves. Simmer until it comes together into a sauce-like thick consistency.
You may substitute the mozzarella and cheddar cheese with two cups of Colby jack cheese.
Alternatively, instead of cheddar, you can use American cheese. Tear it into small pieces, top it on the hot baked pizza, and put it back into the oven for 10-15 seconds or until the American cheese melts.
Notes
To add more flavor to the dough, you may include a teaspoon of honey, dried thyme, and a dash of garlic powder.
Those who like a crispier crust may add some semolina to the dough.
You can also top your pizza with fresh juicy tomato slices, shredded lettuce, and bell peppers for a more cheeseburger feel.
Gently pressing sesame seeds on the edges of the raw crust before baking adds a toasty nutty flavor. Furthermore, you may brush melted butter or olive oil on the edges of the baked pizza crust right before serving.
For a yummy spicy touch, you can layer the pizza with hot sauce and serve it garnished with paprika.
Store and Reheat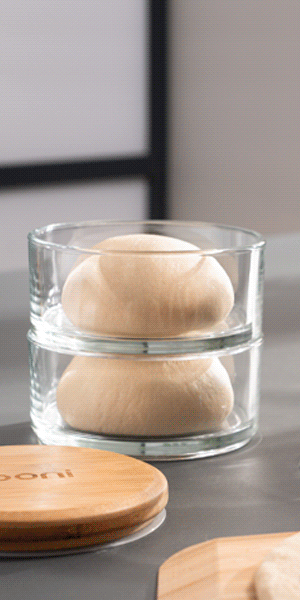 You can store leftover pizza slices by wrapping each piece in plastic wrap and storing it in the fridge for 3 days.
You can reheat them in a pan, oven, or air fryer. Put 1 or 2 pizza slices in the pan placed on the stove over low heat. Let them warm through for a few minutes. If using an oven, ensure it is preheated to 325° F. Place the pizza slices on a cookie sheet and reheat for a few minutes.
Avoid reheating in the microwave as it ruins the taste and texture, making the crust rubbery.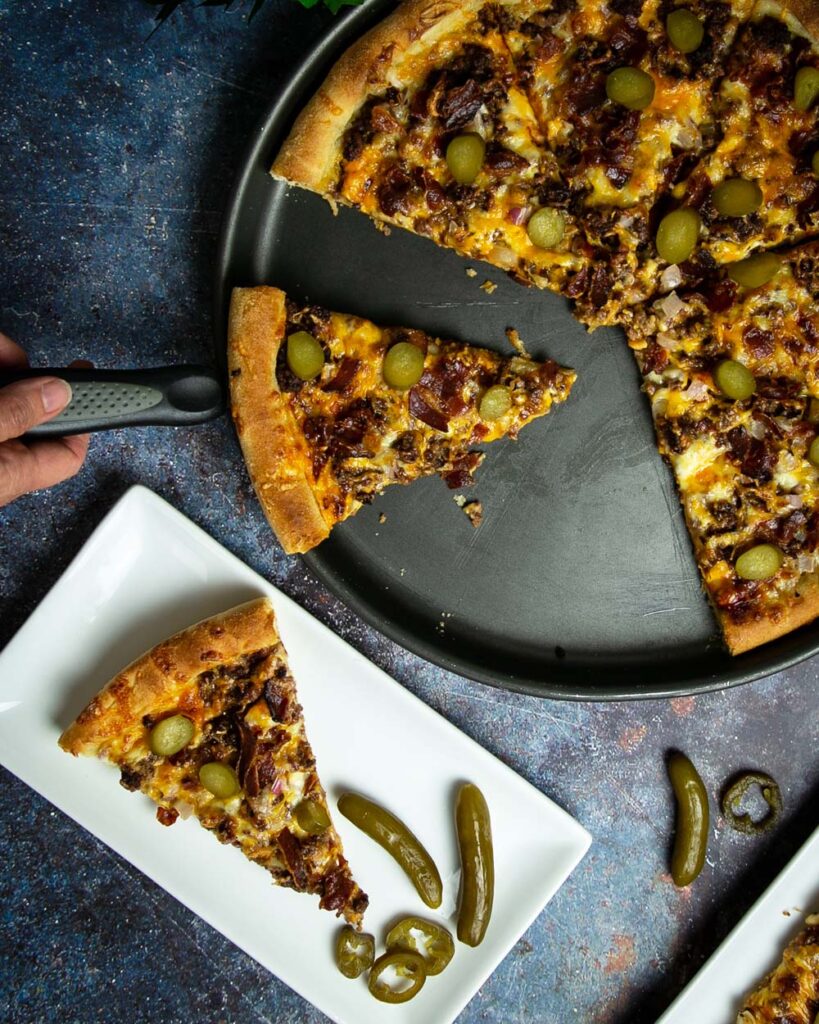 How to make cheeseburger pizza
Cook the bacon and beef – Transfer the bacon to a hot skillet on medium-high heat. Cook until crispy, turning regularly, and remove to a plate. Now add some ground beef to the same hot skillet. Break it up and mix the seasonings. Cook for a few minutes, occasionally stirring, till the meat is no longer pink. Drain the grease and remove it into a dish.
Prepare the dough – Bloom the yeast in a lukewarm water-sugar mix. Combine the flour, salt, oil, and bloomed yeast in a stand mixer bowl for 1-2 minutes. Place in an oil-greased bowl to rise for a couple of hours.
Assemble your pizza – Roll out the dough to a 12-inches crust and place it on a greased pizza pan. Layer with mayo and the 2 different sauces, shredded cheese, browned beef, onion, and bacon bits. Bake for a few minutes in a preheated oven till the crust is crisp, the center bubbly, and the cheese has melted. Serve topped with pickled cucumber slices.

Cheeseburger Pizza FAQ
Why top the pizza with mustard sauce?
Mustard is a chief condiment of a cheeseburger as it pairs amazingly with the browned meat topping. Furthermore, the heat caramelizes the mustard during the baking process and enhances its flavor.
Which wine goes best with cheeseburger pizza?
Wines with higher tannin work fabulously well with this pizza as it cleanses the palate of the rich cheesy taste. Moreover, to complement the classic combination of ground beef and cheddar cheese, wines should have savory flavors like black currant, tomato, and roasted pepper. "Chianti Classico", "Coonawarra Cabernet", "Crianza" and "Montepulciano d'Abruzzo" are a few good ones.
How to make the pizza ahead of time?
Pre-bake the raw crust partially for 4 minutes in the preheated oven. Then, assemble the pizza as directed. Wrap neatly with cling film and keep it in the refrigerator for many hours. When ready to serve, unwrap the assembled pizza, and bake for 4-6 minutes at 500° F. It makes for a hassle-free weeknight dinner or weekend party at home.
Some of the links in this article are "affiliate links". By using the affiliate links, you are helping support AllForPizza.com, and we genuinely appreciate your support. Please see our privacy policy for more info.