"Flammkuchen," as Germans call it, showcases a unique crisp baked pizza comprising a classic cream sauce, veggies, and meat toppings. The crust is thin, like a flatbread, as it doesn't contain yeast nor requires proofing. The Crème fraîche with a nutmeg fragrance creates a lip-smacking creamy layer. It's so good that you don't miss the cheese in this savory delight. The minimal toppings include slices of sweet yellow onions, tiny bits of delicious cured ham, along with some leeks and chives for freshness.


This style of pizza originated in Alsace, France. The French know it as Tarte Flambé or Flammekueche. It literally translates to "Flame tart," and the name tells the tale of how the dish was created. The bakers used this trick to learn ancient wood-fired ovens' temperature before baking bread loaves. They rolled out a small dough ball, layered it with crème fraîche, and baked it for a few minutes. When the flatbread crisped up to perfection with tiny black/brown blotches on the edges, the bakers knew the oven was preheated and all set for baking.
This rustic version of pizza with a slightly charred-crust infusing an inviting smoky flavor is utterly satisfying. If you prefer crunchy thin-crust pizzas like Flammkuchen to the otherwise thick doughy varieties, there's more to try! The vibrant Armenian pizza, St. Louis Style Pizza, Romano Tonda, and the double-decker Mexican pizza are pure joy!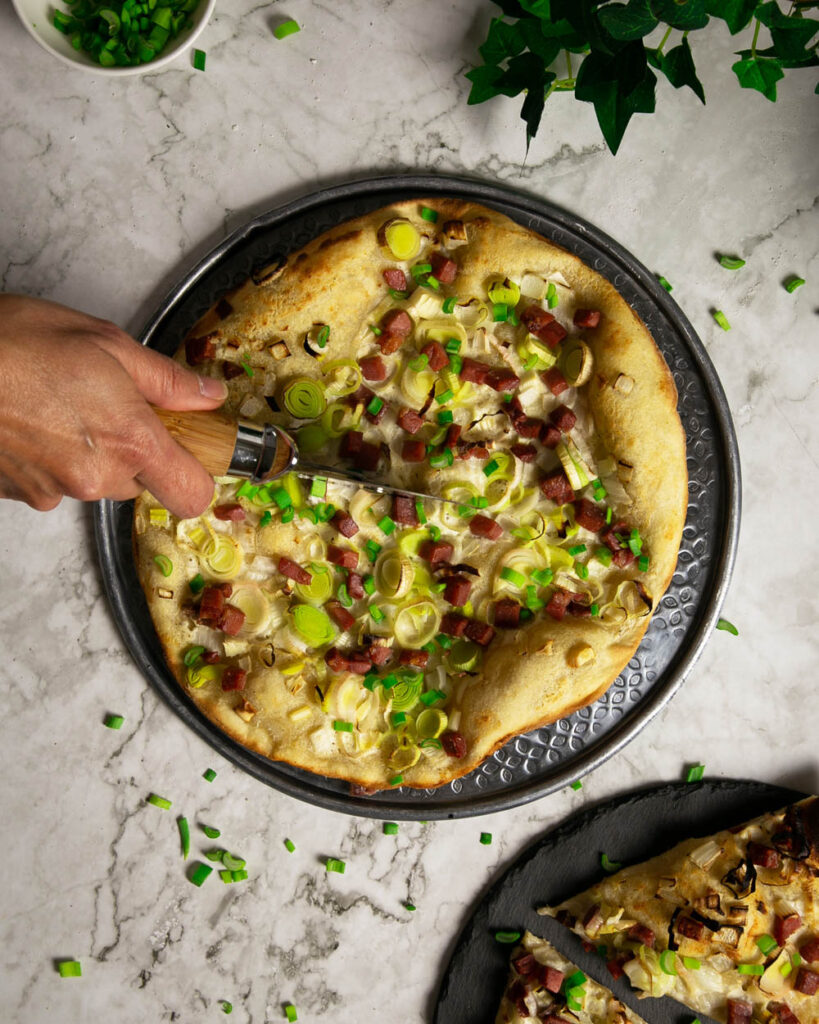 Ingredients
Check out the ingredients that go into making this crowd-pleasing recipe. There are some common ingredients and a few region-specific items that can be available at the German/French food section or ordered online.
Flour
Canola oil
Crème fraîche
Nutmeg
Speck
Onion
Leek
Chives
All-purpose flour will do excellently for the crust, as you don't need to proof the dough. Traditionally, chefs made the crust using wheat and rye flour in equal portions.
Canola oil is a neutral-tasting oil. Similar to olive oil, it's a healthy oil with high monosaturated fat and low saturated fat content.
Crème fraîche is made from pasteurized milk & has a thick creamy consistency. It has high-fat content and a milder sourness than sour cream.
Nutmeg is an aromatic spice. A hint of this brown powder is enough to flavor the cream sauce with its warm and nutty taste.
Speck is a type of cured ham that is lightly smoked. It has a reddish color and firm texture. It's made from the pig's hind legs, fillet, rump, or loin. A difference between speck and prosciutto is that speck is boned before curing while prosciutto is not boned before curing.
Onions offer a pleasing sweetness and soft texture. Authentically they are used raw, yet some prefer to sauté them until soft before topping them on the pizza. Avoid caramelizing the onions as they become too soft and extra sweet, which ruins the dish's overall taste.
Leeks have a subtle sweetness and deep umamiflavor. You may add it for taste or skip it if you can't find a fresh one at the market.
Chives infuse a mellow onion-garlic taste. Adding them as a garnish gives the pizza a sharp freshness.
Substitutions
You may substitute Crème fraîche with any available Lacto-fermented cream like sour cream or Schmand. The cream should have 20-25% fat content so that it doesn't separate when heat is applied while baking. Compared to the crème fraîche, the German Schmand is less creamy in texture and slightly mellow in flavor. To cut calories, you may use greek yogurt instead.
For the fresh garnishing, chives may be substituted with dill sprigs or parsley.
Besides the traditional dry-cured ham, you may top the flammkuchen with bacon, pancetta, chunky lardons, or smoked salmon. Although ham and bacon are cured meat, the main difference is that smoked ham comes from the hind leg while bacon comes from the belly/back of pigs.
Notes
Raw bacon is a classic topping when making Flammkuchen. However the pizza may end up slightly greasy. Therefore, to cut the grease, you can either saute or confit the raw bacon. For confit bacon, cook the chunk of bacon in oil until the meat becomes soft. Then, cool it in the fridge and dice into small pieces.
You can enhance the authentic crème fraîche base by adding mascarpone cheese, Fromage blanc, horseradish, or garlic paste. Moreover, sriracha, red chili powder, or cayenne may be used to spice it up.
Sprinkle some cheese on the cream base for an additional yummy layer. Gruyere cheese, goat cheese, and Munster cheese are some options.
For a vegetarian topping, you may use sliced red onion, goat cheese, and spinach leaves. Diced king oyster mushrooms also taste yummy!
Store and reheat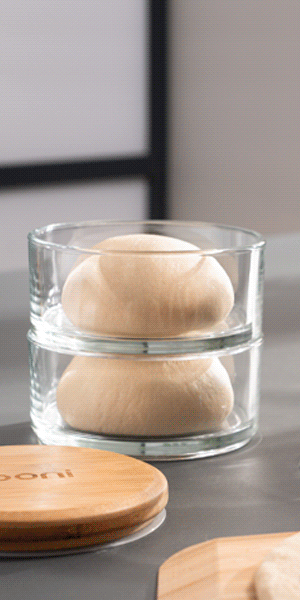 Wrap up the leftover pizza slices in cling film. Store it in the fridge for 2 days or keep it in the freezer for 3 months.
To reheat, preheat the oven to the highest temperature. Unwrap the pizza slices, place them in a baking tray (in the middle rack) and reheat for about 3 minutes until crispy. Thaw the frozen pizza slices and reheat for 4 minutes.
Leftover flammkuchen slices also reheat well in the air fryer. Preheat Air Fryer to 400° F. Place the pizza slices in the basket and air fry for 3 minutes.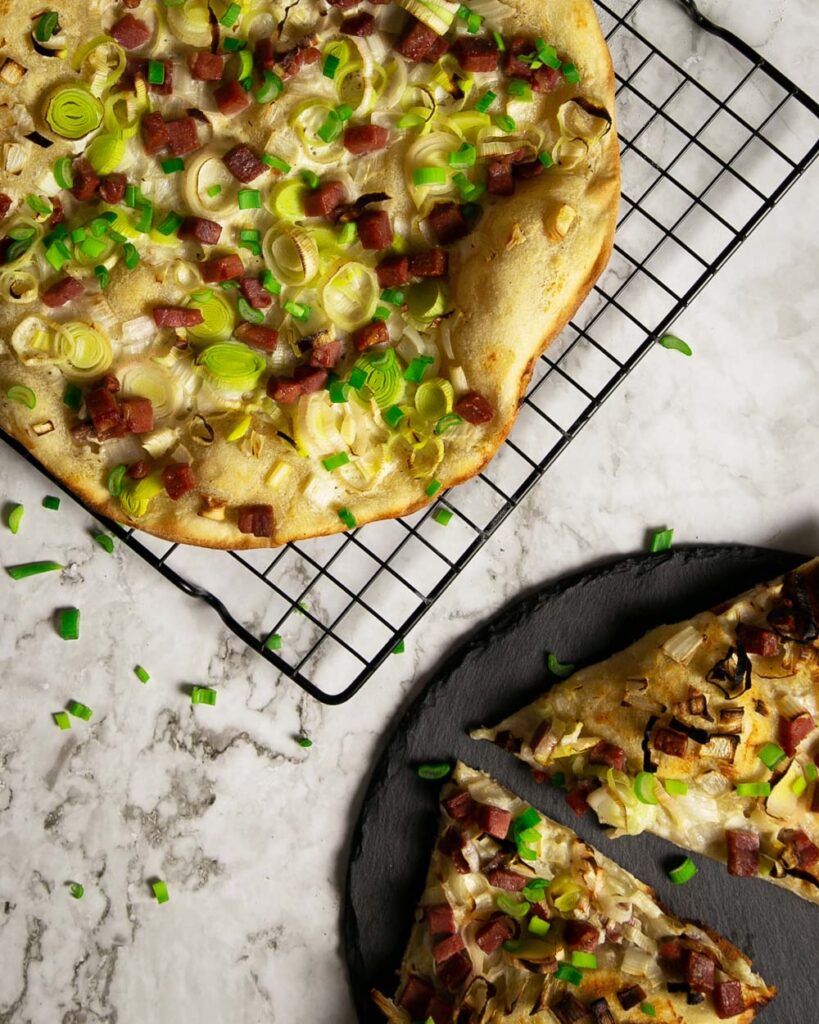 How to make flammkuchen
Make the cream sauce – Mix the Cream Fraiche with salt, pepper, and nutmeg in a small bowl.
Prepare the dough base – Knead the flour with salt, oil, and lukewarm water in a stand mixer for a few minutes. When the ingredients come together into a smooth dough, knead it slightly by hand. Then, divide it into two parts, cover, and set it aside for 15 minutes.
Assemble your pizza – Roll out a dough ball into a large thin circular flatbread. Layer with the cream mixture, followed by the veggies and meat toppings. Bake till it crisps up and the edges charr slightly. Serve garnished with fresh minced chives.
Flammkuchen FAQ
Can yeast dough be used to make Flammkuchen?

Traditionally, a yeast-proofed dough is not used. Yet, if you opt to buy pre-made pizza dough from the store/online portal or have homemade leftover proofed dough, you can use it. To make 1 Flammkuchen, a 5oz dough ball is enough.
Which wine goes best with Flammkuchen?

The red "Pinot Noir" and "Chardonnay" work well for a creamy pizza like this. "Constantia Glen sauvignon blanc" makes a fantastic pairing too.
Is there a sweet version of Flammkuchen?

Yes. Flammkuchen is relished as a dessert too. Mix the sour cream with a couple of teaspoons of honey, a drizzle of vanilla extract, and a dash of ground cinnamon for the sweet cream layer. Top it with sliced apple and pear. Finish with a sprinkle of brown sugar on top.
Some of the links in this article are "affiliate links". By using the affiliate links, you are helping support AllForPizza.com, and we genuinely appreciate your support. Please see our privacy policy for more info.