Bring the brightness of a beautiful morning to your plate with this classic breakfast pizza. A filling meal having your usual bread, eggs, and dairy assembled in a colorful pizza version.
The sunny side up eggs sit on a layer of melted milky mozzarella. A nice meaty bite is offered by the bacon bits. While the cherry tomatoes bring in some zingy juiciness. The topping of parmesan and fresh herbs takes the pizza up a notch. Finally, all these appetizing layers are held together by the crisp baked crust offering a mouth full of yummy goodness. 


Marietta John, the owner of a cake-to-go business, professed to have invented the breakfast pizza during the early 1990s. However, the origin of the breakfast pizza has not been clearly established. The reason is that the recipe changes with the region-specific breakfast meals. California enjoys their breakfast pizza deli style. This includes capers, smoked salmon, red onions, and cream cheese. Thus, there are no strict rules for making pizza. You can make yours just the way you like it.
This "Classic Breakfast Pizza" also works as a brunch and delicious addition to the family pizza night. Furthermore, there's Cottage Cheese Pizza, Greek Style Pizza, and pizza al taglio, which you can also relish for breakfast!
Ingredients
Here's the basic ingredient list necessary for making the classic breakfast pizza. Most of the items will be present in your pantry or can be purchased from the nearby grocery store.
Eggs
Bacon
Cheese
Cherry tomatoes
This recipe makes the pizza dough from scratch. It has the sweetness of honey, a hint of garlic, and dried oregano. When baked, it yields a light, chewy yet crisp texture.
The basic fried eggs with salt & pepper seasoning, when done right, taste amazing. The soft texture with a runny yolk makes a beautiful topping for the classic breakfast pizza. Of course, you can also season the eggs with different spices and fresh/dried herbs.
Crisp-baked bacon pieces offer a salty meaty bite. You can also cook them in the pan if desired. For convenience, you may cook them in advance & store in the fridge.
Mozzarella melts into a mouth-watering creamy and stringy consistency. It is readily available at grocery stores. Parmesan is a hardy cheese that adds a wonderful richness to the pizza. While our cherry tomatoes offer a juicy, acidic flavor which ties it all together.
Substitutions
Sometimes we want a homemade pizza but don't feel like making the dough. For such occasions, you can buy pre-made pizza dough from a nearby bakery or online portal. Alternatively, you can prepare the dough 2-3 days earlier and store it in the fridge. Moreover, you can also try cauliflower crust or naan for a change.
Besides regular bacon, you can use turkey bacon or breakfast sausage. Or possibly Welsh black pudding, cooked ham, or leftover roast chicken pieces.
Mozzarella can be substituted with any cheese you prefer. Possibly cheddar, pepper jack, and/or gouda cheese.
Instead of sunny side up, this pizza also tastes wonderful with scrambled eggs. Assemble the pizza with cheese, bacon, and veggies of your choice. Cook for 10 minutes. While the pizza is baking, fry up some scrambled eggs. Remove the pizza from the oven and top with eggs and a handful of cheddar cheese. Place back into the oven and cook 2-3 more minutes or until the cheese melts.
Classic breakfast pizza Notes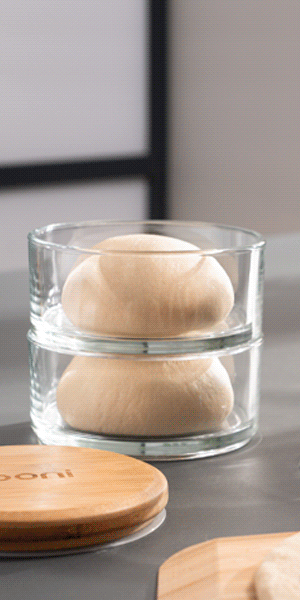 Unless you like a well done yolk, don't top the pizza with eggs from the get go. Do as the instructions say below and enjoy a real treat with a runny yolk.
Also, a sprinkle of pizza seasoning makes it aromatically flavorful.
This pizza doesn't have any sauce layering. You can layer the raw crust with crushed/pureed canned tomatoes, a white gravy, or a sauce like 'Béchamel.' A drizzle of Hollandaise sauce before serving tastes excellent too.
Store and Reheat
Wrap the leftover pizza slices with an aluminum sheet & place them in an airtight container. Keep in the refrigerator and consume within 2-3 days.
Freezing the leftover pizza slices will make them last up to 3 months. Wrap each slice separately in cling film or aluminum sheet, place in a freezer-safe zip lock bag, and store in the freezer.
To reheat, use your oven, toaster oven, or skillet. Preheat the oven to 400° F, place the pizza slices on a baking sheet, & bake for a few minutes till heated through nicely and the crust turns crisp.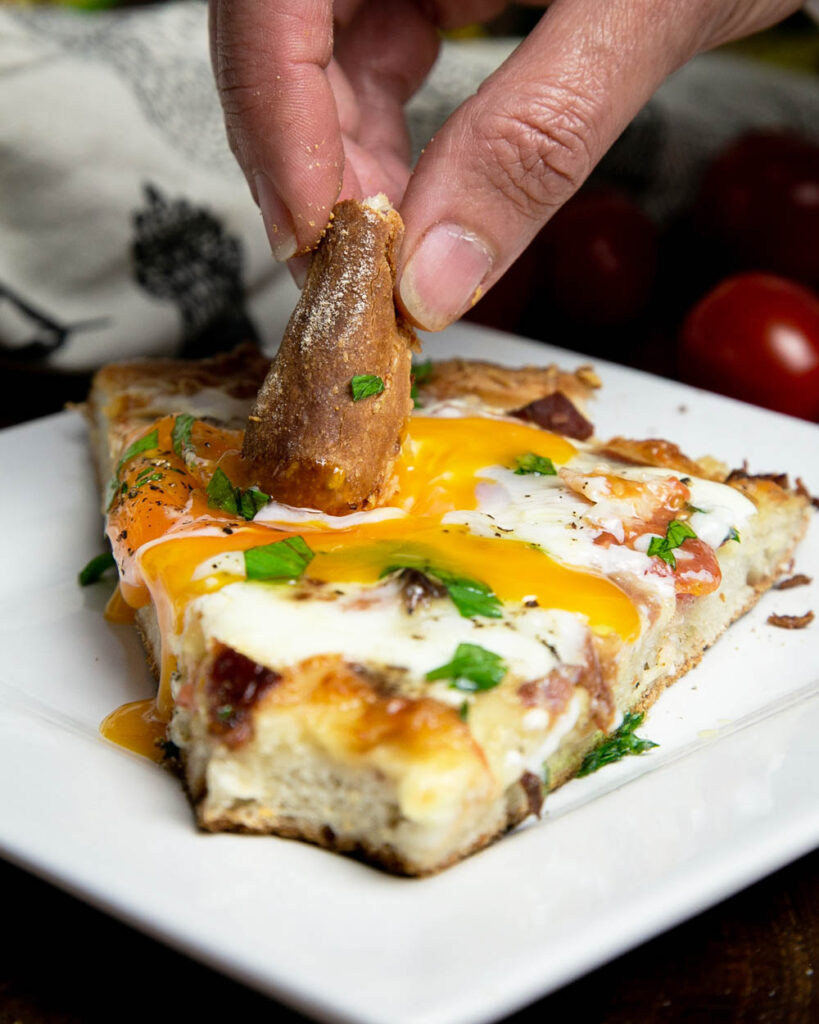 How to make classic breakfast pizza
Make the dough – Mix the honey and lukewarm water in the stand mixer bowl. Combine the yeast and set aside for 10 minutes. Add the sifted flour, seasonings, and oil. Mix for a few minutes to form a soft dough. Cover the bowl and set it aside to proof.
Prepare the Bacon – Place the bacon strips on a lined baking sheet. Bake them in the preheated oven for a few minutes until crisp.
Assemble your pizza – Roll out the doughand transfer it to a pizza peel. Layer with cheese, bacon, and cherry tomatoes. Then bake in your preheated oven until it's almost done. Using a spoon, make 4 small wells in the cheese. Crack and add the eggs in the wells. Cook an additional 4 minutes for runny yolks, 6 minutes for medium, and 8 for well done. Slice and enjoy.

Classic breakfast pizza FAQ
How to achieve the perfect fried eggs?

The trick is to cook the eggs slowly in a non-stick skillet over medium to low heat. While cooking, use a metal spoon to baste the top of the egg whites with hot oil. This will help them cook faster while keeping the yolk runny. Remove the perfect fried eggs onto a plate when done. To avoid over cooked yolks, do not cook too fast, use high heat, or leave the eggs in the pan to cool.
Which wine goes best with Breakfast Pizza?

The white wines "Chilean Sauvignon Blanc" and "California Chardonnay," with their light yet bright citrusy fruit flavor, pairs beautifully with this pizza. You can also pick the fantastic red wine "Argentinian Malbec" for its intense fruity taste & smoky finish.
What toppings can be added to the breakfast pizza?

The fun part about topping this pizza is that you can use any ingredients hanging in your fridge. Some examples include zucchini, sautéed spinach, Brussels sprouts, spring onions, mushrooms, baked beans, pickled jalapenos, and hash brown potatoes. Anything you like to add to your omelet will work.
Some of the links in this article are "affiliate links". By using the affiliate links, you are helping support AllForPizza.com, and we genuinely appreciate your support. Please see our privacy policy for more info.