Take your love for Philly's famous sandwich an extra mile with the Philly cheesesteak pizza! The thin ribeye slices stun the palate with their tender juiciness. It is paired with the traditional sweet caramelized onions and strips of sauteed bell peppers. Button mushrooms add an earthy flavorful touch.
The Philly cheesesteak sandwich was originally a toasted roll with grilled beef & onions. It was first served at a hot dog stand in the 1930s by Pat and Harry Oliveri. Later on, cheese was added. Currently, it is served on a toasted hoagie roll. The steak and veggies filling also has creamy cheese whiz, sometimes mayonnaize, or white melting cheese.
In the pizza form, a crispy baked pizza crust takes the place of the hoagie roll. The famous sandwich stuffings become the toppings sitting on a savory rich white sauce. Philly cheesesteak pizza has its share of provolone cheese and melting mozzarella. If a vegetarian friend is joining you for dinner, prepare the lip-smacking mushroom pizza to serve!


Ingredients
Keeping up with the well-known flavors of Philly cheesesteak, here's a brief on the ingredients.
Molino Caputo flour
Butter
Garlic
Parmesan
Ribeye Steak
Onion
Bell pepper
Mushrooms
Provolone Cheese
The "00" flour makes the pizza dough rise really well—a great choice when making homemade pizza dough. "00" flour is the ideal flour for the classic Margherita pizza as well. You can also buy store-bought pizza dough. Or, try this as a deep dish pizza and load on the toppings.
Freshly peeled garlic cloves infuse a distinct bold flavor to the buttery white sauce. If you don't want pieces of garlic in your mouth, crush it well or make a paste.
Slicing up the ribeye steak very thinly is key to achieving that melt-in-the-mouth experience. Chilling the steak in the freezer for 30-50 minutes before slicing surely helps.
Bell pepper and onion are the authentic veggies in a Philly cheesesteak. The grassy bitterness of green pepper pairs beautifully with the sweet yellow onions.
Provolone cheese is a classic choice. Make sure to use the mild variety. The smoked provolone tends to have a sharp overpowering taste, so best avoided.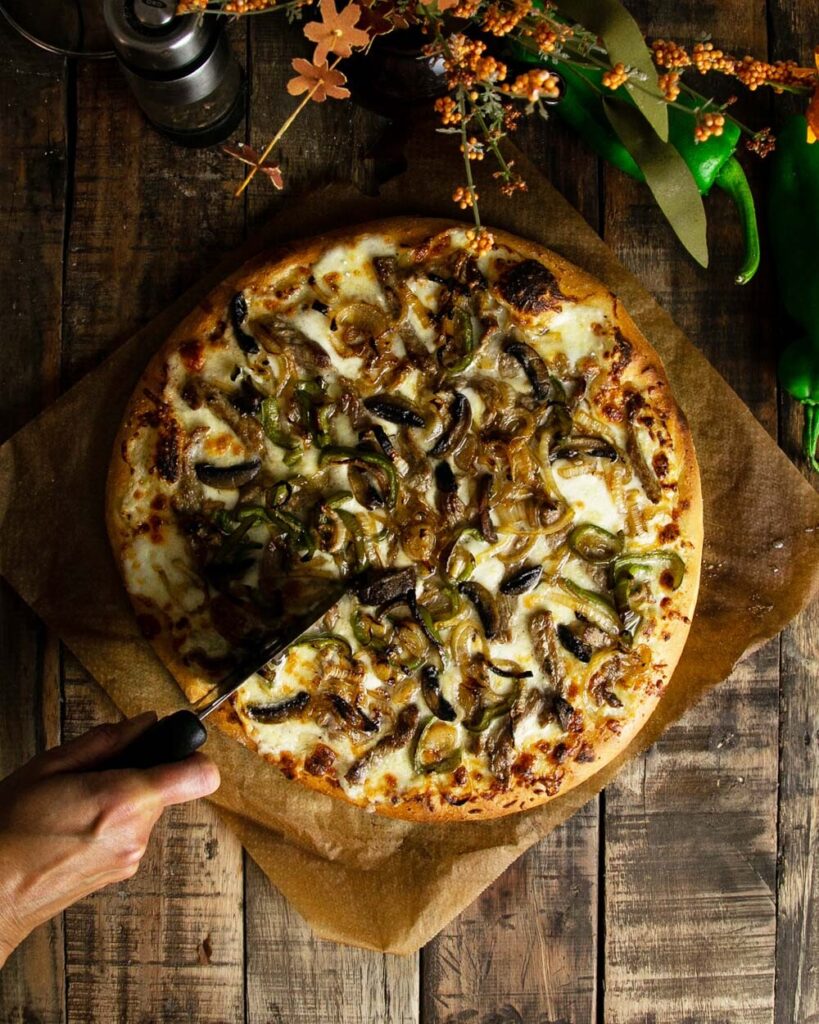 Substitutions
Ribeye steak is a perfect choice as it offers an excellent juicy beefy taste. Alternately, you can opt for any steak that cooks into a tender yumminess within minutes. Strip, skirt, sirloin, and flank steak are some options. Packaged pre-shaved steak is a wonderful option, like steak-umm's thinly-sliced frozen steak.
Besides provolone, you may use Mozzarella, American cheese, Velvetta, Pepper Jack, or even Cheddar cheese. All of which taste great on the Philly cheesesteak pizza. Typically, buying a brick and shredding it at home is an ideal way to go.
For the onions, any variety would work. The white and yellow ones are on the sweeter side. Red onions have a sharp flavor and caramelize superbly.
Try different of dough types. This pizza could be good on a Roman taglio pizza crust. Maybe a cauliflower or keto friendly crust. Possibilities are ensless. And make sure to include the Philly cheesesteak pizza at your next pizza party!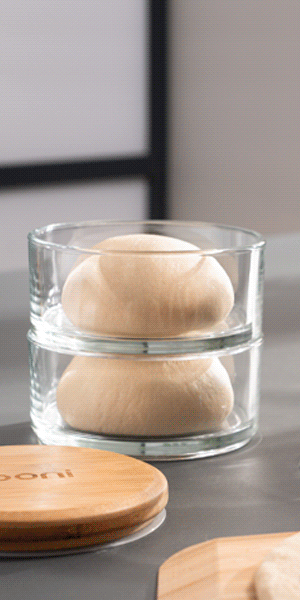 Store and Reheat
Transfer the leftover slices to an air-tight container after they have cooled completely on. Place a paper towel between each pizza slice to prevent them from sticking together. Keep in the refrigerator to last up to 5 days.
Philly cheesesteak pizza freezes well. Wrap each pizza slice in aluminum foil, put them in a zip-lock packet, and store in the freezer for up to 3 months.
You can reheat the Philly cheesesteak pizza slices in the oven for about 5 minutes at 400° F. Air-fryer and toaster oven can be used too. Avoid reheating in the microwave, as it makes the crust soggy.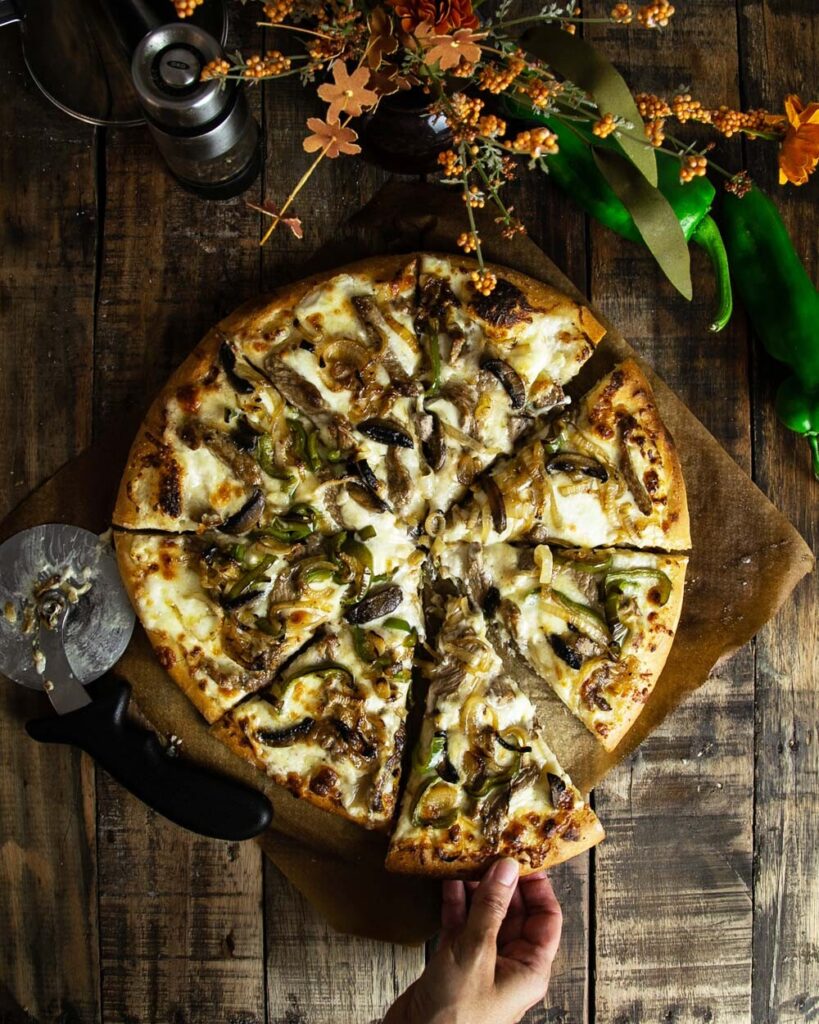 How to make Philly cheesesteak pizza
Prepare your dough – First, mix all the dry ingredients and pulse to combine. Then add in the oil and water and mix until it forms a dough ball. Remove the pizza dough into a greased bowl and proof for 2 hours, covered.
Make a white pizza sauce – Add your butter to a pan and heat until its melted. Add in the garlic then the flour and whisk to form a paste. Poor in the whole milk and continue whisking until smooth. Remove from heat and add the Parmesan and pepper. Mix and set aside.
Cook the toppings – Heat an oiled pan at medium-high heat. Sear your ribeye slices until just cooked. Remove to a dish. Then add your vegetables to the same pan and cook for a few minutes, or until soft. Set aside.
Assemble your pizza – Stretch the pizza dough out into a 12" circle. Transfer to a pizza peel with corn meal. Spread the pizza sauce on the crust. Next add your steak and veggies to the pizza. Finally, top with cheese and broil for 4-5 minutes on the heated pizza stone. Remove from oven and cut into 8 slices. Enjoy!

Philly Cheesesteak Pizza FAQ
How to cook the steak slices to medium-rare?

Get your pan/skillet nice and hot. Make sure to oil the pan before adding the meat. Thinly sliced beef and the pre-shaved packaged variety cook super fast, so keep a close watch. Stir the meat and break it into smaller pieces for even searing. The meat will change from pink to brownish. If it's slightly under with some pinkish parts, that is fine, as it will be baked again in the oven after assembly.
Why use a pizza stone?

The pizza stone retains heat which helps cook the pizza crust evenly and results in a stunning crisp texture. Furthermore, preheating the pizza stone in the oven makes the crust fluff up nicely. It creates a bread-like airy texture.
Does the Philly cheesesteak pizza taste good with other sauces?

Yes. You can relish it with marinara sauce or basic homemade tomato sauce. Keep in mind to apply a thin layer of the sauce. Alfredo sauce is an excellent choice if you want a ready-made white sauce. Besides the sauces, a simple olive oil & minced garlic base also tastes yummy.
Some of the links in this article are "affiliate links". By using the affiliate links, you are helping support AllForPizza.com, and we genuinely appreciate your support. Please see our privacy policy for more info.