Devour the sticky salty, sweet, & sour finger-licking taste of barbeque sauce in this BBQ Chicken Pizza! The sauce-coated grilled chicken and red onions are topped on a bed of buttery mozzarella cheese and barbeque sauce.
A bite into a slice of the BBQ chicken pizza fills the mouth with the ooey-gooey cheese, soft delicious chicken bits, and dark dense saucy goodness. Once you bake this flavor bomb, you will crave it again and again! Some claim it to be the best pizza.


Ingredients
You can get a BBQ chicken pizza in most pizzerias these days. However we're going homemade on this one. Here are some important ingredients you'll need on hand. Let's have a look.
Bread Flour
Chicken
Salt
Pepper
Olive Oil
BBQ sauce
Mozzarella cheese
Red Onion
Bread flour, also used in New York style pizza, yields a soft, thick, and airy dough. When stretching the dough to make the raw crust, stretch an inch more. The pizza dough tends to spring back and get slightly smaller after being placed on the baking tray.
This BBQ chicken pizza recipe uses a skinless chicken leg quarter as it grills really well. It contains a good amount of fat which offers exceptionally flavourful meat when cooked whole. Furthermore, it is a low-cost cut readily available on the market.
A simple salt & pepper seasoning does wonders to the meat. It is a must-do step before grilling, especially when using a bone-in piece. The salt draws out & holds the moisture resulting in a tender juicy meat. The woody earthy notes of pepper enhance the flavor exceptionally.
Olive oil infuses a mellow savory fruit flavor into the dough. Additionally, it makes the dough stretch amazingly well without tearing. Not to mention, coating the chicken leg with oil allows the seasoning to stick. Plus it cooks the meat thoroughly, and creates a gorgeous caramelized exterior.
The thick BBQ sauce is the chief flavoring agent of this recipe. It offers a sweet tangy taste with satisfying paprika heat and incredible smokiness. Therefore, either make it at home or use the premium-quality sauce. Sweet Baby Ray's Original BBQ sauce and Kansan City-style BBQ sauce are good picks.

BBQ Chicken Pizza Notes
There are several types of BBQ sauces to try. You can use the sweet barbeque sauce or a spicy one. There is smoky BBQ sauce, as well as pineapple flavored BBQ sauce too.
Brining the chicken piece in salt water overnight helps the meat absorb salt and water. Thus, when grilled, it remains moist and flavorful inside.
For the chicken topping, you may use any leftover rotisserie or baked chicken. Shred or cut the cooked chicken into pieces, coat in the BBQ sauce, and it's ready.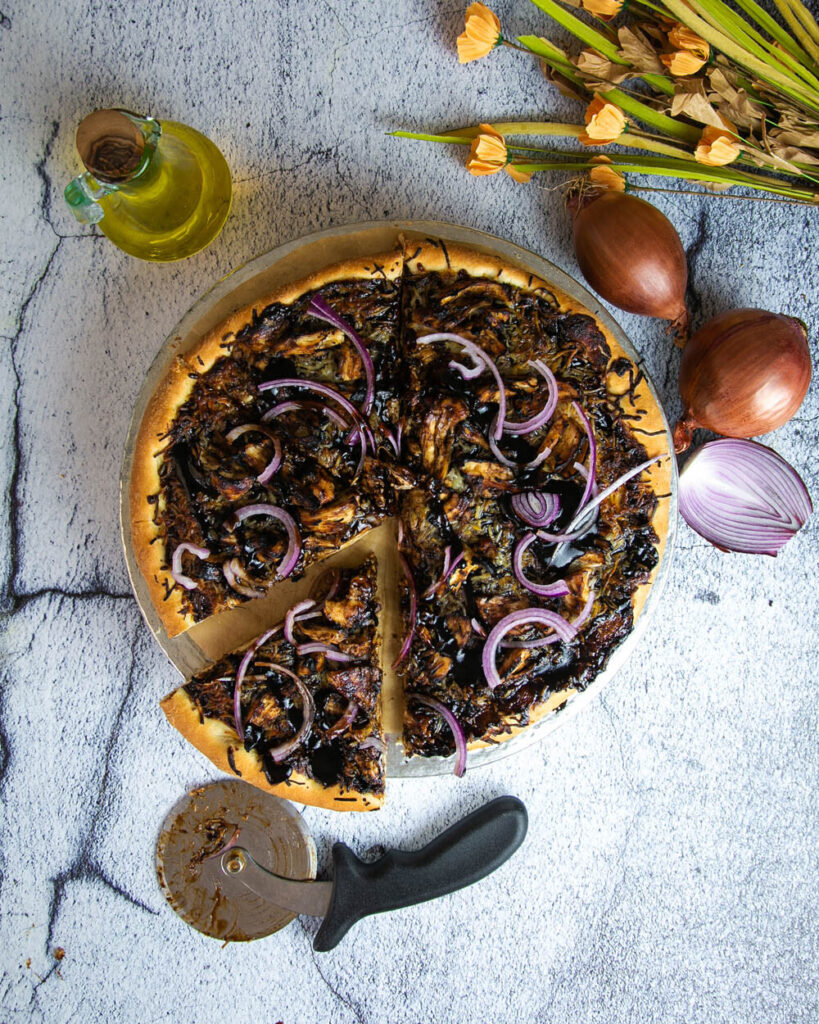 Substitutions
As goes for the dough, this recipe uses freshly made bread flour dough. You may also use all-purpose flour dough or buy pre-made pizza dough. Gluten-free cauliflower crust or whole wheat thin pizza crust are great alternates too.
The classic chicken and onion toppings taste great. You may add mushrooms, corn, bell peppers, and fresh cilantro. Moreover, feta cheese and smoked gouda cheese are excellent choices for barbeque chicken pizza. Toss on some pineapple pieces, it goes well with BBQ chicken pizza. You could try an Indian version of this recipe, Tandoori chicken pizza.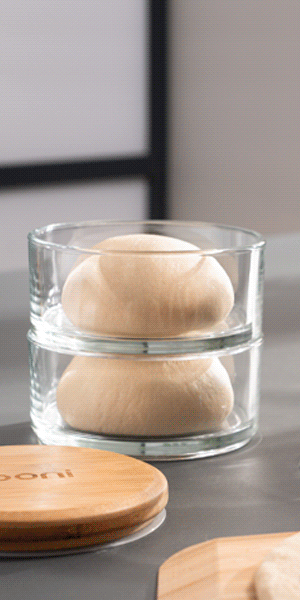 How to make BBQ chicken in a skillet
If you don't have a gas grill, you can easily pan-fry the chicken on the stovetop. This is a quick way to cook the chicken topping. Also, use a large boneless chicken breast instead of the bone-in chicken leg quarter.
Slice the thick chicken breast in half (lengthwise). Place it in a ziplock bag and pound it using a meat mallet until evenly thinned out. Then rub olive oil all over. And season both sides of the chicken breast with salt and pepper.
Heat the olive oil in a large skillet over medium heat. Lay the chicken breast slices in a single layer. Cook for 8 mins while flipping at 4 minutes intervals. Remove into a dish and let cool. Once cooled, shred the cooked chicken and toss with 2 tablespoons of BBQ sauce.
Store and Reheat
Place the cooled BBQ chicken pizza slices in an airtight container to store in the refrigerator. It will last 3 days. To freeze, double wrap the completely cooled pizza slices. First with plastic film and then with aluminum foil. It will last for 3 months.
To reheat the leftover BBQ chicken pizza slices, preheat the oven to 375° F. Place the slices on a lined baking tray & bake until heated through for about 8-10 minutes or longer if frozen. You could also use an air-fryer if you have one in hand.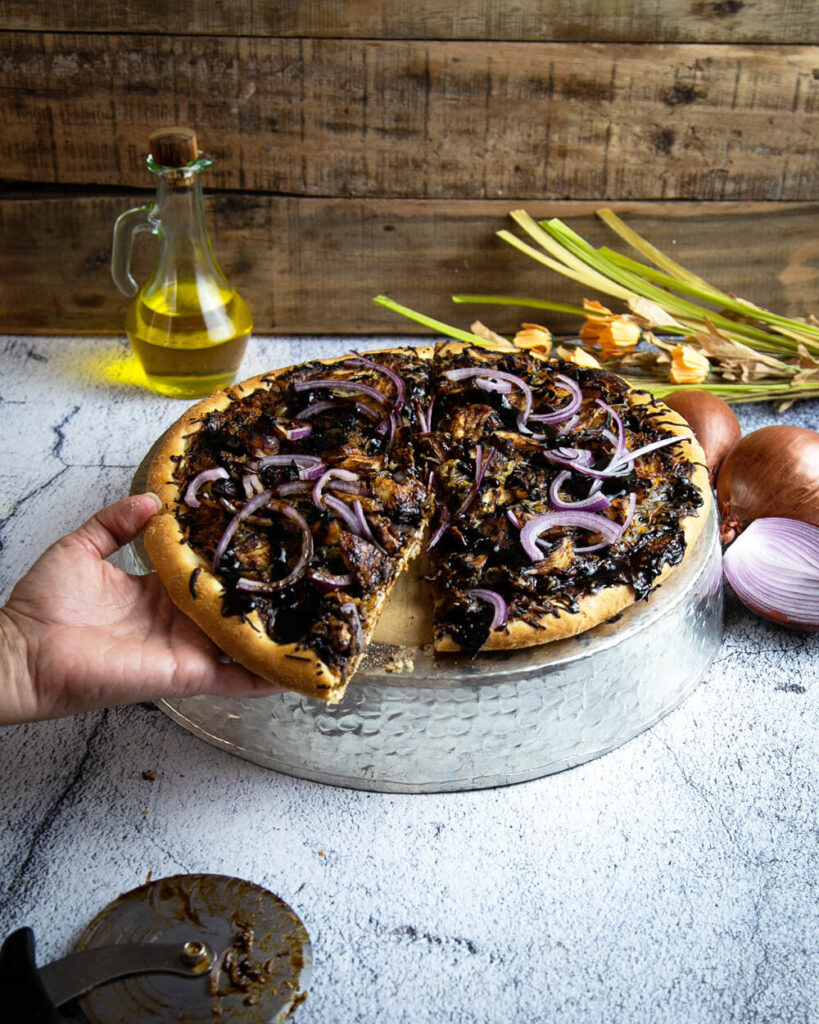 How to make BBQ chicken pizza
Prepare the dough – Combine all of your dry pizza dough ingredients into a stand mixer with dough attachment, and mix on medium for 10 seconds. Then add your oil and water slowly while mixing. Let mix for 2 additional minutes, or until a you form a smooth dough.
Grill some chicken – If you have time, brine your chicken for 4 hours or over night. Coat your chicken with olive oil and season with salt and pepper on all sides. Place your chicken on a preheated grill and cook for 8 minutes, turning once. Then place the chicken over indirect heat until it's cooked through. About 30 minutes. Shred and toss with some BBQ sauce.
Assemble the pizza – Stretch out the pizza dough using your hands forming a circle. Transfer to a pizza peel lined with parchment paper. Then evenly spread the BBQ sauce around the crust. Toss on some Mozzarella and the cooked chicken.
Bake – Cook your BBQ chicken pizza in the oven on a pizza stone for 7-10 minutes. Turn and remove the paper halfway through. Remove from the oven and top with sliced red onion. Slice and enjoy!

BBQ Chicken Pizza FAQ
How to Make BBQ Sauce?

To make barbeque sauce at home, you will need tomato ketchup (1/3 cup), brown sugar (2 Tbsp), and apple cider vinegar (1/4 cup). For seasoning, you may use 1/2 teaspoon each of salt, black pepper, cumin, and smoked paprika.

Mix all the ingredients in a sauce pan & simmer for 3-5 minutes on medium-low heat. Or until it thickens to desired consistency.
Is it possible to store fresh BBQ sauce to last a few months?

Yes. If you make the BBQ sauce in a large quantity, you can store it in the freezer to last up to 3 months. After the sauce has cooled completely, transfer it to a freezer-safe container. Before using, thaw it for 8 hours or overnight in the refrigerator compartment.
Some of the links in this article are "affiliate links". By using the affiliate links, you are helping support AllForPizza.com, and we genuinely appreciate your support. Please see our privacy policy for more info.