This Argentinian pizza, called "Fugazzeta", is a savory cheese bonanza. It is a double-crusted pizza stuffed with oodles of cheese. The bottom crust has a thick fluffy texture, while the top crust has a crisp bite. The crunch of golden-baked sweet onion topping with a little parmesan is yummy. Lightly sprinkled oregano and pepper fulfill the palate's spice needs. The upside of making the pizza at home is the pleasure of witnessing a devouring sight. Slicing into the warm pizza with all the melted cheese oozing out.


Fugazzeta does not have any sauce layering. It evolved from fugazza, which is another type of Argentinian pizza. Fugazza is believed to have been inspired from focaccia and Neapolitan pizza. It resembles the standard style of pizza with its single crust, cheese, onion, and herb topping. Fugazzeta's cheese filling would remind folks of the well-known cheese burst pizza.
You can serve a slice of this Argentinian pizza alongside a glass of wine and freshly tossed salad. It also pairs excellently with a bottle of cold beer.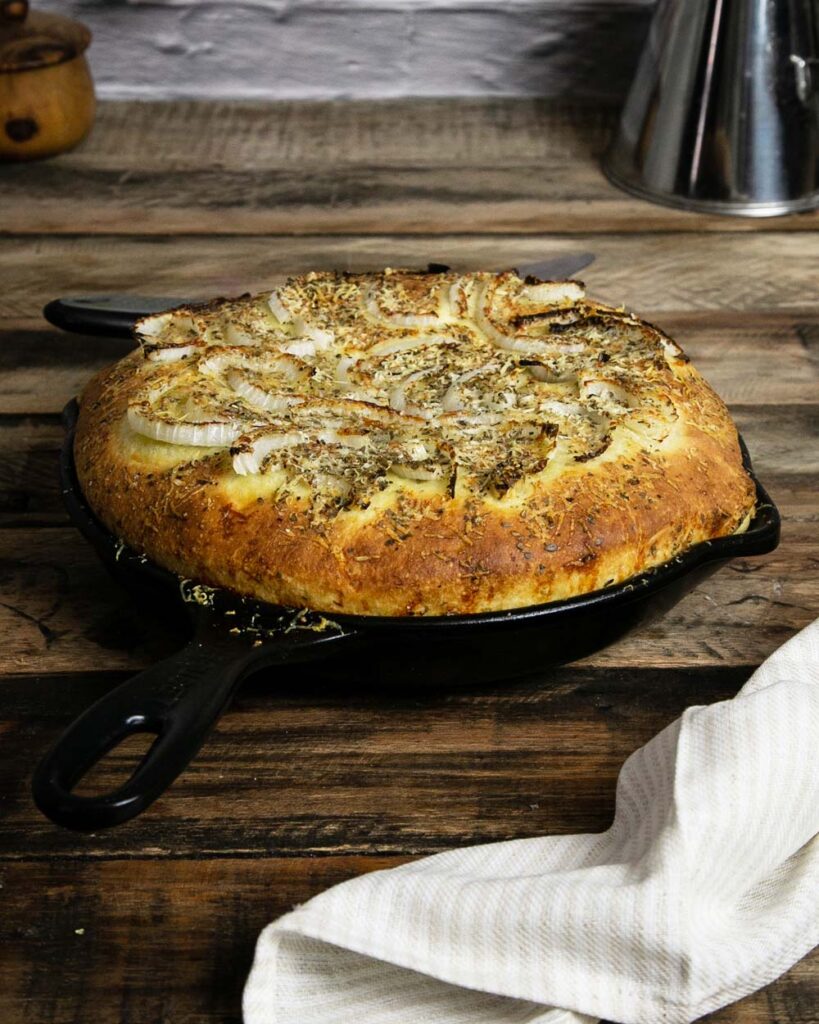 Ingredients
The following ingredients are required to make Argentinian pizza. When visiting the grocery stores or supermarkets, you'll find them in the baking, dairy/cheese, veggies, and spices/herbs aisle.
00 flour
Milk
Yeast
Olive oil
Mozzarella
Provolone
Parmesan
Onion
Oregano
00 flour, also called doppio zero, is a finely milled Italian flour that yields a soft and airy dough. Milk helps brown the crust beautifully and achieve a softer texture.
This recipe uses active dry yeast. You can also make the dough using instant or fresh yeast. Olive oil generates elasticity in the dough. Other than using premium quality olive oil, vegetable or canola oil would also work.
Mozzarella offers an incredible flavor and appealing stretchy texture. Aged provolone is a cow's milk cheese with a sharp buttery taste. Parmesan is an Italian cheese that adds richness.
Sweet, sliced onion is an authentic fugazzeta topping. Other variations of the pizza include spinach and garlic herb butter. Oregano's earthy aromatic herbaceous flavor accentuates the overall pizza taste.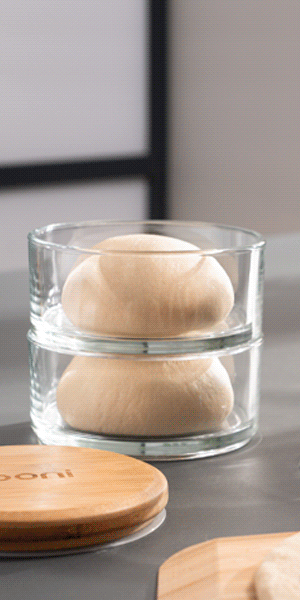 Other recommended recipes
Substitutions
You may swap the 00 flour with bread flour, strength wheat, all-purpose, or oatmeal flour. Instead of making the dough from scratch, you can buy pre-made pizza dough.
Grana Padano cheese is a good alternative to parmesan. The dried oregano may be substituted with fresh rosemary sprigs. The oils released from the herb while baking infuse a wonderful aromatic note.
You can replace the raw onion with confit onion. To confit, heat a tablespoon of olive oil in a skillet over a low flame. Add the sliced onion, a little salt, and sugar. Cook for 5 minutes on low heat while stirring continuously. Always maintain slight moisture and make sure the onions do not change color.
Besides baking in a cast iron skillet, you can use a pizza pan or cake pan.

Fugazzeta Notes
To achieve the mouth-watering melted cheese texture, stick to a cup of low moisture shredded mozzarella and a cup of fresh mozzarella. Avoid using high-moisture cheese, or else the crust will get watery & soggy.
If desired, you may add cooked ham along with the cheese filling. The freshly baked Argentinian pizza is often topped with green olives before slicing and serving.
Place the pan under the broiler for the final 3 minutes of baking time to achieve gorgeous, browned onions.
If using an Ooni propane pizza oven, then make sure to preheat it to 540° F. Place in the pizza pan and bake for 1-2 minutes while turning the pan every 5-10 seconds for even cooking.
Store and Reheat
Before storing, let the pizza cool completely. Then wrap each slice in aluminum foil and store it in an air-tight container in the fridge for up to 3 days. The leftover pizza can be frozen as well.
To reheat, line a baking sheet with parchment paper and grease it with oil. Place the leftover pizza slices, mist them with some water, & cover loosely using an aluminum sheet. Bake in the preheated oven for 15-20 mins at 350° F.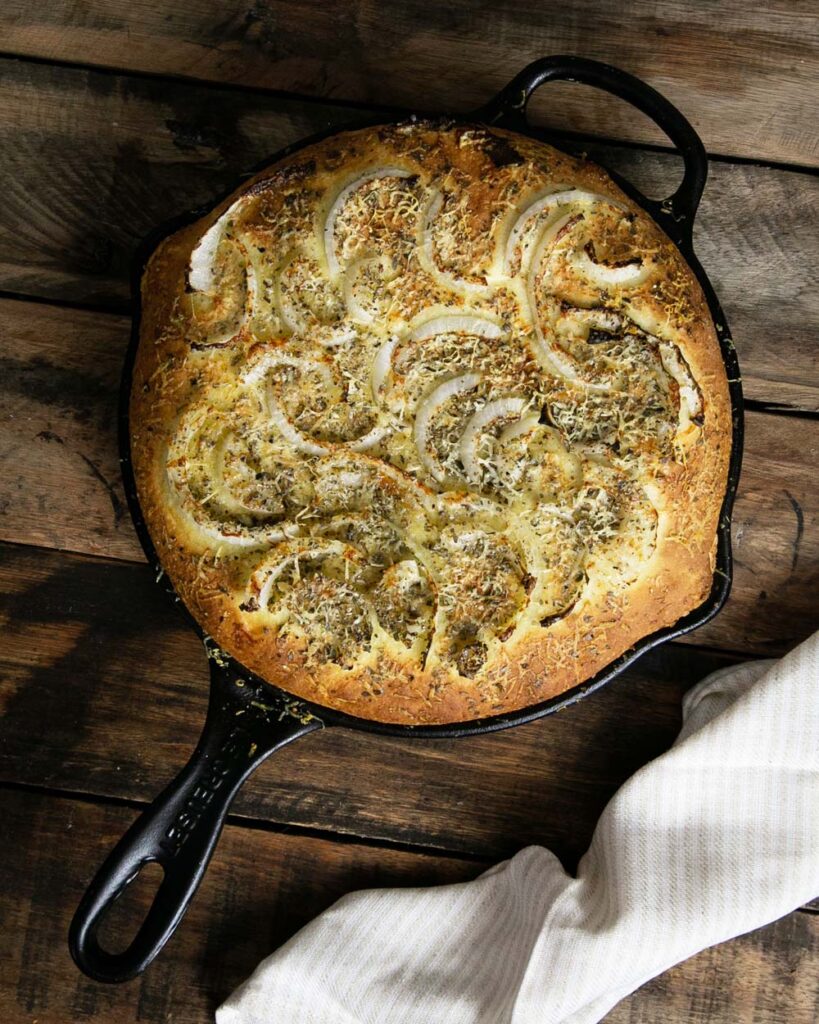 How to make Fugazzeta
Make the dough – Stir thelukewarm milk, sugar, and yeast in a bowl. Set it aside to bloom. Combine the flour, salt, and oil in the stand mixer. Next, mix the yeast liquid till well incorporated. Gradually add the water and continue kneading to achieve a soft elastic dough. Cover and keep aside to proof.
Prepare the onion – Soak the sliced onion for 30 minutes in a bowl of cold salted water. Before topping, drain the water and pat them dry.
Assemble your pizza – Divide the proofed dough into two portions, with one part being slightly bigger. Put the bigger portion in an oil-greased cast iron pan and flatten it. Then place the mozzarella and provolone cheese, cover with the rolled out second dough ball, and seal the edges. Top with onion slices, herbs, black pepper, and oil. Bake in the preheated oven until golden & crisp.

Fugazzeta FAQ
Can this Argentinian pizza be cooked on a charcoal grill?

Yes. Place the pizza pan on the grill grates and cook over indirect heat at 200 degrees for 20 minutes. Make tiny pricks on top (using a knife) to help steam escape. Add grated provolone and parmesan on top. Serve brushed with olive oil, followed by a sprinkle of crushed black pepper and dried oregano.
What is the difference between fugazza and fugazzeta?

Fugazza is a single-crust pizza topped with a combination of cheeses, sliced sweet onions, and oregano. Fugazzeta uses the same ingredients but is a double-crusted pizza stuffed with mozzarella and provolone cheese. The onion slices, parmesan, and oregano are placed on top.
Which wine goes best with Argentinian pizza?

Moscato pairs brilliantly with the cheesy fugazzeta. This fortified white wine is slightly fizzy and sweet. It also offers the fruity flavors of orange, nectarine, & peach. The wine is best served chilled to elevate its sweetness and release the floral & fruity notes.
Some of the links in this article are "affiliate links". By using the affiliate links, you are helping support AllForPizza.com, and we genuinely appreciate your support. Please see our privacy policy for more info.