This New York style pizza recipe covers all the 4 critical elements of the dish! The perfect crust made with bread flour. A vibrant red sauce that is uncooked. Tons of melted mozzarella cheese. Along with the precise baking temperatures & techniques!
You might have tried it on vacation from a renowned pizzeria. Or had it at an office party. Maybe you're still looking forward to trying the New York style pizza! No matter the reason, you can easily relish it at home. Plain cheese or pepperoni, just follow the recipe below!

Ingredients
Here is a quick list of ingredients that should all be readily available at your local market.
Bread flour
Yeast
Oregano
Mozzarella cheese
Pepperoni
Bread flour gives the New York pizza a chewier crust. Adding yeast and allowing it to rise activates the gluten. This will provide a fluffy texture.
San Marzano tomatoes have a rich, deep flavor. Using canned whole peeled tomatoes will work perfectly with this pizza recipe. Adding some spice like oregano creates a more flavorful pizza sauce.
The classic Mozzarella cheese is our go to here. Shred your cheese fresh for the best results on your pizza. It melts better than your normal bagged shredded cheese. And when topped with pepperoni, it tastes like a slice of New York heaven.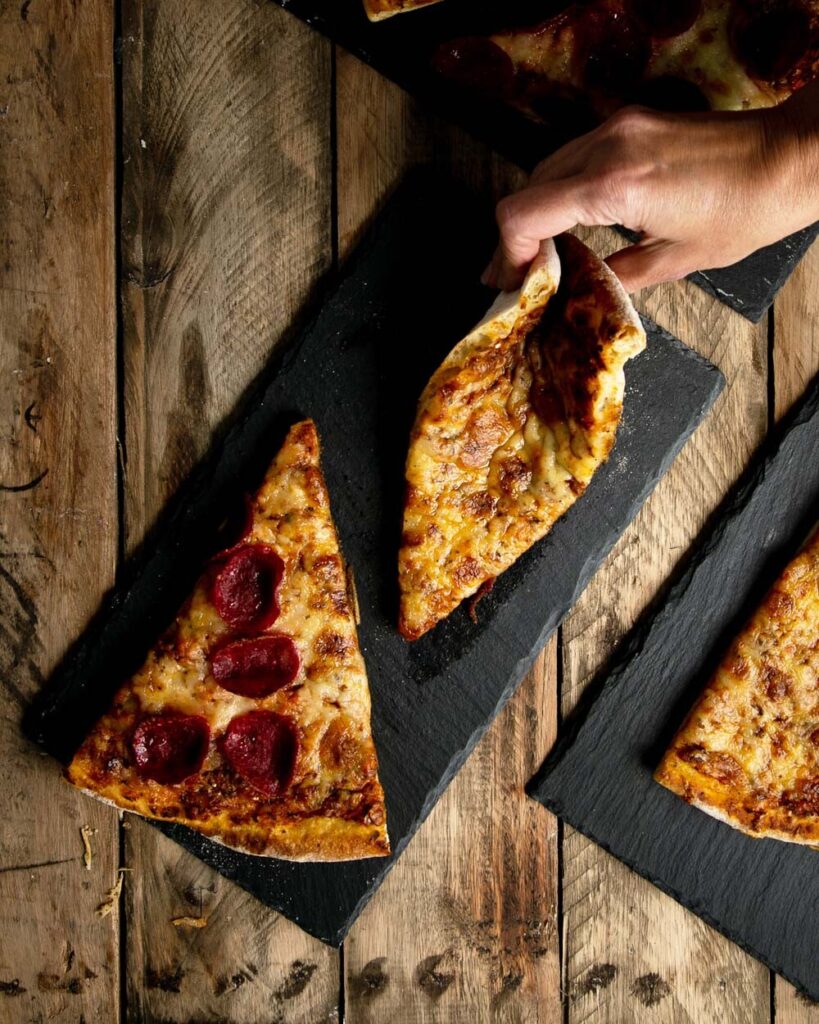 What makes this pizza unique
The NY pizza is usually about 16-18" in size. An XL New York style pizza would be about 20-24". When you buy a slice, its usually an XL pizza. The dough is made with bread flour that is proofed for hours. We use a food processor to combine and form the pizza dough. Then it's hand-tossed to achieve a thin crust. The crust is around 1/4 of an inch thick. While the edges run up about 1" when the pizza is cooked.
It is believed that to achieve the NY pizza crust's exclusive addictive flavor, one must use New York's tap water. They say it adds to the springy crunchy texture as well.
A thin layer of the classic American-Italian tomato sauce is poured on to the pizza. The sauce is made from canned tomatoes with a little sugar and oregano. The flavors are sweet and herby on this pizza.
A distinct type of mozzarella cheese is used in NY pizza. It is a low-moisture full-fat dry variety. Then grated and sprinkled uniformly all over to create a delectable cheese layer.
Its not uncommon to see people fold the pizza to eat it. It helps hold the cheese in the crust. Plus you get to take bigger bites.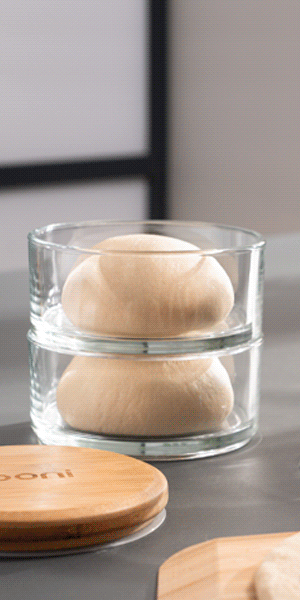 New York style pizza notes
A good bread flour is ideal for the NY pizza. This protein-rich and high-gluten flour gives the pizza dough a light & elastic texture. Thus it is easier to stretch the dough into a larger pizza. When baked, the crust turns out airy, crisp, and chewy.
A pizza oven is the best option when cooking a New York style pizza. Since they can achieve high temperatures well over 700° F, it gives the pizza an authentic taste and texture. Furthermore, a wood fired pizza oven will add a nice smoked flavor that will match any NY pizzeria.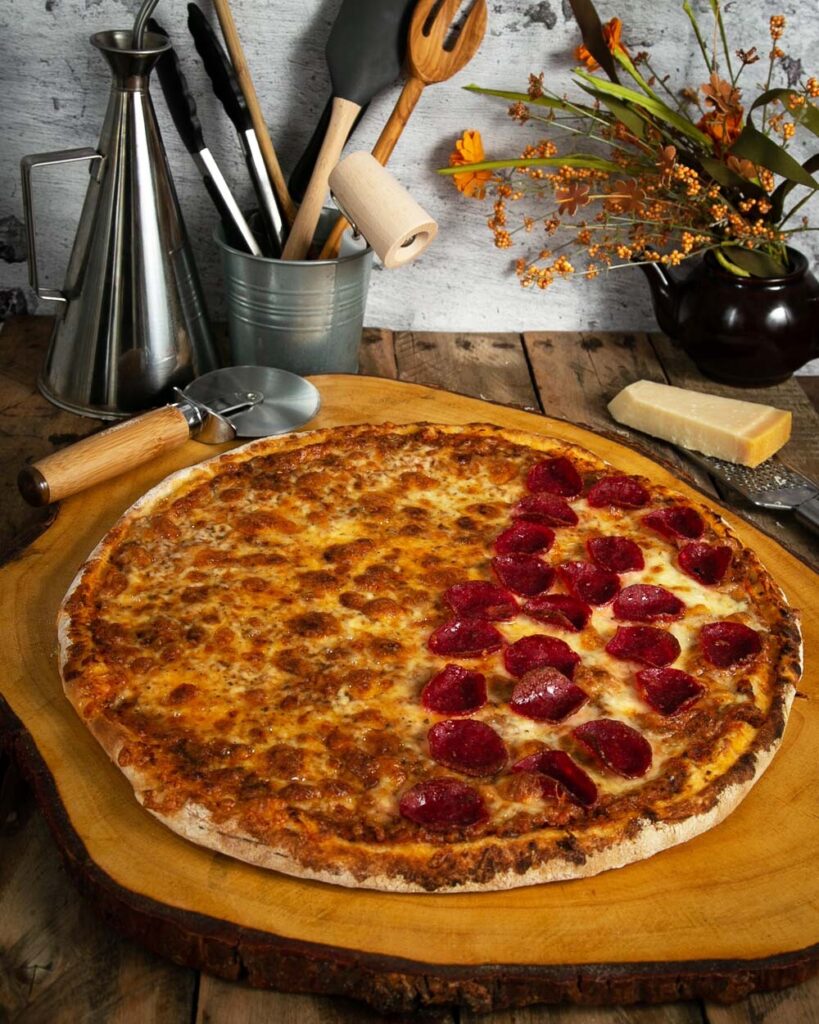 Cooking in your home oven.
If you don't have an outdoor pizza oven then follow these tips. They will help make the best baked New york style pizza.
Since home ovens are a bit larger than the portable pizza ovens, aim for an 18" pizza. You can opt to make a smaller pizza. Just divide the dough in half. Then transfer the remaining dough ball into an airtight container. Keep it in the fridge, and use it within 5-7 days.
This may sound crazy but use a steel tray instead of a pizza stone. Being more thermally conductive, the crust turns out exceptionally crisp and airy.
Finally, preheat the oven to 550° F with the steel tray inside. Use an infrared thermometer to check the temp of the tray. It should read 550° F. If so, then bake for 6-7 minutes. Make sure to turn the pizza a few times while cooking. This will ensure the pizza is evenly cooked.

New York Pizza FAQ
What makes New York style pizza different?

New york pizza recipes use a thick bread flour. This allows the pizza to have a more chewier texture than an Italian style Margherita pizza. Plus its usually larger and uses shredded mozzarella to cover the entire pie.
Why does New York pizza taste so good?

People say the tap water in New York affects the dough. The minerals create an airy and crispy crust. The same is true for NY bagels.
Why do New Yorkers fold their pizza?

New York Pizzas are enormous. They range from 18" – 24" in diameter. That's 2 feet! So you can imagine the size of each slice when cut into 8. It barely fits on the thin paper plate they give you. So the fold is necessary to avoid the "flop". You need the structure to hold up the tip of the pizza. If you've ever had a slice in New York, you know what were talking about.
Some of the links in this article are "affiliate links". By using the affiliate links, you are helping support AllForPizza.com, and we genuinely appreciate your support. Please see our privacy policy for more info.