This authentic rectangular Sicilian pizza, aka Sfincione, is a popular street food in Palermo. The term 'sfincione' is derived from the Latin word 'spongia'. And you guessed it, this translates to sponge. Its Pan-baked crust is super soft, like a sponge.
The Sicilian pizza has a crisp golden bottom. Its unique sauce has zingy tomatoes, salty anchovies, and sweet onions. Furthermore, there's no veggies, meat, or fruit toppings. The top layer has a unique crumb topping mixed with the classic caciocavallo cheese.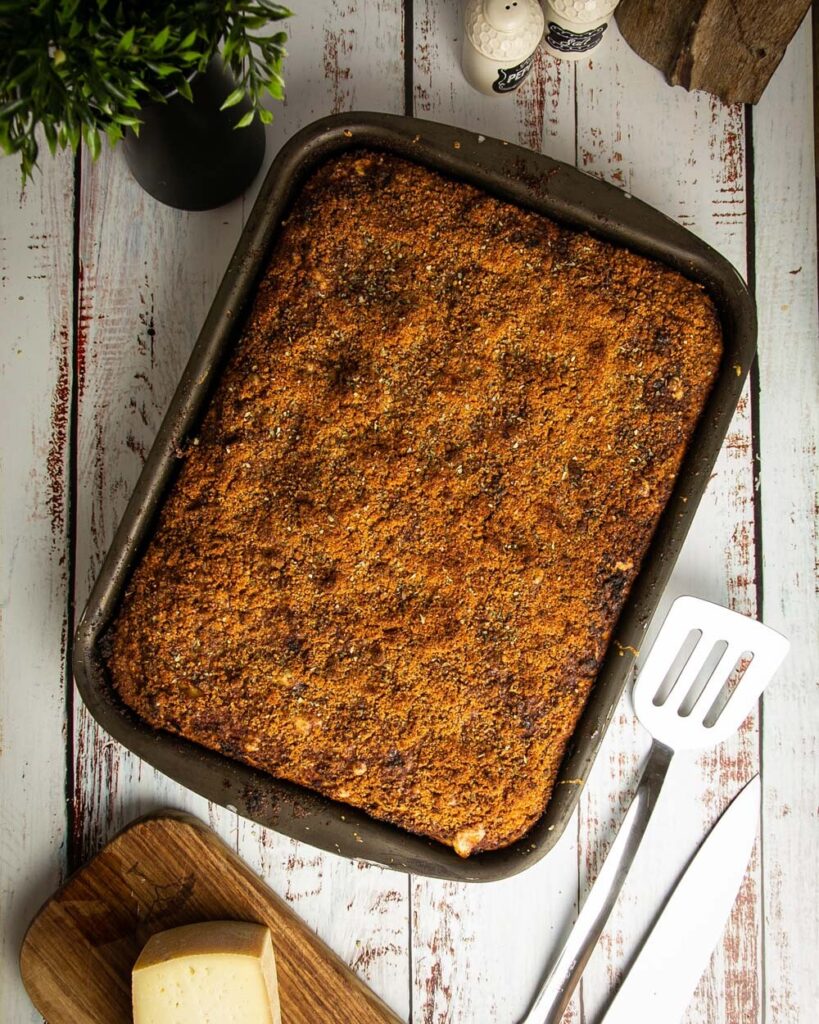 Sfincione is traditionally prepared during Christmas, New Year, and San Giovanni festivals. The island has different regions, namely Catania, Messina, and Siracusa. And traditionally, they prepare it their own way. The pizza tastes delicious while warm as well as cold.
Similar to Greek style pizza, this Sicilian-style pizza uses plenty of olive oil. Sfincione is different from New York Sicilian pizza. The latter has a thick springy crust topped with uncooked tomato sauce. It also doesn't contain onions or anchovies. Additionally, the NY Sicilian pizza uses mozzarella instead of caciocavallo. Other pan pizza to savor includes Detroit-style and Chicago-style. Both delicious in their own right!


Ingredients
There are a few ingredients that need special attention. You may have to spend some time in the Italian grocery or cheese section. Look below for some good substitutions.
All-purpose flour
Olive oil
Onion
Anchovy
Tomato pulp
Tomato paste
Oregano
Bread crumbs
Pecorino primo sale cheese
Caciocavallo cheese
All-purpose flour has moderate protein content. It works beautifully to create the wet sticky dough necessary for this pizza crust.
A good amount of olive oil goes into the pizza crust, sauce, and crumb topping. Therefore, if you can source a bottle of Sicilian olive oil, it would be fantastic.
Yellow onions offer a soft bite and pleasant sweetness to the sauce. For a milder taste, use white onions; for a sharp taste, opt for red onions.
Anchovy fillets have a salty umami flavor. They are salt-cured and tinned in oil. Depending on how much you enjoy the fishy taste, you may adjust the fillets in the sauce. Tomato pulp offers a tangy fresh flavor. The tomato paste helps thicken the sauce & intensify the fruity taste.
Oregano is a must in Sicilian pizza. It not only flavors the sauce but is also a garnish before serving. Bread crumbs offer a delicious crisp topping. It is a distinguishing feature of the sfincione.
Pecorino cheese is made from sheep's milk. It is hard in texture and has a salty rich taste. Caciocavallo cheese is a classic Sicilian cheese also from sheep's milk. Be sure to top sparingly. When fresh, they are moist & creamy. As the cheese ages, it tends to become sharp & hard. For authentic sfincione, best buy mature caciocavallo from a renowned Italian deli. This will be easily shred-able.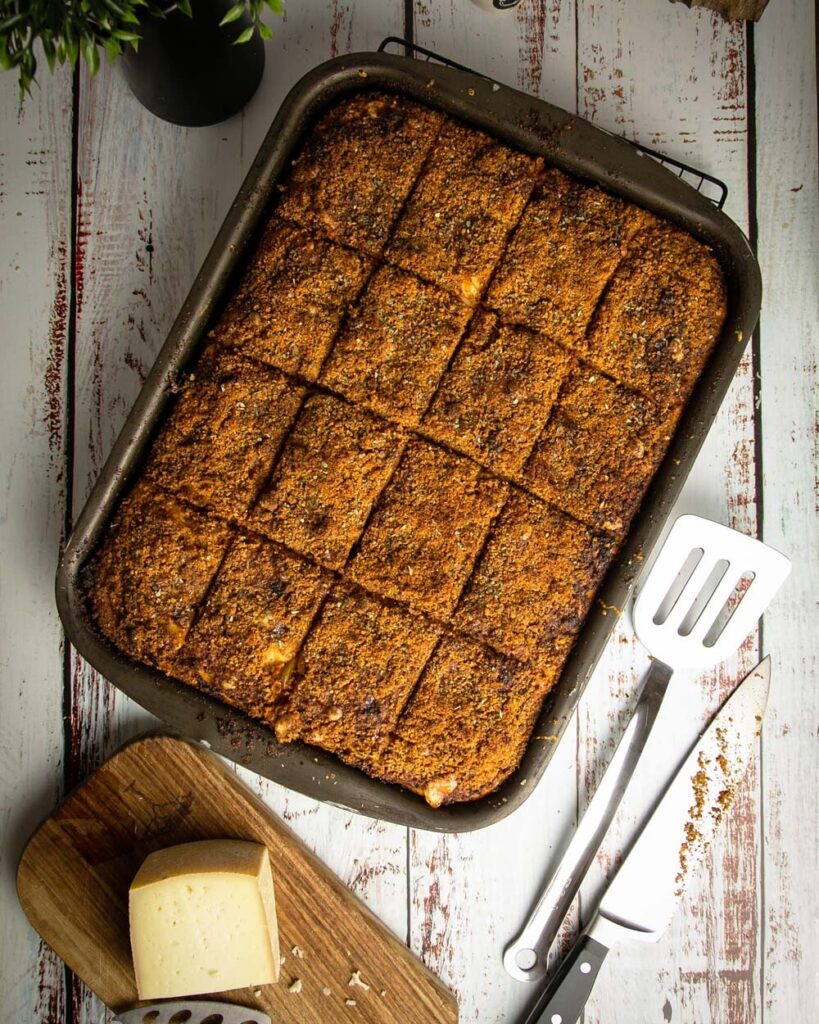 Substitutions
You may use strong flour with high protein content, such as bread flour, to make the dough. Pre-made pizza dough is also an option for convenience.
Try pureeing fresh seasonal ripe tomatoes or canned tomatoes in a blender for the tomato pulp. Alternatively, canned tomato sauce or marinara sauce can also be used.
Sharp-aged provolone, scramorza, or any semi-hard cheese will serve as a substitute for Caciocavallo cheese.
Oregano is the classic herb for the recipe. Alternately, any aromatic dried herb like basil, rosemary, or thyme would do. You can also use your favorite herb seasoning or pizza seasoning blend.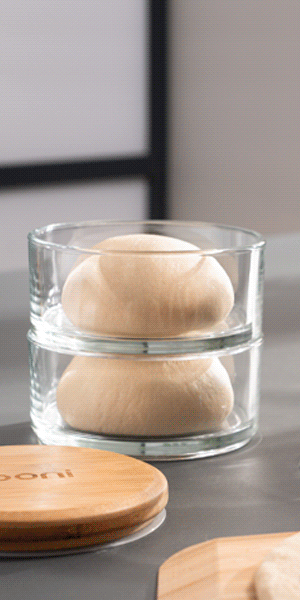 Sicilian pizza notes
The type of tomatoes used impacts the sauce flavor extensively. Avoid overly sweet or acidic ones as they will yield too sweet or tart taste. San Marzano tomatoes are an excellent pick.
Avoid seasoning the dough or sauce with too much salt. The caciocavallo cheese & anchovies can be pretty salty.
The plain dry bread crumbs are best homemade. After de-crusting, tear the bread slices into pieces. Then run them through a food processor to get perfect coarse crumbs.
Store and Reheat
Wrap up the leftover pieces in parchment paper. Then store them in a dry spot in the refrigerator to last 2 days. To freeze, wrap each piece tightly with cling film and keep for 3 months.
You can relish the Sicilian pizza cold from the refrigerator. When reheating, use a pan or preheated oven for just a few minutes. Make sure to defrost frozen slices before reheating.
Sfincione reheats quite fast on the stove. Place the pizza slices on a large pan at medium heat. Halfway through, cover with a well-fitted lid and reheat for 5 minutes.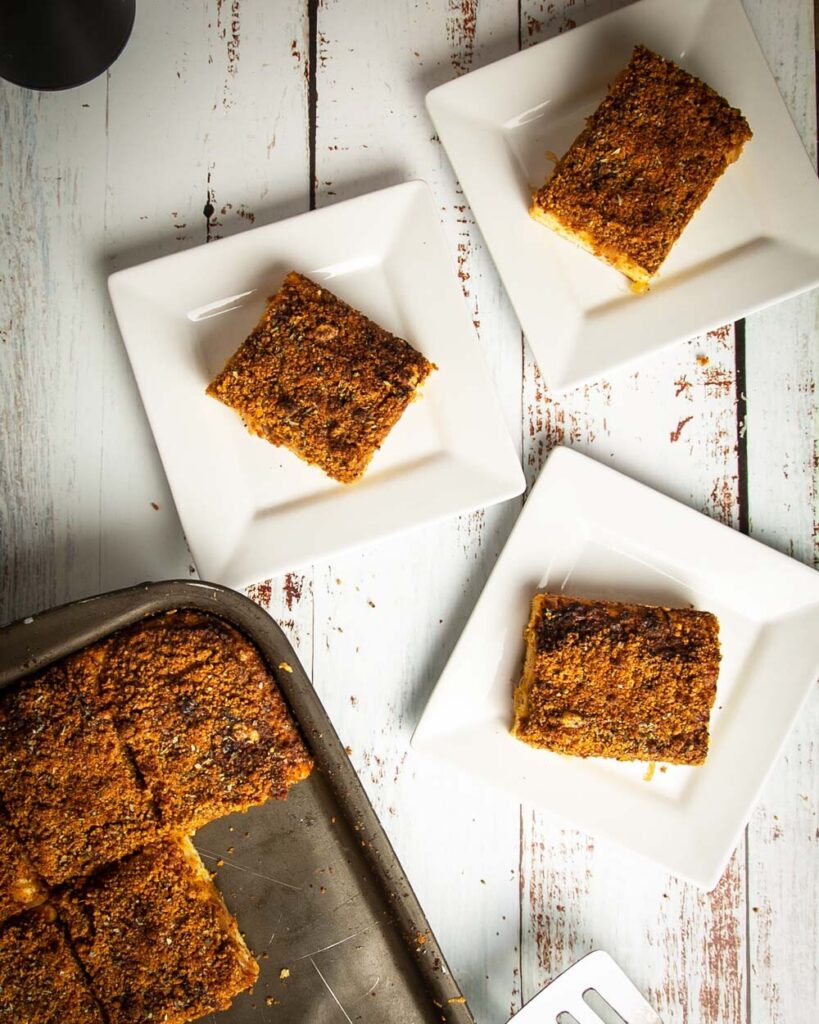 How to make Sicilian pizza
Prepare the dough – Pour the warm water into the bowl of a stand mixer. Add the yeast and let it bloom. Next add the sugar, salt, olive oil and flour. With a dough hook, run the mixer for a few minutes. Until a soft sticky dough ball forms. Set aside aside in an oiled bowl to proof for 90 minutes.
Make a sauce and topping – Heat the olive oil and add the onions. Cook until soft and translucent. Add the tomato paste, anchovies, and seasonings. Mix and cook for a few minutes. Then pour in the tomato pulp and water and combine. Let simmer for 20 minutes stirring regularly. Remove from heat and let cool. To make the topping, mix the breadcrumbs and grated cheese. Drizzle in some olive oil and coat well.
Assemble the pizza – Transfer the dough to an 18"x13" baking sheet. Spread the dough out into the pan. Cover and rest it for 5-10 minutes. Repeat this 2-3 more times or until the dough sits nicely on the sheet. Spread the pizza sauce evenly onto your crust. Sprinkle on the cheese and topping then drizzle with olive oil. Bake at 425 degrees F for 20-25 minutes or until the crust is golden.

Sicilian pizza FAQ
Sicilian olive oil, especially the extra virgin variety, is considered the best Italian olive oil. The soil and cultivation of olives play a significant role. The cold-pressed oil is extracted from the premium quality olive harvest. This yields an incredible aroma and taste.
How to enhance the anchovy flavor in Sicilian pizza?

Traditionally, small pieces of anchovy fillets are gently pressed on the raw crust before applying the sauce. To enhance the anchovy flavor further check this out. You could use the leftover anchovy oil in the tin for the crumb mixture. Do this in place of the olive oil.
Which wine pairs well with Sfincione?

"Chilean Sauvignon Blanc" is a refreshing dry wine to sip with sfincione. It is light and offers fruity citrusy notes. You can also try California's red wine "Cabernet Sauvignon."
Some of the links in this article are "affiliate links". By using the affiliate links, you are helping support AllForPizza.com, and we genuinely appreciate your support. Please see our privacy policy for more info.