The origins of the bread & meat combination can be traced back to the 17th century. That said, this pizza's exact place of origin is a debatable topic. Prevalently known as Lahmajoun (lahmachun/lahmajun), it's an Arabic term, where Lahmi means 'meat' and acun means 'dough.' The exceptionally flavorful lamb mixture offers a spicy, sweet, sour, and umami taste. This combination excites the taste buds and makes you crave for more.
The mouth-watering Armenian pizza or Lahmajoun is a feast for the eyes and palate. This is savored both in Armenia and Turkey as street food. Plus at restaurants, as well as at home. It is super easy to prepare and exceptionally delicious. The thin rolled-out flour base is topped with a classic ground lamb mixture, which when baked turns into a devouring treat.
You may have enjoyed other thin crust pizzas like the Romana Tonda and St. Louis Style Pizza. Yet, the distinguishing factor about Armenian pizza is that it doesn't have any cheese or sauce layering. The crust, although crisp, can be rolled up with stuffings like a wrap. Consider fresh parsley sprigs, thinly sliced onions tossed with sumac, and a squeeze of lemon juice. Many relish the leftover Armenian pizza for breakfast by cracking an egg on top. Then baking it in the oven for a couple of minutes!


Ingredients
Let's check out the ingredients required for the Armenian pizza. You can conveniently shop for them at your regular market or purchase them online.
All-purpose flour
Yeast
Lean ground lamb
Onion
Bell pepper
Tomato
Fresh Herbs
Spices
All-purpose flour works incredibly well for this recipe. The dough ball can be easily rolled out as thinly as necessary. This making the crust delectably crunchy. Just ¼ teaspoon of yeast is enough for this pizza dough. Especially when making the lahmajoun immediately.
Ground lamb is a type of red meat that contains good-quality protein. It offers a delicious bold earthy meaty taste that melts in the mouth. As compared to ground beef, lamb is more yummy for its fat content and branched-chain fatty acid.
Onion adds a wonderful sharp sweetness. In place of chopped onions, this recipe adds grated onion. Grating separates the onion juices. This liquid helps break down the meat and soften it. Thereby elevating the taste.
Any bell pepper can be used in the recipe. If you don't like the sharp grassy taste of green bell pepper, you can use the red or yellow variety. Which has a more fruity sweetness.
The sour acidity of fresh tomatoes and the meatiness of tomato paste infuses tons of flavor into the topping. You may switch the chopped fresh tomato with 7 tablespoons of canned tomato puree.
The Armenian pizza recipe calls for plenty of parsley. Along with that, fresh herbs like basil and mint infuse a refreshing aroma. They offer flavor that balances the overall bold taste of the meat, veggies, and spices. The spices like smoked paprika, cumin, and black pepper add warm earthy heat to the meat mixture.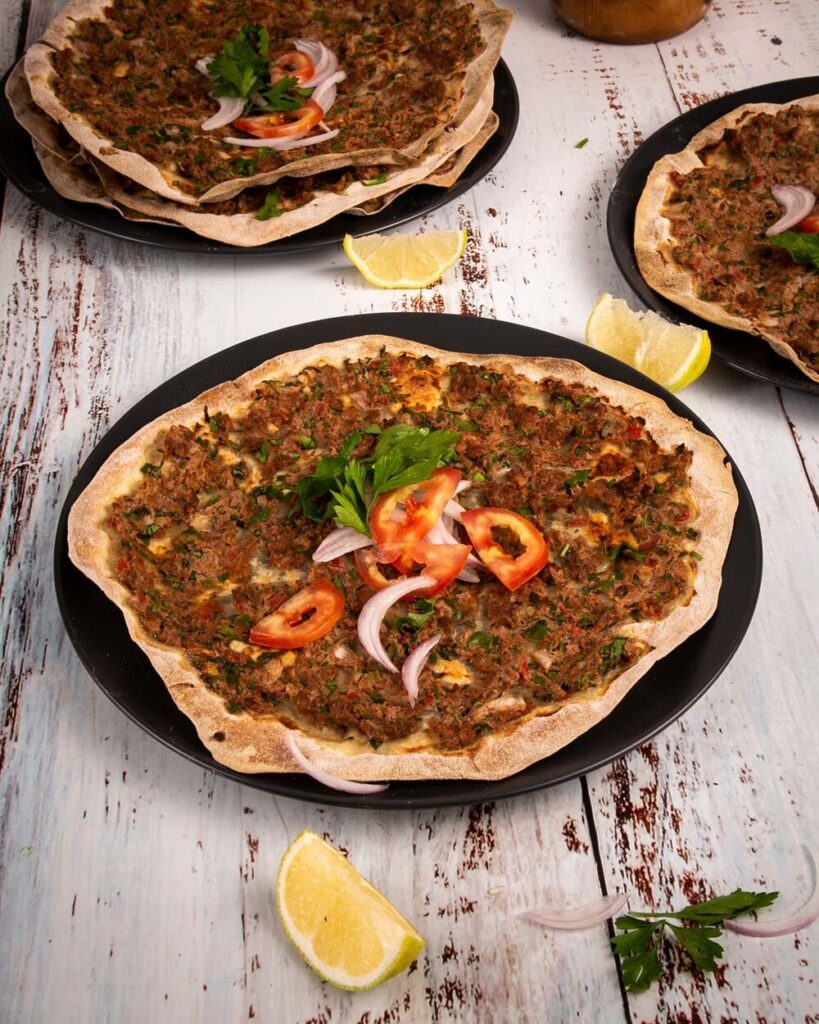 Substitutions
Instead of making the dough at home, you can buy fresh or frozen pre-made pizza dough. Just make sure to get it extra thin. To skip the trouble of rolling dough, use flour tortillas or Greek pita bread instead. A flat bread like 'Lavash' is also a great option.
Besides using ground lamb, you can use a 50-50 combination of lamb and beef. Or substitute entirely with ground beef. To achieve the fattiness of lamb, add some butter or oil to the ground beef.
If using ground turkey or chicken, then make sure to pack it with additional flavorful spices & herbs. For instance, you may use "za'atar," a Middle Eastern spice-herb blend. The ingredients include dried sumac, thyme, sesame seeds, oregano, cumin, and much more.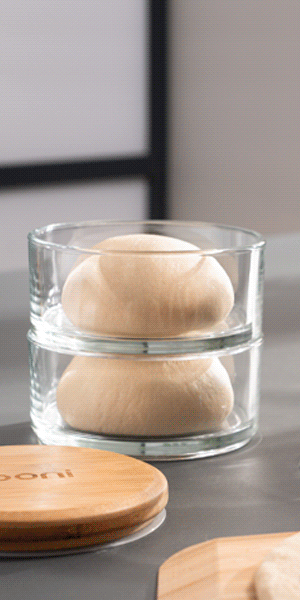 Lahmajoun Notes
The authentic Lahmajoun topping is somewhat spicier than this pizza recipe. Therefore, you may add half a teaspoon (or more) of chili powder, cayenne pepper, or fresh green/red chili paste. This will help spice it up.
There are two ways to boost the flavor of the meat mixture for Armenian pizza. One is to go the traditional way and marinate it for several hours or overnight. Another technique is to use about 4 tablespoons of cured meat. You may use pepperoni, pancetta, chorizo, or sujuk.
You may add a teaspoon of yogurt to the meat mixture for a creamy texture. Yogurt not only helps break down the meat but also balances the spiciness.
Store and Reheat
To store leftover Lahmajoun in the refrigerator, wrap each pizza in cling film and place it in an airtight container. They will be good to consume for 3 days.
Lahmajouns freeze well too. You can stack them with a cling film between each pizza. Then, place them in a freezer-safe pouch and keep in the freezer.
Reheating Armenian pizza in the oven takes a few minutes. After removing the cling film from the frozen lahmajoun, place 2 lahmajouns (stacked with meat-side together) on a baking sheet. Reheat in a preheated oven for 5-7 minutes while flipping once halfway through.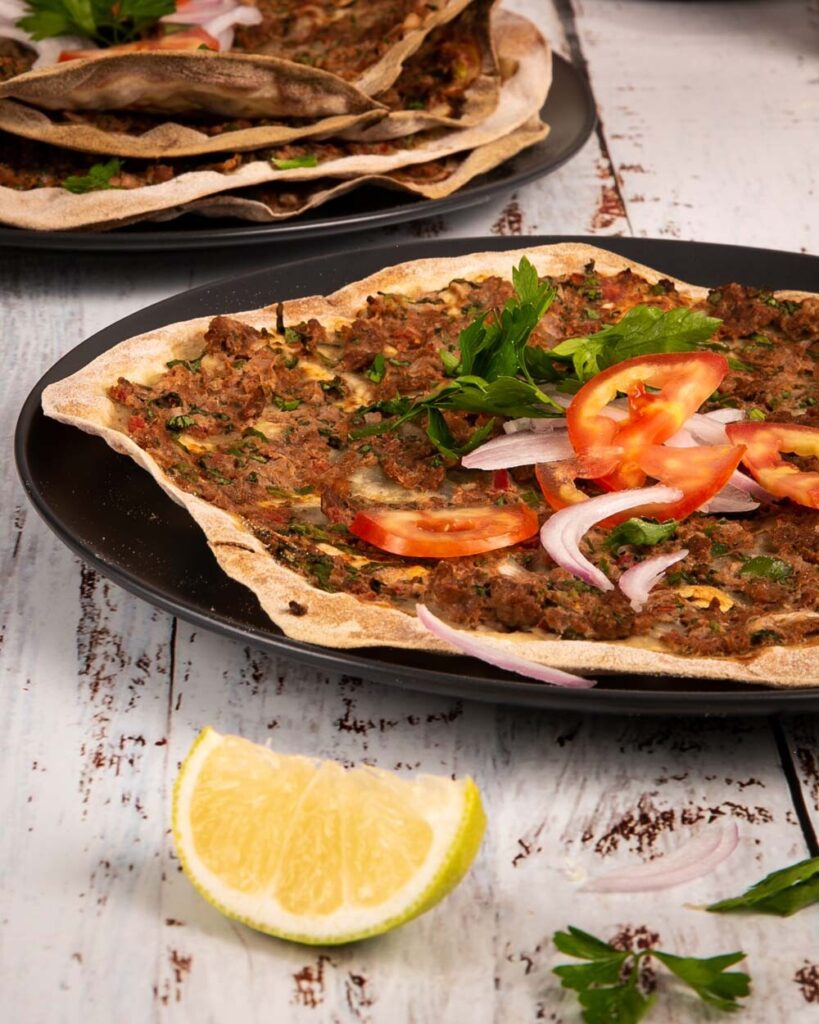 How to make Lahmajoun
Prepare the dough – First place all the dry ingredients into the bowl of a stand mixer. With the dough hook attached, combine thoroughly. Add the water slowly until you form a sticky dough ball. Remove to a greased bowl, cover and set aside.
Make the meat mixture – Transfer all the meat mixture ingredients into a large bowl. Combine nicely, cover, and set aside. (If desired, the meat mixture can be prepared the previous day and kept in the fridge to marinate overnight.)
Assemble the pizza – Roll the dough out into a log and divide into 9 portions. Roll out each portion into a thin disk. Remove any excess flour and place on the baking sheet. Add about 1/3 cup of meat mixture and spread it evenly. Be sure to get it out toward the edges, about 1/2″ away. Bake for 5 minutes on the lower rack. Then up to 5 more minutes on the upper rack. Remove from oven and enjoy. Repeat for additional pizzas.

Lahmajoun FAQ
How does the yeast affect the crust texture?

The yeast helps the dough rise. To achieve the crisp thin crust texture of the lahmajoun, the dough doesn't need leavening. Therefore, a pinch of yeast would do. If you plan to rest the dough for 2-3 hours before rolling it, then there is no need to add any yeast.
Which wine pairs well with Armenian pizza?

An acidic medium-bodied red wine pairs excellently with this pizza. 2011 Jekel "Pinot Noir" Santa Barabara County. 2010 Massaya "Classic" Bekaa Valley. And 2009 Domaine Maestracci "E Prove" Corsica, France. These are our top picks. Of course, a red Armenian wine made from Areni grapes would be a traditional pairing.
How to make Lahmajoun using a ready-made flour

tortilla

or pita?

Preheat your oven to 475° F. Then, heat a non-stick pan on high. Make sure that it can go in the oven. Perhaps a cast iron skillet if you got one. Place a tortilla on the hot pan and spread the meat mixture on top. When the bottom of the tortilla changes color, transfer the skillet to a high rack in your oven. Then cook for 3-6 minutes, or until crisp.
Some of the links in this article are "affiliate links". By using the affiliate links, you are helping support AllForPizza.com, and we genuinely appreciate your support. Please see our privacy policy for more info.