The year is coming to a close, so it's time to celebrate. Pizza is a staple party food! Have some fun with a Philly cheesesteak or impress your guests with a Paneer pizza. The options are endless for the best pizza recipes.
Don't worry if your local shop doesn't offer a keto-friendly option – we're going homemade for the holidays. Whether planning a friendly new years' bash or a quiet evening by the fire, we have a pizza recipe for every palette.
Here are our top 6 tastiest pizza recipes: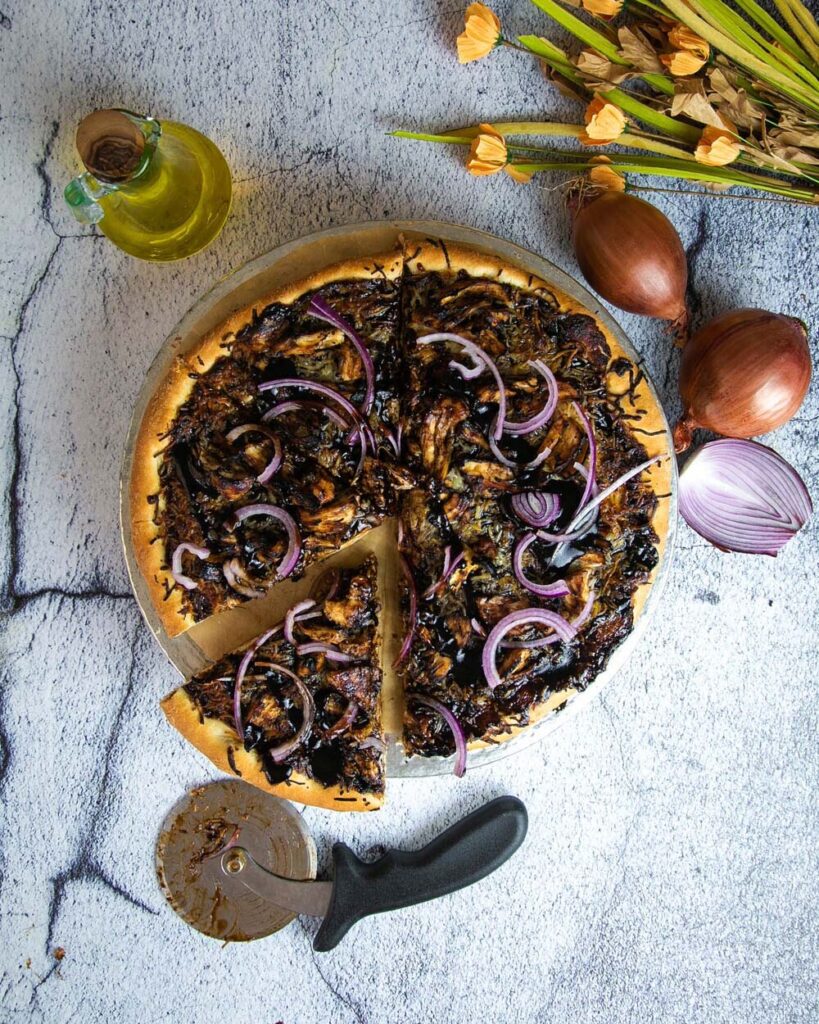 6. BBQ Chicken Pizza Recipe
A fan favorite! The sweet and savory BBQ chicken pizza recipe takes our number six spot.
Salty, sweet, and maybe a little sticky
Popular among adults and kids alike, you'll want to make extra to go around. This delightful dish combines BBQ sauce with tender chicken, gooey mozzarella cheese, and red onion. Plus leaving plenty of opportunity for customization. Making this and easy #6 in our top pizza recipes.


The ingredients may seem simple, but our BBQ chicken pizza recipe is versatile. Swap traditional tangy BBQ sauce with a spicy option for an added kick. Whether you grill or pan-fry your chicken, we recommend seasoning it. Use olive oil, salt, and pepper to enhance the earthy flavor.
Sweeten up your pie
Throw on sweet pineapple to compliment the salty chicken. Or amplify this pie with a sprinkle of bacon. You could experiment with cheeses by adding feta or smoked gouda to give a unique twist to this classic.
This pizza base uses the comfortingly familiar bread flour crust of a New York style pizza. The thick, soft, airy dough is the perfect carrier of balanced flavors to your tastebuds.
Give this recipe a try at your next get-together to help everyone feel at home.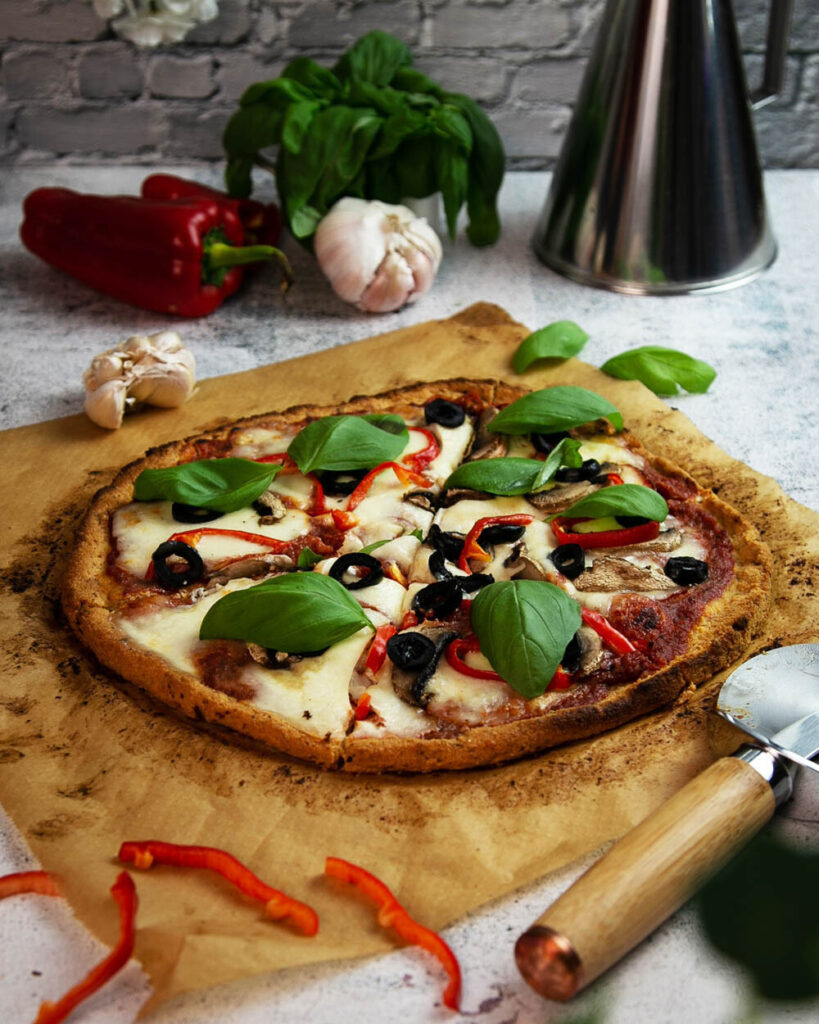 5. Keto-Friendly Pizza Recipe
Healthy eating doesn't have to be boring with our keto friendly pizza recipe. Number 5 on the top pizza recipes list is for our keto friends.
Surprisingly good
Even the pizza snobs of your friend group will find this pie to be surprisingly delicious!
The crisp almond crust uses super-fine almond flour and a flax meal for a nutty undertone. Keep in mind the crust is par-baked to support your choice of toppings and maintain that light crunch.
Toppings are limitless on our keto pie. Start with pepperoni for a mild heat. Scatter olives generously to add a pinch of saltiness. Refreshing red bell pepper gives your pizza a sweet and light crisp, while mushrooms add another distinctive texture to the mix.
Be selective with your mushrooms
Slimy mushrooms are a sure way to spoil your dish. To get the perfect sponginess, look for mushrooms that are dry to the touch with even colored caps. From portabella to shiitake, there's an array of mushrooms to add keto-friendly meatiness to your pie.
Make your simple sauce by pureeing tomatoes and garlic. Cook this homemade sauce with your choice of seasonings and set aside to cool while you prepare the rest of your toppings.
If this sounds too intimidating (or time-consuming), a sugar-free, keto-friendly bottled sauce will do the trick.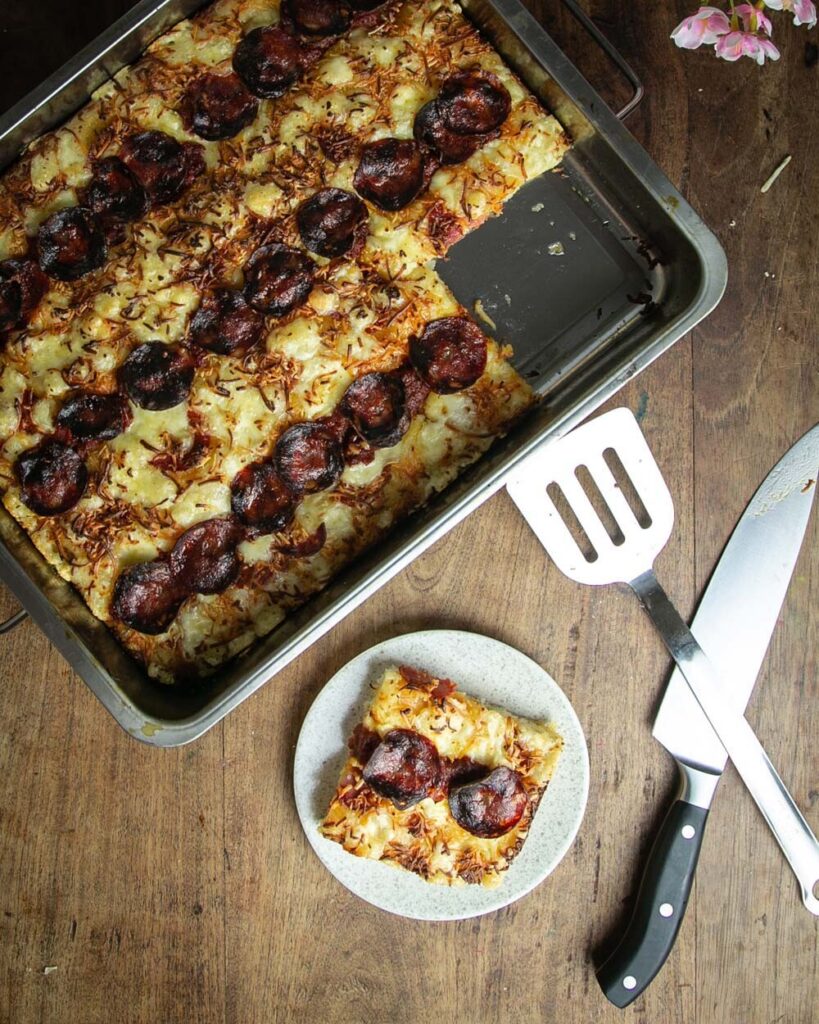 4. Detroit Style Pizza Recipe
​This Detroit style pizza recipe, coming in at number four, is another comfort food favorite. This is one of our favorite pizza recipes to make.
The fluffy dough uses bread flour to achieve its airy consistency. Set the dough aside to rise multiple times, yielding the light texture we know and love. Detroit-style pizza is traditionally baked in an oil-greased black anodized pan, giving the underside a savory crisp.
Top it off
Sometimes, less is more. Toppings for this pie typically include tomato sauce and pepperoni. Though, feel free to spice your recipe up with any topping you'd like.
This pie may be simple in terms of ingredients, but the blend of garlic, dried basil, and dried oregano gives a classic flavor that's hard not to love. Sautee the garlic just enough to infuse the sauce with a distinct aroma.

Who doesn't love cheese?
The true star of the show in this recipe is Wisconsin brick cheese – a Detroit-style classic. The buttery cheese melts perfectly to form a mouth-watering caramelized crust across the other toppings.
If necessary, you can always substitute Wisconsin brick cheese for Monterey jack and mild cheddar. Get creative with your pizza recipe and try out different types of pepperoni or other meats. Olives, mushrooms, and red peppers are a fresh twist for a veggie option.
You can't go wrong with this light and crispy classic.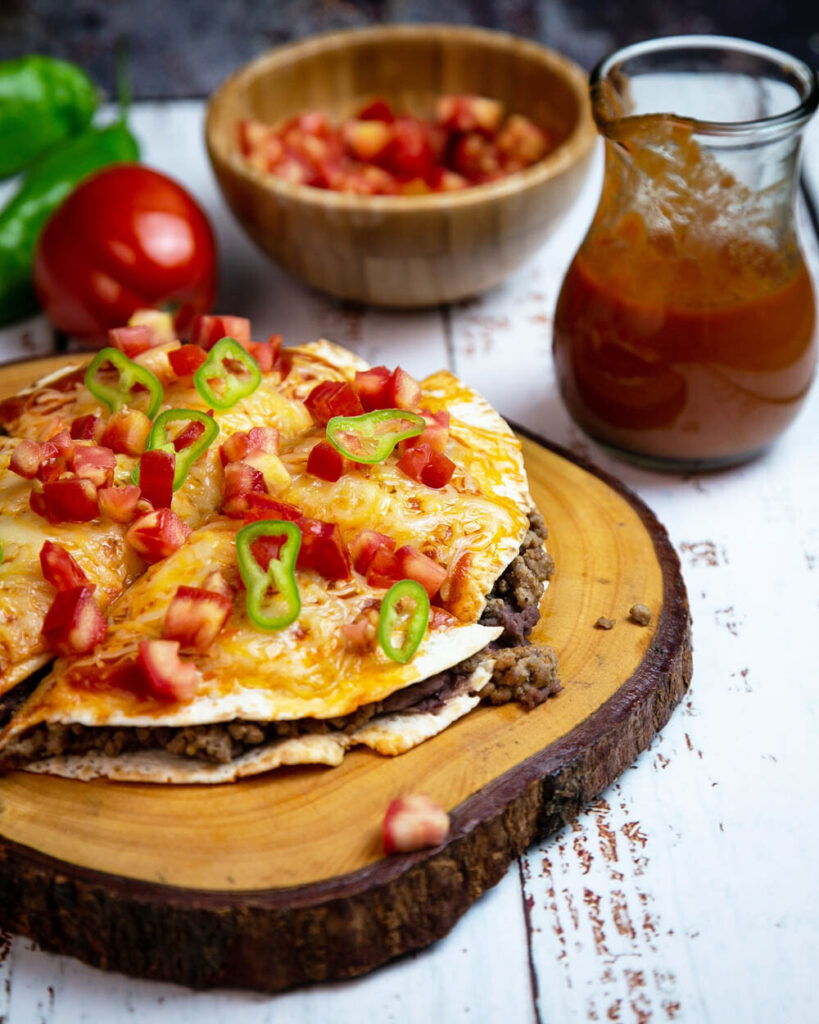 3. Mexican Pizza Recipe
Number three on our list breaks every traditional pizza barrier, and we love it! This crunchy tortilla-crusted Mexican pizza recipe is delightfully unique.
You'll want to eat this "pie" right out of the oven for peak crispness. Still, we don't see that being a problem once you smell the fragrant combination of seasonings such as paprika, cumin, and Mexican chili powder mixed with ground beef and enchilada sauce.
Tortilla crust?
The most distinct quality of this recipe is the two-tiered tortilla crust. Make it your own by swapping between flour and corn tortillas. Whether fried or baked, the tortillas add a satisfying texture to the pizza. Try air frying your tortillas to cut back on grease.
Well-seasoned ground beef is one of many savory types of meat that go well in this recipe. Elevate your Mexican pizza with leaner options such as ground turkey or chicken. Try a thick slathering of avocado with lime for a veggie-friendly alternative.
Putting it all together
Once you've prepared the toppings and tortillas, it's time to construct your masterpiece. A hearty spread of refried black beans will cover the bottom tortilla and help bind all your ingredients together. Layer your additional toppings and tortillas, then smother your pizza in creamy cheese and enchilada sauce.
Top it off with some fresh peppers and juicy tomatoes. Once you crunch through that first bite, you won't even question whether or not this is actually pizza.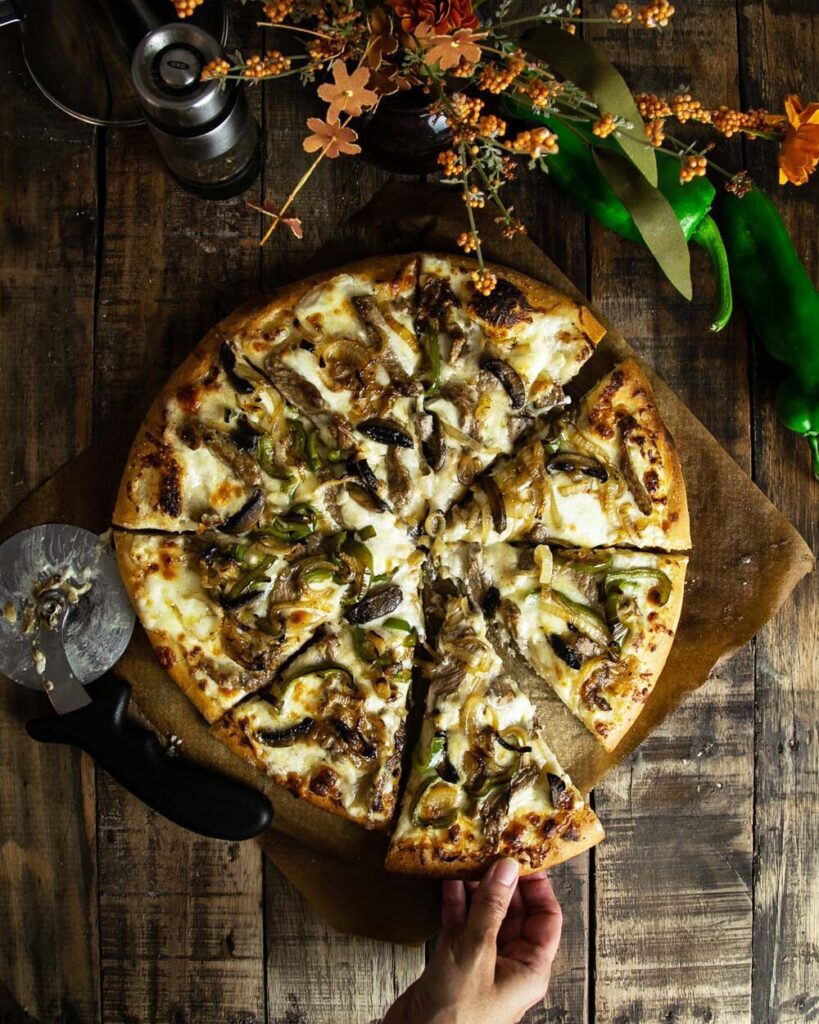 2. Philly Cheesesteak Pizza Recipe
We've reached number two, and our Philly cheesesteak pizza recipe does not disappoint!
Unconventional, yet delicious
Following the non-pizza topping pattern, this pie incorporates all your favorite cheesesteak qualities. Sweet onions, bell peppers, button mushrooms, and tasty ribeye steak slices work with amazing flavors.
Ribeye takes the front stage in this pie. The key to perfectly juicy cheesesteak cuts is carefully slicing thin, melt-in-your-mouth slivers. Cook steak to medium rare, leaving a little pink – it will stay tender after baking your pie.
The vegetables play a vital role in the flavor profile of this pizza recipe. Traditional Philly cheesesteak sandwiches include onions, bell peppers, and mushrooms – our unique pizza recipe is no different.


The secret of flavorful cheesesteak vegetables is cooking them in your steak pan. After you've perfected your ribeye slices, sautee your veggies until soft to bring out the deep, savory flavor.
Don't forget the sauce!
The buttery garlic sauce of this pie sets it apart from the rest of the list. Unlike a traditional red sauce pizza, this recipe combines fresh garlic, parmesan cheese, and pepper in a sauce to help balance the dynamic topping flavors.
Lip-smackingly good Philly cheesesteak pizza is sure to be a new staple for your dinner rotation.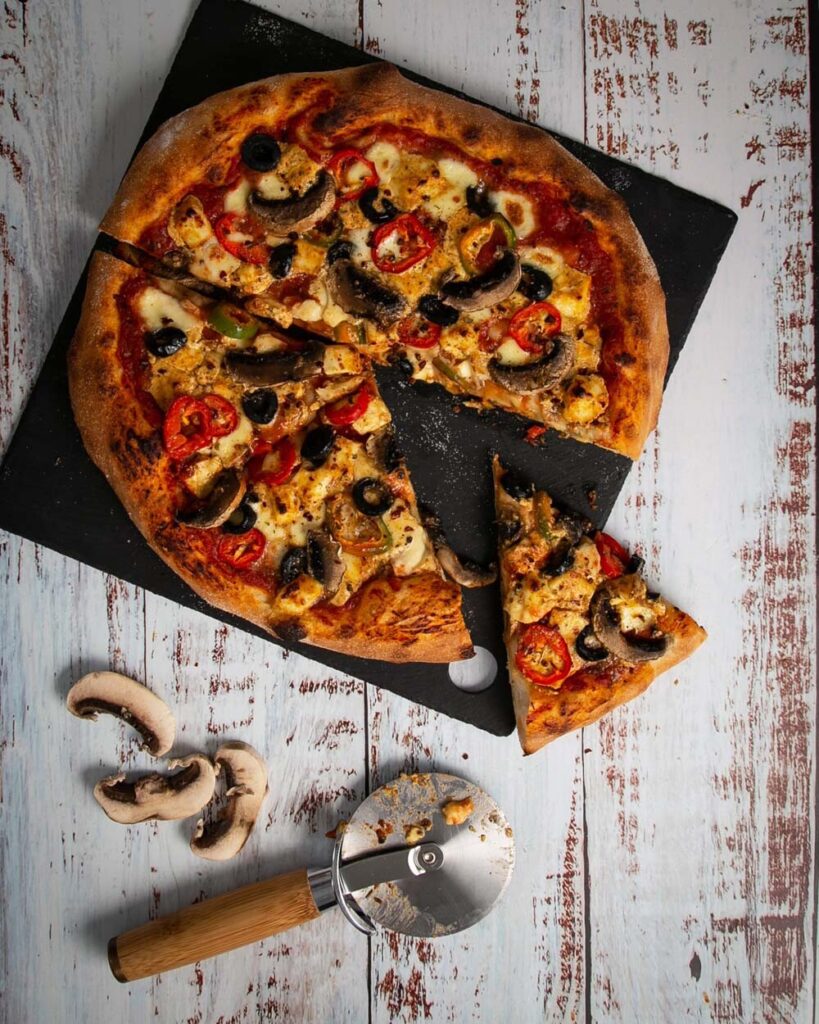 1. Cottage cheese aka "Paneer" Pizza
Our best overall pizza recipe is the cottage cheese (aka Paneer) pizza.
Tasty texture
It may sound like an unlikely winner, but don't underestimate the delectably complex profile of flavors married in this pie!
The base of this recipe uses finely milled Italian pizza flour to build a crisp crust with airy holes. The chewy texture pairs perfectly with the unconventional toppings of our number one pick.
Cottage cheese, please!
Mild, milky cottage cheese replaces what typically may be chicken on a more traditional pizza. The creamy cottage cheese marinates in yogurt and spices, then is crisped to perfection while baking. Garam masala, or hot spice, combines black peppercorns, cumin seeds, cinnamon sticks, and other spices to make your chicken substitute anything but boring.
The fruity, sweet mini peppers play off the tangy olives and earthy mushrooms to bring a variety of tastes and textures to this dish. While these toppings work well with the subtle saltiness of cottage cheese, you could play around with substitutions such as Mexican queso Blanco, panela cheese, or even tofu.
This pizza recipe is tied together with the aromatic acidity of a hearty marinara sauce and the slight tang of dense mozzarella cheese.
You won't notice the lack of meat while munching on the smooth, buttery Paneer pizza.

Something for everyone
From classic pies like Detroit-style to the less conventional options such as Philly cheesesteak, there's sure to be a recipe for everyone on our top six tastiest pizza recipes list!
We couldn't fit everything we have to share here. Check out each recipe for fascinating history, baking tips and tricks, and substitutions to make each pie work with any dietary preference.
Keep this list in your back pocket for your next game night or family dinner. Why not whip out a handmade pizza to impress your boss at your next work potluck?
The possibilities are endless when you get creative. Which pizza are you most excited to make?
Some of the links in this article are "affiliate links". By using the affiliate links, you are helping support AllForPizza.com, and we genuinely appreciate your support. Please see our privacy policy for more info.