Greek style pizza is much more than topping a leavened dough with classic veggies and olives. It has a crisp puffy greasy crust, unique dark red sauce, fresh toppings, and creamy feta cheese. Traditionally, you bake the dough in an oil-greased pan at a low temperature. And for a longer duration, which contradicts the typical Margherita or many other pizza recipes. The sauce is simmered in the pan till it caramelizes at the edges. The juicy tomatoes and Kalamata olives add a fruity tang. Furthermore, you won't find a mozzarella cheese layer. Instead, add luscious feta cheese to the hot pizza right before serving.
Greeks have been preparing olive-oil based flatbreads and baking them with herbs & spices for centuries. It is believed that skilled Greek bakers created Greek style pizza in the 1950s in Connecticut. Many historians and food researchers argue that the Greek tradition of making pizza-like bread and pies with toppings is much older than the first pizza that came to be known in Naples, Italy.


Following the cooking method is essential to hit authentic Greek pizza flavors. You'll definitely get that fabulous crunch in the crust along with an airy, light, soft, chewy center. Chicago, Detroit, and Sicilian are also pan pizza. The only difference is that these 3 use a deeper pan. The Greek style pizza uses a shallow pan.
Ingredients
As you walk past the International grocery section, don't forget to grab some kalamata olives. What else goes into the Greek pizza? Let's have a look!
All-purpose flour
Olive oil
Plum tomatoes
Oregano
Basil
Olives
Bell pepper
Tomato
Feta cheese
All-purpose flour is a widely used wheat flour. It rises well with yeast and builds a pliable elasticity necessary for a pizza crust.
Olive oil is a key ingredient in Greek pizza. It is used in ample amounts in the dough. Not to mention in the sauce as well a light drizzle on top of the Greek style pizza. Therefore, use premium quality olive oil to enhance the overall flavor.
Plum tomatoes are red oblong shape fruits. They are excellent for making sauces due to their low water content. They offer a thick sauce with a sweet acidic taste.
Kalamata olives are dark purple-color fruits with a similar shape as almonds. They use them extensively in Greek cuisine for their rich bold taste. To pit, gently crush them using the side of the knife, remove the stone, and slice. You can also buy pre-pitted kalamata olives. This recipe also uses green olives. They are firm, fleshy, and have a pungent sour taste.
Dried oregano and fresh basil blend an aromatic herb flavor into the sauce. The diced bell pepper and tomatoes add color, a nice crunch, and juiciness.
Feta cheese is a must when baking a Greek pizza. It adds a salty creaminess. Add them immediately after removing the pizza from the oven. The residual heat in the pizza will melt the cheese slightly.
Substitutions
Besides all-purpose flour, you can use whole wheat or bread flour. Moreover, you may also buy pre-made pizza dough. Once you spread the dough in the pan, remember to brush it with olive oil generously.
If your family members do not prefer their pizza slices loaded with olive oil, you may use lard or butter instead. You will still achieve the right texture and yummy flavor.
Those who prefer a milder taste can substitute the kalamata olives with black olives.
Roasted red peppers, artichoke hearts, and spinach are some standard toppings in Greek-style pizza. For meat toppings, you may use Loukaniko. It is a smoked Greek sausage made using pork/lamb meat, often flavored with garlic, orange zest, & coriander.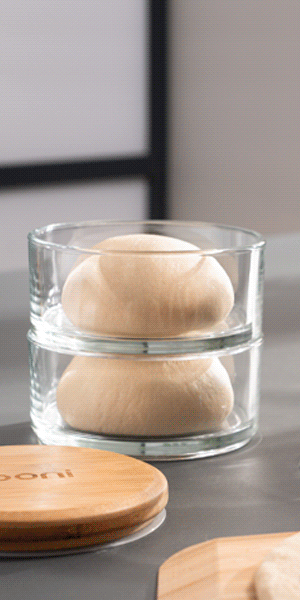 Greek style pizza Notes
This recipe mentions 1 hour of proofing time for convenience. Traditionally, the dough is proofed for 24 hours. If you can prepare the dough a day before baking time, that would be brilliant.
The sauce is a fundamental factor that differentiates Greek pizza from Italian or other pizzas. The dark reddish sauce is packed with garlic, olive oil, and herb flavors. Then you simmer the sauce throughout the day resulting in a concentrated, intense flavor. You can then thin the consistency using olive oil.
Store and Reheat
The cooked pizza slices can be stored in the fridge for 2 days. Place paper towels between each pizza slice or wrap them in aluminum foil before storing. Reheat the pizza slices in the oven at 350° F for a few minutes until heated.
We have a full article on reheating pizza. We demonstrate 6 different ways to reheat a with pros and cons for each.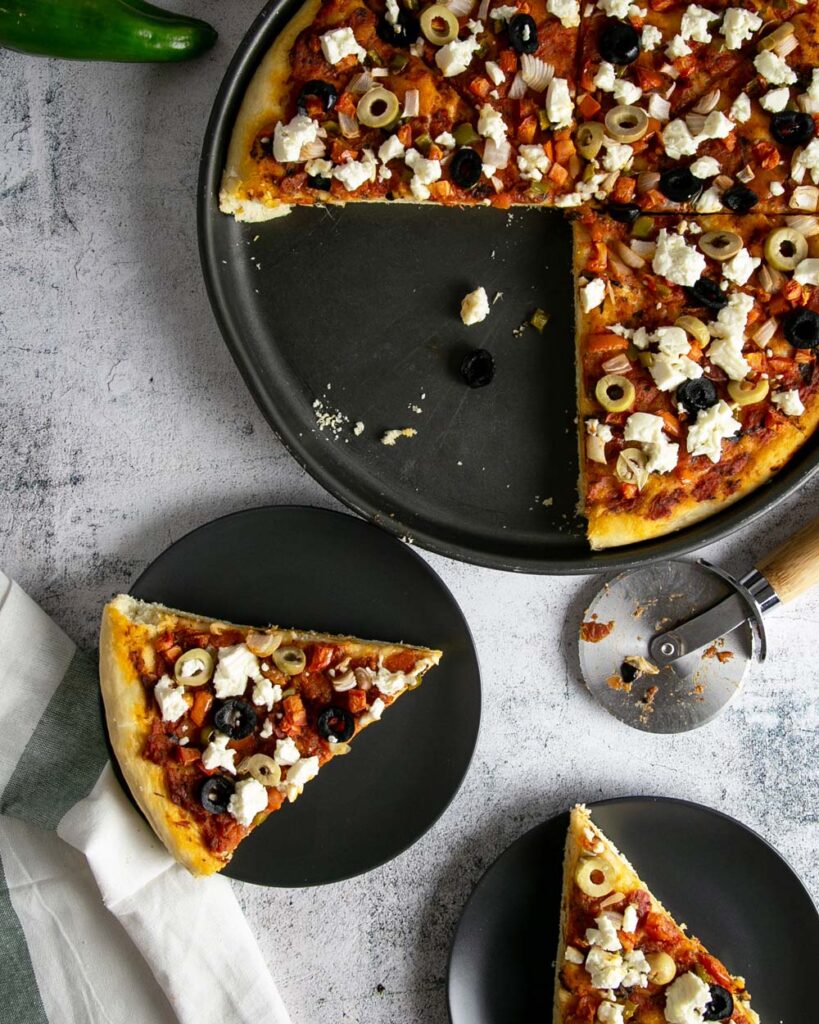 How to make Greek style pizza
Make some pizza dough – Add your dry ingredients to the bowl of a stand mixer. Combine with a spoon. Add some olive oil and Mix. Attach the dough hook and mix on medium for 5 minutes while slowly adding water. Keep mixing until you get a smooth elastic ball. Remove to an oiled bowl and cover. Proof the pizza dough for 1 hour.
Prepare a sauce – Add the olive oil and garlic to a small saucepan over medium-low heat. Cook until you smell that nutty, garlic aroma. Add the tomatoes, basil and oregano. Then salt and pepper. Mix well and simmer. Be sure to mash those tomatoes regularly. Once cooked, set aside in bowl to cool.
Assemble the pizza – Brush a pizza pan with olive oil. Spread the proofed pizza dough evenly onto the pan. Drizzle olive oil followed by a thin layer of sauce. Top with onions, bell peppers and tomatoes. Drizzle more oil than bake at 350 degrees F for 40-50 minutes. Remove from oven and sprinkle on the olives and feta.

Greek style pizza FAQ
Which wines pair well with Greek style pizza?

"Santorini Assyrtiko" is one of Greece's celebrated wines. It has a sweet fragrance, a bold gold hue, with a slight honey & spice complexity. Moschofilero, Sauvignon Blanc, Riesling, Viognier, and Joel Gott Rose 2020 are other wines that pair wonderfully with Greek pizza.
What other cheeses can be used in Greek pizza besides feta?

Those who relish a melted cheesy layer can add shredded white cheddar cheese and mozzarella after spreading the sauce. Several Greek pizzerias use Muenster cheese instead of cheddar. Muenster is creamy, has a lovely nutty buttery taste, and melts excellently.
What is Ladenia Kimolou?

It is an ancient Greek olive oil pie recipe that resembles a pizza. Originating on the Kimolos island in Greece, it has a thick fluffy bread that closely matches the Roman focaccia. The simple onion and tomato topping soften deliciously during the long baking period.
Some of the links in this article are "affiliate links". By using the affiliate links, you are helping support AllForPizza.com, and we genuinely appreciate your support. Please see our privacy policy for more info.