This Hawaiian pizza recipe zings up the palate with a classic pineapple & ham topping! The sweet juicy tartness of pineapple pairs surprisingly well with the savory ham. The saltiness of melted mozzarella creates a savory and creamy layer. Furthermore the dried herb-seasoned acidity of the bold red tomato sauce is exquisite!
Going by the name, many would think the pizza originated in Hawaii. In truth, its origin lies in a small Canadian town. It was in 1962 when Sam Panopoulous decided to use pineapple as a pizza topping.
Sam, a man in his late 20s, experimented with different ingredients to run his food business. He served his Hawaiian pizza recipe to customers in his restaurant. This was in Chatham, Ontario. People enjoyed the tropical fruit. And welcomed the fresh taste in their pizza. It's still relished to this day in North America. Plus it has become very popular in various parts of the world.


Ingredients
This Hawaiian pizza recipe is easy and delicious. Here's a bit on the ingredients. You can buy them from your local market or order online.
Unbleached flour
Honey
Italian herb seasoning
Red wine vinegar
Paprika
Pineapple
Ham
Unbleached bread flour is suitable for yeast-proofed doughs and puff pastries. It has a pale white color. The dull color indicates the natural long aging process the flour underwent since it was milled. Compared to the bleached variety, unbleached flour is much denser. Its also chemical-free, has zero bitterness, and yields a tougher dough.
Sweet fruity San Marzano tomatoes make a rich sauce for this Hawaiian pizza recipe. The intense floral sweetness of golden honey boosts the flavor. At the same time the Italian herb seasoning infuses a fragrant earthy savoriness. Red wine vinegar offers a bold smoky tang. The hint of heat is offered by paprika.
Pick a fresh ripe pineapple with bright greenish healthy leaves. If the pineapple base smells sweet, it's perfect. Additionally, the heavier the pineapple weighs, the juicier & sweeter it is. Ananás dos Açores, Antigua Black, & Queen Victoria are 3 of the world's best pineapple varieties.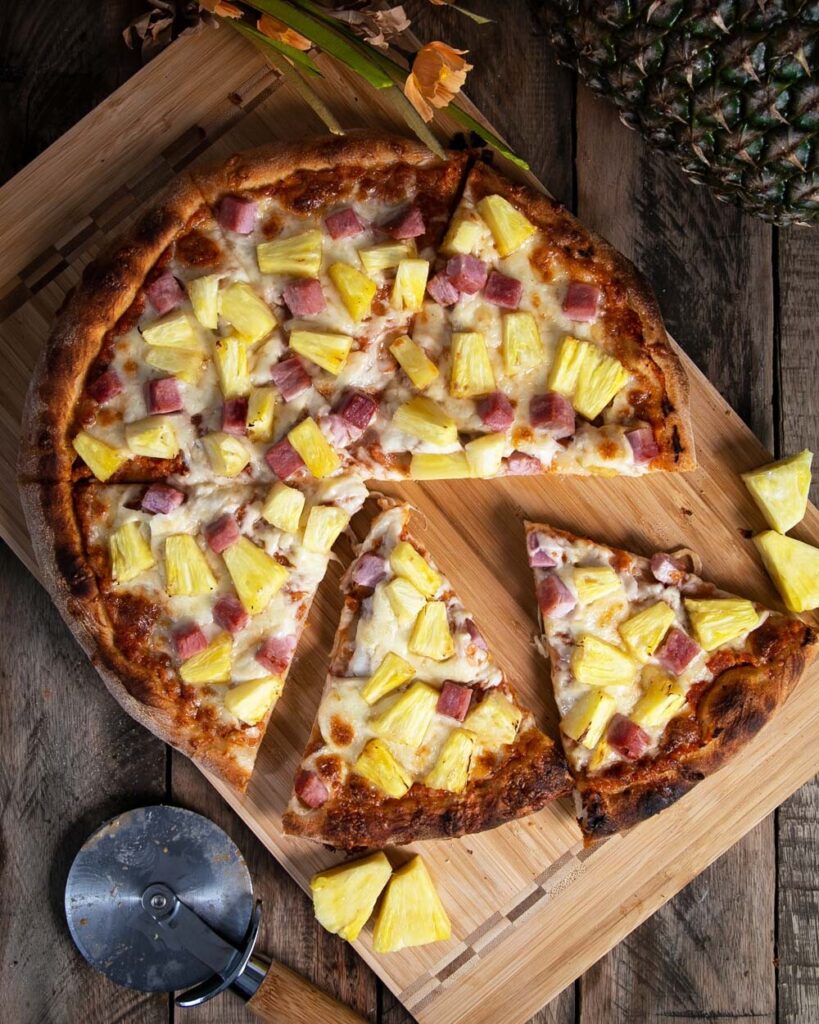 Notes for Hawaiian Pizza
The Hawaiian pizza recipe commonly uses Canadian ham. It is a juicy lean meat that is cured or smoked. Plus it has a subtle sweetness.
To shape the crust, stretch the risen dough ball using your hands instead of a rolling pin. Hand stretching the dough aids in better gluten development. This resulting in a better crust texture. Try this pizza on a deep dish or cauliflower crust.
This Hawaiian pizza recipe calls for the use of a pizza oven. We like the Ooni koda 12 pizza oven for this recipe. It's a 12" gas-powered oven. So it heats up quick and requires no fire maintenance.
To make the pizza toppings extra flavorful, lightly char the ham & pineapple. Heat a grill pan on high. Cook each ham slice & pineapple ring (separately) for 1 minute on the hot griddle. Flipping at 30 seconds. Then, let cool for a few mins, cut into small pieces, and use as a pizza topping. Making your Hawaiian pizza recipe so much better.
Avoid buying pre-shredded mozzarella. They have a light coating which restricts them from melting easily. Instead, purchase mozzarella blocks and shred them with a cheese grater. Do this just before assembly. The freshly grated cheese will melt like butter.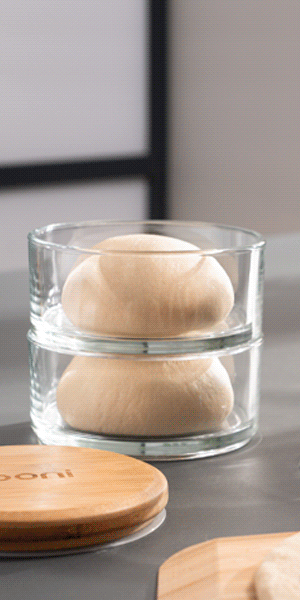 Substitutions
Make this a vegetarian Hawaiian pizza recipe! Switch the ham with sautéed mushrooms. If you like mushrooms on your pizza, try our mushroom pizza recipe. It has a velvety white sauce.
Some don't favor a thick gooey cheese layer on their pizza. You can choose to top the pizza with salty pecorino cheese. Then a light mozzarella sprinkling.
You may swap the Canadian ham with soft & juicy Canadian bacon. It undergoes a brining process. And compared to American bacon, it is fattier but less salty.
Making the pizza dough from scratch and using homemade sauce boosts the flavor. Alternatively, you can buy excellent quality pre-made pizza dough. A simple fuss-free tomato sauce with no herbs or honey can suffice too. Something as simple as a Margherita pizza sauce.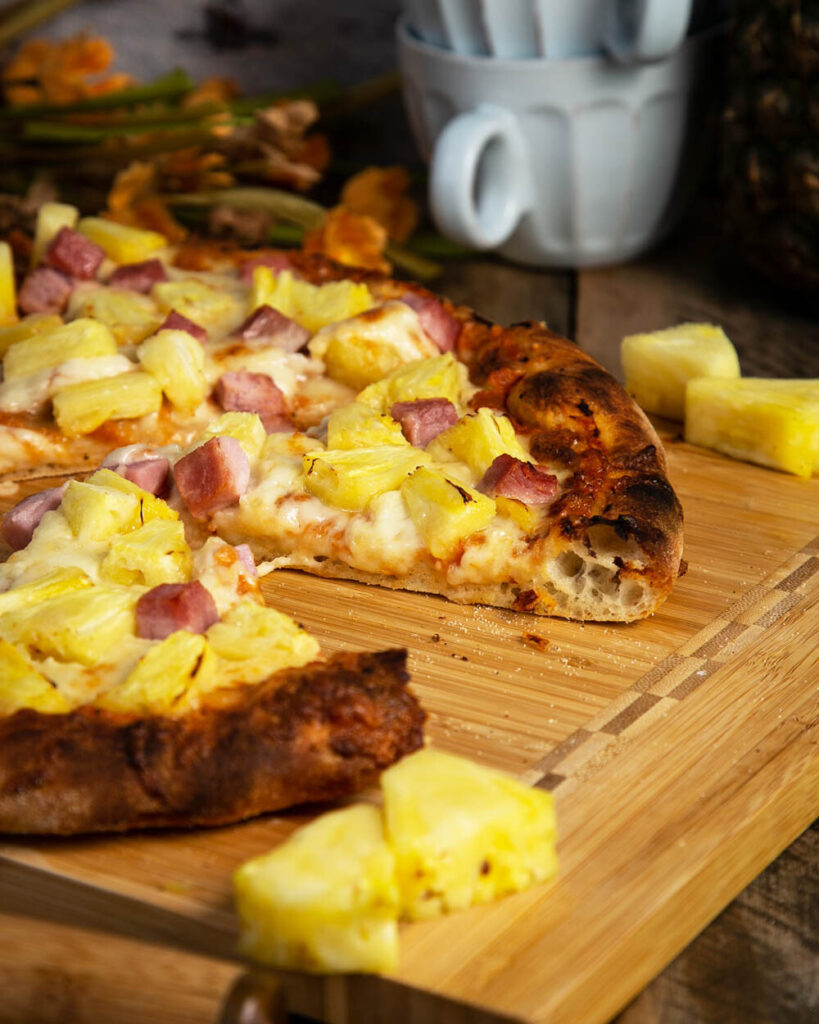 4 easy hacks to save the crust from getting soggy
When using fresh or canned pineapple pieces, dry them with paper towels. Juicy fruit toppings release moisture while baking. This makes the crust soggy.
Straining the pizza sauce is a crucial step that should not be skipped. The pizza crust will turn soggy if you don't eliminate the excess juices. To strain, you may use a fine mesh sieve or muslin cloth.
Brush the raw crust with olive oil before spreading the sauce. It acts as a fence preventing the moist pizza sauce from getting into the crust.
Restrain from adding excessive toppings placed close together. This creates excessive moisture that eventually seeps into the crust.

Hawaiian Pizza Recipe FAQ
How to get the pizza sauce right?

Get premium quality tomatoes like Italian plum tomatoes. Fresh seasonal organic tomatoes available at the local farmer's market are the best. make sure to peel the tomatoes. If using canned, opt for San Marzano or Bianco DiNapoli. You could also use Contadina, La Valle, or Hunt.
Why do we need the best quality tomatoes?

This Hawaiian pizza recipe uses raw uncooked sauce. The tomatoes are blended with garlic, Italian dried herbs, paprika, vinegar, honey, & oil. The top-notch tomatoes add a depth of flavor and bright color.
How to store the leftover pizza sauce?

Transfer the leftover pizza sauce into an airtight glass jar with a well-fitted lid. Keep it in the fridge to last for 3-5 days. Other than pizza, you can use it on toasted bread. Maybe toss it with pasta. Or serve it as a dip alongside some mozzarella sticks.
Some of the links in this article are "affiliate links". By using the affiliate links, you are helping support AllForPizza.com, and we genuinely appreciate your support. Please see our privacy policy for more info.