Indulge in a slice of "Brazilian Sweet Pizza" to make your day sweeter! This crisp baked thin wheat crust showcases the local style of making the chewy golden base. The decadent chocolate sauce is their signature move. Its classic glossy smooth richness is attained from butter, sour cream, and condensed milk. A layer of chocolate sprinkles offers a double chocolaty delight. Finally, a captivative sight is created by the juicy red strawberries.


It was around 1800-1930 when Italian immigrants brought their renowned pizza to Brazil. Brazilians have been celebrating "Pizza Day" on the 10th of December every year since 1985. Sao Paulo, a beautiful city, located in the Southern region of Brazil, is well known for serving both savory and sweet pizzas. A must-try when on a trip to Brazil.
A sweet treat called Brigadeiro was prepared in 1945 in a confectionary in Rio de Janeiro. The ingredients of this sweet treat inspired the Brazilian Sweet Pizza. Therefore, it is also called Brigadeiro pizza. Enjoyed as a dessert, this pizza tastes incredible both hot and cold.
If you love savoring such hidden gems, then Ontario's Hawaiian Pizza will impress you too!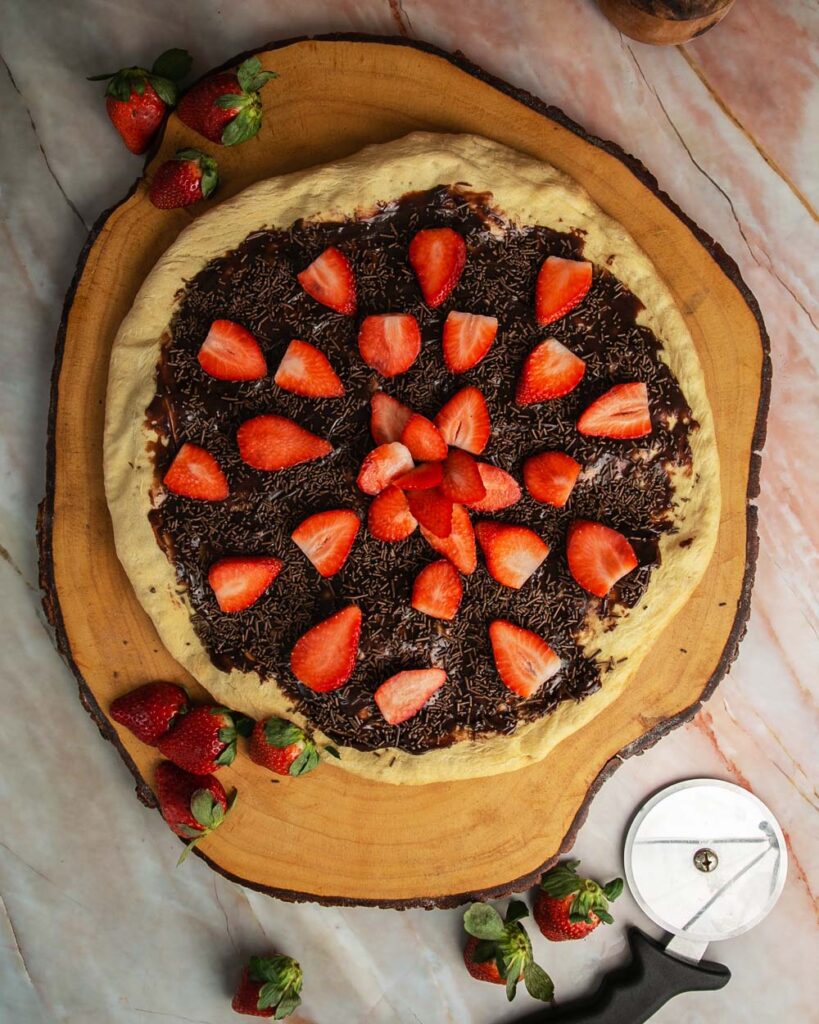 Ingredients
What goes into the famed Brazilian Sweet Pizza? A simple set of ingredients you can conveniently purchase from your nearby store.
Wheat flour
Fresh yeast
Condensed milk
Cocoa powder
Sour cream
Butter
Chocolate sprinkles/shavings
Strawberries
Whole wheat flour pizza crust tastes yummy! Texturally, it is dense and chewy. It crisps up nicely, complimenting the juicy fruit and luscious sauce topping.
This recipe uses fresh yeast. A key difference between fresh and dry yeast is that fresh yeast needs to be dissolved in lukewarm water before use. Additionally, both fresh and instant yeast helps the dough rise faster than active dry yeast. If using dry yeast, reduce the quantity to 1½ teaspoons.
Condensed milk is a silky thick sweet milk product used in various desserts. As the name suggests, whole milk is concentrated at low heat/pressure to get rid of the water content. It gives the chocolate sauce a milky creaminess.
This recipe uses high-quality Dutch process unsweetened cocoa powder. This reddish brown powder is brilliant for the sauce as it easily dissolves in liquid ingredients. It offers a dark color, earthy notes, and rich flavor.
Sour cream infuses a subtle acidic tone. It balances the overall sweetness and offers the sauce a lip-smacking smoothness.

Substitutions for Brazilian Sweet Pizza
You may switch the condensed milk with whole milk or skimmed milk. This is a brilliant replacement for those who prefer a less sweet and lighter chocolate sauce. Nut milk is another option when following a vegan diet. Using milk will change the cooking time.
Cocoa powder can be substituted with Swiss ovomaltine or cacao powder. The cocoa and cacao powder ratio is 1:1, whereas you'll need 3 tablespoons of ovomaltine. Malt extract, cocoa, whey, and other ingredients in ovomaltine add extra flavor to the sauce.
You can buy pre-made pizza dough and opt for a ready-made chocolate spread for a quick sweet pizza. Nutella is a lip-smacking option. This velvety chocolate spread with hazelnut flavor is a favorite among children as well as adults.
Topping Ideas
Coconut flakes or freshly shredded coconut topping on the chocolate sauce with flaky sea salt.
Shriveled almonds, peanuts, or any choice of chopped nuts.
Chocolate shavings in place of chocolate sprinkles.
Try kit kat or wafers for a crisp topping. This is best served right away.
Cooked apples or bananas offer a delicious fruity bite.
When serving the Brazilia sweet pizza cold, you may top it with your preferred ice cream.
Reese's miniature peanut butter cups taste good too.
Note: When topping the pizza with nuts or coconut flakes, you must bake them before assembly. Bake for 5-8 minutes at 375° F. This will add a toasty flavor to the nuts.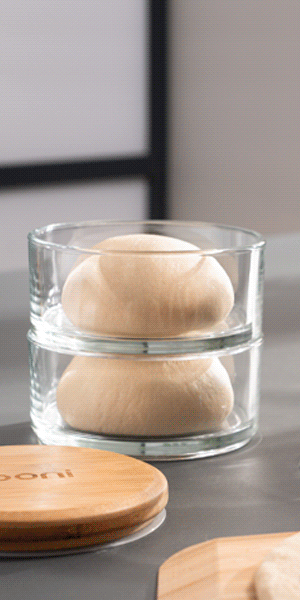 Store and Reheat
Leftover slices can be wrapped in plastic film and stored in the refrigerator to last 1-2 days. To freeze, place the pizza slices on a baking sheet and put them in the freezer uncovered for around 3 hours till frozen nicely. Then, wrap up in plastic film followed by an aluminum foil wrapping, transfer them to a freezer-safe container and keep in the freezer compartment.
When you're ready to reheat it, place the pizza slice on a cold pan (dough side down) and reheat on high for 1-2 minutes. Then sprinkle a few drops of water in the pan. Cover for 1 minute or until the cheese melts.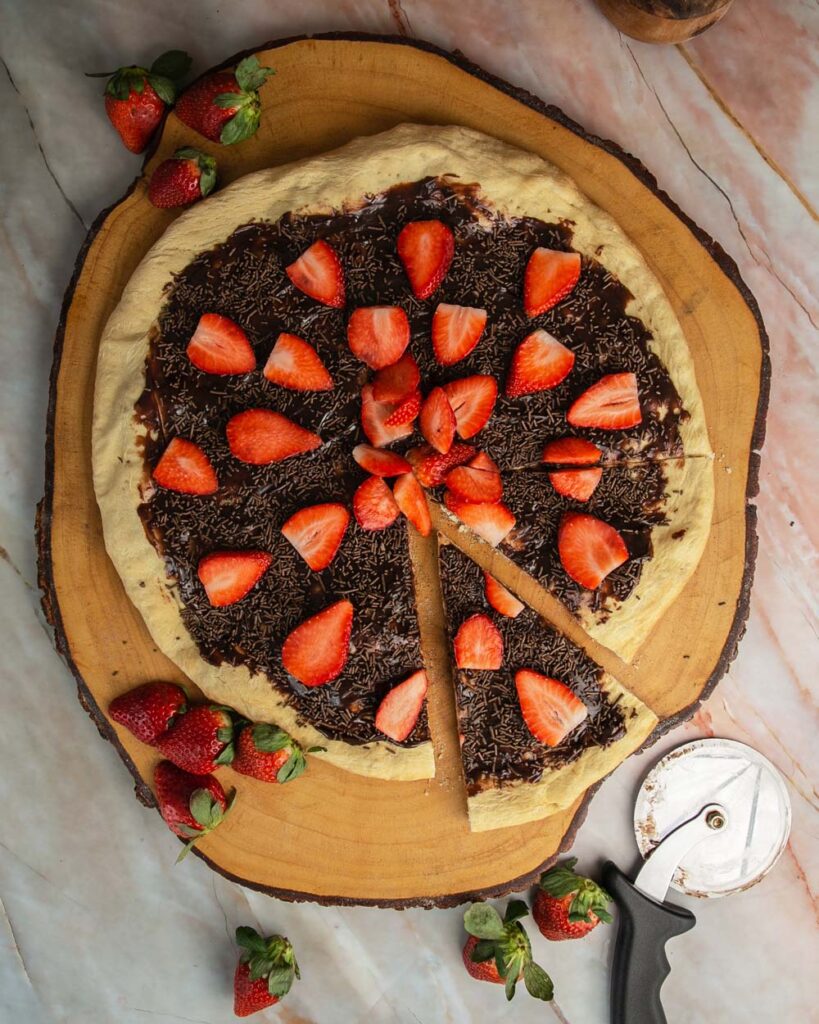 How to make Brazilian sweet pizza
Make the dough – Begin with dissolving the yeast in some water for 5-10 minutes. Add 1 cup of flour, water and yeast liquid to a Food processor. Pulse a few times until combined. Add the rest of the ingredients and form a dough ball. Remove to a board and knead into a smooth ball. Set into an oiled bowl and cover. Let the pizza dough rise for about an hour.
Prepare the chocolate sauce – Use a heavy bottom sauce pan and place it over medium-low heat. Add condensed milk, cocoa powder, sour cream and butter. Stir continuously for 5-10 minutes. Remove from hear when it reaches the right consistency. Remove to a separate bowl to cool for 10 minutes before topping.
Assemble the crust and bake – Turn and roll out your pizza dough into a large circle. Pinch the ends to create a raised crust. Load onto a flour dusted pizza peel. Transfer the crust into a preheated pizza oven and cook for 1 minute while turning. You can also bake in an 550 degree F oven for 8-12 minutes.
Top and enjoy your pizza – Once the pizza crust is cooled, slather on the chocolate sauce. Then top the pizza with sprinkles and finally the fresh red strawberries. Yum!

Brazilian Sweet Pizza FAQ
Are there other sweet pizza variations served in Brazil?

Yes. Banana con Canela and Romeu e Julieta are two popular sweet pizza varieties in Brazil. The first one has sweetened condensed milk as a base topped with banana slices, cinnamon, and dulce de leche. The Romeu e Julieta has fresh soft cheese topped with guava paste/marmalade.
How about using melted chocolate spread?

Of course! For the sauce, you can use dark chocolate, milk chocolate, or white chocolate. Chop up the chocolate or use chocolate chips and follow the double-boiler method to melt the chocolate perfectly.
How is Brazilian Pizza different from Italian or American Pizzas?

Their sweet pizzas are a highlight. A distinct difference in Brazilian savory pizzas is that it rarely has a tomato sauce base which is common in Italian and American pizzas. The "chimichurri sauce" is typically used in savory pizza recipes. This refreshing green sauce has a lemony herbaceous flavor with garlic and red chili pepper notes.
Some of the links in this article are "affiliate links". By using the affiliate links, you are helping support AllForPizza.com, and we genuinely appreciate your support. Please see our privacy policy for more info.