Happiness is the freedom to gorge on a pizza while on a healthy diet! This scrumptious keto pizza has a crisp almond crust. It's keto friendly and low carb. And like the Brazilian dessert pizza, this hearty crust must be baked before assembly.
It has lots of toppings that offer diverse textures. With meaty, peppery, herbaceous, and fruity flavors. While the crust is unique, the rest of the components are pretty classic. There's homemade San Marzano sauce, mozzarella cheese, and familiar pizza toppings.


What is a keto pizza?
It is a mouthwatering pizza prepared with sensibly selected ingredients to fit the ketogenic (keto) diet. This diet requires individuals to consume meals that are high in fat and low in carbs. Plus contain a moderate amount of protein.
To add to the fun, there are different crusts, sauces, and delicious topping options. We've got you all covered. Choose your favorite toppings from the list and bake your own style of keto friendly pizza. This keto crust comes out so yummy, nobody can resist having a second (or third 😉 slice!)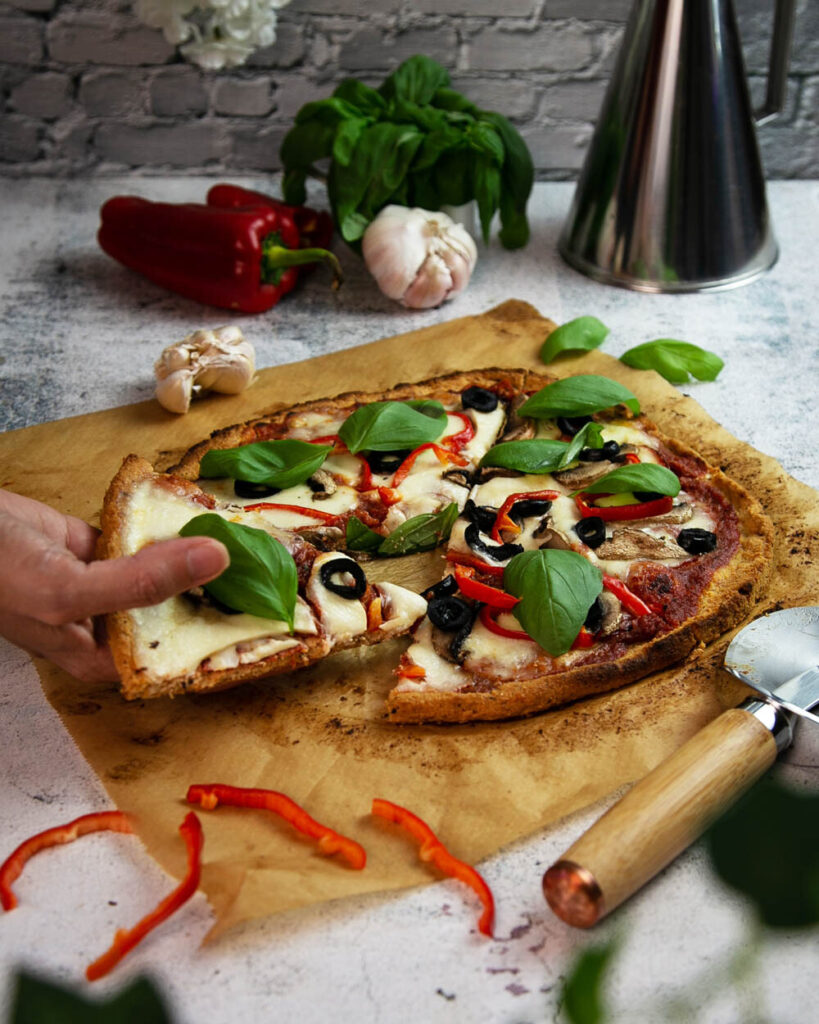 Ingredients
Abiding by strict dietary restrictions, the following ingredients are necessary to make the delicious low-carb, gluten-free keto friendly pizza!
Almond flour
Parmesan
Italian seasoning
Flax meal
Pepperoni
Red Bell Pepper
Mozzarella
Here we are talking about using blanched super-fine almond flour. Also, check the moisture level to achieve the perfect crispy crust texture. Do not use coarse almond meal as it will result in a rough crust that might burn while baking.
Use room temperature eggs for the recipe. It helps bind all the dry ingredients together. Additionally, eggs are a good source of protein, which is necessary for a keto diet.
Flax meal has a nutty mild taste. It acts as a moisture-binding agent and thickens the crust.
Pepperoni is a cured meat that is an excellent choice of keto-friendly pizza topping. The slices are wonderfully spiced with pleasant heat and tanginess.
Mushroom slices offer a spongy meatiness. When buying them, pick the ones that are dry to the touch and have a solid even-colored cap. If you prefer the mushrooms with a bold earthy flavor, then select the dark-colored ones with thick veils. Avoid those that are slimy and have spotty caps.

Keto Pizza Substitutions
In place of almond flour, you may use coconut flour. Choose the finest consistency of coconut flour as it yields a soft & pliable dough. Alternately, you can use 1 cup and 2 tablespoons of almond flour along with 6 tablespoons of coconut flour in the dough.
You may substitute the flax meal with whole psyllium husks. It adds a chewy texture and serves as a thickener and binding ingredient. It can be used in keto as well as vegan recipes.
Making the pizza sauce from scratch is always the best. You have full control over the ingredients. However, for convenience, you can opt for bottled pizza sauces. Just make sure it's sugar-free and keto-friendly, like Rao's Marinara sauce.
A cup (86 grams) of portabella mushroom contains 3g of carbohydrates. You may switch it with white button mushrooms that contain slightly lesser carbs. Oyster and shiitake mushrooms are keto-friendly too but have double carbs compared to portabella or white button mushrooms.
Other Topping Ideas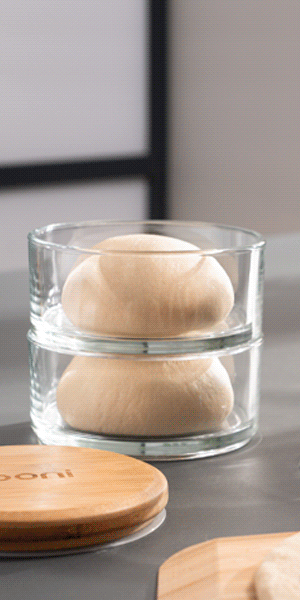 Store and Reheat
You can store the baked keto pizza crust in the refrigerator. An advantageous feature of almond flour is that it does great in cold temperatures. Its taste remains the same, and the crust doesn't crumble or break into pieces.
The unbaked crust can be stored in the freezer to last 90 days. Before rolling out and baking the crust, let it thaw for an hour or until it reaches room temperature.
The assembled leftover pizza slices can be stored in the freezer. Before storing, freeze each pizza slice individually so that they do not stick to one another.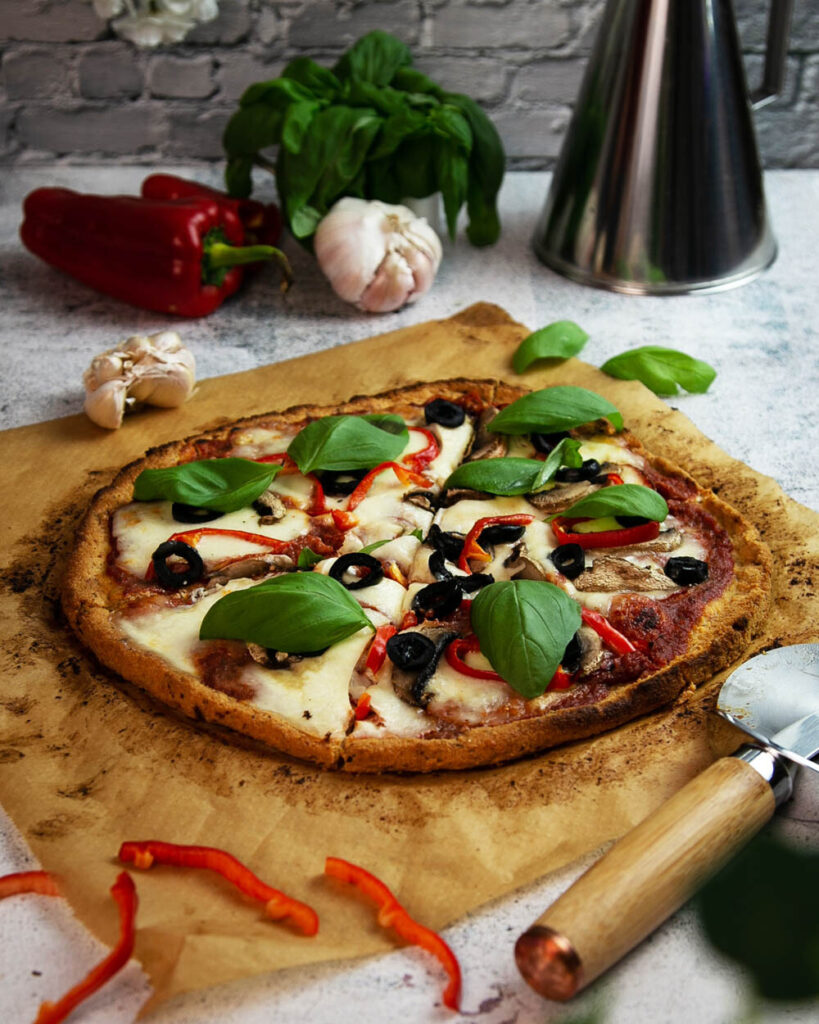 How to make keto friendly pizza
Make a pizza sauce – First, add the tomatoes and garlic into a food processor. Mix until the tomatoes are puréed and the garlic is chopped. Cook the pizza sauce in a saucepan with the seasonings. Place the sauce in a cool bowl and set aside.
Prepare your keto pizza crust – transfer all your dry ingredients into a mixing bowl. Give it a good stir to combine. In a separate bowl, crack the eggs and mix in 2 tablespoons of water. Whisk well. Combine the dry and wet indgrients to form a dough ball. Spread out into a pizza pan and partially bake.
Assemble your pizza – Spread the pizza sauce on the keto pizza crust. Top with fresh mozzarella cheese and toppings. Bake again until the cheese melts and the crust is golden brown. Top with fresh basil and serve.

Keto friendly pizza FAQ
Are there other ketogenic pizza crusts?

Yes. There is the cheesy fathead pizza crust and the nutty coconut flour crust. Those who enjoy a veggie flavor can try the delicious cauliflower crust pizza. The chicken crust and meatza pizza with meat-based crust are exclusively for non-vegetarians looking for a low-carb meal.
Which pizza sauces are keto-friendly?

Other than the tomato-based sauce, pesto and chimichurri sauce are keto-friendly choices. Avoid bechamel sauce as it's high on carbs and gluten due to the milk and flour. Lebanese toum and zero-sugar keto bbq sauce can work too.
No. Various keto-friendly flours/ingredients can be purchased to make the keto crust at home. If you are seeking something readymade, then keto tortilla is the way to go. Check out the Mexican Pizza recipe for inspiration.
Some of the links in this article are "affiliate links". By using the affiliate links, you are helping support AllForPizza.com, and we genuinely appreciate your support. Please see our privacy policy for more info.