When it comes to paired foods, there's nothing better than a pizza and a glass of wine or beer. The saltiness of the cheese, and the the tangy sauce can be tempered by wine and beer. You already know that pairing sweet flavors with sweeter drinks is great. However, when you're eating a savory pizza its nice to have something that complements every flavor.
In this article, we will explore what makes each pairing so special and share our recommendations on them. Feel free to take a look at our recipe section for recipes on all these amazing pizzas and more.


Traditional Margherita Pizza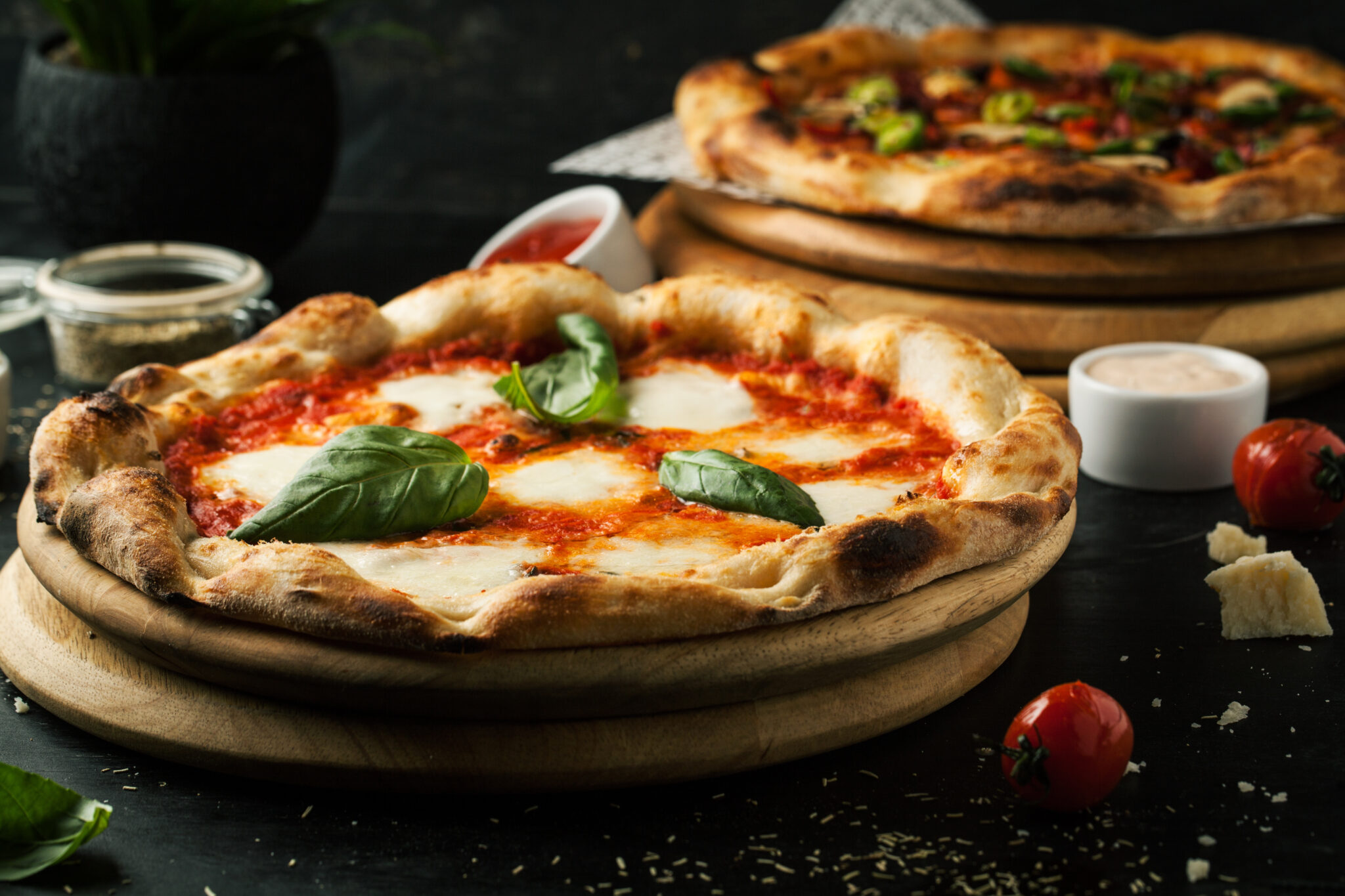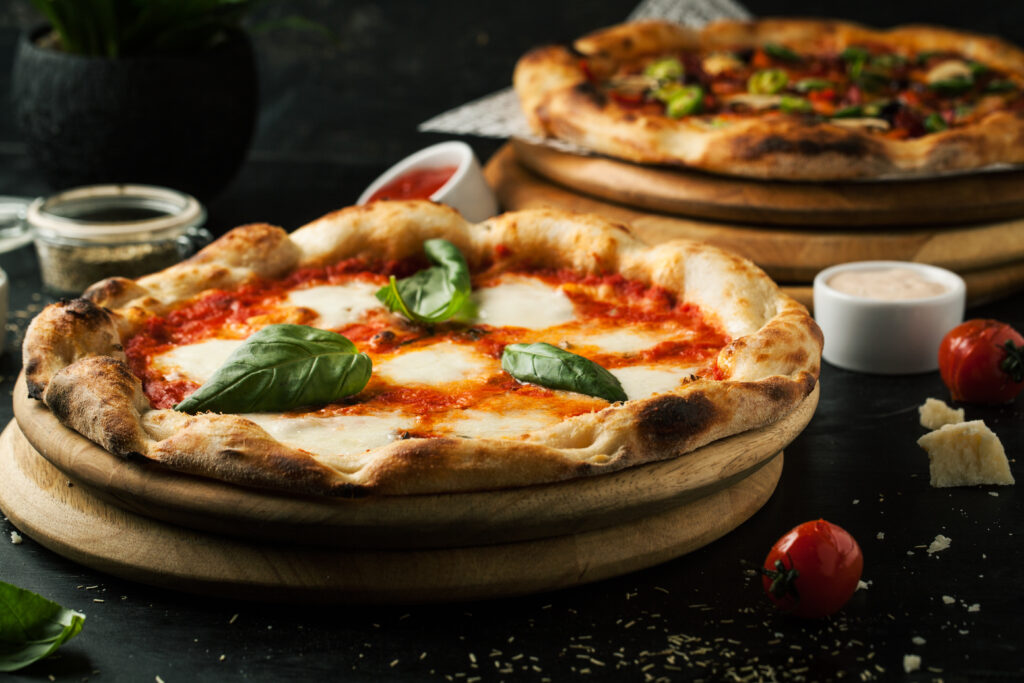 The Margherita pizza is one of the most popular pizzas in the world. It's an Italian classic that has been around for centuries, and it's no wonder why: it's delicious! This Italian dish comes with a tomato base, fresh mozzarella cheese, and basil leaves. It's absolutely delicious, and if you pair it with wine or beer, you'll have an even better experience.
Wine Pairing: Pinot Grigio
Pinot Grigio is a light, crisp white wine with a hint of pear and citrus that complements the light tomato sauce on traditional Margherita Pizza. The fruitiness of this wine also helps cut through the richness of pizza cheese and crust.
Beer Pairing: Pilsner
Pilsner is a light lager, that has a slight hop bitterness and a clean finish, which pairs well with the spicy tomato sauce on traditional Margherita pizza. Its crisp flavor helps balance out the richness of cheese and crust in this classic Italian dish.
BBQ Chicken Pizza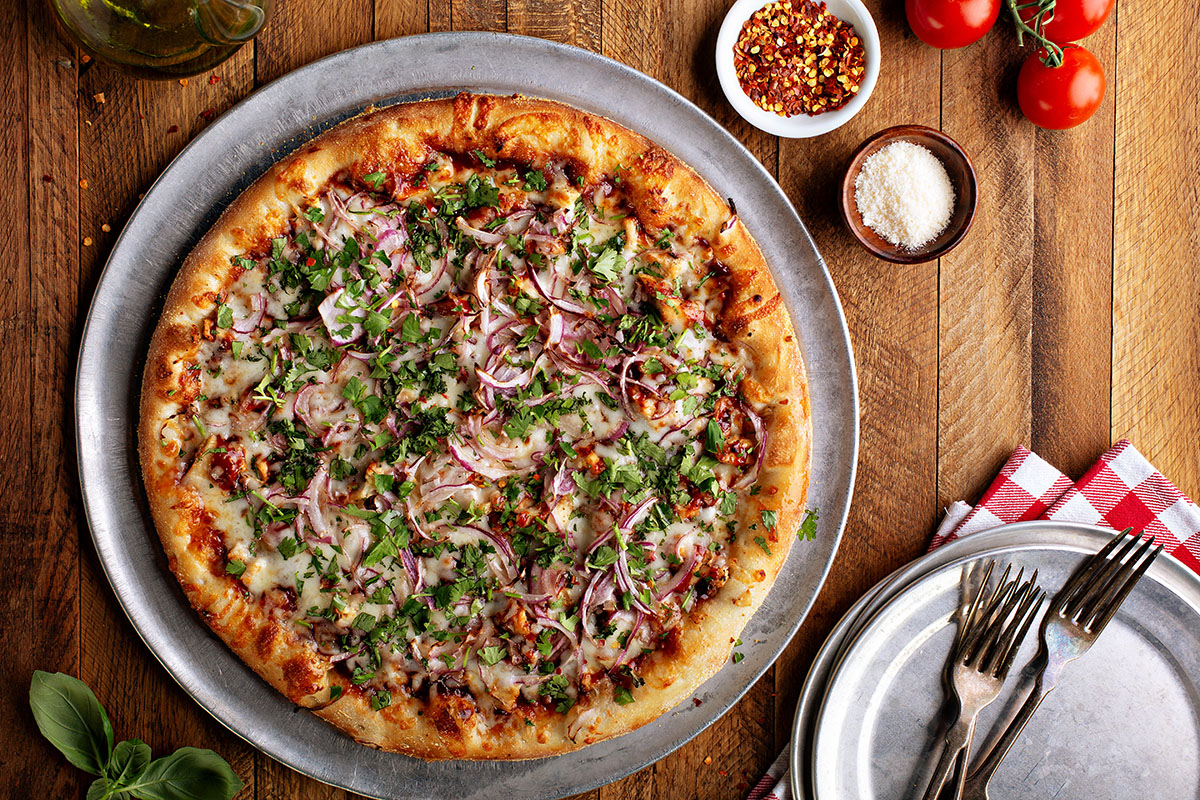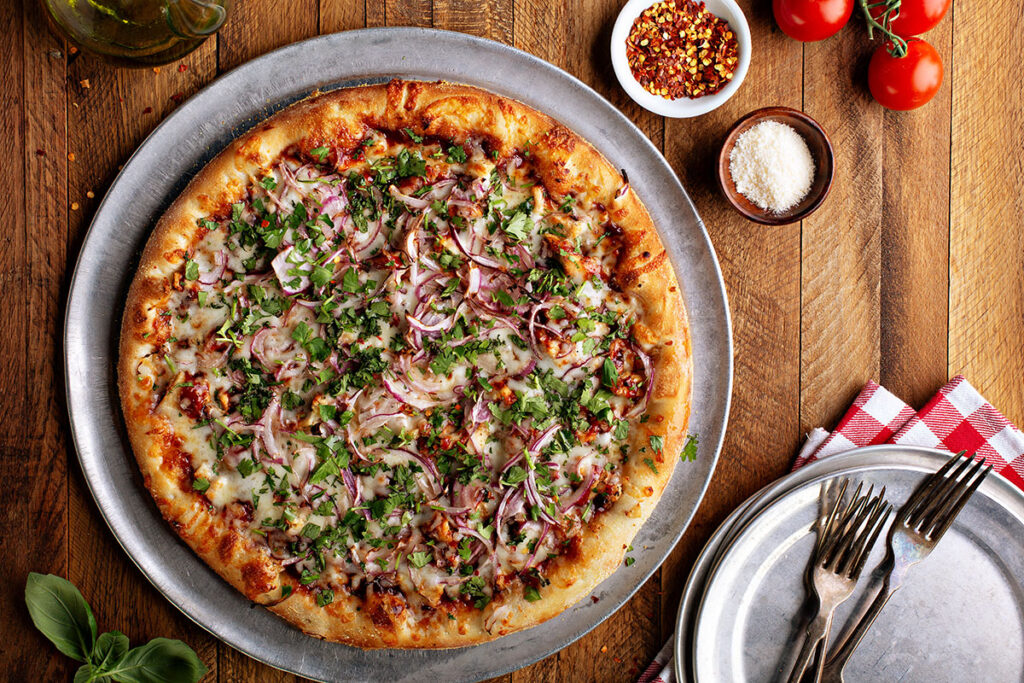 This pizza has everything you could want when it comes to a delicious, hearty meal. It's got BBQ chicken, red onion, red pepper, pineapple, and even jalapenos. The chicken is tender and juicy, and there's just enough sauce to keep it from getting dry. The crust is crispy on the outside and soft in the middle. It has a soft, flaky crust, a sauce made from fresh tomatoes and garlic. All of which gives it a rich and savory flavor. The BBQ sauce is sweet and tangy, and it complements the chicken perfectly. It's almost like a salad on a pizza crust! You can't go wrong with this one.
Wine Pairing: White Zinfandel
A California Zinfandel is usually consistent here. Charles Shaw, or "2 buck chuck" is good option here. Highly rated as one of the best bang-for-your-buck wines on the market, this wine pairs beautifully with BBQ pizza. It's a white zin, which means it has some sweetness and body. But it's also dry enough to cut through all that BBQ sauce without losing its flavor.
Beer Pairing: Blue Moon Belgian White
A BBQ chicken pizza and Blue Moon Belgian White are the perfect pairing. Blue Moon Belgian White is a crisp, refreshing beer that will go perfectly with your BBQ chicken pizza. It has hints of citrus and honey, and it's brewed with orange peel and coriander. The Blue Moon Belgian White adds just enough sweetness to cut through that tanginess while still complementing the flavors of the pizza. The BBQ chicken pizza paired with Blue Moon Belgian White is a great way to brightnen up your palette.
Deep Dish Pepperoni Pizza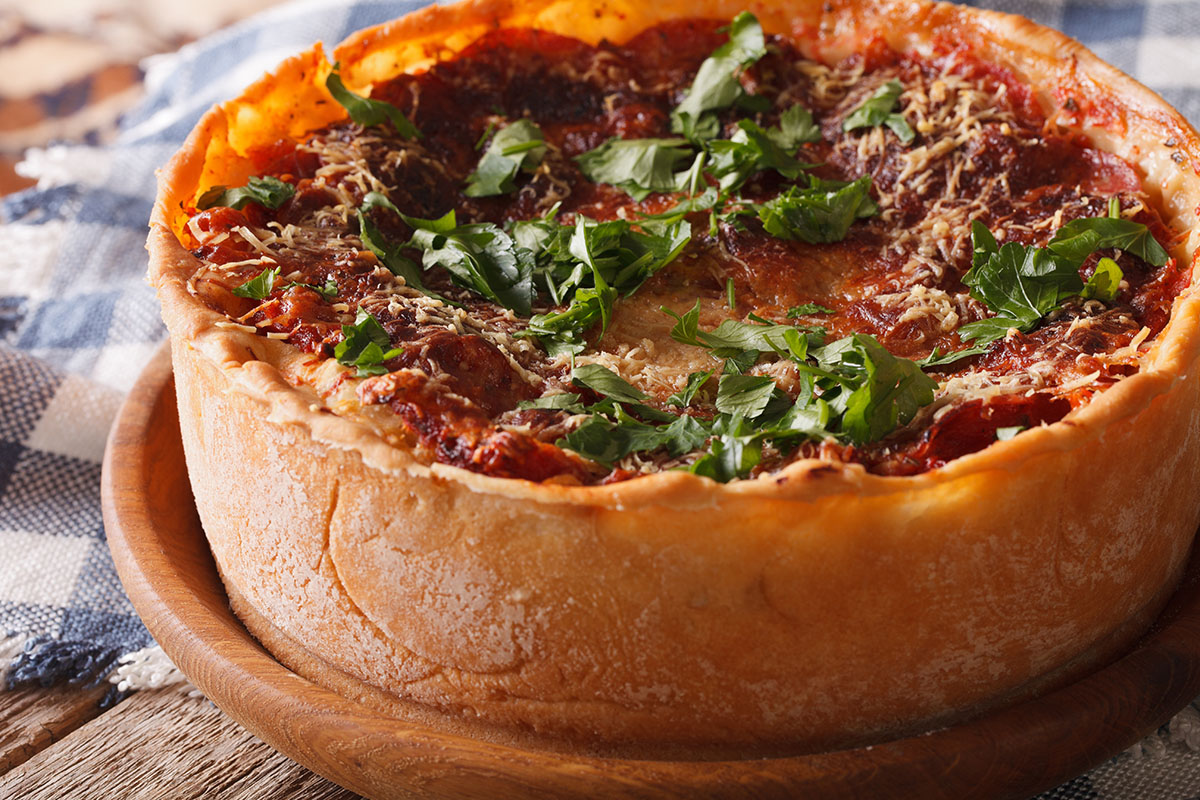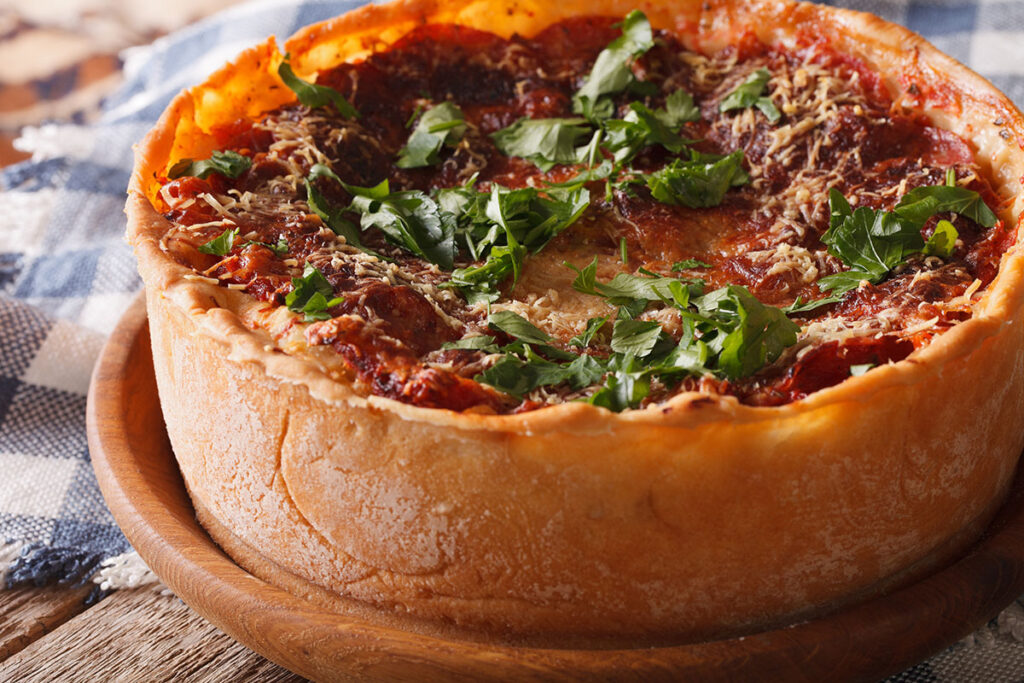 Deep dish pepperoni pizza is a delicious and unique pizza that is a staple of the Chicago food scene. A Chicago style deep dish pepperoni is a thick crust pizza that you bake in a large pan. The crust is very rich and buttery.
The deep dish pizza is made by layering the cheese right on the dough. Then you add in a few toppings. Lastly, cover the entire pizza with tomato sauce and top with more cheese.
The best way to enjoy this delicious pizza is pairing it with wine or beer. A glass of wine will go nicely with this deep-dish pepperoni pizza because it will complement its flavors. The wine will bring out the sweetness in the cheese while also balancing out any bitterness from the tomato sauce or pepperoncini peppers.
Wine pairing: Pinot Noir
Try a nice Pinot Noir with this pizza. It's fruity and light enough to complement the rich flavors of the pepperoni, cheese, and sauce without overpowering them. The Pinot Noir will help cut through all those heavy toppings while still providing enough flavor to enhance each bite.
Beer Pairing: Victory Golden Monkey
Chicago is famous for its deep-dish pizza. This is a perfect pairing with a rich and robust beer like the Victory Golden Monkey. The Golden Monkey is brewed with pale malt, caramel malt, wheat malt, roasted barley and noble hops. This beer has a beautiful golden color with a creamy white head. It has complex malt flavors of caramel and toffee, with hints of chocolate and smokey roasted barley. It finishes with a rich hop bitterness that lingers on your tongue for a long time after drinking this beer.
The perfect pairings for this type of pizza are beers that have a heavy dose of hops but still maintain some sweetness. These beers will cut through the fat and richness while still providing enough flavor to stand up to the heavy toppings on your deep dish pie.

Cauliflower crust vegetarian pizza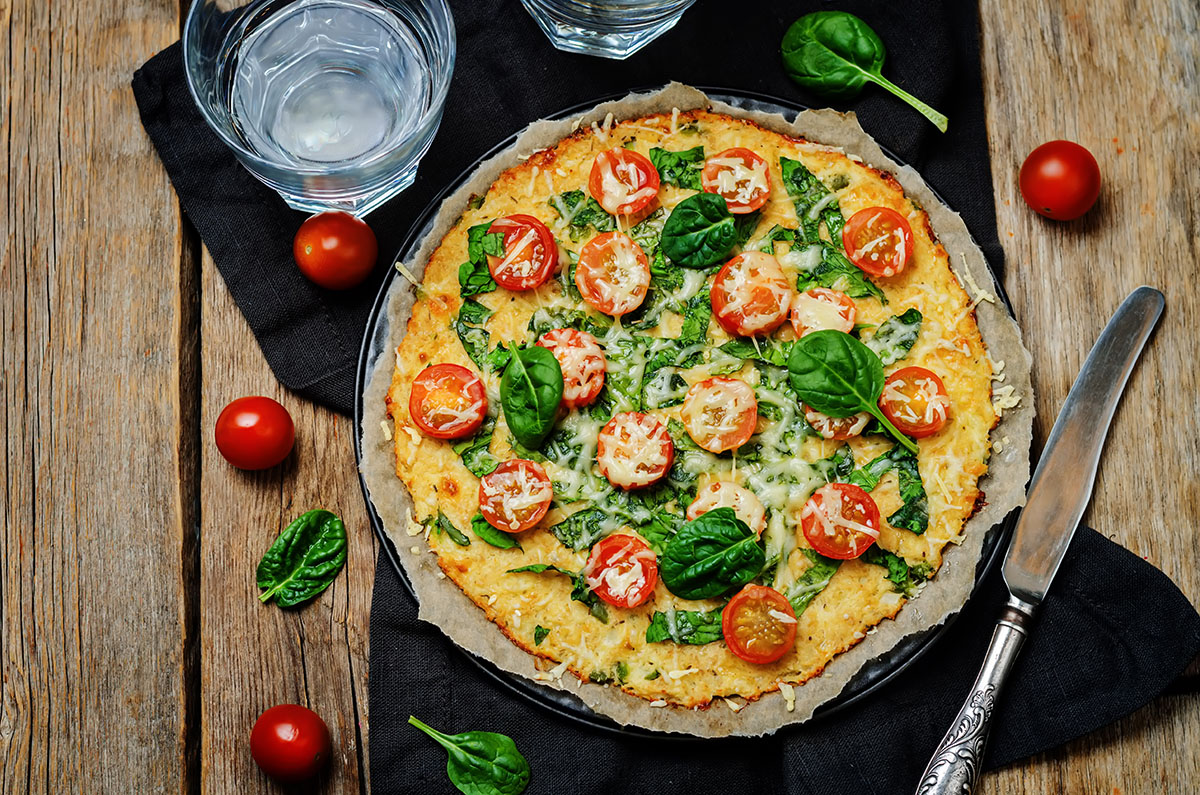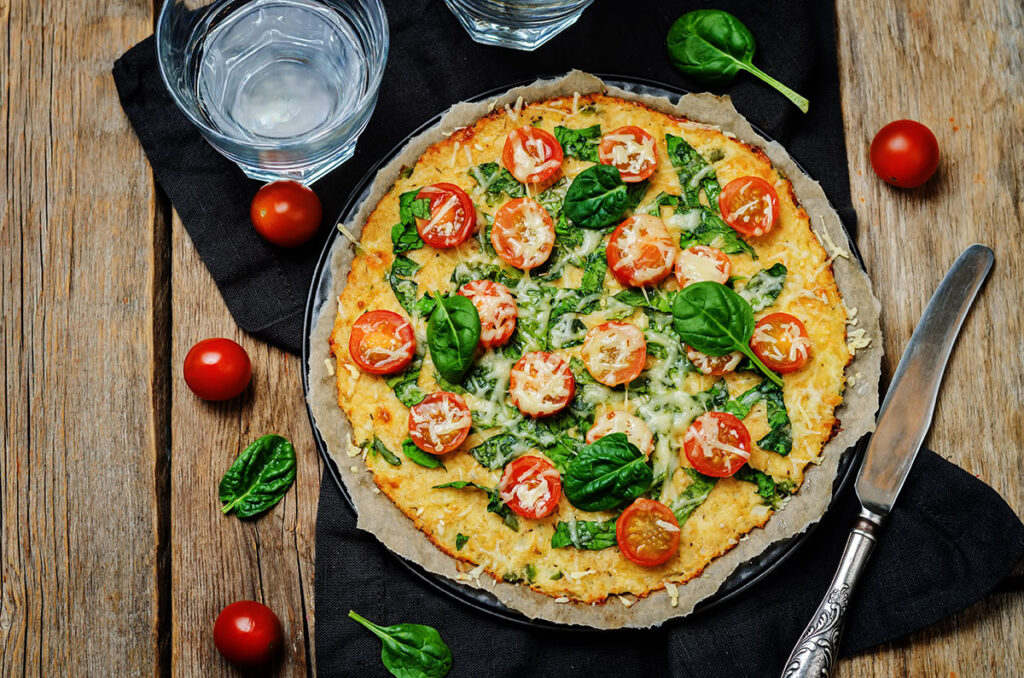 This cauliflower crust vegetarian pizza is the perfect marriage of two favorites—pizza and cauliflower. The two come together to create an unforgettable taste that will have you coming back for more. Pair it with a glass of wine or a beer, and you have yourself a meal. It's light and fluffy. It's topped with a rich tomato sauce and fresh mozzarella cheese. Pizza doesn't get any better than this!
This pizza pairs well with wine or beer. We recommend a red wine to complement the tomatoes and a white wine to go with the cheese.
Wine Pairing: Sauvignon Blanc
Sauvignon Blanc is a versatile wine that pairs well with many different foods. Its crisp acidity makes it an excellent choice for pairing with pizza, so you don't have to worry about it overpowering your vegetarian meal. The wine's fruity notes are sweet and refreshing, which help bring out the natural sweetness of the cauliflower crust.
To get the most out of this pizza, pair it with Sauvignon Blanc. The acidity of this wine will cut through the richness of the pizza while still complimenting its deep flavor.
Beer Pairing: Pale ale
A pale ale is the perfect beer for pairing with a cauliflower crust vegetarian pizza. The flavors of the ale complement each other, and they both have a bitter edge that will make your taste buds sing. Pale ales are "session beers" because they're low in alcohol content, typically 4–5% abv. Which means you can enjoy more than one or two without getting hammered or feeling bloated.

Sicilian pizza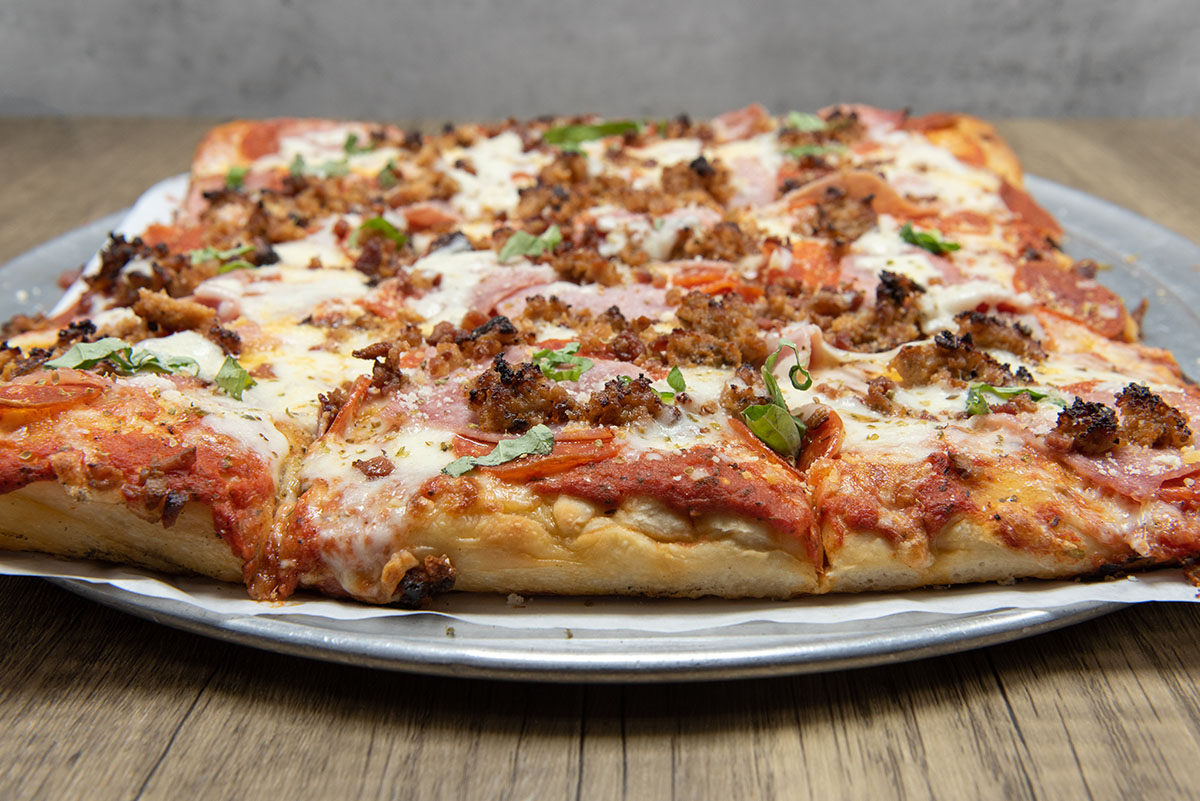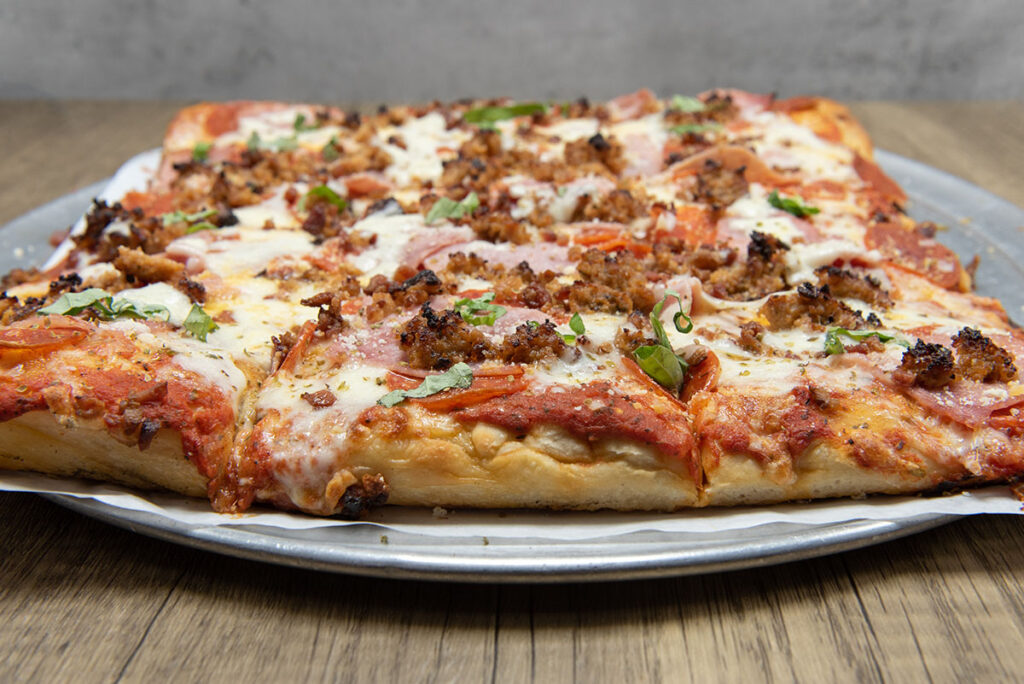 Sicilian pizza is like the original pepperoni pizza, but with a little extra meat thrown in for good measure. It's got a strong tomato sauce base that goes well with any kind of white or red wine. You make this pizza with a thin crust that's crispy in all the right places. It's topped with fresh tomato sauce and mozzarella cheese, so it's not too heavy. We recommend pairing it with a Malbec or Pinot Noir—something that will stand up to the bold flavors of the sauce and cheese without overpowering it.
Wine Pairing: Malbec
Malbec and Sicilian pizza are the perfect pairing. Malbec is a wine that's made in Argentina. Deep in color and taste, this wine will compliment the deep red sauce on your Sicilian pizza. The wine also has hints of black cherry and plum, which will go well with the sweetness of the sauce. The wine has a rich, deep flavor that pairs perfectly with the earthy taste of the pie, while the pizza adds a bit of sweetness to balance out the wine's bitterness.
Beer pairing: Porter
Sicilian pizza is the perfect pairing for porter, an English style of beer with a rich, dark color and a roasty aroma. The combination is simple: you can pair your Sicilian pizza with a porter because both are classic, traditional foods that have been around for centuries.
Porter is a dark ale that was originally brewed in England in the 18th century. They used it as a way to preserve malt during periods when there was not enough barley available to brew beer. Origianlly called porter because it was brewed by workers who carried heavy loads through London's streets. They needed something strong enough to help them get through their long workdays!
This type of pizza is made with a thin crust. And is usually topped with tomato sauce, mozzarella cheese, and oregano. The crust is crunchy on the outside and soft in the middle, with a savory flavor that makes it a perfect pairing for any type of beer or wine.
New York-Style Pizza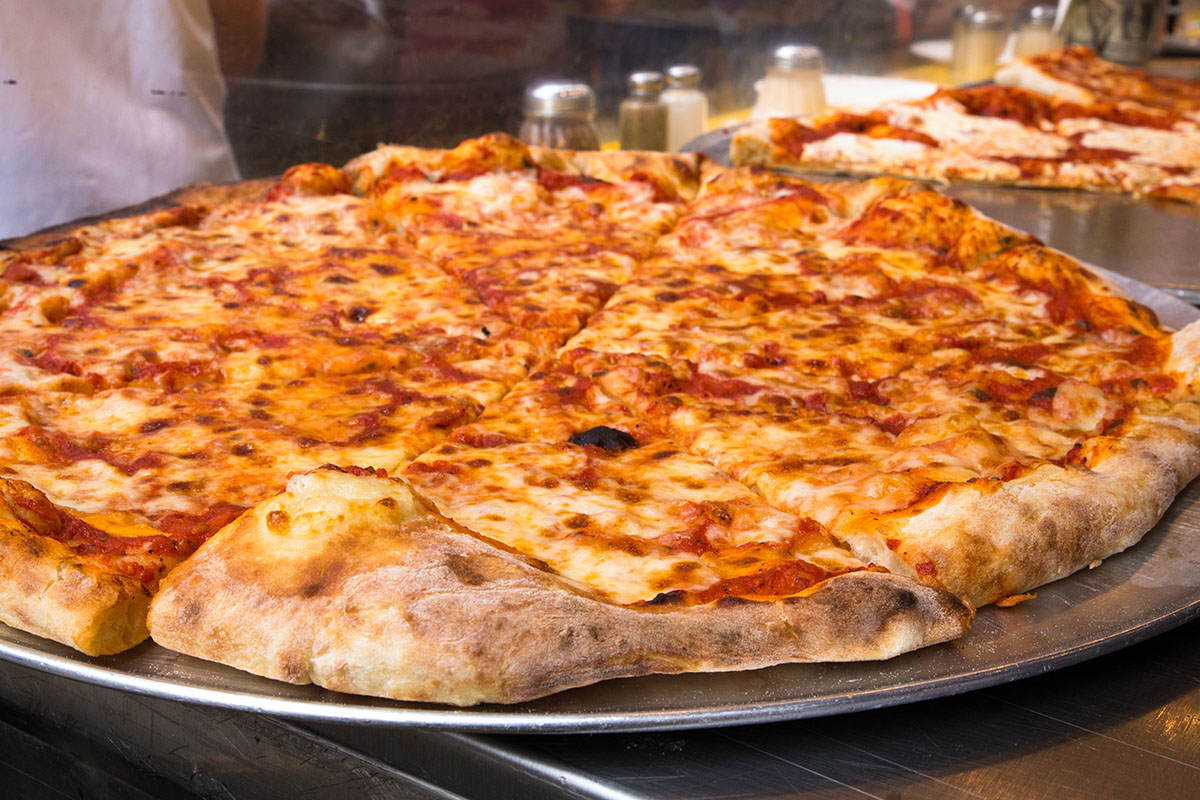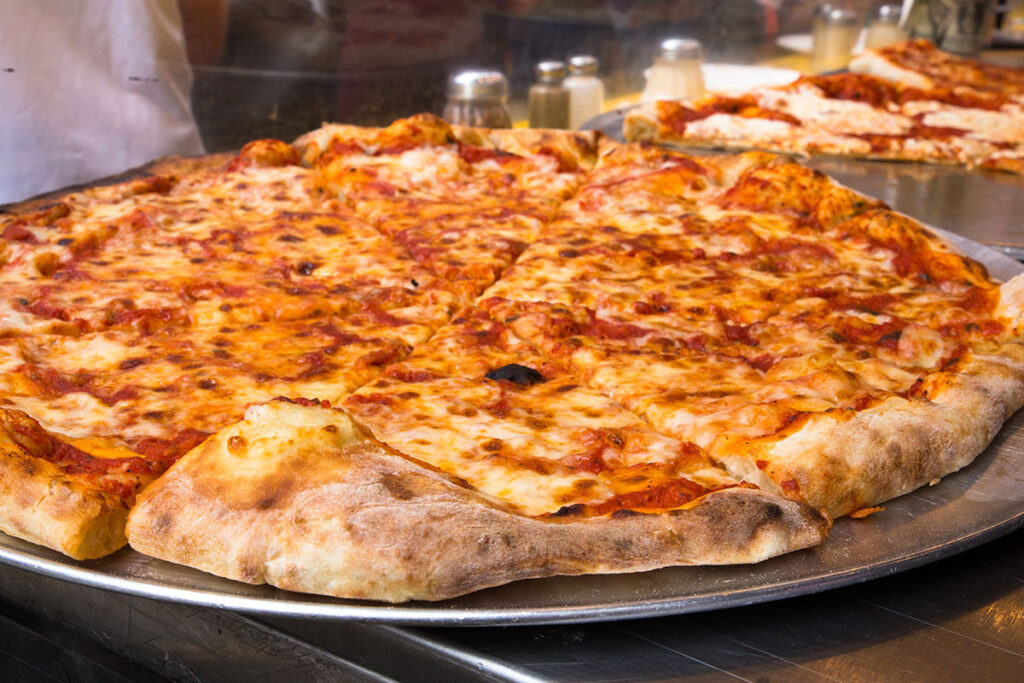 You can enjoy New York-Style Pizza as an appetizer or main dish. You can also serve it as an accompaniment to other foods such as salads or pasta dishes. It is convenient for both casual dinners at home or special occasions at your favorite restaurant.
Wine Pairing: Zinfandel
Zinfandel is made from a blend of grapes that were originally bred in Croatia. They grow in California successfully. And have done so for over 150 years. They're usually dark in color and have notes of blackberries and plums—the perfect complement to New York-style pizza!
This is a match that we love. The zesty, fruity flavors of Zinfandel pair beautifully with the savory cheese, tomato sauce, and garlic on your pizza. The tannins in the wine will help cut through the fat of the cheese and make this a meal that you won't be able to resist.
Beer Pairing: Stout
A stout is the perfect complement to this rich, flavorful pie. With its dark color and full-bodied flavor, a stout will cut through the richness of the cheese while still allowing the tomato sauce and crust to shine. It also has enough body to stand up to the thick crust of a New York-style pizza without overwhelming it with bitterness or heaviness.
Stout is a dark beer made with roasted barley. This gives it a slightly bitter taste that pairs perfectly with the tomato sauce on New york pizza. They often use it as the base for spicy sauces in Indian cuisine. The bitterness will help cut through the spice.
Summary
The best pairing for pizza is beer, followed by wine. The most important thing is to pick a beer or wine with some acidity that cleanses your palate. A lot of people just grab a Pilsner beer and say, "Hey, it's my favorite beer." That's not going to cut it when you're eating pizza because you're going to overload with the saltiness and the fat of the cheese. I think you'll find this a helpful guide if you're thinking of pairing pizza with beer or wine. It touches on the importance of using cheese for optimal flavoring. And providing tips for the best possible pairings between your favorite wines and beers.
Some of the links in this article are "affiliate links". By using the affiliate links, you are helping support AllForPizza.com, and we genuinely appreciate your support. Please see our privacy policy for more info.