Check out this low-carb, gluten-free, cauliflower crust pizza! The crisp cauliflower crust has a subtle flavor and delectable texture. Plus this one is 100% vegetarian and keto friendly.
The melted cheese, chewy mushrooms, juicy grape tomatoes, and fragrant basil leaves make your mouth drool with every bite. This cauliflower crust pizza is a must try. Give your taste buds a break from heavy, classic pizza dough. And experience the freshness that this cauliflower crust has to offer.


Ingredients
Cauliflower crust is much easier to make than expected. And all the ingredients are readily available at your local grocer.
Cauliflower
Salt
Mozzarella Cheese
Fresh Parmesan
Feta Cheese
When choosing your cauliflower, be sure to find a nice large one. Any color will suffice, as long as you dont mind a purple or orange crust. Alternatively, you may use frozen, riced cauliflower.
The fresher the shredded mozzarella cheese the better. Be sure to get a nice block of low moisture cheese. This will allow quick shredding, and much better melting.
Aged parmesan is a staple in Italian food. If you can, get a nice wedge from your deli section. Then shave it with your cheese grater to get nice fine shreds.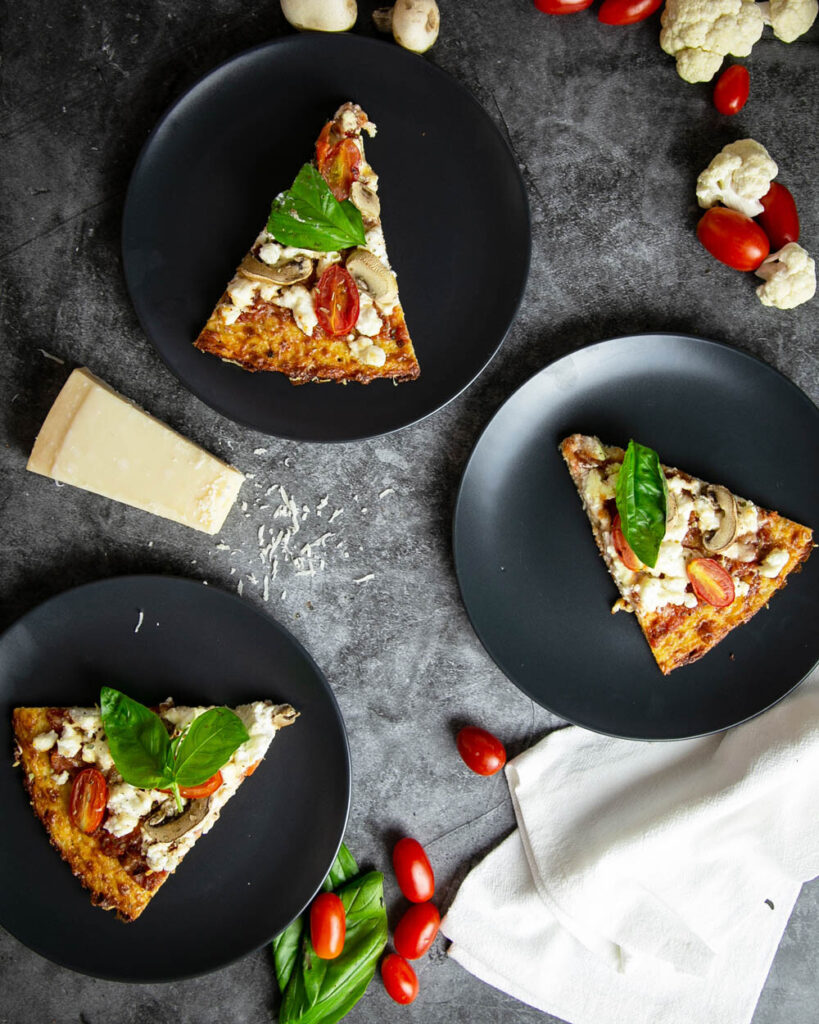 Cauliflower Pizza Topping ideas
Besides the pizza sauce, you may use pesto or marinara sauce on your cauliflower crust pizza. Also, you can try any choice of toppings. This could include:
Feel free to add some meats to the pizza for some protein.
Cauliflower Pizza Notes
A large head of cauliflower yields about 3 cups of cauliflower rice. You can store the leftover in the fridge to last a week and make another pizza. Next time try to mix it up with different toppings.
If using a pizza oven, first bake the crust for 18-20 minutes on a low temp. Then, after adding the pizza toppings, bake again for 5-6 minutes.
Cauliflower could be one of the best pizza crusts. It's different and inventive. Not to mention extremely flavorful. Be sure to add this to your next pizza party. If cauliflower isn't your thing, but your still on a low carb diet, give the keto pizza a try.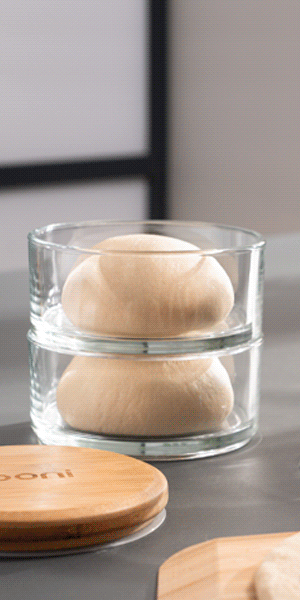 Store and Reheat
Wrap up each pizza slice in cling film. Place them in an air-tight container and store in the fridge to last up to a week. The pizza will last up to 3 months in the freezer.
To Reheat, place the baking sheet or pizza stone in the oven & preheat to 375° F. Then carefully place the cauliflower crust pizza on the hot baking sheet. Finally, bake for 5-10 minutes at 375° F.
You can also use the air fryer or toaster oven to reheat this pizza. Avoid using a microwave as it will leave the crust soggy.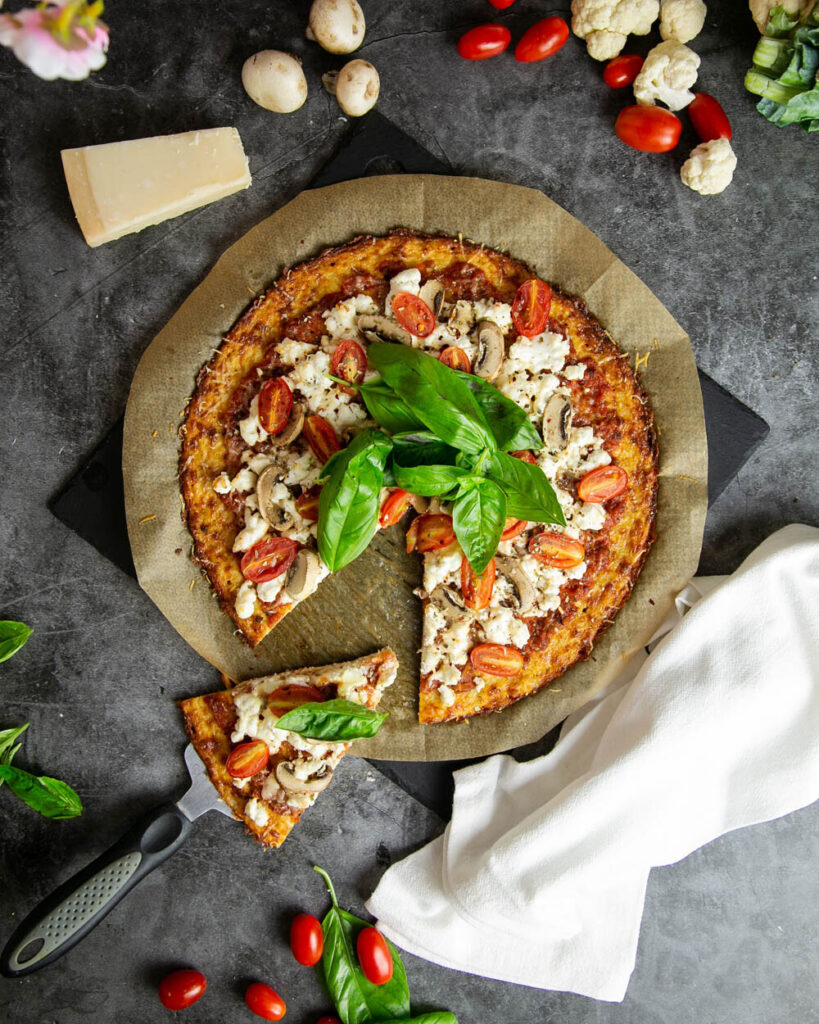 How to make cauliflower crust pizza
We made this recipe very easy. Just make the crust and your set. No sauce to make, no toppings to prepare. Follow these simple steps to make this delicious cauliflower crust pizza.
Prepare the crust – Chop and cook the cauliflower in an inch of boiling water. Remove to a towel and ring on the excess water. Place the cauliflower into a food processor and pulse into a small, grainy texture. Pour the cauliflower into a large bowl. Add the cheese, egg and salt and mix well. Form a dough ball.
Assemble your pizza – Spread the dough into a pizza pan lined with parchment paper. Bake the cauliflower pizza crust at 425 degrees F for 18-20 minutes. Remove and top your pizza with cheeses, mushrooms, and tomatoes. Bake again for 8 mins or until the cheese melts and the crust is golden brown. Enjoy!
Cauliflower Crust FAQ
Is a cauliflower pizza crust healthy?

In our opinion, Cauliflower pizza crust isn't really much healthier than a slice of classic pizza. However, it does carry some benefits. This pizzas crust is high in fiber and protein. Both of which are great for your diet. You can read more here on healthline.
Does a cauliflower pizza crust have carbs?

Yes. Our cauliflower crust pizza has about 18 carbs per serving. That is roughly half of what a typical pizza crust would have. Thus making this pizza a low carb alternative to a regular crust.

Can I eat cauliflower pizza on keto?

With 1 serving containing only 18 grams of carbs, cauliflower pizza is keto-friendly. Just be sure to eat your pizza in moderation in order to stay within your carb limit.
Some of the links in this article are "affiliate links". By using the affiliate links, you are helping support AllForPizza.com, and we genuinely appreciate your support. Please see our privacy policy for more info.