Lángos is a crisp pillowy Hungarian deep-fried bread. This recipe follows the classic topping of garlic oil, sour cream, and cheddar. You get a burst of garlic taste, silky creaminess, and soft cheese on every bite.
Lángos or Lángosh is derived from 'Láng,' meaning 'flame' as it was traditionally baked in clay/brick ovens as a breakfast bread. It evolved as a popular deep-fried Hungarian street food. It is relished in the markets, sold out of food trucks, and served at fairs. The dish doesn't have a clear origin story. Some believe Turkish folks introduced it in this region, while others find similarities with Rome's focaccia bread.
Lángos tastes incredible, both with savory and sweet toppings. The savory version has a wide range of veggies, meat, and cheese toppings. The sweet version with sugar and cinnamon tastes a lot like churros!


Ingredients
Lángos is an easy recipe requiring few readily available ingredients. Here's a list of what you'll need.
All-purpose flour
Whole milk
Yeast
Garlic oil
Sour cream
Cheddar cheese
All-purpose flour works well. To achieve the exact light bubbly texture, tone must sift the flour. Additionally, the dough should rest for at least 30 minutes. And the dough balls should be stretched right before dropping them in the hot oil.
The whole milk should be lukewarm to bloom the yeast. If the milk is too hot, it'll kill the yeast. To warm the milk, microwave it on high for a minute.
Always check the expiration date of the fresh yeast. If expired, it will not bloom, and the dough will not rise.
Brushing garlic oil on Lángos is common. The key flavoring ingredient is garlic. Hence, you may cut a garlic clove in half & rub it directly or use garlic butter instead.
Sour cream adds a layer of creamy tart deliciousness to this crisp deep-fried treat. This recipe uses cheddar cheese. It is best to shred the cheese at home and top it while the Lángos is warm. Thus, melting the cheese partially and making it super yummy.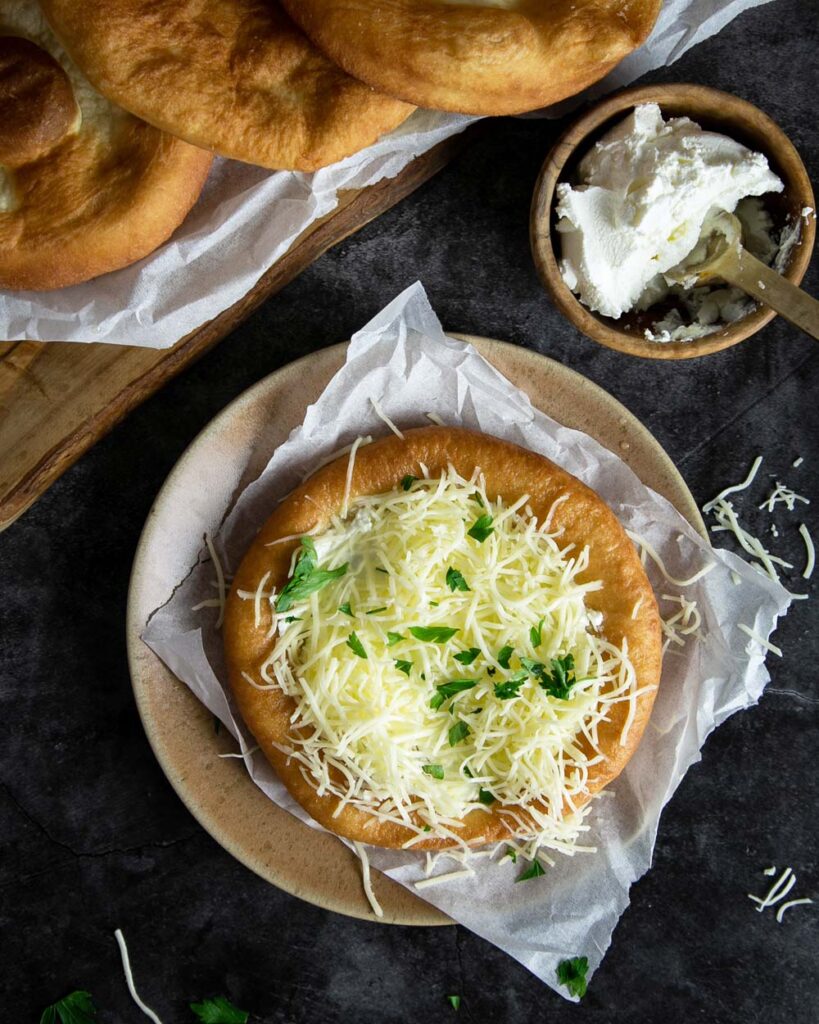 Lángos Substitutions
All-purpose flour may be substituted with wheat flour. You can also buy pre-made pizza dough instead. Those who are lactose intolerant can substitute the milk with warm water.
For herbaceous & spicy taste, skip the sugar and add a tablespoon of dried oregano and paprika, plus a teaspoon of crushed black pepper.
In place of cheddar, you can use Gouda, Gruyère, Quark, or Emmenthal cheese. A paprika-flavored cheese spread called "Liptauer" is a favorite among the locals.
For a rich flavor, fry the Lángos in lard, butter, or clarified butter. The semi-soli soft creamy lard is made from pig fat, while clarified butter/ghee is extracted from cow/buffalo milk. To check if the lard is perfectly hot for frying, dip in the handle of a wooden spatula. If you see bubbles rising, then you can start frying.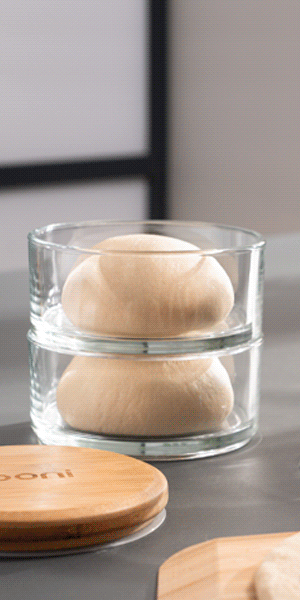 Lángos Notes
You can throw in various ingredients such as sour cream, egg, or yogurt to the dough. This will add more flavor and boost the texture. The dough containing mashed potatoes is known as Potato Lángosh.
While you need the oil to be hot, constantly keeping the flame on high might make the oil too hot and burn the bread. So keep watch and reduce heat to medium from time to time.
Store and Reheat
You can prepare the dough in bulk and divide it into 3 1/2 oz balls. Wrap each dough ball separately in foil, keep in an airtight container, & store in the fridge to fry the next day.
To store fried Lángos, let them cool before transferring them to a zip-lock bag. Keep in the fridge and consume within 1-2 days. Keep in the freezer to store for 6 months.
To reheat leftover Lángos, lay them on a baking sheet. Bake them uncovered for 10 minutes in a preheated oven at 350° F. For frozen Lángos, preheat the oven to 425° F and reheat on the rack for 7-10 minutes.
How to make Lángos
1. Make the garlic oil – Combine the crushed garlic with salt, water, and oil. Set aside for an hour.
2. Prepare the dough – Bloom the fresh yeast in a lukewarm milk-sugar mixture. Pour it on the sifted flour and salt in the food processor. Knead for 8 minutes beginning at high speed and moving on to low speed. Coat the dough with oil, cover it, and double-rise it. After the first 20 minutes rise, divide the dough into 4 parts, and let it rise for 15 more minutes.
3. Fry and serve – Heat oil on a pan. Stretch a dough ball using your hands, keeping the center thin and the edges thick. Release in oil carefully and fry for 2½ minutes (flip after 1½ minutes). Remove in a dish lined with paper towels. Serve by brushing garlic oil, spreading sour cream, and topping with shredded cheddar cheese.

Lángos FAQ
Which oil should be used for frying Lángos?

The oil has to be 375° F hot before frying Lángos. Therefore, any neutral-tasting oil having a high smoke point would work excellently. For example- canola oil, olive oil, safflower oil, and avocado oil are good choices. Some prefer frying Lángos in sesame or coconut oil which infuses a delicious nutty flavor.
What sweet and savory toppings are added to Lángos?

For savory toppings, you can try onions, olives, pickled peppers, sautéed cabbage, ham, sausage, mushrooms, roasted veggies, eggs, or bacon. For sweet toppings, brush the Lángos with melted butter, sprinkle confectioners' sugar & ground cinnamon. Melted chocolate, Nutella, and jam are yummy as well.
Which beverages go best with Lángos?

Commonly, Lángos is enjoyed with a warm or chilled beer. The Whitefrontier pillows wheat beer is a great pick. Aged Champagne with bready toasty notes like "tirage" also pairs well. As for wines, go with the white grape wine "Riesling," which has beautiful acidic and subtle sweet notes. "Furmint" is another good choice.
Some of the links in this article are "affiliate links". By using the affiliate links, you are helping support AllForPizza.com, and we genuinely appreciate your support. Please see our privacy policy for more info.