Dig into the freshly baked Filipino style adobo chicken pizza. Its airy hand-stretched crust is topped with juicy chicken chunks that fill the taste buds with sticky sweet, salty, tangy, and sour flavor bursts. The sweet onion and spicy serrano rest on a bed of creamy melted mozzarella and laguna cheese. Amidst the hot cheese, vinegar, and soy aromas, the palate experiences the fruity tomatoey zing and savory garlic of the unique adobo sauce. The scallions offer a sharp, refreshing bite.


This pizza is created using Philippine's beloved chicken adobo. It is a celebration of culinary history, which goes back to 3000 BC when Malay voyagers taught Filipinos how to cook proteins in vinegar and salt. The Chinese traders brought in soy sauce in the 9th century. Later, in the 16th century, Spanish colonists noticed that the indigenous Philippines' marinade or sauce was like theirs and called it 'adobo.' Yet, unlike the spicy Spanish sauce, Filipino adobo sauce has a more vinegar flavor.
Filipino adobo chicken pizza is a modern fusion of centuries old Philippines adobo chicken with Italian pizza. To enjoy more such fusion recipes with family and friends, gorge on the barbeque chicken pizza, butter chicken pizza, peri peri chicken pizza, and tandoori chicken pizza!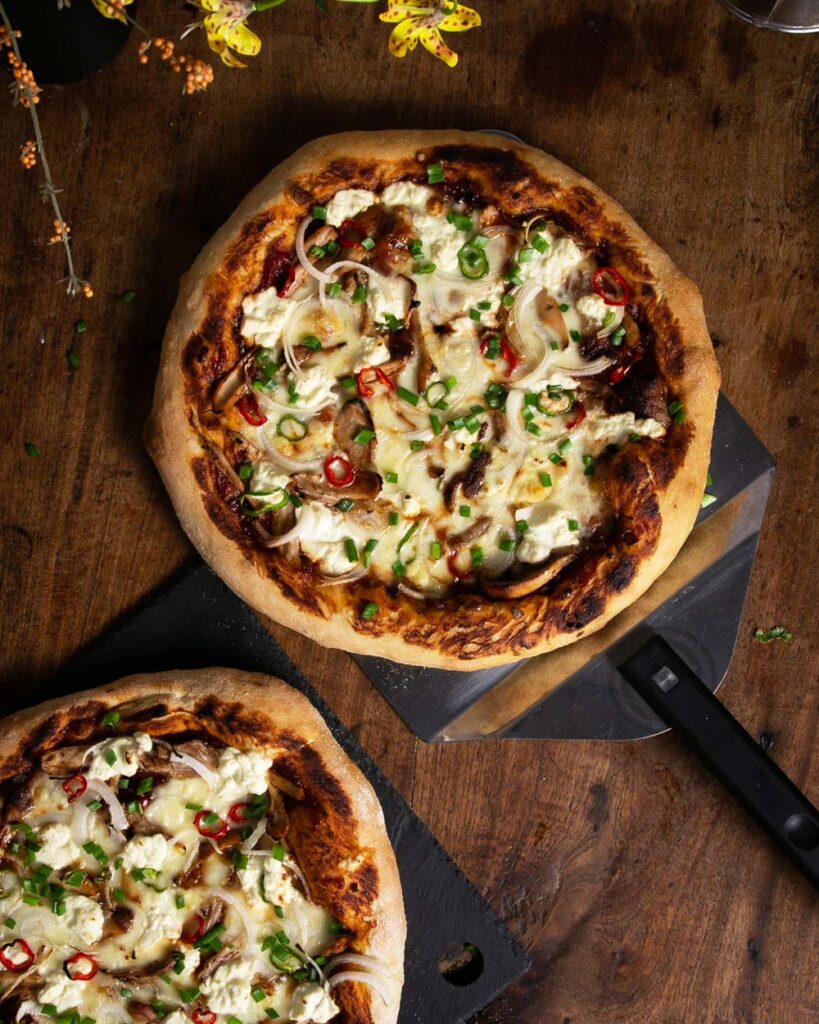 Ingredients
Listed below are the ingredients necessary for making Filipino adobo chicken pizza. You may have to check the Asian market to get some specific items.
Bread flour
Chicken
Cane vinegar
Soy sauce
Brown sugar
Black pepper
Tomato sauce
Onions
Serrano
Laguna cheese
Mozzarella
Scallions
Bread flour yields a soft well-risen dough that bakes into a fluffy and delicious crust.
This recipe uses chicken drumsticks. The bone-in pieces with skin cook into a moist, tender, and flavorful chicken. Therefore, avoid using boneless chicken. You can also use chicken thighs.
This recipe uses Filipino cane vinegar. The cloudy whitish vinegar has a smooth, sweet & milder flavor than white vinegar.
The Filipino soy sauce has a sweeter and richer flavor. This gives the chicken and the sauce its authentic taste.
Brown sugar sweetens the adobo chicken sauce balancing the sour and salty flavors appetizingly. You can add more or less as per your taste preference. Black pepper infuses a subtle warm heat into the adobo chicken.
Canned tomato sauce is unseasoned cooked tomato puree. If using fresh tomato puree, skip adding salt, as the adobo sauce is salty enough. Sliced onion topping offers a sweet soft bite.
The bright green or red serrano pepper adds spicy heat. You can roast them for a smoky, rich earthy flavor. If you prefer milder heat, then use jalapeno peppers.
Laguna cheese or kesong puti is an unaged white Filipino cheese. Made using unskimmed carabao milk, its soft texture is similar to fresh mozzarella or cottage cheese. This salty cheese has a tang of white vinegar or rennet.
Fresh mozzarella's exclusive milky, sweet, and mild taste complements the pizza. Scallions offer freshness to this chicken pizza. If you don't find fresh scallions, you may skip the garnish.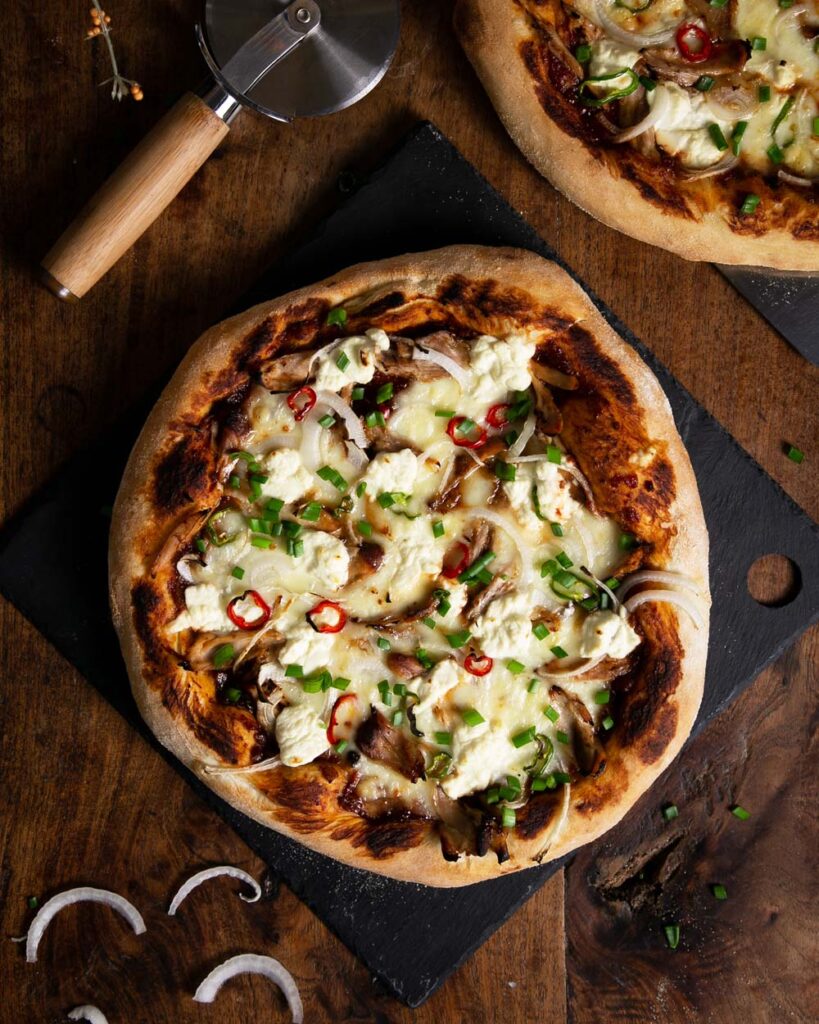 Substitutions
Go ahead and buy pre-made pizza dough to simplify your task. You can choose from various pizza doughs/bases such as whole wheat, sourdough, Neapolitan-style, gluten-free, and many more.
Instead of chicken, you can also make Filipino-style pork adobo. Rice vinegar, apple cider, and coconut vinegar are good alternatives for cane vinegar. Other cheese combinations like mozzarella and cheddar or fontina and goat cheese can be used.
Adobo chicken pizza Notes
When using a pizza stone instead of a baking tray, preheat the oven to 475° F and bake for 15 minutes.
This adobo chicken pizza tastes delicious with a drizzle of Jufran on top. It is a sweet Filipino sauce popularly known as a banana sauce/ketchup.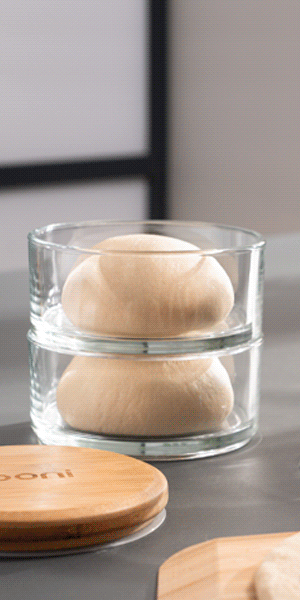 Store and Reheat
You can store the cooked adobo chicken in the fridge for up to a week. To store leftover pizza slices, stack them while placing parchment paper between each piece. Wrap tightly with cling film and store in the fridge. Consume within 2-3 days.
To reheat, brush oil on a standard non-stick pan and heat it on the stove over a medium-low flame. Place a leftover pizza, crust side down, and cook it for 2 minutes on medium-low heat. Drizzle 2-3 drops of water, cover the pan and cook on low heat for a minute.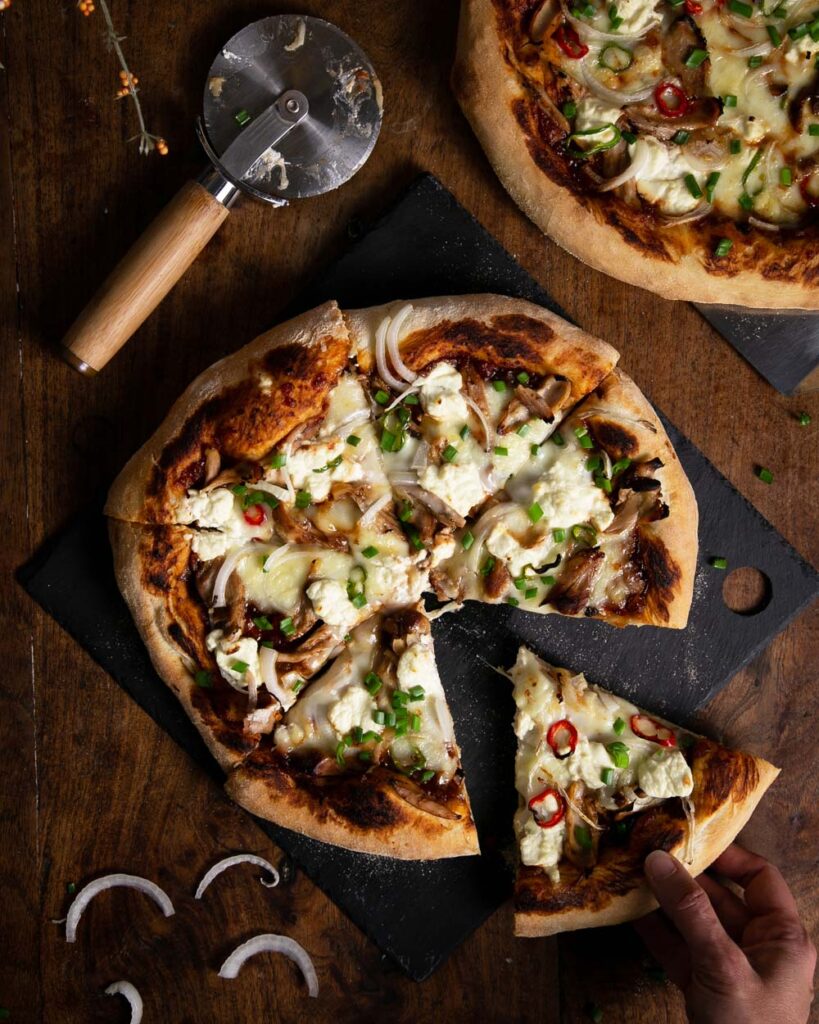 How to make Filipino-style adobo chicken pizza?
Make the dough – Add the wet ingredients followed by the dry ingredients into the bread machine pan. Close the lid and press the dough settings.
Prepare the chicken adobo – Sear the salt-pepper-coated chicken drumsticks in hot oil and remove them into a dish. Sauté the garlic. Add the seared chicken and the remaining ingredients. Mix well, let it come to a boil, then cover, and simmer for an hour. Remove the cooked chicken into a dish and shred it while discarding the skin and bone.
Prepare the pizza sauce – Remove the bay leaves from the adobo sauce and mix an equal amount of tomato sauce.
Assemble and bake – Divide the dough, pizza sauce, and toppings into two equal parts. Roll the dough and place it on a lined baking sheet. Spread the sauce and add the toppings. Bake in the preheated oven for 20-25 mins at 425° F.

Adobo chicken pizza FAQ
Which wine goes best with this pizza?

Riesling pairs beautifully with this Filipino adobo chicken pizza. This dry sweet acidic white wine has a freshness that goes well with Asian spicy and zingy flavors. Various medium-bodied light red wines like Pinot Noir, Chianti, and Dolcetto are excellent choices too.
Can the chicken be marinated before cooking?

Yes. Marinating tenderizes the meat, helps it absorb the flavors better, and keeps it moist. Mix the vinegar, soy sauce, brown sugar, bay leaves, black pepper, and salt in a large bowl. Marinate the chicken drumsticks for 30-60 minutes or overnight.
Can any soy sauce be used in the chicken adobo recipe?

No. Filipino soy sauce has a distinct rich sweetness. It can be substituted with Chinese or Japanese soy sauce. Best use half of the Chinese/Japanese light soy sauce and half dark soy sauce. Avoid using Thai soy sauce as it is too light and will not infuse the rich color and flavor, which is the highlight of adobo chicken.
Some of the links in this article are "affiliate links". By using the affiliate links, you are helping support AllForPizza.com, and we genuinely appreciate your support. Please see our privacy policy for more info.