Tuck in your napkins & get ready to gorge on this crisp Mexican pizza recipe delight! It's going to get messy, but you're gonna love it! The two-tiered vibrant meal is packed with flavors and textures! The bottom layer is filled with the sweet earthy creaminess of refried black beans. Then caramelized savory meat seasoned appetizingly. The top layer has the classic spicy Mexican enchilada sauce and Mexican cheese blend. And the crunchy tortillas hold everything together!
This crisp Mexican pizza delight has a quesadilla vibe. The juicy tomato & spring onion garnish adds a welcoming freshness. The secret to eating this pizza is- "Don't Wait." It tastes the best right out of the oven while crisp. The longer it sits, the soggier it gets!


Options for Mexican Pizza
Other than ground beef, you may use any ground meat for this recipe. This includes ground turkey, pork or chicken. If you don't have the individual spices, use about 1 Tablespoon of Taco seasoning. Mexican chili powder is quite hot. If you want to tone down the heat, use cayenne pepper or smoked paprika.
Instead of frying & baking the tortillas, you could air fry them. It will still get that crispy texture without the grease from frying. It will take approximately 5 mins to air fry the tortilla. Though originally prepared with flour tortillas, you can substitute with corn tortillas. This will add an extra crunchy bite to your Mexican pizza.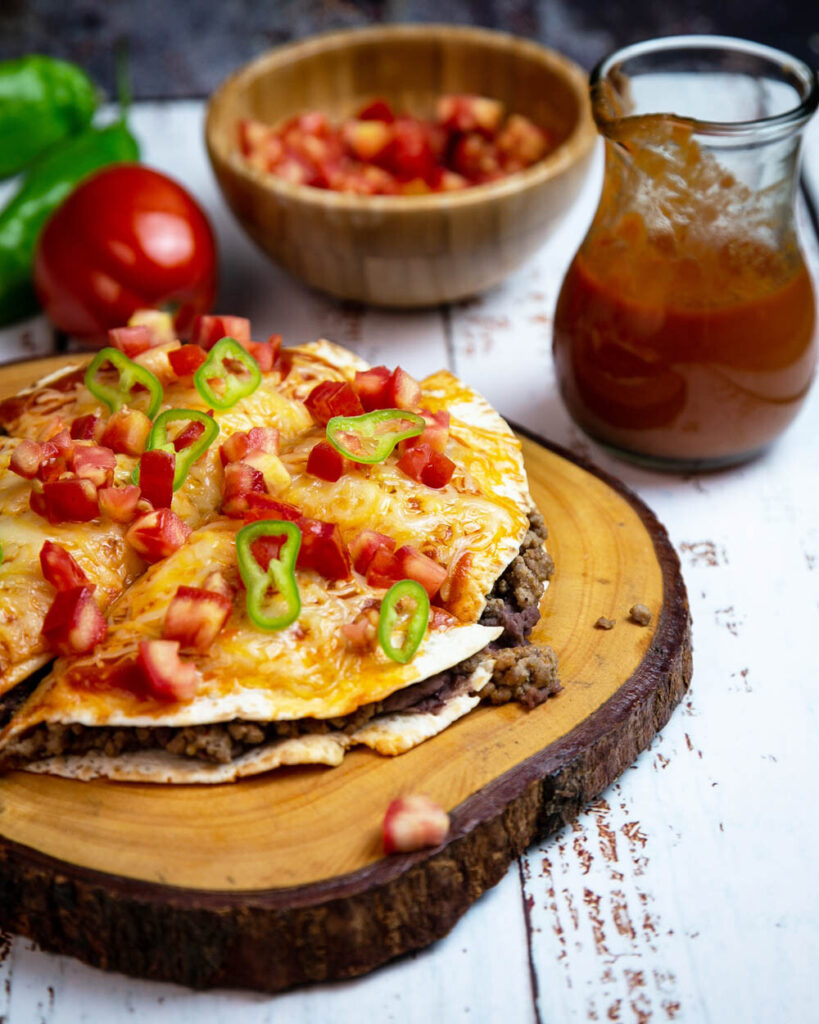 Mexican Pizza Notes
You can make your own Mexican cheese blend. It contains 4 types of cheese. Monterey Jack, Cheddar, Asadero, & Queso Quesadilla. It is popularly used in Southwestern & Mexican cuisines.
Along with tomatoes & spring onions, you can top Mexican pizza with sliced black olives and Serrano peppers. Then spread some sour cream and fresh cilantro. These new favors will throw a party for your taste buds!
Rather than using tortillas, you can prepare the Mexican pizza using homemade pizza dough. First, roll out the dough, and transfer it to a pizza peel. Spread the refried beans followed by the enchilada-tomato sauce. Then sprinkle the cheese, and evenly distribute the prepared meat. Add some more cheese on top and bake for 10-15 minutes at 450 F. Serve the pizza topped with chopped tomatoes and spring onions!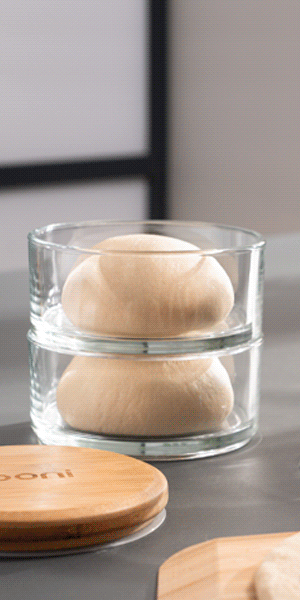 Store and Reheat
You can store the leftover pizza in an airtight container in the fridge. It will last for about 2 days. When storing leftover pizza in the freezer, each slice needs to be double wrapped. First with a cling film and then with foil. They will last for 2 months.
You can reheat the stored pizza in the oven or microwave. When reheating in the oven, it takes about 5-10 minutes at 350° F. When reheating in the microwave, it takes 30-45 seconds. Remember to defrost the frozen pizza slices before reheating!
On the other hand, you can prepare the meat, sauce, and chop up the fresh toppings. Then store them separately in the fridge. This way you can quickly fry & bake some tortillas. Just assemble the pizza, and enjoy a snack or meal within minutes.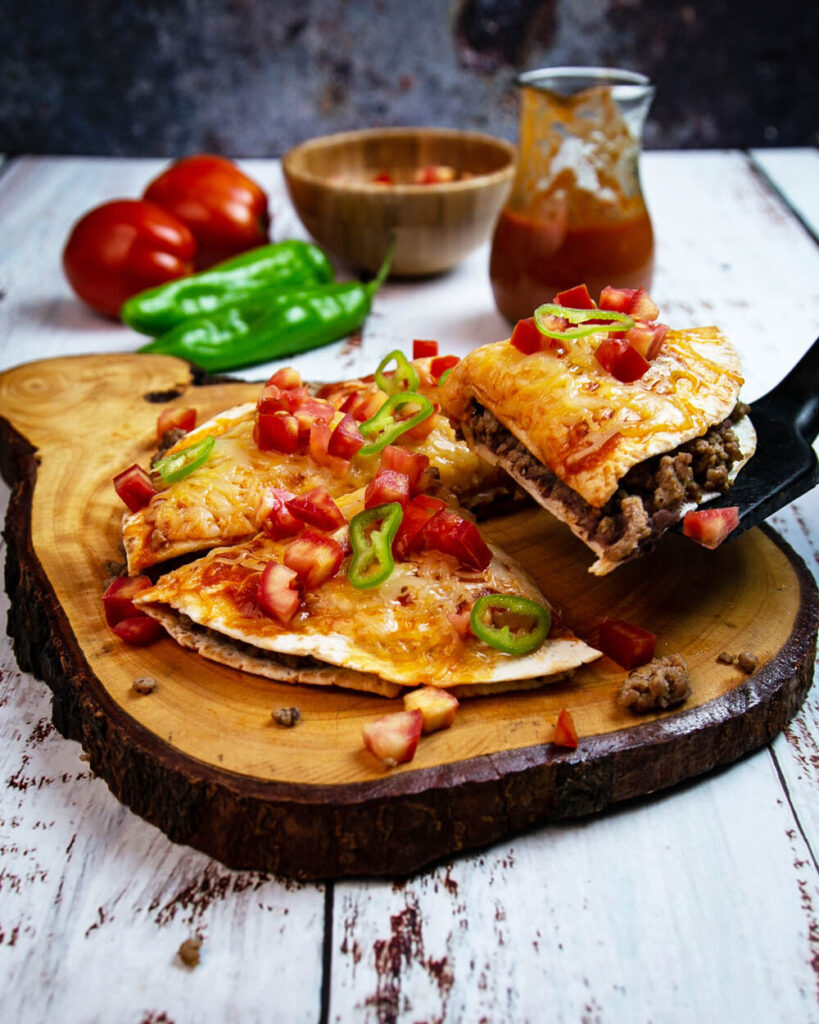 How to make Mexican Pizza
Making a Mexican pizza is very easy. Follow these easy steps to make it better than taco bell.
Prepare the toppings – Cook the beef over a medium-high flame for a few minutes. Once browned, add in your seasonings. Reduce heat and cook for an additional 10 minutes on medium-low. Transfer to a bowl to cool. Add your enchilada sauce to a small saucepan along with your tomato paste. Combine and simmer for 3-5 minutes. Remove and cool.
Make the tortillas – Heat some oil in a frying pan. Once hot, fry your tortillas for 1-2 minutes per side. Then place the tortillas on the middle rack of the oven for 4-5 minutes. Flipping once using tongs. Remove and set aside.
Assemble the Mexican pizza – Take 1 tortilla and spread the bean paste to cover it. Add on your ground beef then an additional tortilla. Appy your enchilada sauce and cheese evenly to the top tortilla.
Bake and enjoy – Place your mexican pizzas in the preheated 400 degree F oven. Bake for 2-3 minutes, or until the cheese melts. Top with fresh tomatoes and jalapeno's.

Mexican Pizza FAQ
How do you keep Mexican pizza from getting soggy?

Assemble and bake the pizza right before serving! Curb the urge to layer excessive meat or sauce. Fill just enough meat, and a thin layer of sauce is sufficient.
What type of crust is used in Mexican pizza?

This recipe, along with what we know as the original, is made with tortillas. And we like to use flour tortillas. When fried and baked properly, they create a nice sturdy base. They have a crispy texture without crumbling too much.

You could make this Mexican pizza on a New York pizza style crust. Just hand-toss some dough and add the toppings. This would be a fun feast for friends and family.
Is it hard to make Mexican Pizza?

Mexican pizza in not hard to cook. Simply sauté the ground beef with some seasonings while frying and baking the tortillas. This can all be done very easily and quick. Then spread a layer of refried beans on the bottom tortilla. Add the seasoned beef on top. Layer an additional tortilla on top of the beef. Finally top with your sauce and cheese blend. This process is not much harder than making a taco.
Some of the links in this article are "affiliate links". By using the affiliate links, you are helping support AllForPizza.com, and we genuinely appreciate your support. Please see our privacy policy for more info.