Deli style breakfast pizza is a feast to the eyes as well as the palate! The crisp brown baked crust with toasty sesame seeds on the cornicione creates an irresistible crunchy bite. The smooth velvety white cream cheese makes the vibrant toppings pop up appealing. You will taste a lemony zing, peppery warmth, and chives freshness in the cream cheese layer. The silky orange salmon slices offer a subtle fishy, salty, and smoky taste. The briny capers, fresh green dill, and red onions generate a satisfying play of textures.
This pizza is reminiscent of the "bagel and lox sandwiches" popular in New York. It originated somewhere around the 1930s. During that time, a trending dish had halved English muffins topped with hollandaise sauce, bacon/ham, and poached eggs. Jewish people were unable to consume it as per dietary law. Hence, they created an alternative with bagels, lox & schmear.


As the name suggests, the deli-style breakfast pizza is traditionally enjoyed as the first meal of the day. Yet, why restrain yourself from enjoying it for brunch, lunch, or dinner? Speaking of breakfast pizza, do try the classic bacon and eggs topping! For more sandwich/burger inspired delights, the Philly cheesesteak and cheeseburger pizza rank right on top.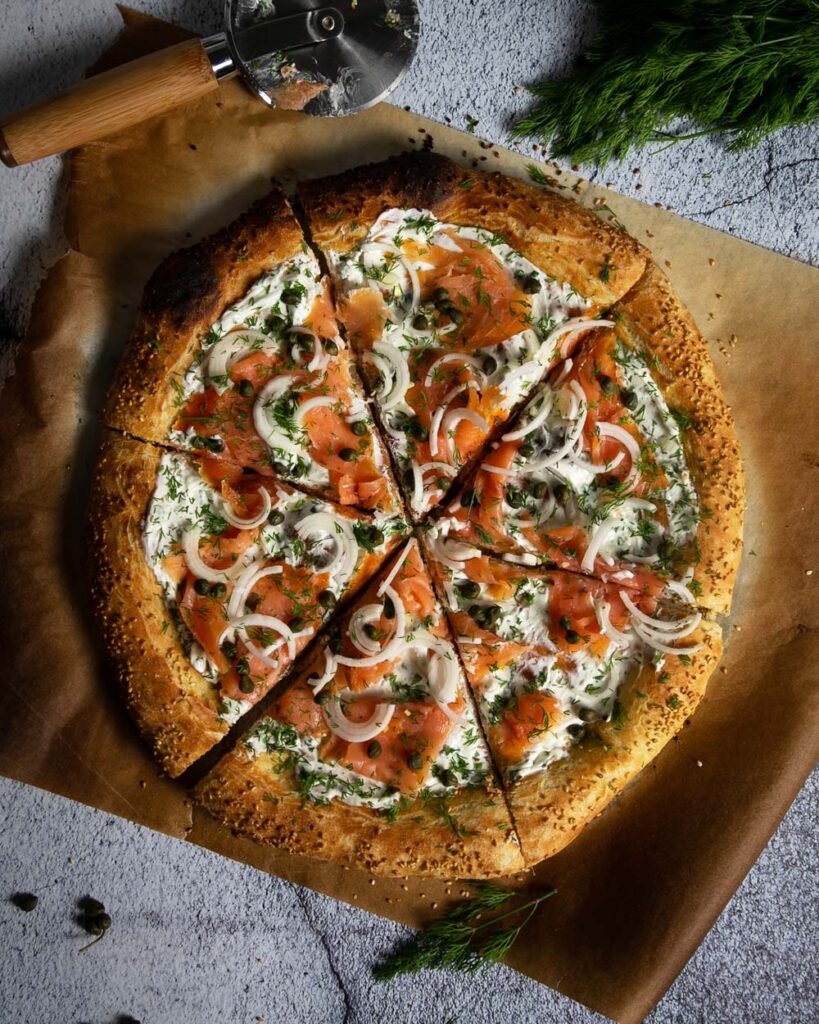 Ingredients
The following list of ingredients is needed to relish deli style breakfast pizza at home. Remember to check the refrigerated section of the deli when shopping at the supermarket.
All-purpose flour
Honey
Cream cheese
Fresh herbs
Lemon juice
Smoked salmon
Onion
Capers
Sesame seeds
All-purpose flour is a readily available wheat flour. You can also use bread flour for the pizza dough. The hint of honey sweetness elevates the crust appetizingly.
This recipe uses Philadelphia cream cheese. You may use any brand available; both full-fat and low-fat varieties taste delicious.
Dill and chives are a classic choice of fresh herbs often paired with smoked salmon. The feather-like dill sprigs have a grassy licorice taste. Chives have a mellow onion flavor. Lemon juice infuses a fresh acidity enhancing the cream cheese mixture.
Always opt for the soft-textured cold smoked salmon for this pizza topping. The thin slices often stick together, so you'll need a fork/knife to separate them. They are fully cooked & smoked; therefore, further cooking is not required. The hard-smoked salmon should not be used as it has a flaky texture.
The sharp pungent taste and crunch of red onion go well with the rest of the toppings on this breakfast pizza. While the tiny pale-greenish capers offer a fruity tart saltiness and soft bite that is similar to green olives. The sesame seeds get all toasty during the baking process giving the cornicione a layer of nuttiness.
Substitutions
You can buy pre-made whole wheat or multigrain pizza dough instead of making the dough from scratch. Feel free to use cauliflower crust or garlic naan flatbread for a flavorful base.
Smoked salmon can be replaced with different smoked fish like herring or trout. Smoked turkey or smoked ham slices are other yummy options.
Pick your favorite fresh herbs to flavor the cream cheese. Fresh parsley, chervil, basil, and tarragon are good choices. Dried dill and dried oregano can be used as well.
Besides sesame seeds, bagel seasoning works amazingly for this deli style breakfast pizza crust. It contains sesame seeds, flakey sea salt, poppy seeds, dried garlic, and onion flakes.
Deli style breakfast pizza Notes
For a low-calorie cream cheese layer, mix ¼ cup of low-fat cream cheese with ¼ cup of plain non-fat Greek yogurt.
Other toppings that complement the smoked salmon and cream cheese combination include- juicy ripe tomatoes, English cucumber, avocado, grilled portabella mushrooms, and bacon. Different types of roe, such as tobiko, masago, or salmon roe, are also used.
Mixed greens and eggs are some well-liked toppings that make this deli-style breakfast pizza extra nutritious. As for the egg topping, fried, poached, thin omelet, or sunny side up, everything works.
Avoid seasoning the cream cheese with salt. Capers are salty, and cold smoked salmon often contains salt too.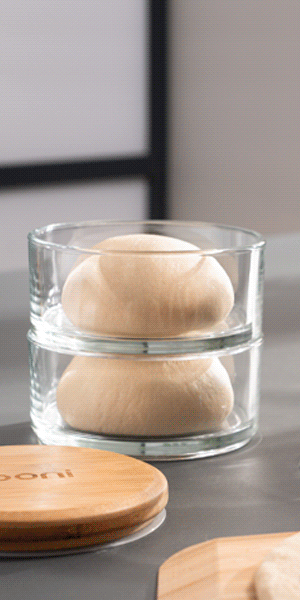 Store and Reheat
For this breakfast pizza, storing the main elements separately in the fridge and assembling them right before serving is the best way to go.
After opening the smoked salmon, wrap it tightly with cling film & keep in the refrigerator to last 3-4 days. Also, place the dough and prepared cream cheese mix in two separate airtight containers before storing in the fridge.
To store the assembled leftover pizza slices, wrap each slice with an aluminum sheet, transfer it to an airtight container, & store in the refrigerator. Enjoy them cold or reheat in a skillet on medium heat for 1-2 minutes!
How to make Deli style breakfast pizza?
Make the dough – Bloom the dry yeast, warm water, and honey mixture. Add salt, oil, remaining water, and a cup of flour. Knead in the stand mixer while adding the remaining flour in parts to form a soft dough. Apply olive oil to the dough ball and let it proof for 2 hours.
Bake the crust – Stretch the dough to a 12-inches circle. Transfer to a pizza peel, brush it with oil, and add sesame seeds on the edges. Bake in the preheated oven for 10 mins at 475° F. Remove from the oven and let cool on a wired rack.
Assemble the pizza – Mix the cream cheese, chives, lemon juice, and black pepper. Spread it on the baked pizza crust. Top with smoked salmon, sliced onions, capers, and fresh dill.

Deli style breakfast pizza FAQ
What can be used other than cream cheese?

Soft cheese varieties like Brie and Neufchatel taste delicious with smoked salmon. A mixture of creme fraiche and fresh dill also tastes wonderful. Other fresh cheeses like ricotta, cottage cheese curd, fresh mozzarella, or goat cheese can be used as per taste preference.
Preheat the pizza oven to 720° F. Make sure not to place the pizza dough too close to the fire. Bake for 2 minutes while rotating the pizza using the pizza peel for even cooking. While baking, bring down the oven temperature midway.
Which wine goes best with deli style breakfast pizza?

Two white wines, "Burgundy Chardonnay" and "Chilean Sauvignon Blanc," pair beautifully with this smoked salmon and cream cheese pizza. As for red wine, the fruity aroma of "Chilean Merlot," along with its velvety plum and cocoa flavors, makes it an excellent pick.
Some of the links in this article are "affiliate links". By using the affiliate links, you are helping support AllForPizza.com, and we genuinely appreciate your support. Please see our privacy policy for more info.