The deep dish pepperoni pizza is a Chicago favorite through and through. Baked in a "deep dish", this pizza's crunchy & flaky crust is deliciously different from a classic pizza crust. Add in the sharp provolone cheese and mild mozzarella right on to the crust. Then place a layer of pepperoni slices and ladle the luscious sauce on top. This pizza is a must try!
Developed in chicago, the certainty as to when is unsure. Some say Pizzeria Uno invented deep dish pizza in 1943. Other swear Rosati's Authentic Chicago Pizza has included it on its menu since 1926. Nevertheless the popularity of the pie took off running. Made to be much heartier than a New York stlye pizza. The deep dish pepperoni was made to fill you up.


Ingredients
Deep dish pepperoni pizza, like most other pizzas, is a pretty easy task. There will be more cooking time, but the ingredients are simple and easy to find.
All-purpose flour
Sugar
Salt
Oil
Butter
Garlic paste
Dried herbs & seasonings
Mozzarella & Provolone cheese
Pepperoni
This deep dish pepperoni pizza recipe uses homemade dough. Alternatively, you can save time by buying pre-made pizza dough. Just make sure to use a good deep dish pizza pan for this recipe.
The crushed tomatoes will blend easily with the herbs and spices for a wonderful sauce. Alternatively, buy fresh herbs for a more authentic flavor.
The creamy mozzarella and salty provolone really work well together. Plus add in the pepperoni for some spice. This is one tasty pizza!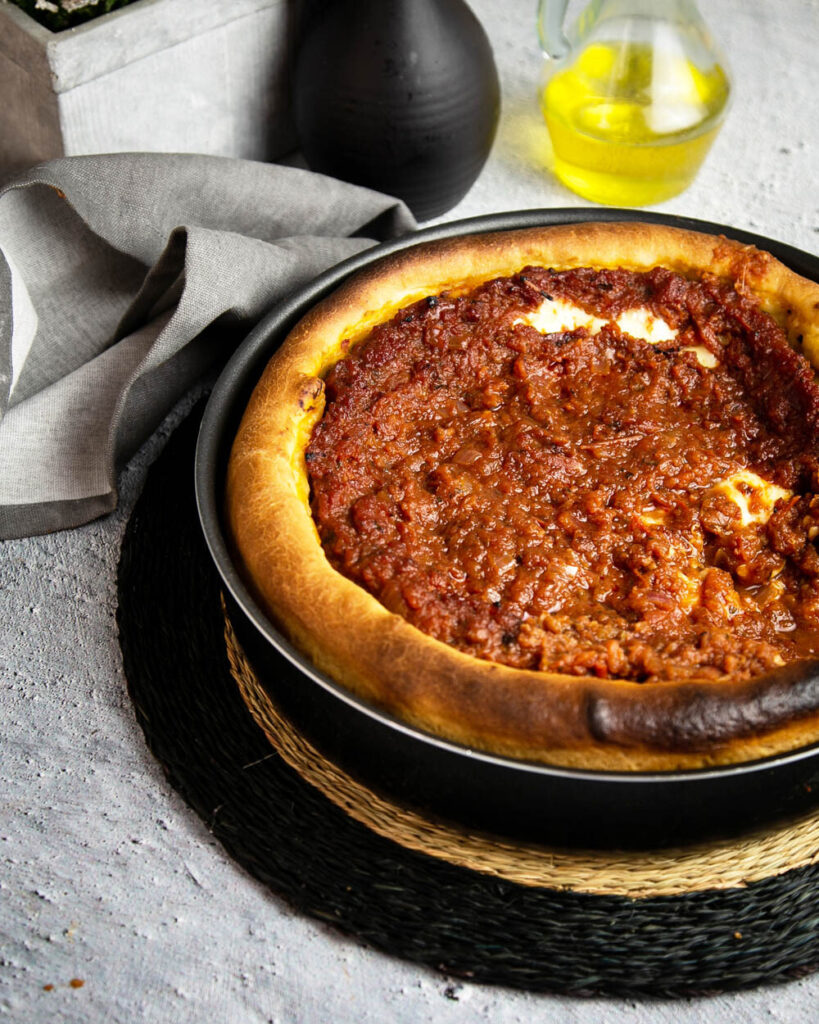 Deep Dish Pizza Options
Feel free to buy a pre-made pizza dough. This can create a much simpler process. Allowing for more time to enjoy the amazing pizza.
Any toppings can be used in deep dish pizza. Use your imagination here guys. It can be anything you love to eat. Here are a few examples to get the juices flowing:
Or change up the whole pie. You can make turn your favorite recipe into a deep dish pizza. Take a look at these options:
Tandoori chicken
Hawaiian style
Peri-peri chicken
The opportunities are endless. This is your pizza, make it something your gonna love.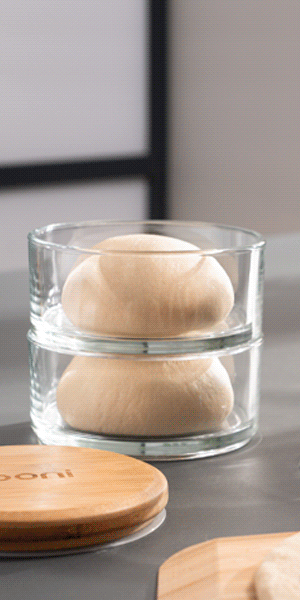 Storage and Reheating
Wrap each slice of the deep dish pepperoni pizza with aluminum foil and store in an airtight container in the refrigerator. Reheat and consume within 3-4 days.
To reheat, Preheat your oven to 375° F. Place the pizza slices on a lined baking sheet. Then, spritz some water on top and cover it with an aluminum sheet. This is intended to save the pizza from drying out. Bake in the preheated oven for 12-15 mins or until heated through.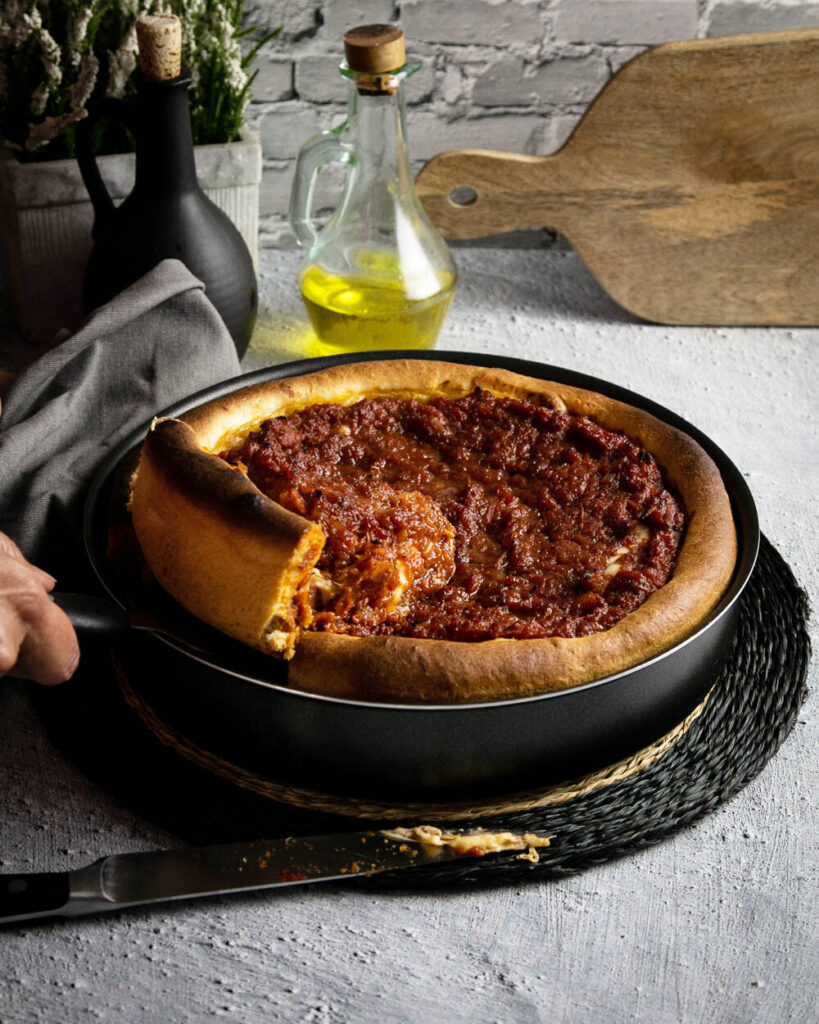 How to make deep dish pizza
Deep dish or Chicago style pizza is relatively simple to create. The main focus here is layering the cheese right on the dough. Follow these steps to make an amazing deep dish pizza!
Prepare the crust – In a large mixing bowl, activate the yeast with warm water and sugar. Add in the corn oil and mix well. Pour in the flour and salt. Mix until it comes together as a sticky dough ball. Transfer to a floured surface and knead for a few minutes into a smooth ball. Place back into the mixing bowl and coat with olive oil. Proof the pizza dough, covered, for 2 hours.
Make a pizza sauce – Melt your butter in a saucepan over medium-high heat. Add your onions and cook for 5 minutes. Stir in the garlic paste and cook an additional minute. Pour in your tomatoes and seasoning. Mix nicely and cook the pizza sauce for 15 minutes. Remove from heat and set aside.
Assemble the pizza – Spread your proofed dough out evenly on a floured surface. Make sure it's larger than your deep pizza pan. Place it into the pan and use your fingers to create the deep crust. Lay the cheese on the crust first. Then evenly distribute the pepperoni slices. Followed by the cooled sauce. Bake for 25-30 minutes at 475 degress F. Let the deep dish pizza cool for 2 minutes before slicing in. Enjoy!

Deep dish pizza FAQ
What makes a pizza a deep dish?

A deep dish pizza goes into a round pan to cook. The crust runs up the side to create a more pie like structure. Then comes some sauce, toppings and a hearty amount of cheese. Finally add more pizza sauce to top fill it in.
Is deep dish the same as Chicago style?

Yes. Deep dish pizza was found on menus in Chicago as early as 1928. Thus giving it its rightful name as Chicago-style pizza.
Which wine goes well with deep dish pizza?
Some of the links in this article are "affiliate links". By using the affiliate links, you are helping support AllForPizza.com, and we genuinely appreciate your support. Please see our privacy policy for more info.