The round thin-crust Romana Tonda Pizza is relished at sit-down restaurants in Rome. While there are endless vegetarian options, this recipe has meat-based toppings. It has the sweetness of mozzarella and the tanginess of pecorino cheese. The ham, sausage, and black olives are evenly distributed. That way you can enjoy them in every bite of the crispy pizza.
This particular Roman-style pizza originated in the 1950s. It is quite different from the Roman pinsa and the pizza al taglio. Furthermore, Romana Tonda does not have a fluffy bread-like crust nor a Canotto like the Neapolitan pizza. It has a crunchy paper-like thin crust. With a very little sauce layer spread to the edges.
Various factors are responsible for achieving Romana Tonda pizza's perfect texture and flavor. It starts from choosing the suitable flour. Then kneading the pizza dough right. Followed by a long cold dough fermentation and rolling it out thinly. Plus not overdoing the sauce/toppings. And getting the oven temperature on point because that pizza stone needs to be pretty hot. Therefore, even the wood is placed differently when baking the Romana tonda pizza.


Ingredients
The distinctive feature of Romana Tonda pizza lies in its texture. This recipe uses the following ingredients that can be easily purchased at the supermarket or online.
Tipo Flour
Kosher salt
Canned crushed tomatoes
Ham slices
Sausage
Black olives
Pecorino Toscano
Mozzarella
Olive oil
Tipo 00 Flour is a flavorful soft wheat flour. Its high protein content helps gluten formation, creating excellent elasticity in the dough. Thus, it can be rolled out thinly, producing a crisp delicious crust.
Kosher salt contains larger crystals. It helps extract the natural taste of the ingredients. If using table salt, reduce the amount by half.
As goes for canned tomatoes, Bianco Dinapoli is a good pick. It has a vibrant color, strong fragrance, and incredible taste. If you find the one containing basil and salt, then blend it into puree without adding extra salt. Additionally, if fresh Italian tomatoes are available in your area, you may use them instead.
Ham and sausages offer a delicious meaty topping. Since it's a thin-crust pizza, use thin slices of ham cut into small pieces. And crumbled cooked sausage. This will keep the topping lightweight. And help ensure a crispy crust.
Pecorino Toscano cheese is made from sheep's milk. It is a soft mild variety with salty & tangy notes. It is a dry cheese that melts slowly. Therefore, it should be diced smaller than the mozzarella.
Olive oil is an essential ingredient in this Roman-style pizza. It elevates the dough's texture and gives the pizza a hearty taste.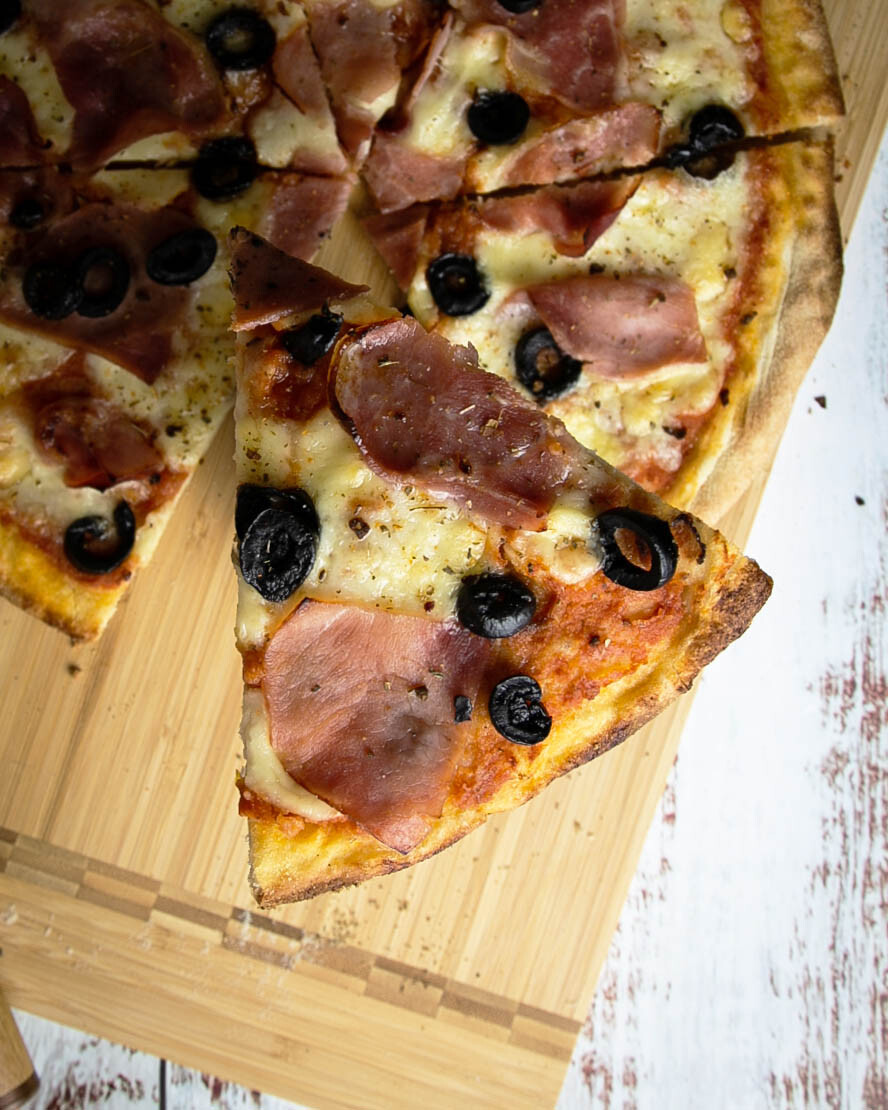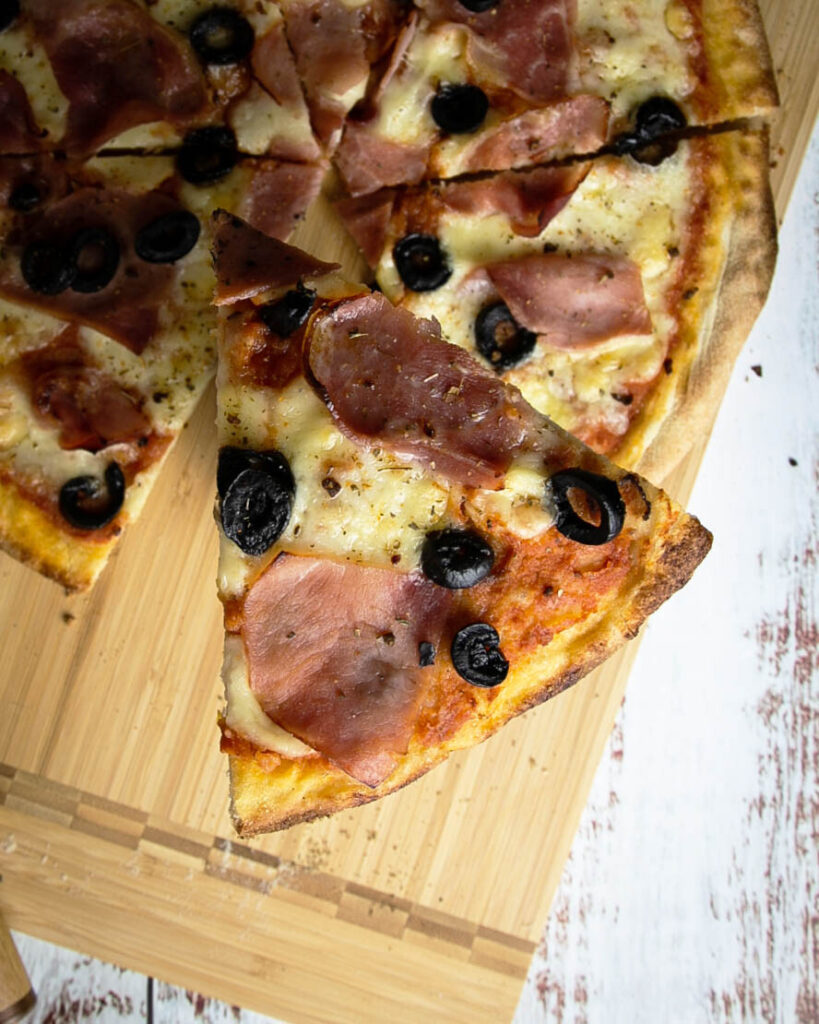 Substitutions
Most markets sell the firm Pecorino Romano. So if you can't find the soft Pecorino Toscano variety, substitute it with Italian Fontina cheese. Parmesan, provolone, and asiago cheese are other options.
You can try diverse toppings on the pizza. Anchovies, eggplant, leafy greens, zucchini and capers are great. Even pineapple if you're in the mood. Some also use roasted potato slices on Romana Tonda. For some protein, try salami or pepperoni as a pizza topping. Or just go for a meat lovers pizza.
Any high-protein flour that builds good gluten would work. Besides Tipo 00 flour, you may use bread flour or whole wheat flour. Alternatively, you may buy pre-made pizza dough.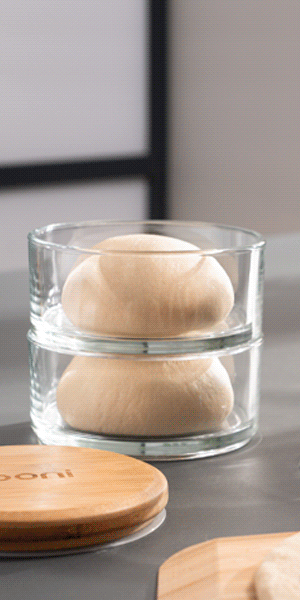 Tips for the perfect Romana Tonda pizza
Use high-protein flour.
Avoid bulk proofing.
Brush the raw crust with oil before topping with sauce.
Spread a sparse layer of sauce, ensuring the center isn't heavy.
Add less, well-distributed toppings. This is not a deep dish pizza, keep the crust crispy.
Remove the baked pizza on a wired rack. This allows steam to escape and keep the crust crispy.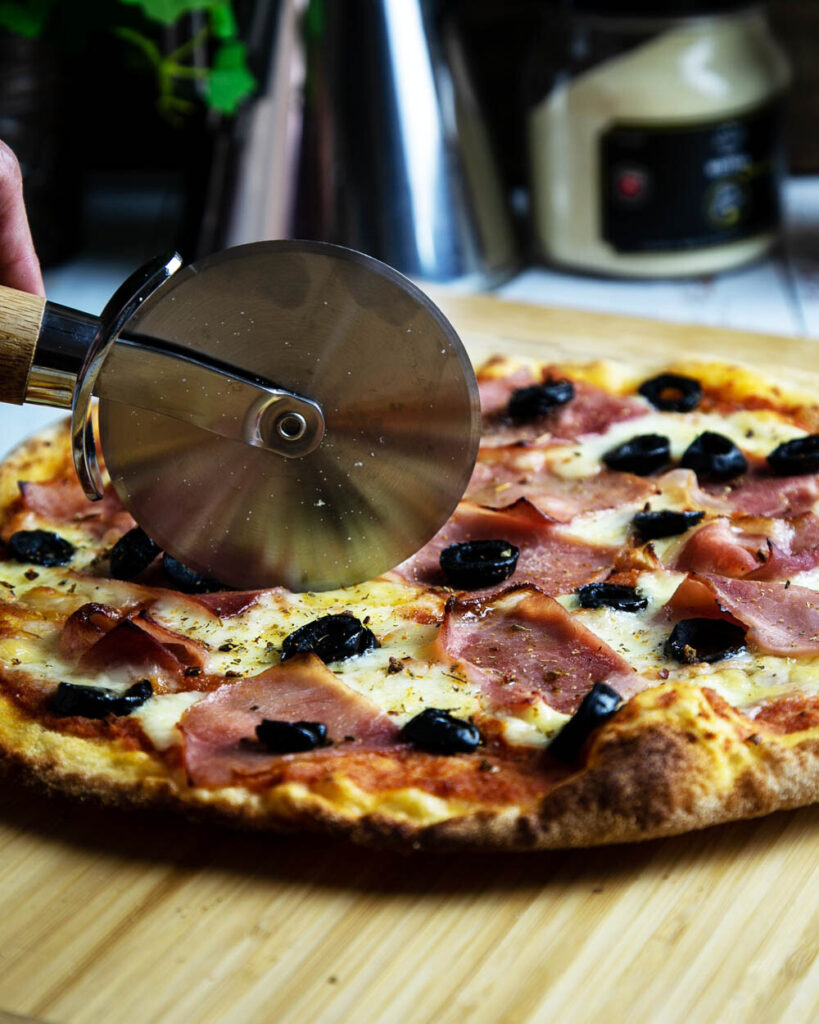 How to make Romana Tonda pizza
This pizza recipe is fairly simple to create. The hardest part will be waiting for the dough to proof. But in the meantime, take a look at these 3 easy tasks, with easy to follow instructions. See recipe card for in-depth directions.
Make and proof the pizza dough – Combine all your dough ingredients except the salt. Mix in a stand mixer with dough attachment for 30 seconds. Let the dough rest for 30 minutes before adding the salt and mixing again. Divide into 2 equal dough balls and set into separate bowls for proofing. Romana Tonda dough needs to proof for at least 24 hours in the fridge.
Assemble your Romana Tonda pizza – Once the pizza dough has proofed, bring it to room temperature. Make a quick sauce with the tomatoes and a pinch of salt. Then roll out your pizza crusts into sizable circles. Place the first pizza on a pizza peel. Spread the sauce and toppings.
Bake the pizza recipe – Set a wood-fired pizza oven to 700 degrees F. Cook the Romana Tonda pizza for 90 seconds, rotating halfway through. Hold it close to the flame towards the end of cooking. If using an indoor oven, set it to broil. Place a tray upside down on a rack, 6" from the top. Slide the pizza on the tray and cook for 4 minutes, rotating at 2 minutes. Remove to a rack for 2-3 minutes before slicing. Enjoy!

Romana Tonda Pizza FAQ
What is dough autolysis?

It is a method of combining high-protein flour with water and other ingredients like oil and yeast. Then, it is rested for 15-30 minutes and combined with salt and more water if needed. The resting time makes the dough smoother and stronger. Thus, allowing better elasticity to stretch the dough without tearing. This technique also preserves the utmost flavor in the dough.
Why no bulk dough proofing?

Bulk proofing makes the dough double in size and creates an extra gassy dough. This type of dough yields a bread-like airy crust. Dividing the dough into portions and proofing separately makes it rise by one-third, which is ideal for thin-crust Romana Tonda pizza.
How to cook Romana pizza in an indoor oven?

Preheat the oven to 550° F without convection. Place the pizza stone on the rack placed on the top slot. Broil on high for 4 minutes, while rotating halfway through.
How to cook Romana pizza in an outdoor propane gas pizza oven?

Preheat the outdoor pizza oven at medium heat to 750° F. Cook for 2 minutes while rotating the pizza (at a 30-degree angle) every 10-15 seconds using a turning peel.
Some of the links in this article are "affiliate links". By using the affiliate links, you are helping support AllForPizza.com, and we genuinely appreciate your support. Please see our privacy policy for more info.