Italian pizza fritta is a deep-fried delicacy relished as a street food. This classic fried dough pizza is stuffed with escarole, kalamata olives, and smoked provola cheese. The filling combines the bitterness of escarole with the sweetness of raisins, the crunch of pine nuts, the fruitiness of kalamata olives, and the smoky creaminess of provola cheese. All the deliciousness is held in place by the crispy golden fried outer layer!
This fried pizza originated as a necessity to feed families after World War II. Wood-fired ovens were destroyed, there was a food shortage, and ingredients like mozzarella became expensive. Thus, the dough is stuffed with available affordable ingredients like ricotta cheese, tomatoes, and ciccioli. This poor man's food has become popular across the globe. You can enjoy this pizza with various fillings.


The Pizza Fritta is an ancient recipe. The age-old pizzas baked in a mud/brick wood-fired pizza oven tend to have a unique flavor and texture that you cannot achieve in modern electric ovens. You fry this pizza in oil. Thereby, achieving the authentic taste & texture is possible. Calzone and Montanara are two other types of pizza fritta. Not to mention the stuffed Stromboli. To satisfy your craving for deep-fried bread, you must also try the Hungarian Langos. If you're looking for more neopolitain pizzas, try these out.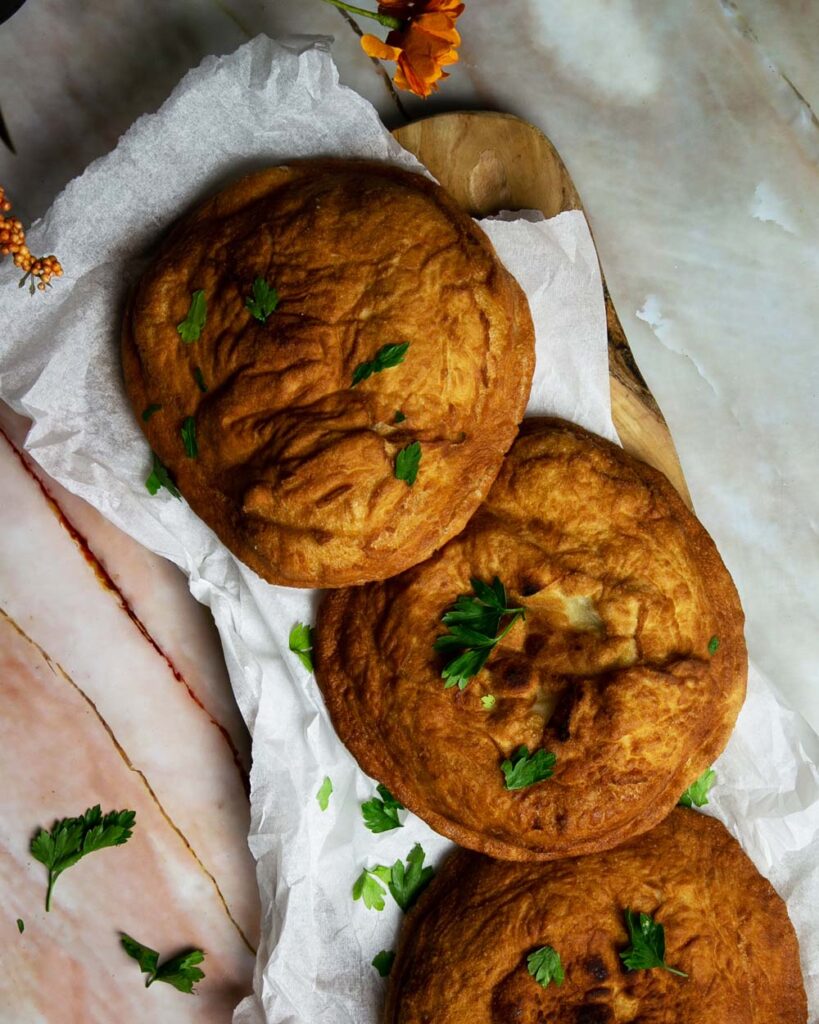 Ingredients
Using premium quality ingredients makes a massive difference in the taste of the pizza fritta. Therefore, it would be ideal if you buy the ingredients from an Italian store.
Type 1 flour
Yeast
Escarole
Raisins
Pine nuts
Chili pepper
Olives
Smoked provola
Sunflower oil
Type 1 flour is a soft wheat flour that is less refined than Type 0 or Type 00 flour. If desired, you can mix Type 1 and Type 0 flour to make the dough. Bread flour's high gluten content makes it a great choice too. Avoid using all-purpose flour for this pizza.
This recipe uses fresh yeast, which does not need blooming. If you opt for active dry yeast, use 4-5 grams, and bloom it for 5-10 minutes in lukewarm water and sugar.
Escarole, also known as scarole or broad-leaved endive, is a green leafy vegetable. Pairing it with sweet and salty ingredients like raisins, pickled olives, and cheese helps balance its bitterness.
Raisins add a chewy texture and soft juicy sweetness with a hint of tang. Pine nuts offer a buttery nuttiness and a nice crunch.
The fresh red chili pepper infuses a palatable heat to the overall flavor. Kalamata olives have a meaty texture and infuse a distinctly rich, sharp fruity taste.
If you can find the Naples cheese 'smoked provola,' it would be excellent. This Italian cow's milk cheese has a bold flavor. Its smokiness complements the flavors of the fried pizza.
The high oleic sunflower seeds oil has a smoke point of 450° F. Therefore, making it a good oil for deep frying.

Substitutions
You can buy pre-made pizza or bread dough to simplify your task and reduce prep time. To achieve the perfect texture and crispy effect, ensure that the store-bought dough is at room temperature before rolling.
If fresh chili pepper is too spicy, replace it with dried red pepper flakes.
Smoked provola can be substituted with mozzarella, buffalo ricotta, or burrata cheese. Mozzarella is best whole to get that perfect, bubbly texture. You can also use bocconcini which are small mozzarella balls.
Pizza fritta Notes
The dough should have excellent elasticity. Also, avoid flattening or rolling the dough too thinly. If the dough tears, you will not be able to fry it.
Boiling/blanching the escarole helps soften the leaves and remove the bitterness.
If flattening the dough balls on a flour-dusted surface, remember to dust out the excess flour from the pizza before placing it in the hot oil to avoid burning.
Stick to using vegetable oil with a neutral flavor and high smoke point for frying the pizza. Corn oil, peanut, canola, and sunflower oil are good choices.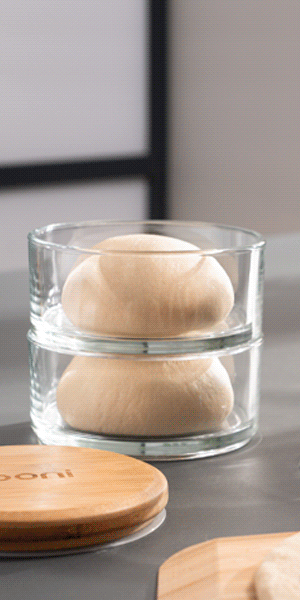 Store and Reheat
It is best to fry the pizza fritta as needed and enjoy it immediately after frying. You can store the dough, sautéed escarole, and sliced pickled olives separately in air-tight containers in the refrigerator.
To store fried pizza fritta, wrap them with cling film, place in an air-tight container, and keep in the fridge. To reheat, preheat the air fryer, place one pizza fritta in the basket, and heat for 5-10 minutes until crisp.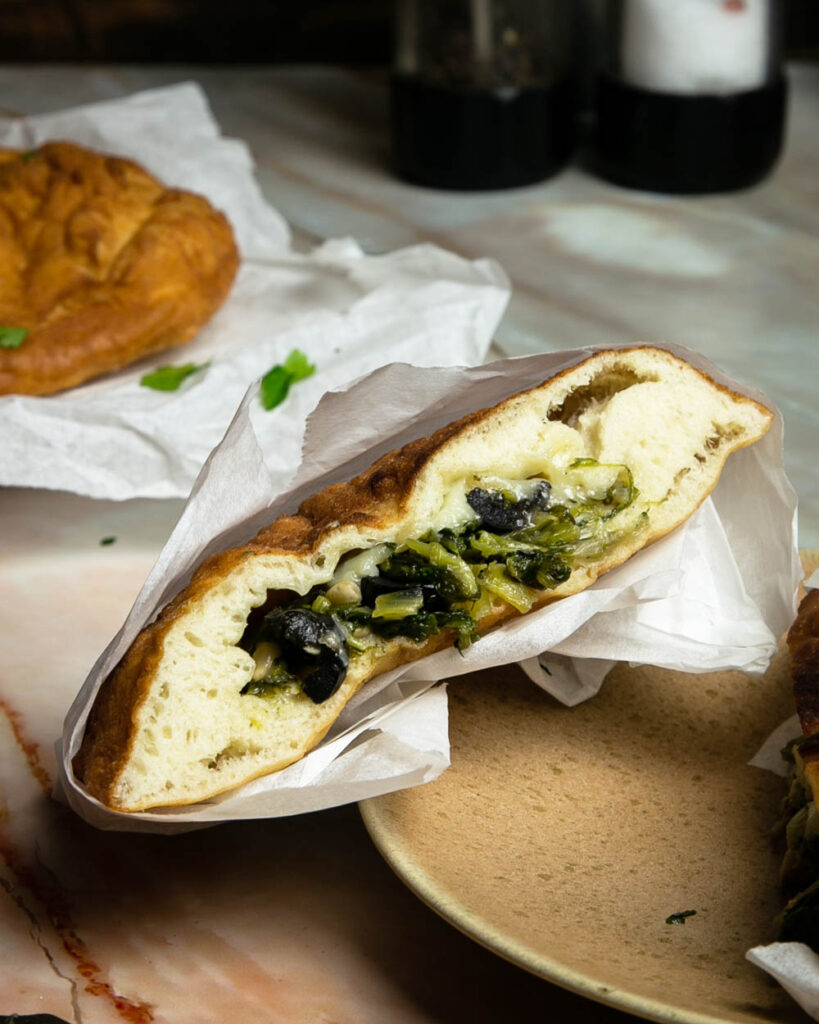 How to make Italian Pizza Fritta
Make the dough – Mix theyeast with the lukewarm water. In the stand mixer bowl, combine the sifted flour and salt. Add the yeast water and run the mixer for a few minutes to form an elastic dough. Remove into a bowl, cover, and keep aside to proof for an hour.
Prepare the escarole – Sauté the garlic, followed by the chili and pine nuts. Stir in the boiled & strained escarole leaves, seasoned with salt & pepper. Mix the raisins for a couple of minutes. When the leaves are tender enough, remove them into a dish.
Assemble your pizza – Divide the risen dough into 6 equal portions. Flatten a dough ball into a small thin circle. Fill it with the sautéed escarole, olives, and cheese. Place another flattened dough on top, seal the edges, and deep fry in hot oil till golden and crisp.

Pizza fritta FAQ
Is the pizza fritta enjoyed both as savory and sweet food?

Yes.Savory ones often contain different types of cheese, tomato/marinara sauce, salami or cured meat, crispy pork cracklings, and fresh basil leaves. Some serve the sweet version with ground cinnamon, powdered sugar, or Nutella.
How do montanara and calzone vary from pizza fritta?

All three are fried pizzas. Montanara originated in the Naples mountains. It is round, does not contain any fillings, and it has toppings. Calzone is stuffed and fried, like this pizza fritta. The only difference is in shape. Traditionally, you fold and seal a Calzone in a half-moon design.
Which wine goes best with Italian Pizza Fritta?

Sicily's fortified wine "Marsala" pairs best with Pizza Fritta. This golden or amber-hued wine comes in brown sugar, tamarind, vanilla, and stewed apricot flavors. Italians love using this wine in their cooking, be it appetizers, baked treats, or desserts.
Some of the links in this article are "affiliate links". By using the affiliate links, you are helping support AllForPizza.com, and we genuinely appreciate your support. Please see our privacy policy for more info.