The appetizing warm home-baked Stromboli oozing with melted cheese easily vanishes within minutes. This is a rolled-up pizza created in Philadelphia. It's filled with rich red marinara sauce, flavorsome tender cold-cut meats, mozzarella, and provolone cheese that resemble a pizza topping. The golden crisp crust offers a delicious texture. Topping the egg-washed crust with parmesan and aromatic herbs makes it yummier.
In 1949, Nazzereno Romano came up with an unnamed sandwich. He stuffed his special dough with Italian meats, cheese, and bell peppers before rolling it up like a log. By 1950, he started selling it. Still unnamed, his friend suggested naming the new sandwich after the Italian-American movie "Stromboli." A romantic drama starring Roberto Rossellini and Ingrid Bergman.
Sometimes Stromboli is not filled with marinara sauce. Just serve enough on the side as a dip. This trick saves the Stromboli from getting soggy while baking.


Ingredients
Here's a bit on the ingredients required to make stromboli in your kitchen.
All-purpose flour
Honey
Salami
Ham
Cheese
Egg
Marinara Sauce
All-purpose flour gives the Stromboli a crisp baked exterior and a soft chewy inside. For a more fluffy chewy texture, opt for bread flour instead. Alternatively, you can buy pre-made pizza dough. To make 1 Stromboli, you will need 1 pound of store-bought pizza dough.
Honey incorporates a distinct sweet flavor into the dough. It offers a more golden result than sugar. Honey's antibacterial properties help increase the shelf life of baked dishes like Stromboli.
Genoa salami is softer, greasier, and has a high-fat content. Therefore, it is more delectable than other sausages or salami, which are somewhat firm and dry.
Deli ham is cured pork meat that may be baked or smoked. They are available in thin, even slices for the convenience of filling sandwiches and Stromboli. If you like ham on pizza, try the Romana tonda recipe.
This recipe uses 3 types of cheese. Mozzarella and provolone are filled in while the parmesan is dusted on top of the Stromboli. Provolone has a sharp flavor, so those who don't like it can skip it for more mozzarella.
Brushing egg on top of the raw Stromboli results in a more appealing golden look to the crust. It doesn't impact the taste or texture too much and can be skipped if desired.
The marinara sauce used in the recipe has the luscious sheen of olive oil, a hint of garlic flavor, simple seasoning, and a herbaceous basil taste. You can follow the steps below and make it from scratch or use store-bought marinara, pizza, or tomato sauce instead.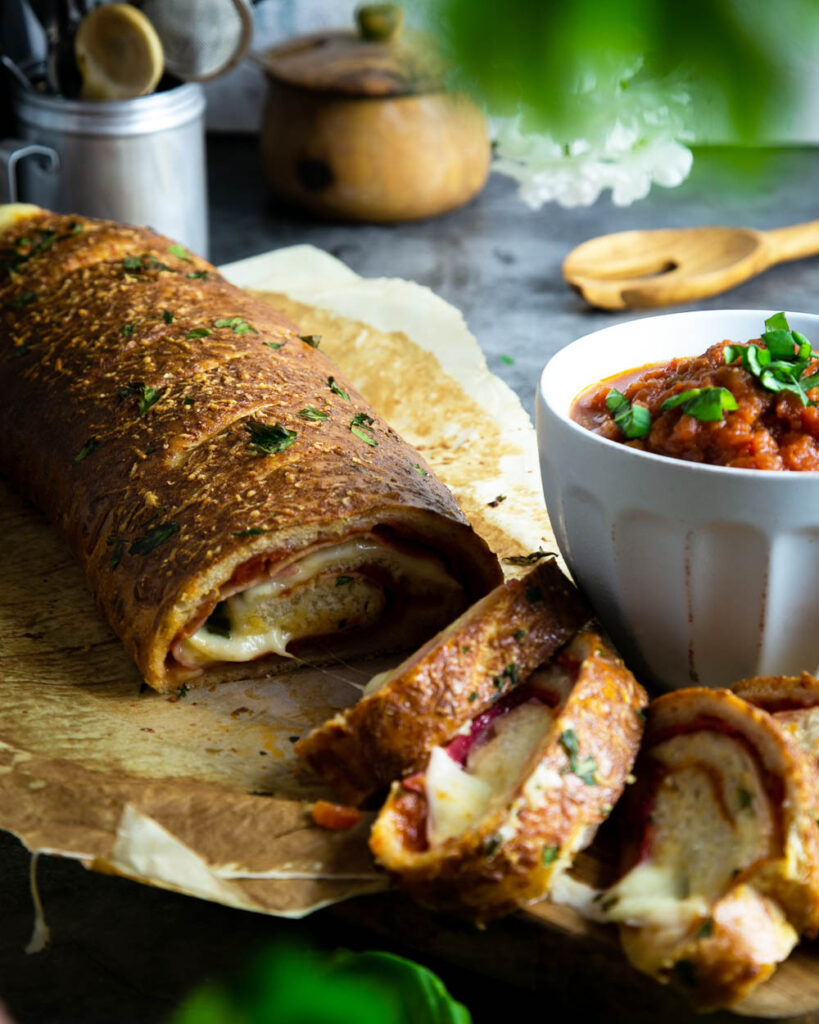 Substitutions
If using active dry yeast in place of instant dried yeast, then proof the dough a little bit longer. We would say about 2 hours. Somewhat like you would with a Margherita pizza.
Honey can be substituted with sugar. Also, lard can be used in place of olive oil.
Besides egg wash, you can brush the top with herb butter. This is melted butter mixed with crushed garlic and chopped basil, oregano or cilantro. You may also sprinkle sesame seeds or your favorite dried herb seasoning blend after brushing the top with egg wash/butter.
In place of salami & ham, you can use:
prosciutto
capicola
soppressata
pancetta
pepperoni
cooked ground beef
roast turkey/chicken slices
or your preferred cured meat
For a vegetarian stromboli, you may use various fillings such as: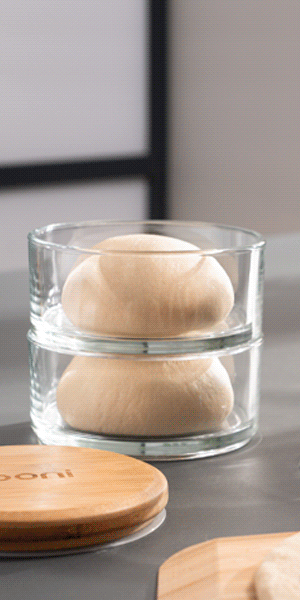 Store and Reheat
You can relish leftover Stromboli after a few hours of baking or store them in the fridge or freezer.
Stromboli tastes yummy at room temperature for up to 2 hours after removing from the oven. The cold crust is soft and chewy in texture.
Before refrigerating, transfer the Stromboli to a sealable bag, and they are good to consume for a week. Reheat for a few minutes in a preheated oven at 300° F.
Before freezing, wrap the sliced Stromboli should be separately (using aluminum/plastic wrap). Before reheating, thaw for an hour at room temperature while still wrapped. Then, reheat (slightly covering the Stromboli slices with an aluminum sheet) for 15-30 mins in a preheated oven at 350° F. Check that the internal temp reaches 165° F.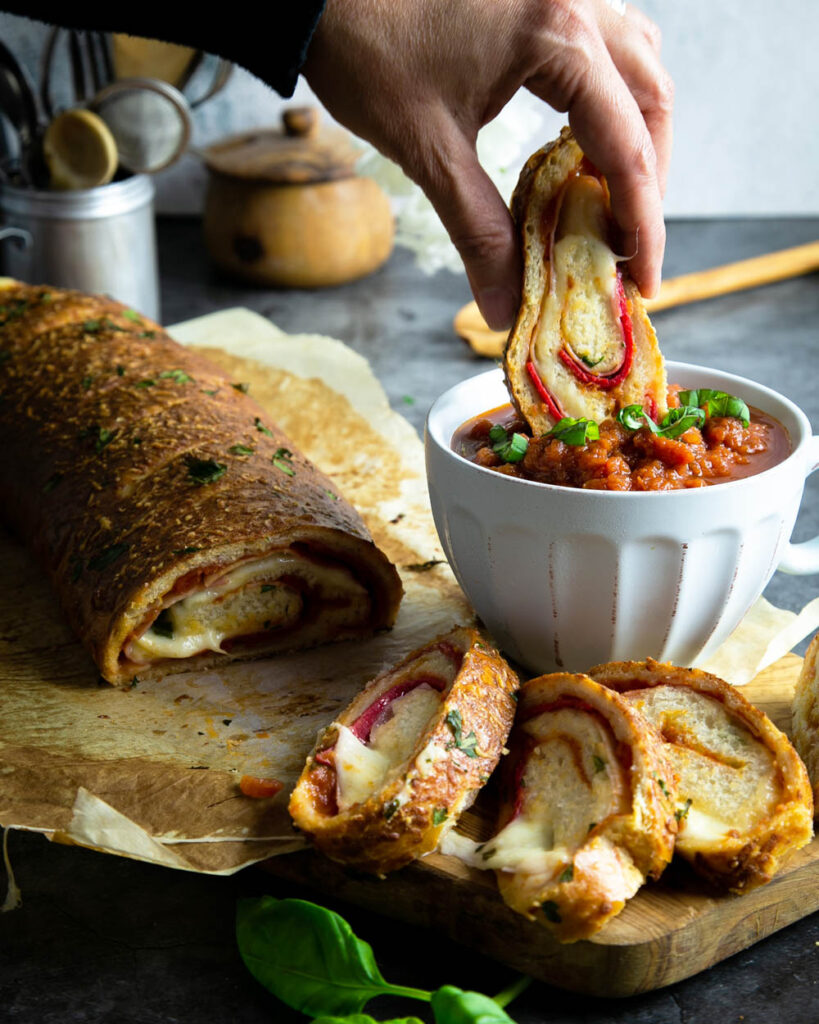 How to make Stromboli
1. Make the marinara sauce – Start by sautéing the garlic in olive oil till aromatic and golden. Stir in the crushed tomatoes, seasonings, and fresh herb. Simmer until the sauce thickens and remove into a bowl.
2. Prepare the dough base – Bloom the yeast in lukewarm honey water. Combine the flour, oil, & salt for a few minutes using a stand mixer. Make a smooth dough ball and set it aside to rise for 90 minutes.
3. Assemble your Stromboli – Roll out the dough on parchment paper to form a rectangular shape. Apply the marinara sauce, place the meat slices, and top with 2 types of cheese. Roll up lengthwise. After brushing egg wash on top, sprinkle parmesan and parsley. Make 4-5 slits and bake in preheated oven till golden brownish.

Stromboli FAQ
How to serve the Stromboli slices?

Pizza tastes best piping hot; when right out of the oven. On the other hand, stromboli tastes yummy at room temperature. As an appetizer or snack, it is served with a pizza/marinara dipping sauce. For a meal, serve it alongside some juicy seasonal fruits and fresh leafy vegetable salad tossed in a creamy dressing.
Which wine goes best with stromboli?

"Californian Chardonnay" is a white wine that pairs well with Stromboli. As for red wine, the fruity and aromatic cinnamon-flavored "Chianti" and the fragrant earthy "Sangiovese" are preferred. "Chilean Merlot" & "Argentinian Malbec" are excellent choices too.
How is stromboli different from

calzone

?

Many foodies confuse the Philly Stromboli with the Italian Calzone. They have certain similar attributes yet are different in shape and filling. Stromboli is rolled up into a log shape while the calzone is folded and sealed into a half-moon shape. Furthermore, Stromboli's filing includes low-moisture mozzarella cheese and tomato sauce. Contrarily, calzone has ricotta cheese with the sauce served on the side instead of filled in.
Some of the links in this article are "affiliate links". By using the affiliate links, you are helping support AllForPizza.com, and we genuinely appreciate your support. Please see our privacy policy for more info.