When we think of pizza, we automatically think of some yummy tomato sauce and cheesy melted goodness. But there is another side of this beautiful world of pizza. And trust me, your exploration will be worthwhile. Start with this pizza bianca. This is a refreshing take, with the option of all types of toppings.
Pizza Bianca, Italian for white pizza, was originally a simple bread that would be eaten freshly out of the oven with a good brushing of olive oil, then some salt and rosemary. It is a Roman classic now, found in all menus, with a vast selection of toppings. And they all have one thing in common, a thin, airy, crispy dough. You can achieve this with a high moisture dough that is left to rise overnight – or longer! The long proofing time allows the gluten fibers in the dough to develop. Very little yeast is necessary for long resting periods. Time does most of the work! So prepare to wait. And rest assured, it will be so worthwhile.


Pizza Bianca makes the cheesy goodness the star of the show, rather than the zing of tomato sauce. And usually, the cheese lays on a creamy layer that can be anything from white cream sauce to crème fraîche to yogurt sauce.
Enter Artichoke and Garlic. The roasted sweetness of garlic connects with the tanginess of the artichoke hearts. Creating a balance that just works beautifully over an herbed crème fraîche layer. Mozzarella aids in the creaminess and the Pecorino at the end gives zing, bringing all flavors together.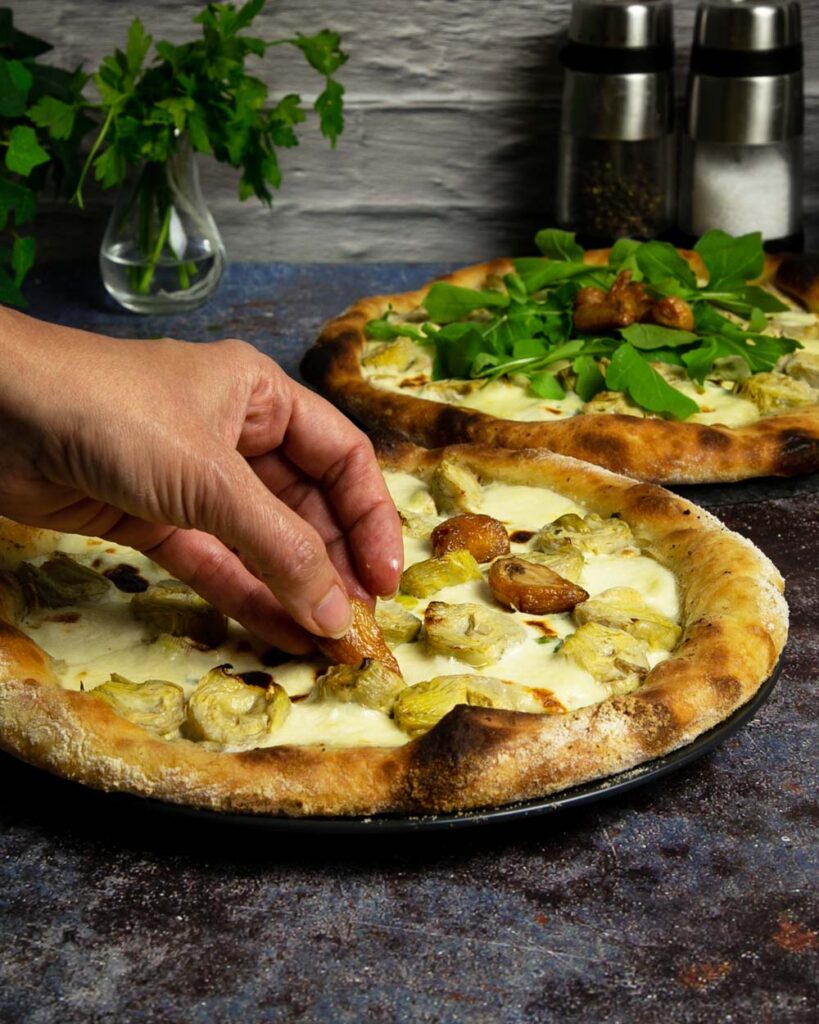 Ingredients
Here is a quick list of some important ingredients for pizza Bianca. Most can be easily sourced at your local grocer or online.
"00" flour
Garlic
Oregano
Crème fraîche
Pecorino cheese
Parsley
Bocconcini mozzarella
Leeks
Artichoke hearts
Arugula
Tipo "00" flour is a key ingredient here for the fluffy pizza crust on the pizza bianca. If you're in a bind for time, you could always buy pre-made pizza dough.
Basting the crust with the garlic infused oil adds a lot of flavor to the pizza bianca. A little dash of oregano goes a long way.
The base of the sauce for the pizza is the Crème fraîche. It adds a wonderful creaminess to the pizza. Pecorino cheese and parsley give it fresh and salty notes. If you like white sauce pizza, the mushroom pizza recipe is a perfect.
Bocconcini mozzarella are the small bite sized pieces of fresh mozzarella. This can be found in the fine cheese area of your grocery store.
Leeks add an umami flavor to the pizza bianca. Also, make sure to pick up some marinated artichoke hearts. They pack a lot of flavor. A topping of fresh arugula gives the pizza a nice green, peppery taste.
Other similar pizza recipes


Substitutions
The dough works the best with high protein flour, like Tipo 00. If using all-purpose flour, there are a couple of tips to compensate. You can add 1 Tablespoon of Vital Wheat Gluten flour per 2 cups of flour. Alternatively add 6-10 more hours to the proofing time to allow more time for the gluten to develop in the dough.
Instead of crème fraîche, you can use white pasta sauce, sour cream or greek yogurt. Also, the herbs in the mix can change to whatever your tastebuds desire. Thyme, sage, and rosemary to name a few.
Pecorino is an aged goat cheese and is characterized by its tartness. Any sharp hard cheese can be used in its place. Parmesan, Asiago, Manchego, Gruyere are just a few choices.
The best artichoke hearts for this recipe are those that contain a marinade of sorts. These have been brined and then bottled in delightful flavors that infuse the artichoke hearts with olive oil and herbs. If you buy artichoke hearts that come in brine alone, we suggest you drain half of the brine and add olive oil, lemon juice and your choice of dried herbs (e.g., oregano, parsley, thyme, rosemary). Let them sit overnight while the dough rises. Game changer!
Pizza bianca Notes
Leaving this dough to rise for long hours gives it a unique a light and airy quality. And the secret to handling the dough is to touch it as little as possible with the palm of your hands. Keeping the air bubbles inside is a must. Stretching the dough with your fingers keeps those air pockets intact. A rolling pin would deflate them, and the dough would not puff up in just the right places. You could also try this pizza on a cauliflower crust or even turn it into a deep dish.
Garlic in this recipe is a must! But more than its incorporation, the most important step to not skip is the roasting. While oven roasting works wonders, you could also use your skillet on the stovetop. Then simmered in olive oil for as long as it takes until they become golden and soft. The trick is to caramelize the garlic, leaving it with a sweet taste, rather than a pungent one.
With all its simplicity, this Artichoke and Garlic Pizza Bianca can easily be elevated to a higher status with interesting flavors and textures. Some toppings that can enhance are pancetta, cherry tomatoes, and asparagus spears.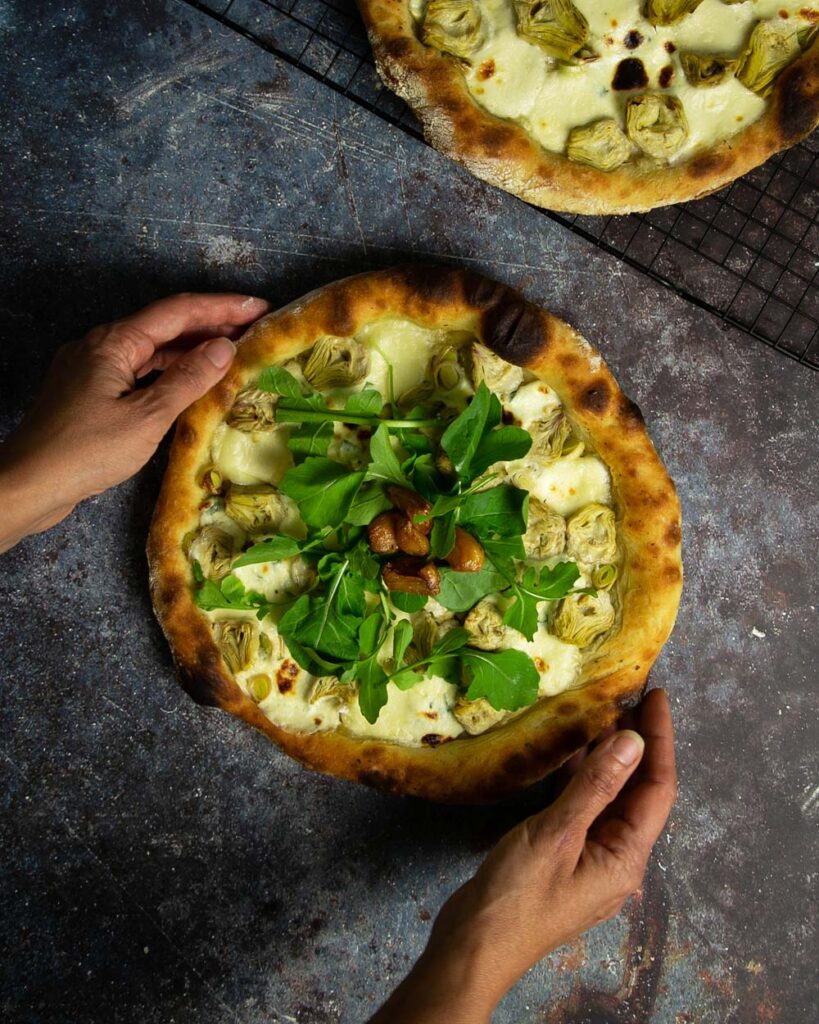 How to make Pizza Bianca
Make the pizza dough – Add all your pizza dough ingredients to a stand mixer. Then mix well with a dough hook. This is a wet dough, so you'll need to scrape the sides once or twice. Transfer to a floured surface and dust more on top. Using a dough scraper, fold the dough into itself to create a ball. After that, divide the ball into 2 and place in separate containers. Seal and set in the refrigerator to proof for 24-48 hours.
Roast the garlic – place your peeled garlic into a small roasting dish. Add enough olive oil to almost cover the garlic. Sprinkle on some oregano and pepper and roast in the oven at 350 degrees F. Once golden brown, remove from oven and let cool. With a slotted spoon, skim out the garlic cloves to a small plate. Also, set aside the infused oil for use on your pizza bianca dough.
Create your sauce – Combine all your sauce ingredients into a bowl. Using a spoon, mix the cream sauce well. Then set aside to top the pizza bianca.
Assemble the pizza – Heat pizza stone at least 45 minutes prior to making your pizza bianca. Then spread some semolina on a clean surface and turn out your dough. Sprinkle some flour and stretch the dough out with your fingers. Try and create a 12" circle, leaving a thick edge. Transfer to a pizza peel and brush with the infused oil. Dollop the cream sauce throughout the pizza dough. Add the mozzarella cheese, artichoke hearts and leeks. Bake at 500 degrees F until the crust rises and becomes golden brown. Remove to a wire rack and let cool. Top with your roasted garlic, pecorino cheese and arugula.

Pizza Bianca FAQ
What is pizza bianca made of?

Pizza bianca translates to white pizza. The "Bianca" part of it comes from the Crème fraîche and pecorino cheese. There is no tomato sauce on white pizza. Throw the sauce on a long proofed dough. Top it with some garlic oil and artichokes, then toss it in the oven.
Which wine pairs well with pizza bianca?

Pinot Grigio is a light, refreshing white wine that pairs well with this pizza bianca. Often dry and fruity, these flavors compliment the white sauce pizza perfectly. If you're in the mood for something bubbly, a nice crisp Prosecco will do the trick.
Is Crème fraîche the same as sour cream?

Crème fraîche is a cultured cream product. It's contains more fat than its cousin, sour cream. Sour cream is fermented from milk. You can substitute the 2 for each other in recipes, however the taste will differ.
Some of the links in this article are "affiliate links". By using the affiliate links, you are helping support AllForPizza.com, and we genuinely appreciate your support. Please see our privacy policy for more info.