Walking down the streets of Rome, locals and tourists cannot resist the aroma of pizza al taglio. Choosing from the countless mouth-watering options seems a challenge. Thankfully, pizzerias and bakeries, cut it into pieces using scissors and sell it by weight. So, buyers can satisfy themselves with multiple flavors of this unique Roman pizza.


Pizza al Taglio has been impressing foodies since the 1960s. It gained popularity as affordable street food in Rome. It has a fan base in the United States as well. Here it is commonly known as sheet pan pizza. The look, shape, and taste of this Roman-style pizza is not similar to the oblong Roman pinsa pizza. Nor is it close to the thin-crust Romana Tonda pizza. If you wish to indulge in more thick-crust pizzas, check out the Chicago-style deep dish pizza!
Missing the gourmet experience? Tie up the apron and prepare this rectangular delight at home. Following the recipe and waiting patiently through the long fermentation period is a task. But this hold out will give you the identical Roman-style crust. It has a soft airy interior, with a crisp bottom. The flavorful topping of prosciutto, baby arugula, and plump tomatoes are appetizing. When paired with the melted goat cheese layer, its just perfect!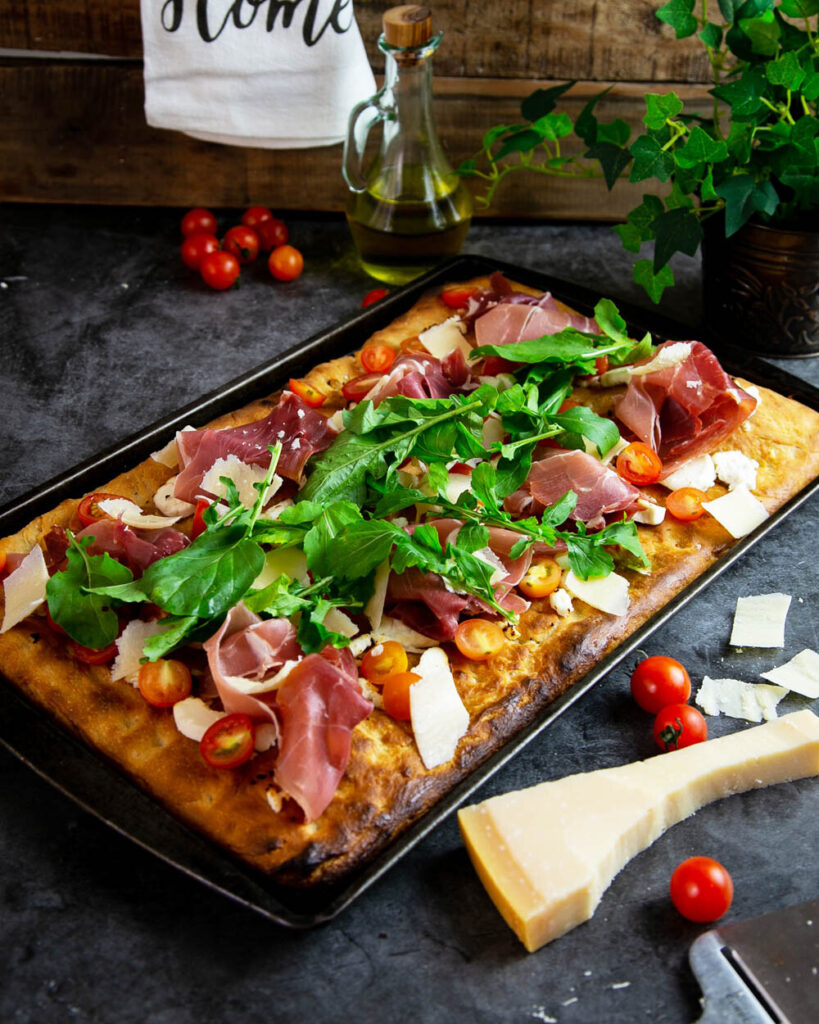 Ingredients
Here's a brief on the components that form the Pizza Al Taglio from scratch. Whether you shop at your local market or online, choose premium quality ingredients for the best results.
Bread Flour
Honey
Olive oil
Goat cheese
Prosciutto
Cherry Tomatoes
Arugula
The high-protein content in bread flour makes it a suitable choice for this pizza dough. It is great for long fermentation of 24-72 hours and stretches well. Furthermore, it makes the dough puff up perfectly when baking. Thus, yielding a lofty crust which is a specialty of this pizza.
Honey adds a hint of sweetness, strengthens the dough, and improves the crust texture significantly. The buttery goat cheese has a subtle earthy tang. The more the cheese ages, the sharper the flavor becomes.
Prosciutto is a cured ham which has a mild sweet and salty flavor. The slices are typically pinkish or slightly reddish in color with white streaks of fat. It varies from the pancetta and contains less calories & fat than bacon.
Cherry tomatoes offer a fresh tart taste. Its bright juiciness gives a pleasant mouth feel along with the other dry toppings. The baby arugula has a delicate feature-like texture and subtle peppery flavor. Avoid using mature leaves. They have a spicy bitterness which might be too strong on the taste buds.

Substitutions
Besides cherry tomatoes, you may use heirloom, grape, or fresh seasonal tomatoes available in your region. Heirloom tomatoes are cultivated purely for flavor so keep them as your first option.
The recipe calls for prepping the dough a day prior to baking. In case you forget to make the dough, you may buy the pre-made pizza dough or use fluffy Foccacia bread instead.
You may substitute prosciutto with mortadella, deli ham, salami, or capicola.
Other than goat cheese, there are a few options you can choose from. Here is a quick list:
buffalo mozzarella
Parmigiano-Reggiano
burrata
provolone
gorgonzola
pecorino Romano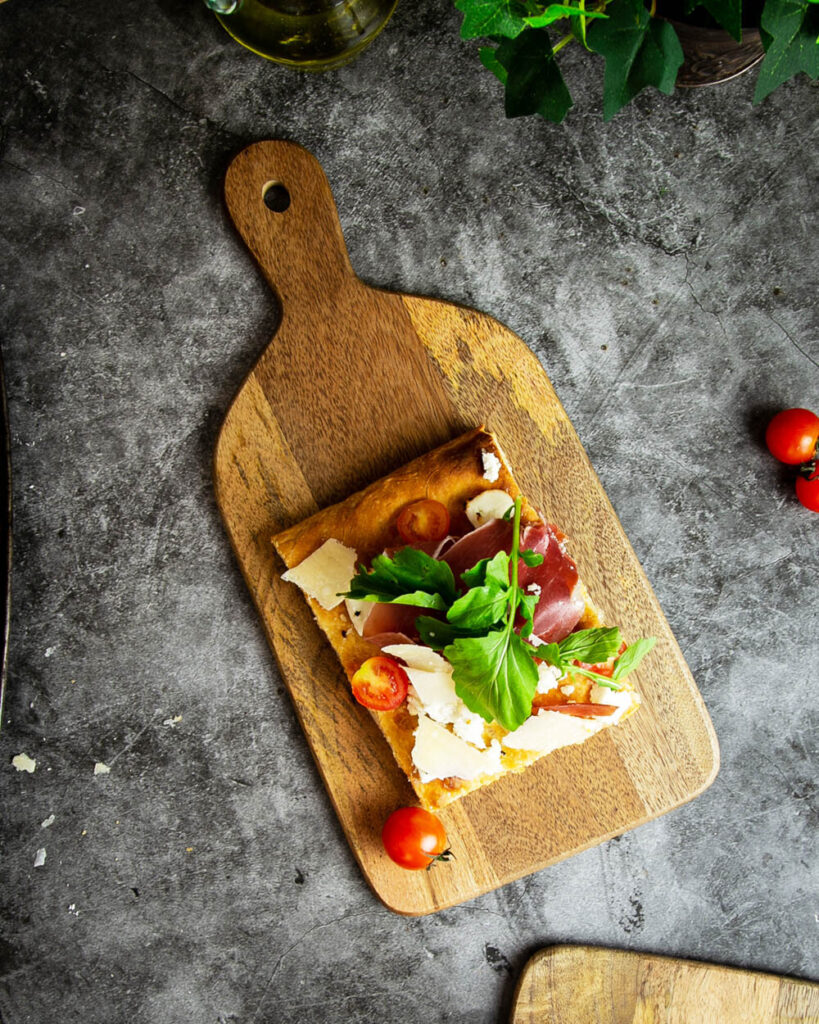 Pizza Al Taglio Topping Ideas
Pizza Al Taglio can be topped in many ways. The crust is cooked twice to ensure a fluffy dough, so get creative. Here are a few ideas that may tempt your taste buds.
Spread some homemade tomato sauce on the raw crust and complete the first round of baking. Add mozzarella and finish the second round of baking. Serve with fresh basil leaves for the classic Margherita pizza feel.
A light tomato sauce layer topped with fresh mozzarella, roasted eggplant slices, and basil is lip-smacking.
Pair thin sliced yellow potatoes with caramelized onions, Gorgonzola cheese, & some fresh rosemary. Season with salt & pepper. Do remember a generous drizzle of olive oil.
Top mushrooms and parmesan cheese on a white sauce base with a truffle oil drizzle.
Make a caprese style pizza. Cooked chicken strips, juicy tomatoes, basil leaves, and fresh mozzarella slices.
Try pizza al taglio with tomato sauce, mozzarella, and pepperoni slices. Simple and delicious.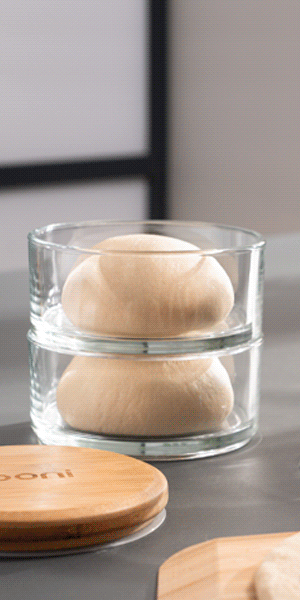 How to make Pizza Al Taglio
This pizza recipe requires only 3 tasks to complete. The recipe card below will include a step by step guide for these tasks.
Make the pizza dough – Combine the water with the honey and add the yeast. While the yeast soaks, prepare your stand mixer with a dough attachment. Combine most of the ingredients and mix for 5 minutes. Let the dough ball rest for 15 minutes. Add the salt and 1/4 cup water. Mix another few minutes. Take the dough out and slap-stretch-fold it to create air bubbles. Place in a 13×9 baking dish and let rest in the refrigerator for 24 hours.
Bake the crust – Take the pizza dough out of the refrigerator 2 hours before cooking. Turn the dough out onto a greased baking sheet. Spread it uniformly and create little dimples throughout the dough. Bake on the bottom rack of a preheated oven at 475° F. Do this for 10-15 minutes before moving to the middle rack. Then cook an additional 10 minutes to get that fluffy gold crust.
Assemble and bake again – First top the pizza with some goat cheese. Then place the pizza back in the oven for a few minutes. Just until the cheese has melted perfectly. Let cool on a wired rack for 3-5 mins. Top the Pizza Al Taglio with some prosciutto and baby arugula. Cut into squares and enjoy!

Pizza Al Taglio FAQ
Pizza Bianca literally means 'white pizza'. The fresh-baked bread is topped with olive oil and salt. At times sesame seeds and rosemary may be added. It is the most basic type of pizza al taglio without any sauce, cheese, or toppings.
What makes pizza al taglio stand out among other pizza?

There are 3 outstanding elements of pizza al taglio. Firstly, it is rectangular and does not have the typical round shape of modern pizza. It may or may not have a tomato sauce, while the olive oil drizzle is a must. It is baked twice. The crust is cooked without any cheese/toppings in the first round of baking. Therefore the crust has a distinct rich crunchy taste & texture.
Is the simple baked crust edible?

Definitely. You can relish it as bread with your morning coffee. Moreover, you can also freeze the crust. When in the mood for Pizza Al Taglio, just remove it from the freezer. Then let it come up to room temperature. Finally assemble and bake for a few minutes or until the cheese has melted.
Some of the links in this article are "affiliate links". By using the affiliate links, you are helping support AllForPizza.com, and we genuinely appreciate your support. Please see our privacy policy for more info.