Gorging on a pizza with delicious meat toppings is pure joy to a palate! With this meat lovers pizza recipe, you can make the lip-smacking meat dish right at home!
Shape the soft pizza dough with your hands to feel the tradition. Smell the mouth-watering meaty goodness while it's cooking. And relish a fresh-baked cheesy pizza slice covered in pepperoni, Italian sausage and ham. Meat lovers is one of the best pizza styles!


Ingredients
Meat Lovers pizza requires a few basic ingredients. All of which can be found in stores and online these days. Here are some key ingredients.
Flour
Olive oil
Pizza sauce
Parmigiano Reggiano
Fresh mozzarella
Sausage
Pepperoni
Ham
Italian seasoning
This pizza has a simple homemade crust. This includes bread flour, yeast, sugar, salt, water, and some olive oil. All mixed together to make a pizza dough. Then proofed for an hour to let the yeast develop. Some pizzerias proof their dough over night.
We use a classic pizza sauce here. Feel free to use a bottled version or make a quick sauce at home. See below for a quick and easy pizza sauce recipe.
The meat lovers pizza recipe is topped with 2 kinds of cheese. The Parmigiano Reggiano adds a beautiful salty flavor. While the mozzarella cheese infused a creaminess to the pizza.
This recipe includes 3 types of meat. The classic pepperoni creates a spicy and crispy layer. The Italian sausage creates robust flavors. And the ham will add a smoky and sweet bite. A touch of Italian seasoning just gives it that traditional goodness.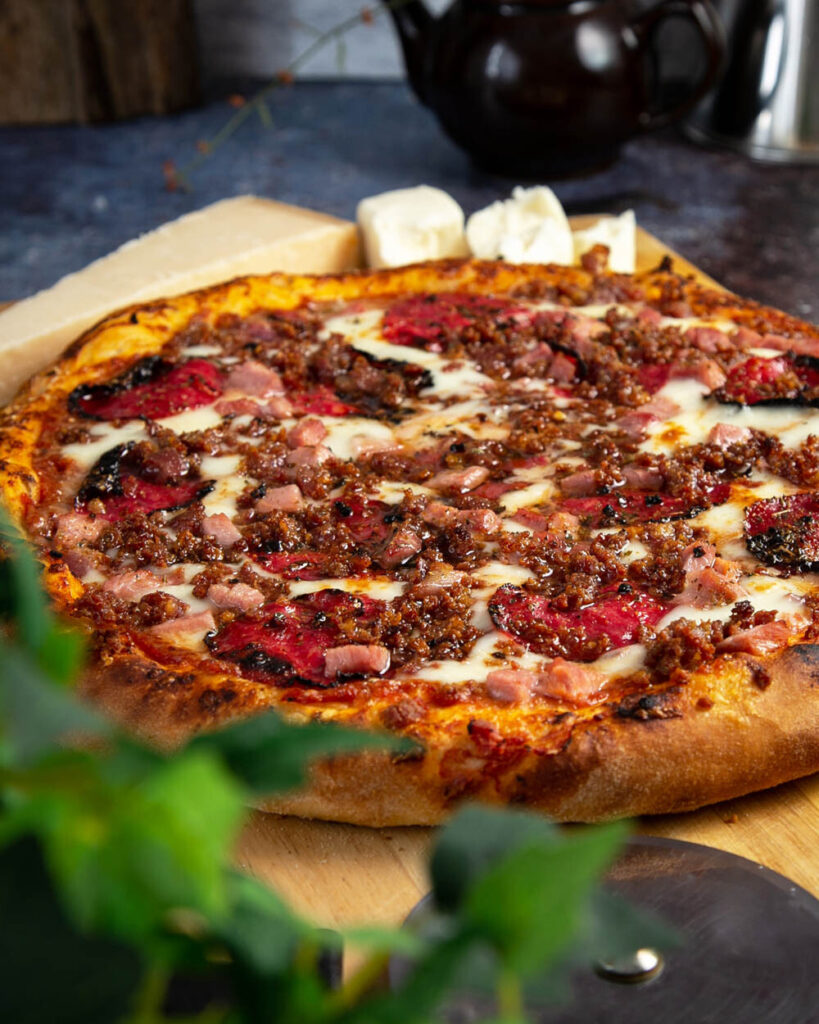 Notes & Substitutions
You may substitute the pepperoni with salami. They differ both in taste & texture. The pepperoni has a smoky, spicy flavor with a softer texture, whereas salami is much milder.
If you like a thicker and chewier crust, like a New York style pizza, try using bread and wheat flour. If you want something to hold more toppings, try the meat lovers pizza recipe in a deep dish. You may also buy pre-made pizza dough for quick and effortless preparation.
How to make a simple pizza sauce
To make a simple pizza sauce, all you need is a few ingredients and a food processor. No need to cook the sauce, the oven will do that for you. Plus this adds a more acidic flavor to the tomato sauce.
Here is a list of ingredients, mix them all in a food processor until the garlic is finely chopped.
14 oz can of tomato purée.
1-2 cloves of garlic
1 tsp of Italian seasoning
Salt to taste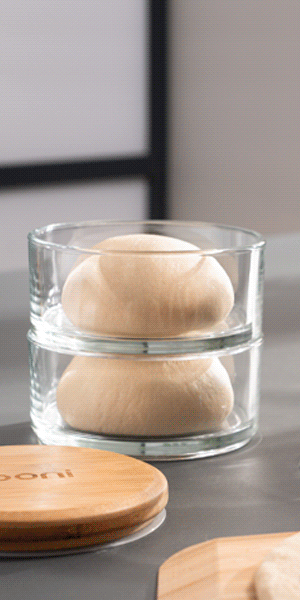 Storing Meat lovers pizza
Lay a pizza slice on a paper towel, place another paper towel on top and keep stacking each slice with a paper towel in between and on top. Tightly wrap with aluminum foil or plastic film and keep in the fridge. When stored in this manner, the meat pizza will last for up to 4 days.
To Reheat, arrange pizza slices in a preheated cast iron pan. Cover partially, and let it heat for 2 mins over a medium flame. When the cheese is almost done, remove the cover and heat 1-2 more mins.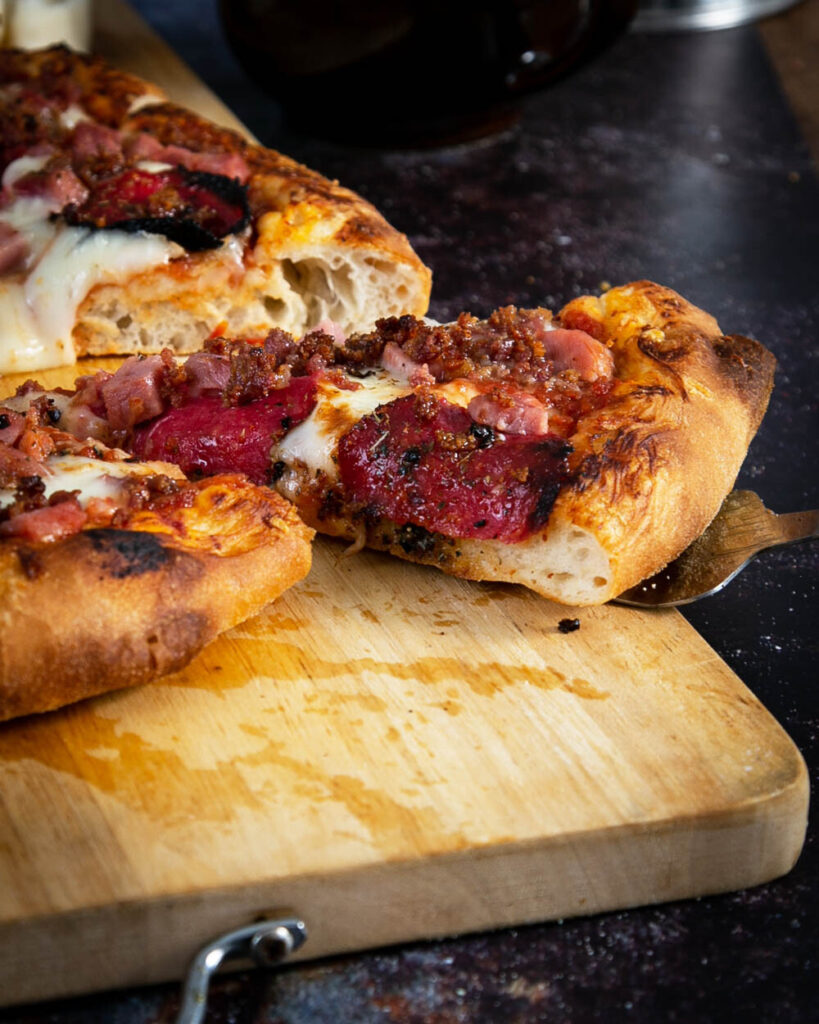 How to prepare Meat Lovers Pizza
Preparing this pizza recipe is very simple. Following these instructions will help you achieve the perfect pizza.
Prepare the pizza dough – Combine 1 cup of flour, the yeast, salt and sugar into a mixing bowl. Add the warm water and combine for a minute. Slowly add the rest of the flour, while mixing until you achieve a sticky dough. Coat the dough with flour and continue to knead for 4-5 mins. Set aside and proof for 45 mins to 1 hour.
Cook the Italian sausage – Heat a skillet at medium-high heat. Add the ground Italian sausage and cook. Make sure to break up into nice size pieces and get a good browning on all sides.
Put the pizza together – Roll out your pizza dough into a 12" circle. Transfer to a pizza pan. Spread the pizza sauce all around the surface, thinly. Toss on the mozzarella and parmigiano followed by the pepperoni, sausage and ham. Then sprinkle on some Italian seasoning.
Bake your pizza – Place your pizza pan on the lowest rack in a preheated oven. Bake at 425 F for 12-15 mins, or until the crust browns.

Meat Lovers Pizza FAQ
What meats are used on a meat lovers pizza?

On this meat lovers pizza we use pepperoni, ham, and Italian sausage. However, meat lover's pizza can include any type of meat. Perhaps this list of additional toppings may tempt your palette.

Seasoned ground beef
Salami
Prosciutto
Texas Brisket
Tandoori chicken
Pulled pork
And many many more!


Feel free to go "ham" on these toppings if you will. Dont forget to leave a comment below of your interesting meat lovers pizza recipes.
Can i make the meat lovers pizza as a deep dish?

Yes absolutely you can! The Chicago style deep dish pizza is a great go to. All the meats add lots of flavor to the sauce and cheese. However with deep dish pizza, toppings go first.

Get yourself a deep pizza pan, and place the spread dough into the pan evenly like a pie crust. Add slices of mozzarella and provolone, and don't be stingy here. Layer all your cooked meats followed by the pizza sauce. Bake at 400 degrees F for about 35-45 minutes, or until the crust is crispy and golden brown.
Some of the links in this article are "affiliate links". By using the affiliate links, you are helping support AllForPizza.com, and we genuinely appreciate your support. Please see our privacy policy for more info.